The backyard is one of my never-ending works in progress. It's been about 7 years since we moved in and I think it's pretty much unrecognizable to when we bought the house. This was the original border garden the house came with.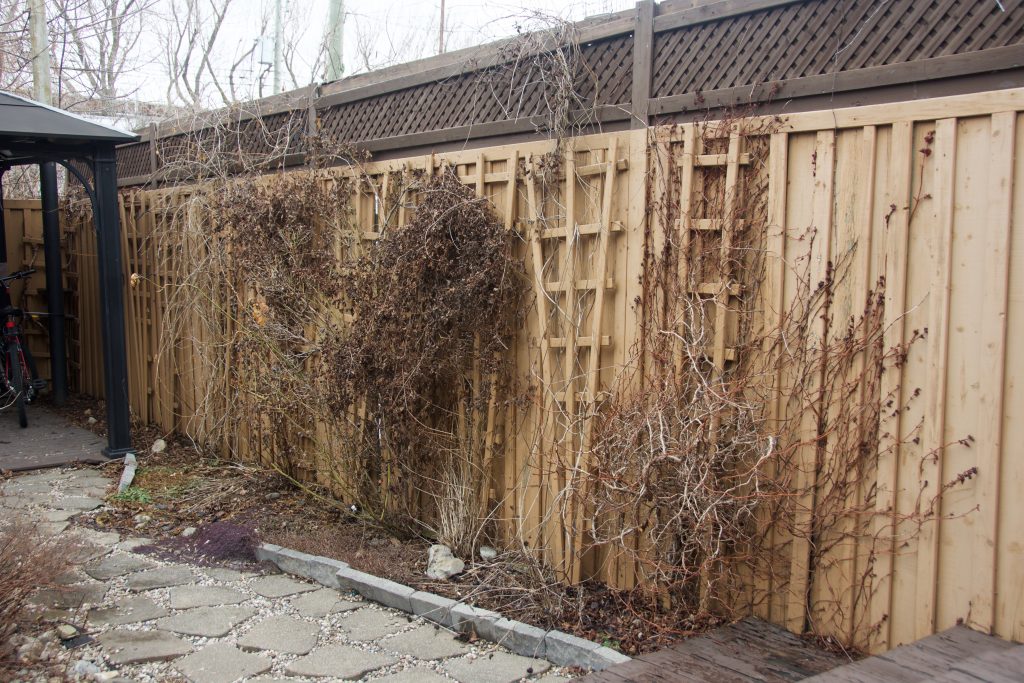 Now, I'm not going to tell you about every single thing that happened between then and now. Did a bumble bee fly into my boot and sting me, like, four times while I was gardening once? Yes. Did a raccoon climb down the side of our house and saunter across the yard like he owned the place, only to never be seen again? Yes. Did a strange giant orange rat creature take up residence under our dilapidated stairs during the pandemic for a few weeks? Yes.
But this post isn't about any of that.
Consider this post just the cliff notes version of how I came to own a tiny slice of backyard in Montreal and took it from weird rotting deck with overgrown bushes obstructing the view from all angles, to the lush, beautiful, explosion of life and colour that it is today.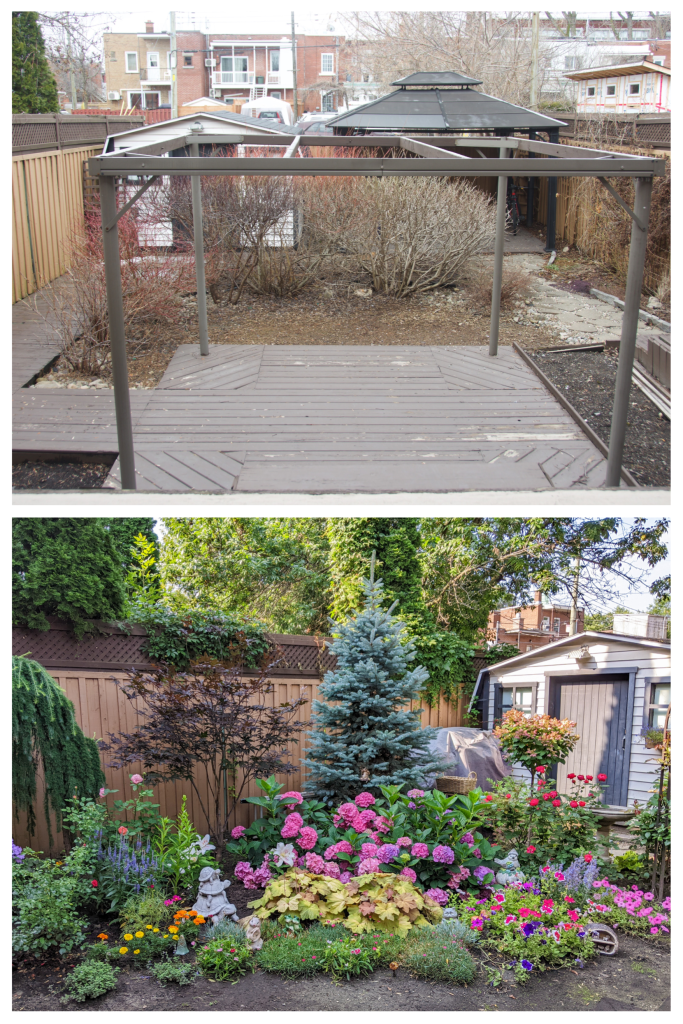 Demoing & Seeding A Lawn
I had one goal in mind for the backyard. I wanted it to be full of plants and flowers, just an explosion of colour. But when it came to grass, I did a complete 180 over the span of a couple of years. I know having a lawn is somewhat controversial, but when I first began imagining my ideal backyard, I really wanted a soft, open space in our backyard to walk around without shoes on, for us to picnic on, even play croquet on.
So we tore out the decking, got rid of the weird pergola structure in the middle, and all the overgrown shrubs before re-laying the paver path onto the other side of the backyard, and seeding grass. If you're interested in reading more about the first step in our big backyard transformation and how we did it, the full blog post is here!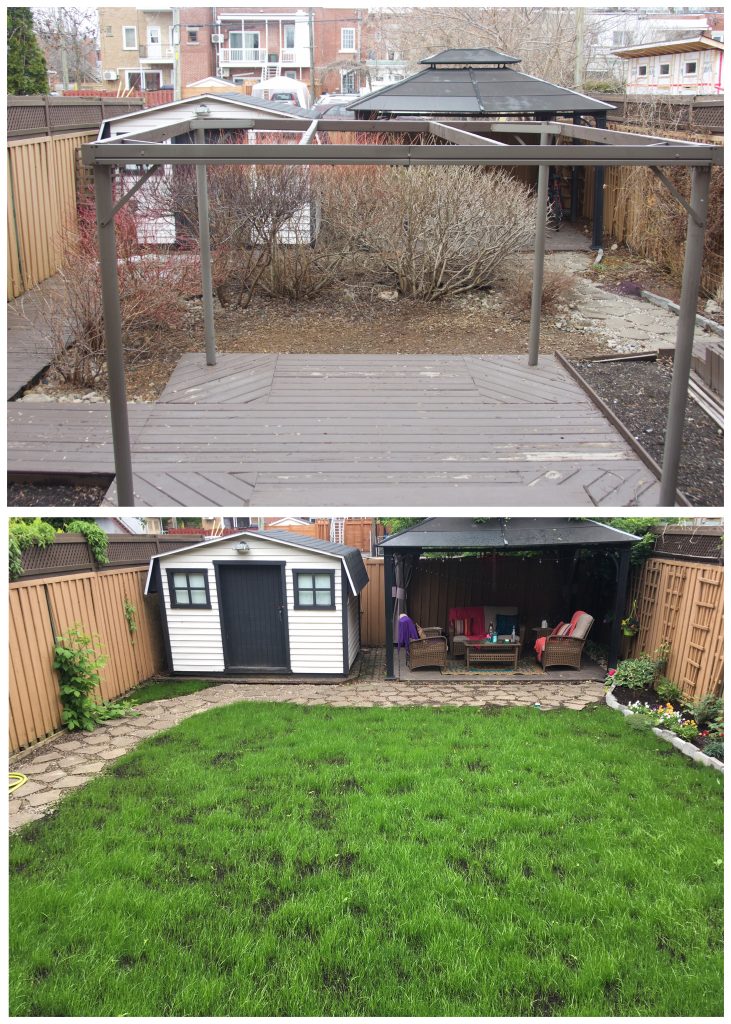 Adding Another Flower Bed
And so we had a nice big, green lawn for one summer with a small border garden and while that was lovely, it was just a bit too barren for my tastes. So the following spring, we went to work introducing another garden bed on the other side of the backyard, complete with the tiniest crab apple tree I could find (malus coralburst if you're interested!)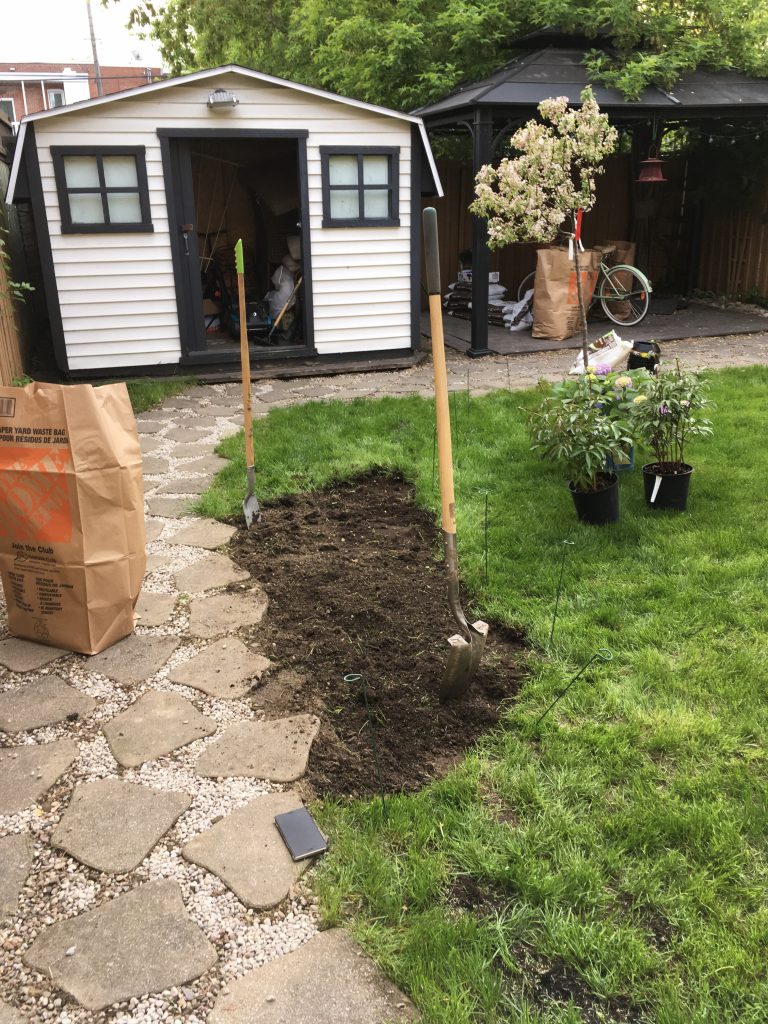 I also put some peonies there, some roses, and a mishmash of annuals.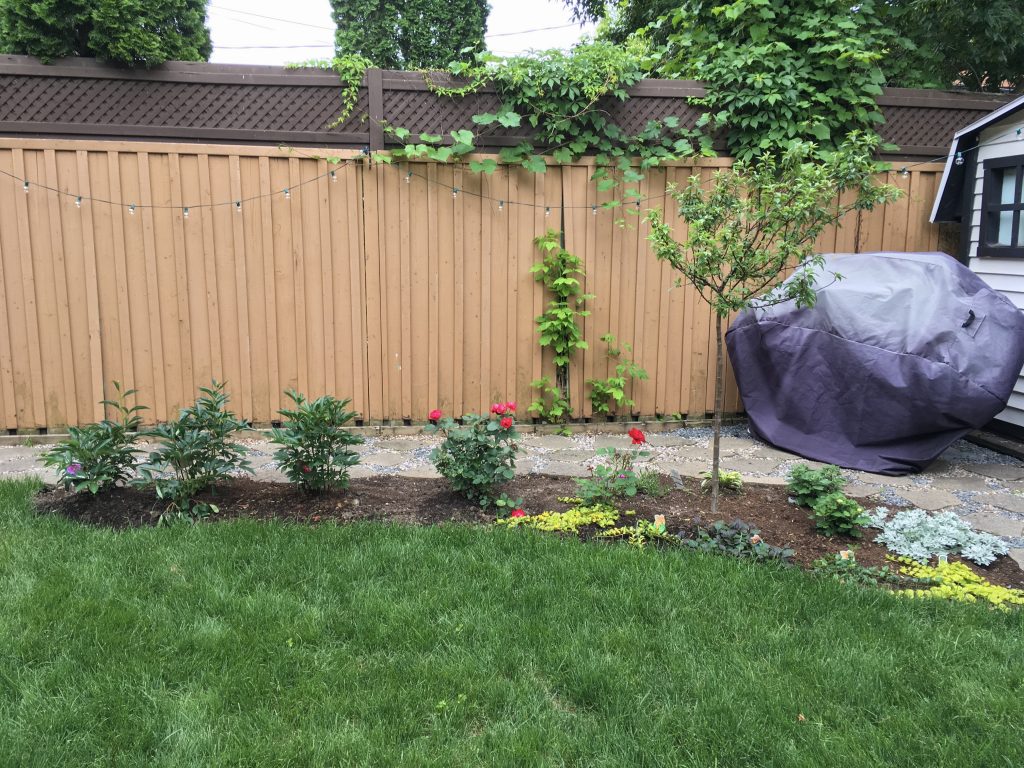 For several seasons, I just filled the two tiny flower beds with things I found at the garden centre that I thought were pretty, with no real thought towards garden design, colour palette, four seasons of interest etc. I just knew I wanted a "low maintenance" garden and tried to fill the beds with as many perennials as possible.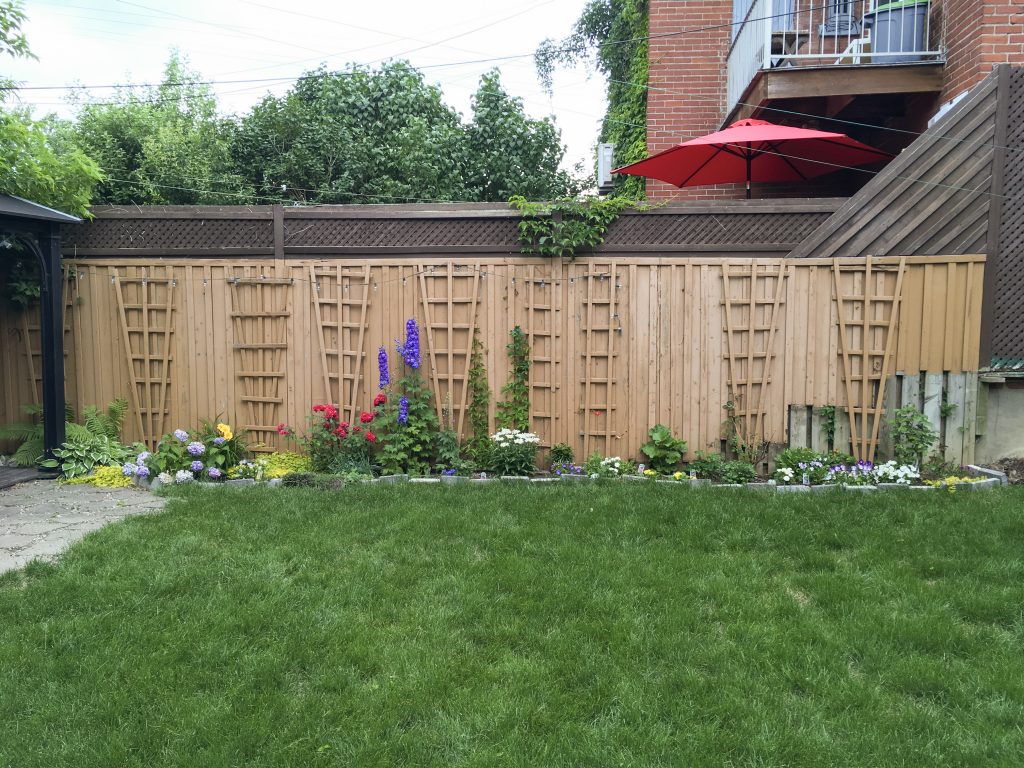 The Haphazard Garden & The Problem With Perennials
Cut to a year later when I decided to expand the border garden around the fence by cutting out some of the grass. It was also around this time when I discovered that "perennial" doesn't necessarily mean they will come back every single year. Every plant has a life span, and may live only a few years. Or you could just have some bad luck like me and your perennials just die after a season.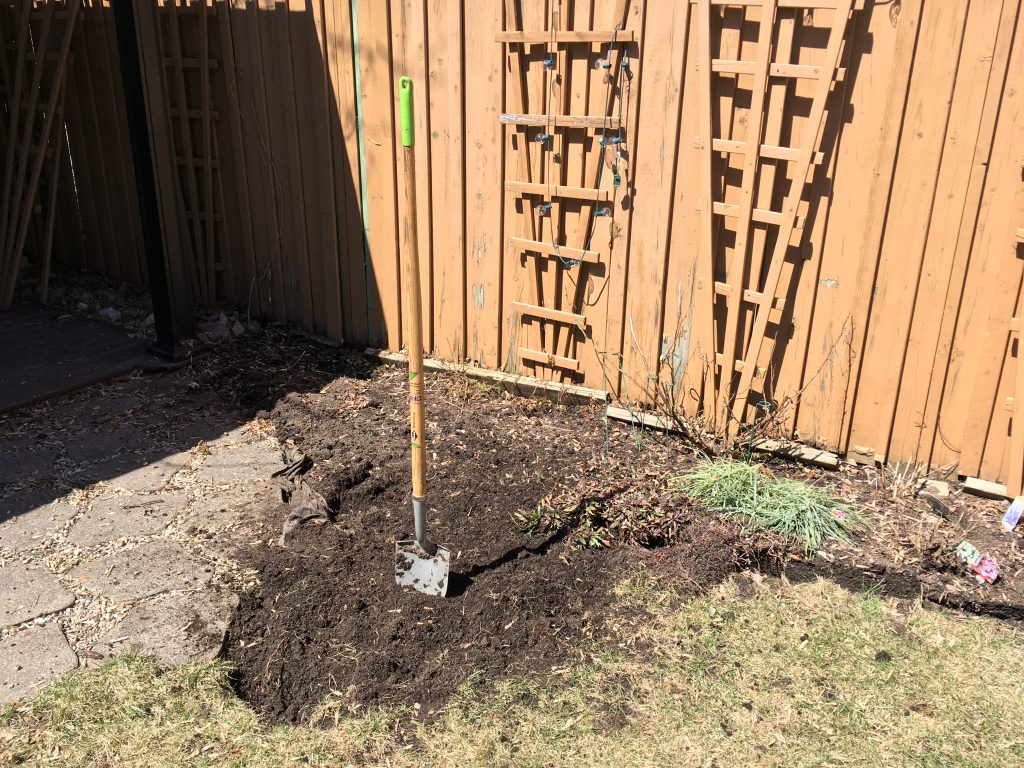 This was also when I started experimenting with direct seeding wildflowers. As you can see, I had a hard time spreading the seeds effectively.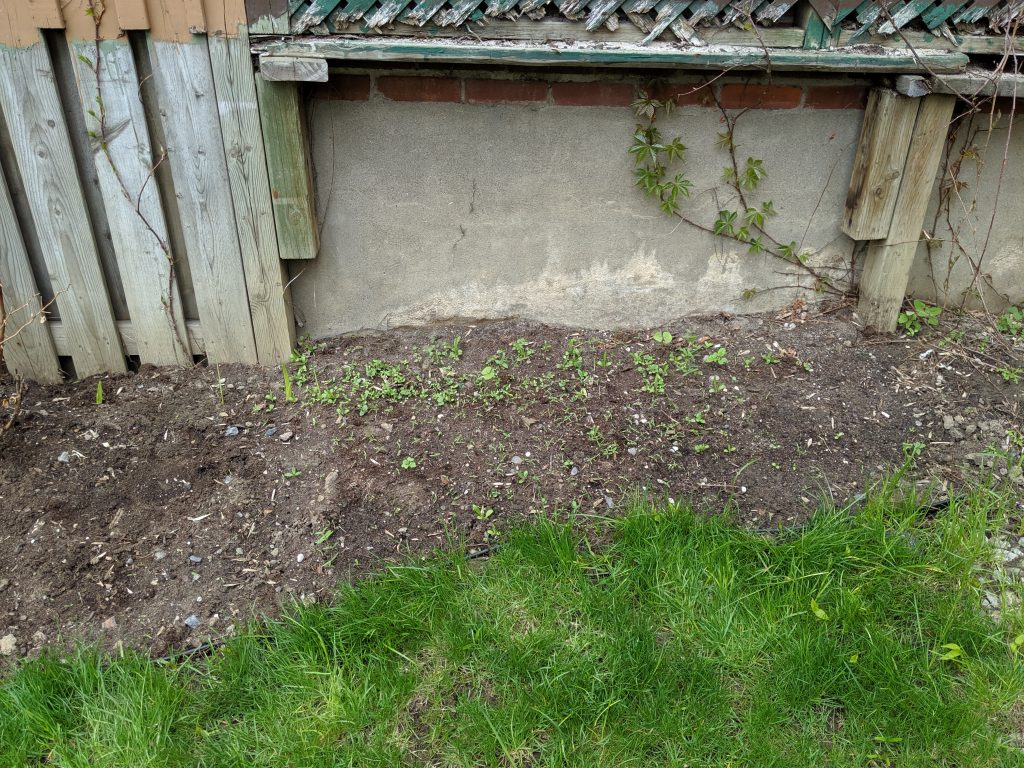 And I started looking at adding some annuals to the flower bed along with perennials.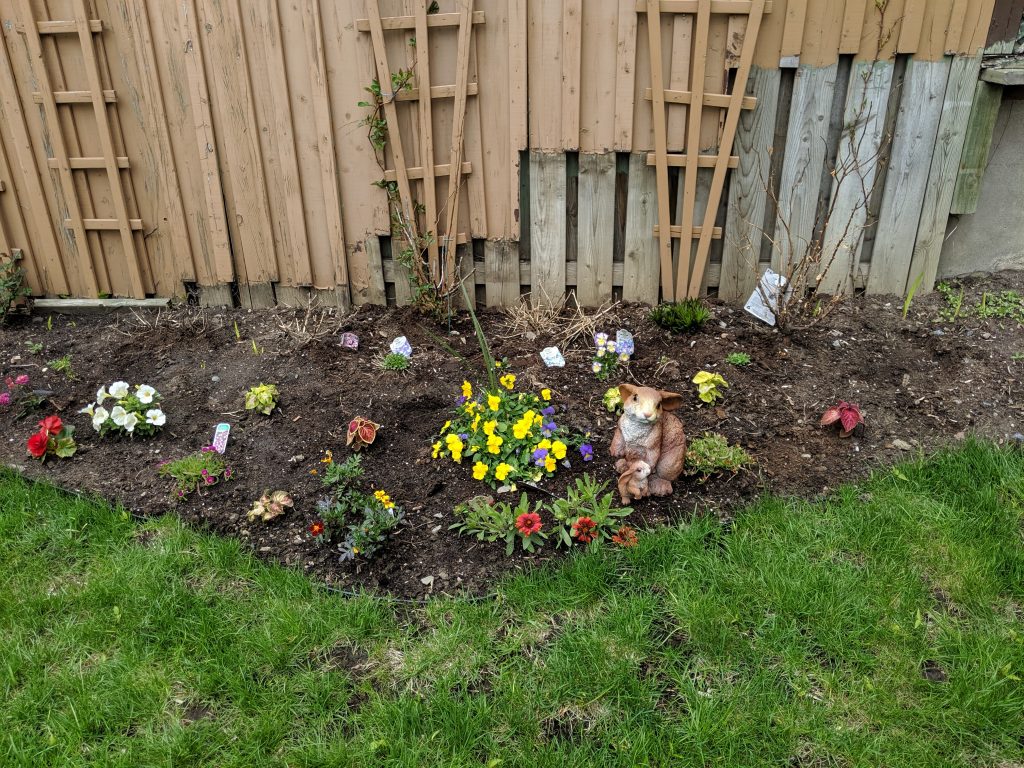 I don't think I'm exaggerating when I say it was a real mismash of stuff I just threw in there haphazardly.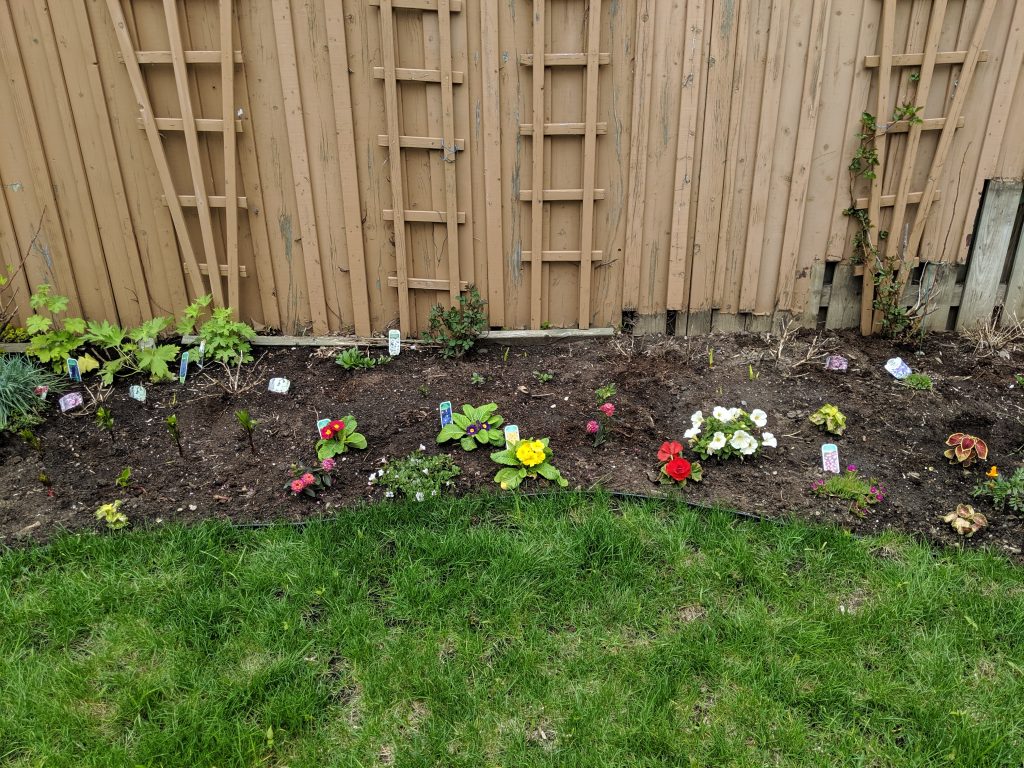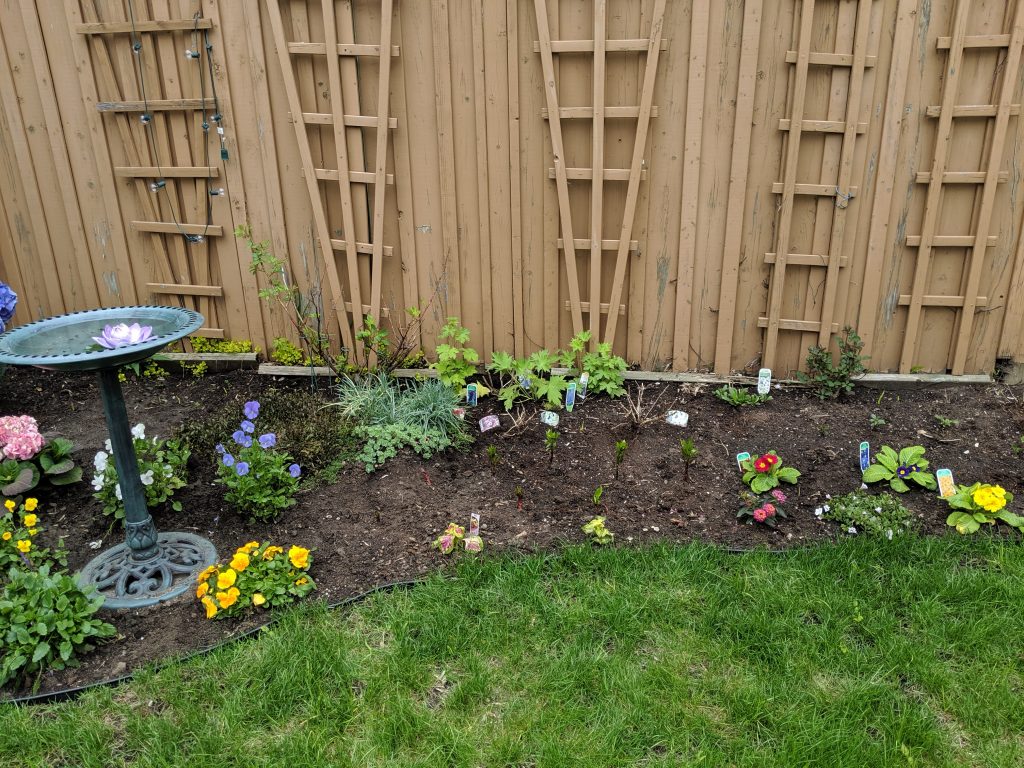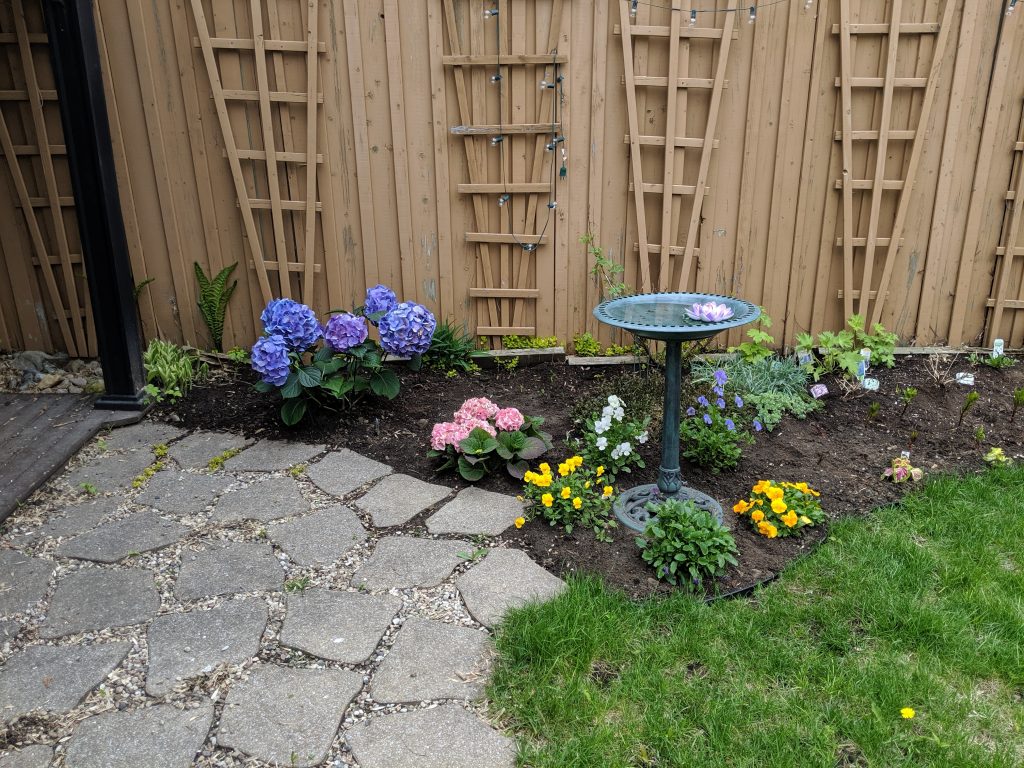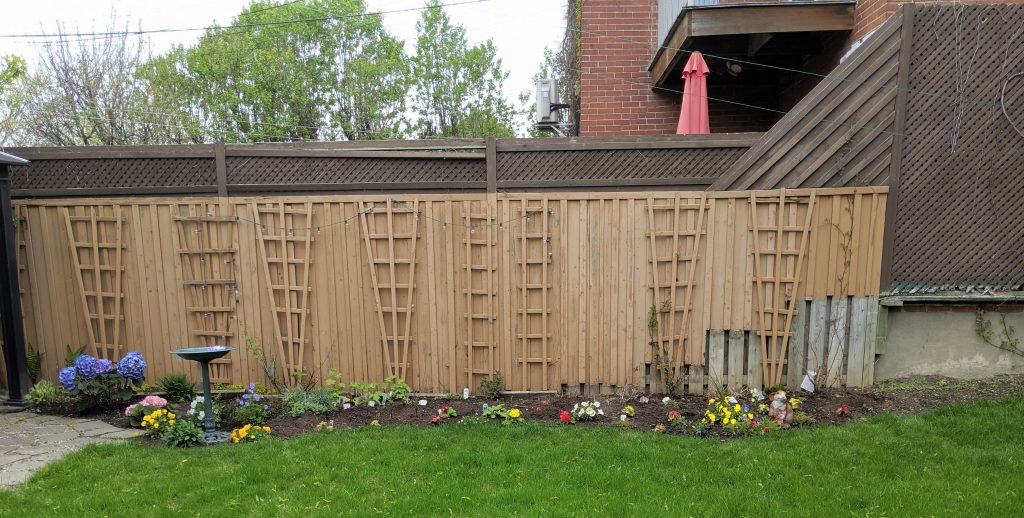 I think this might have been the year when my love of gardening really took off. There's nothing quite like nurturing a plant and watching it grow and thrive.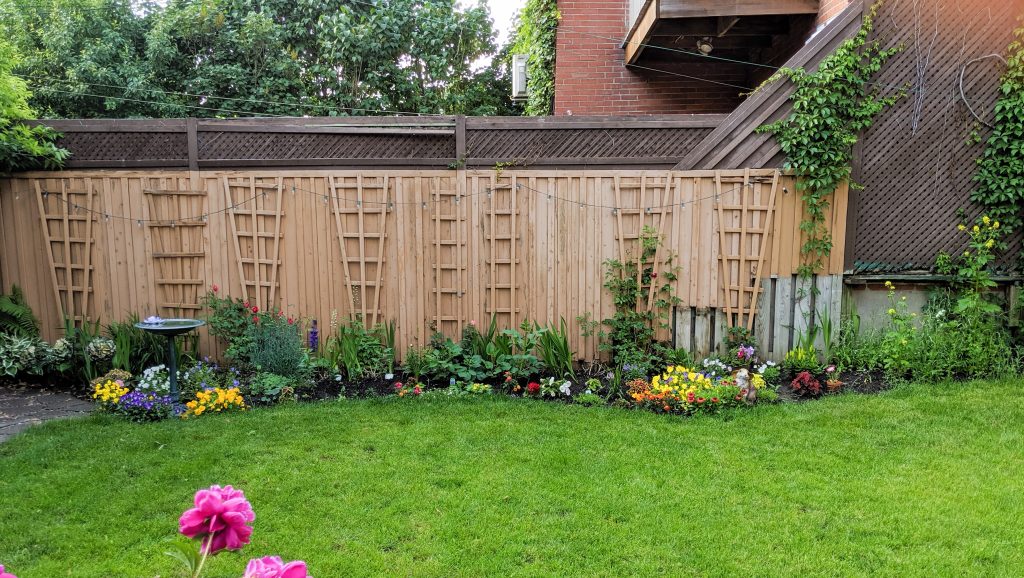 Expanding The Flower Beds & Growing Annuals From Seed
The following year was the year I decided to experiment with growing seeds indoors for the first time. I really had no idea what I was doing. I bought some cheap grow lights and planted WAAAAAAY more seeds than I needed for our small garden space.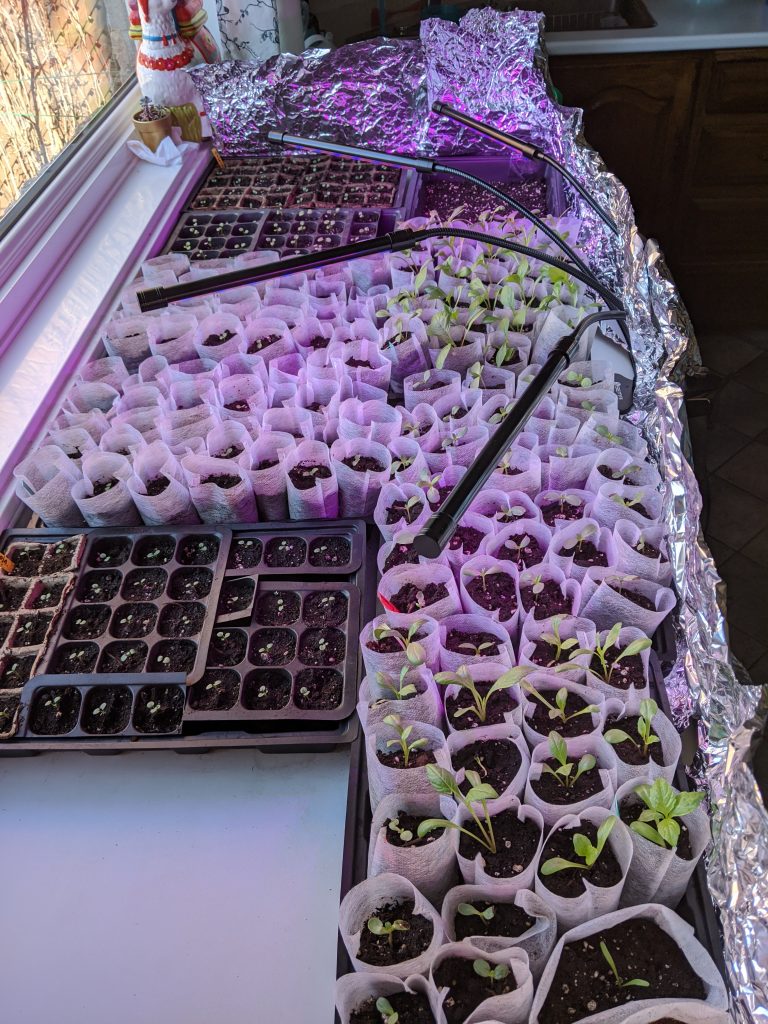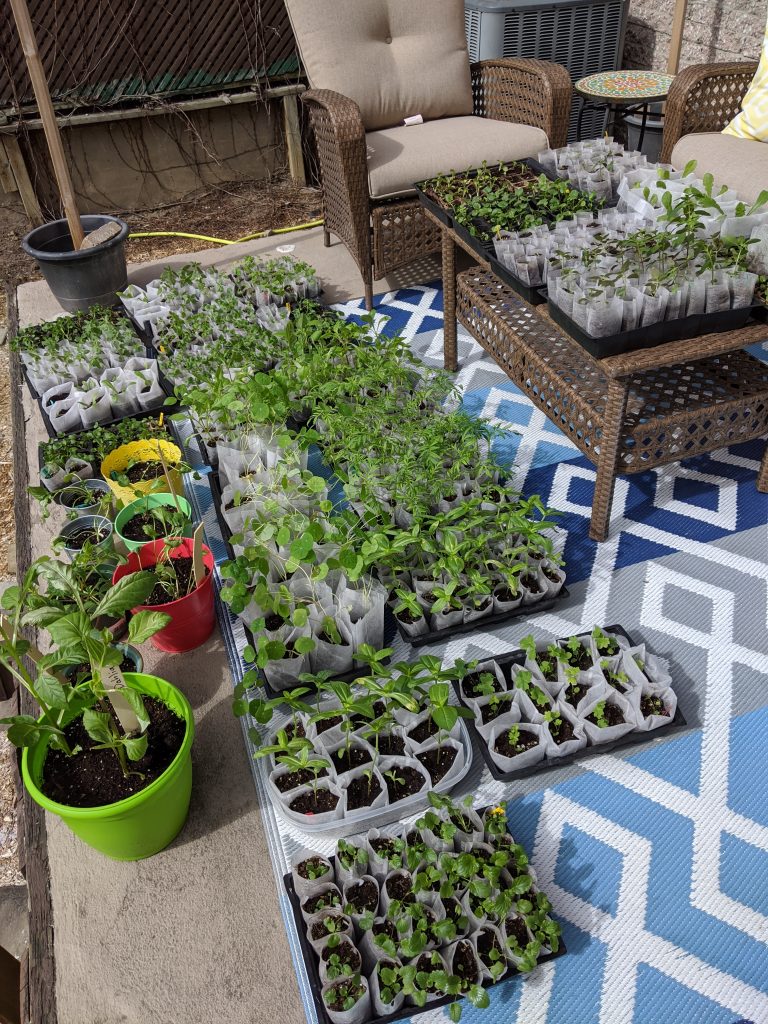 And obviously because I had a bajillion seedlings to plant in my small bit of garden space, I ignored all spacing recommendations!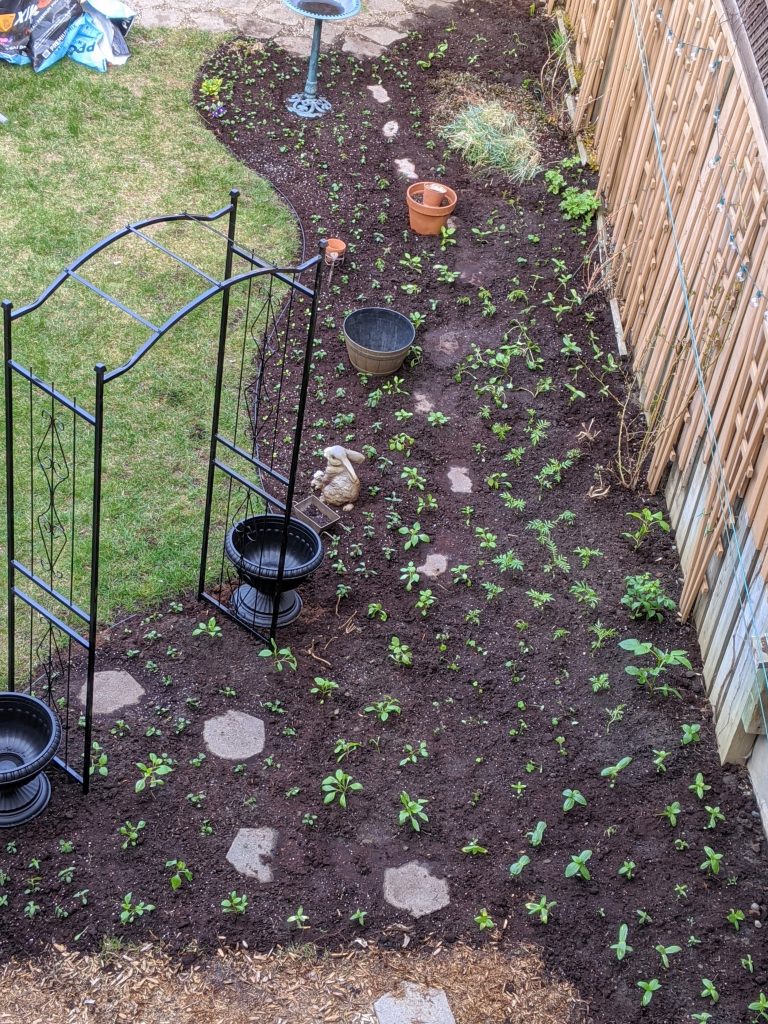 You may have noticed also that every season, sometimes even multiple times during the season, I expanded the garden bed bit by bit, until it started taking over more and more of the lawn, which I really started disliking. For the amount of work you need to put into a lawn to keep it looking nice, I didn't think it was worth it.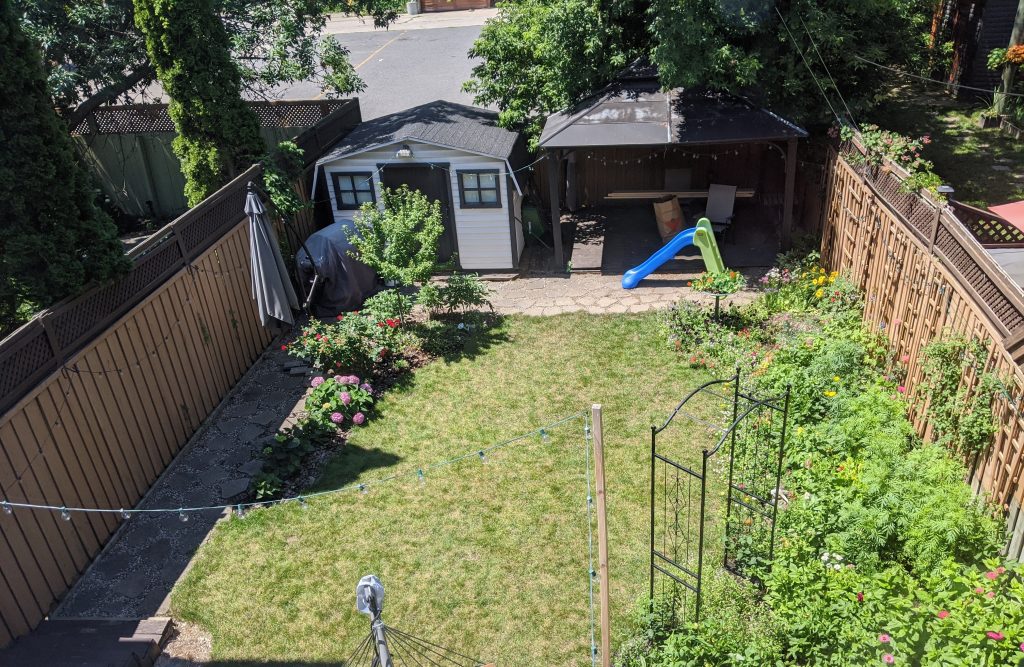 Anyway, I think stuffing the garden bed full of seedlings turned out quite well actually. This was my first taste of what a full, lush garden could look like and I wasn't mad!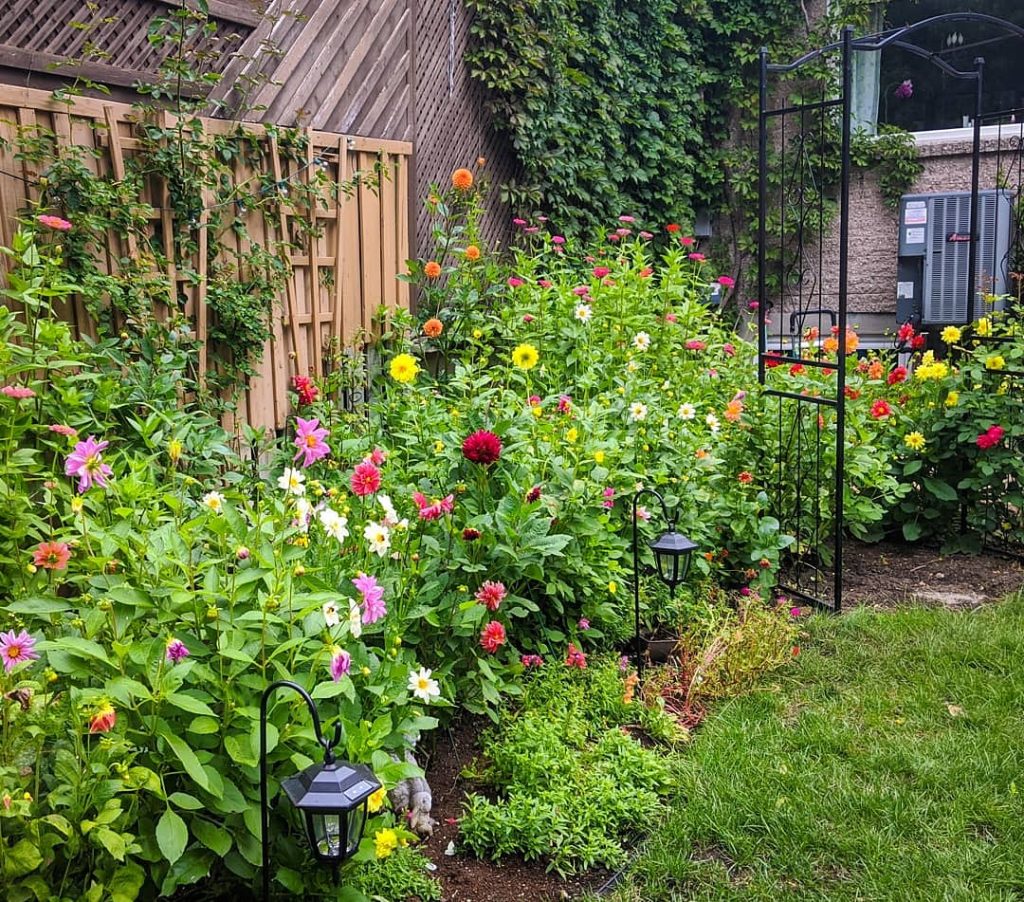 Planting More Trees & Starting A Container Vegetable Garden
I had a constant problem of hydrangeas getting scorched due to our hot, sunny summers. There was just not enough shade in our backyard to protect them in the afternoons. So I decided to plant a blue spruce and Japanese maple on the other side of the garden, to provide the shade they needed.
It required digging out the paver path we had against the fence and obviously, I just turned the entire area into expanded flower bed.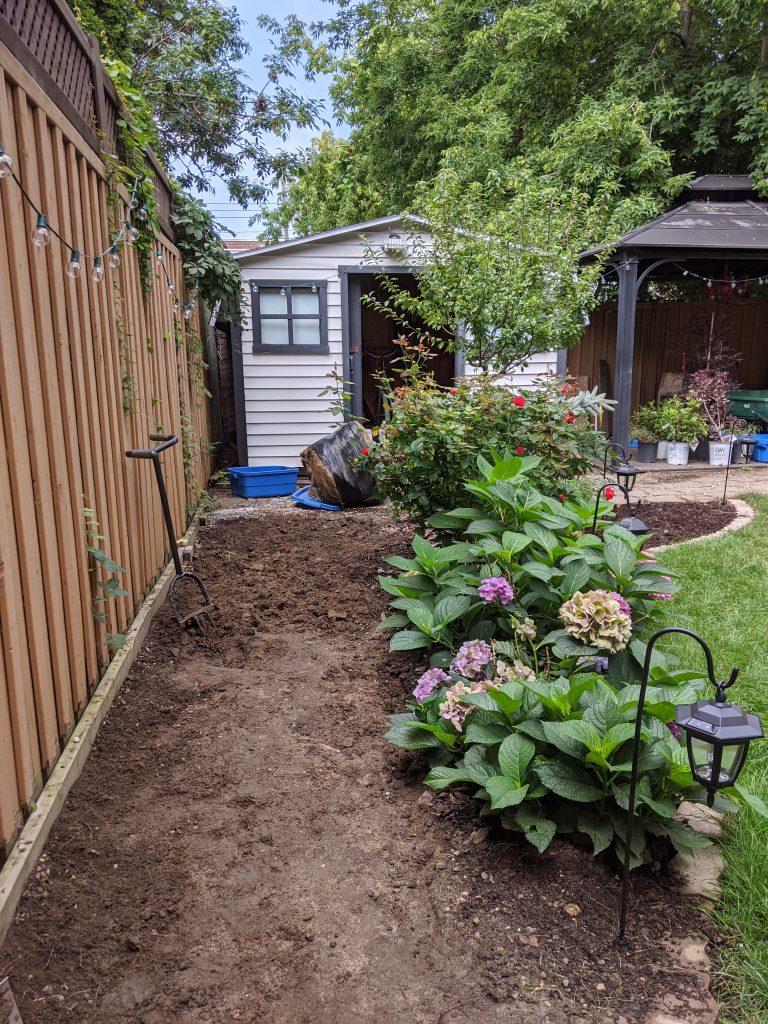 I'm so glad I expanded my gardening to include trees, because the different texture and colours added so much interest to the backyard, and they brought so much more weight and balance to the space. This was the beginning of my thoughtful garden design era, if you will.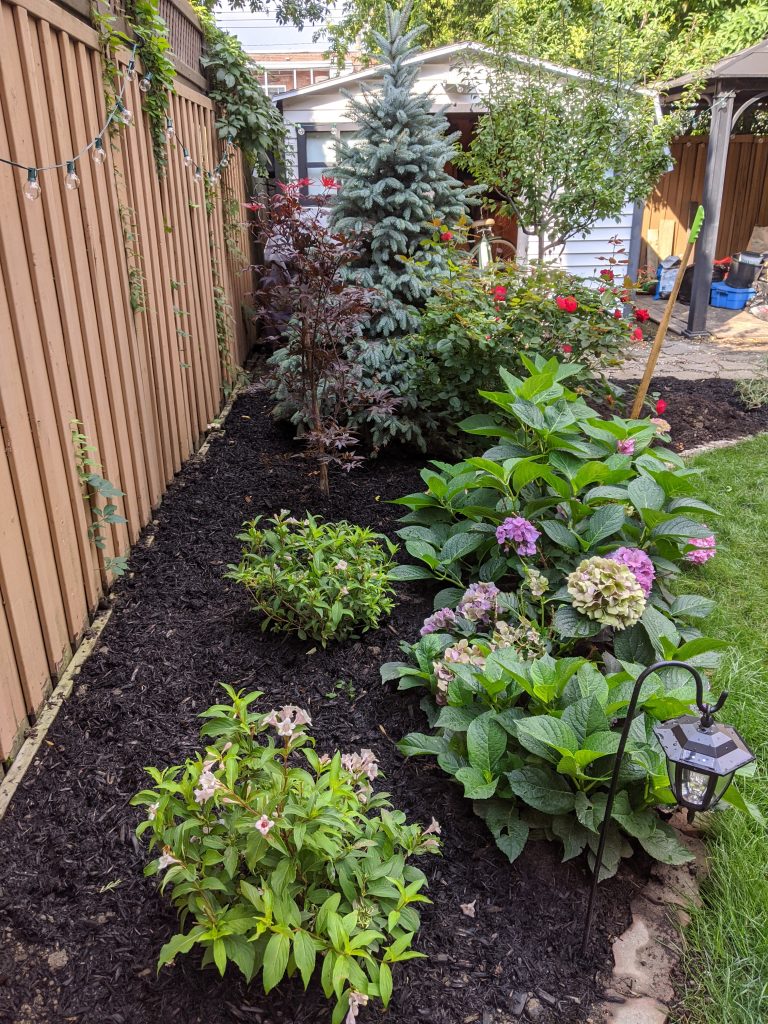 The next year is when I really started getting into vegetable gardening for the first time, namely container vegetable gardening. I'm a flower gardener at heart and there was no way I was giving up my flower garden real estate for in-ground veggies.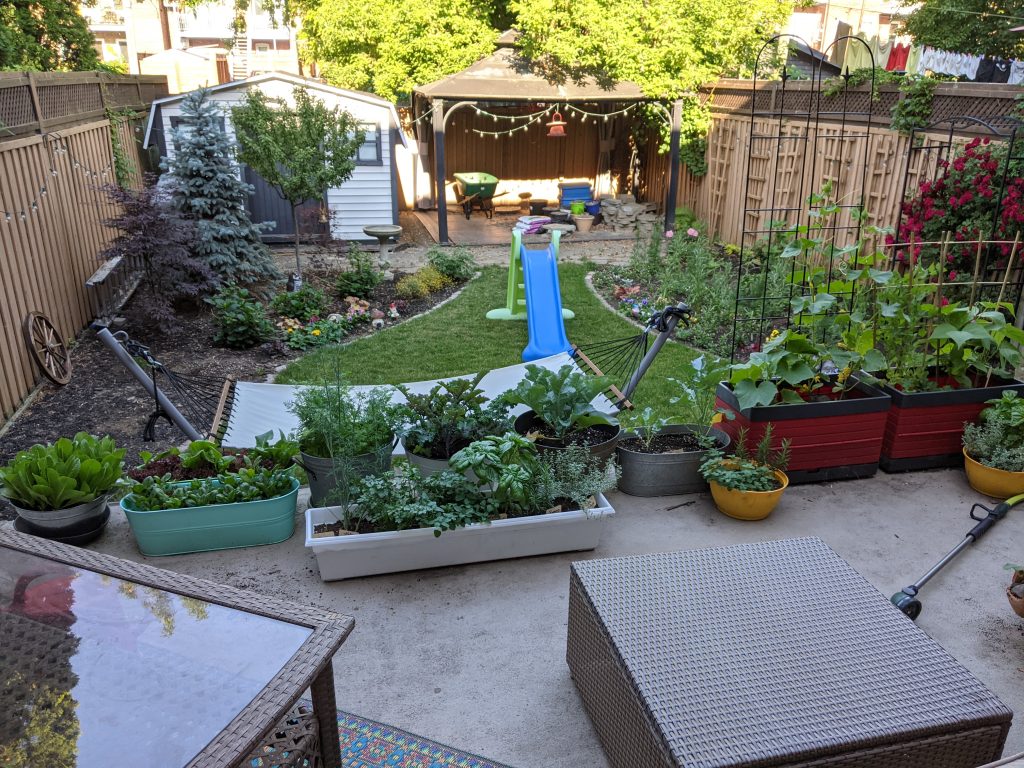 As you can see, anytime I do anything, I go big or go home! There was obviously lots of experimenting that year. Figuring out what does well in containers and what doesn't, which varieties of what plant produce the most and best quality crop. I'm still experimenting now, honestly. After a few seasons of experiments, I've landed on a soil mix that I like and some go-to varieties of my favourite veggies to grow.
I think my main goal moving forward is figuring out what the most efficient/productive crops are worth my time and garden space, because again…I am NOT giving up my flower garden real estate for veggies.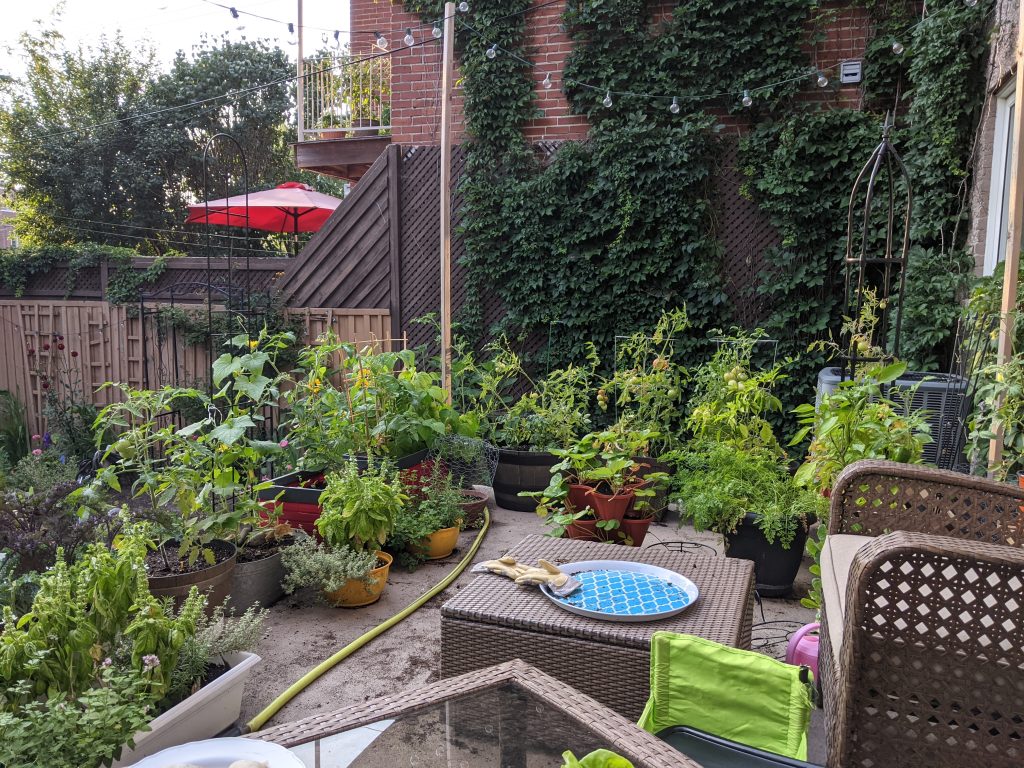 Total Backyard Destruction & Starting Anew
The following year was when we broke ground on our huge house extension project and that, of course, resulting in the total destruction of our backyard. I dug up my favourite hydrangeas and rose bushes, and put them in pots in the front the house, while the rest of the smaller perennials, I kind of just transplanted tightly around the spruce tree and hoped for the best.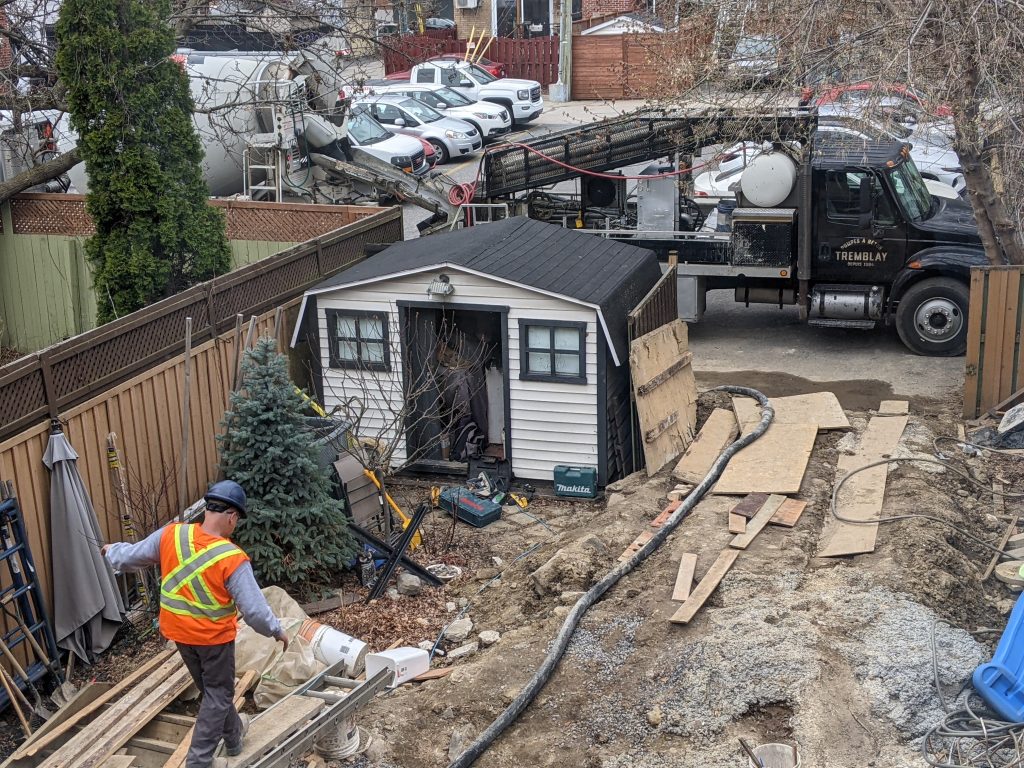 In the end, most of the perennials in the backyard did not make it, but I didn't have that many to begin with. I knew it was a risk and I wasn't too sad about it. I mean, just look at the beautiful, fluffy, debris-free soil we were left with. It was the most pleasant gardening experience I'd ever had after the destruction was over!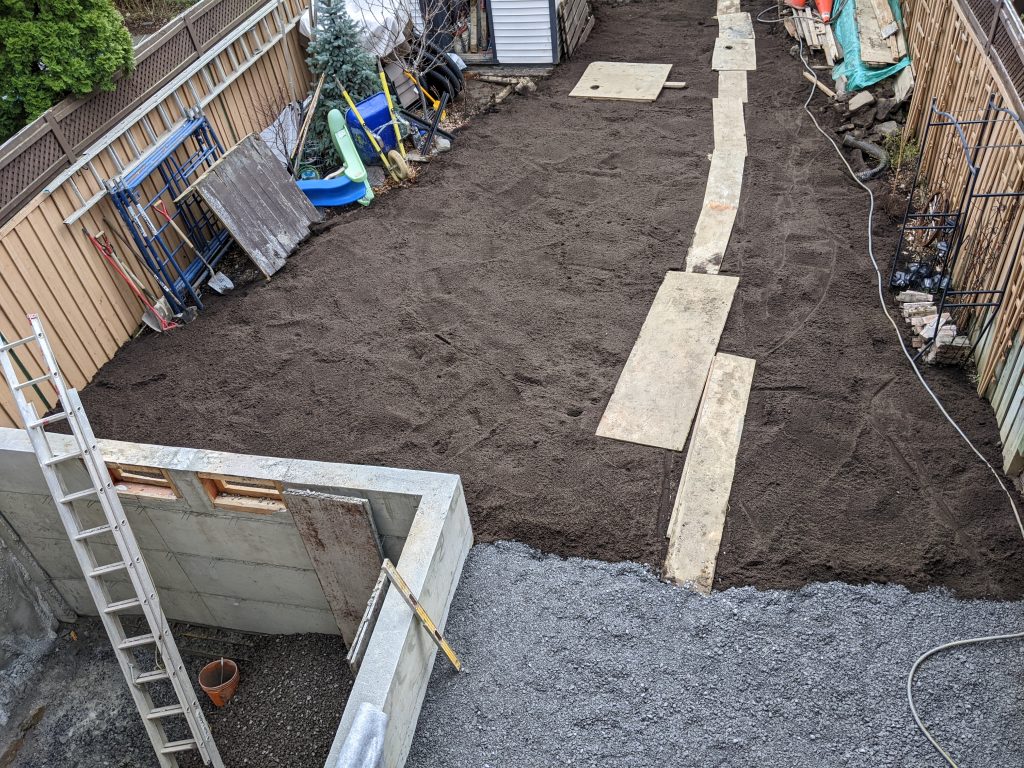 I wasn't super serious about garden planning and designing before this. I mostly used annuals and didn't make any commitments, specifically because I knew the backyard might be in for a big change down the line. But now, it was time to nail down a real vision for what I wanted the garden space to be.
I knew I wanted more structure, layers, textures, growth habits, colours, and of course, four seasons of interest.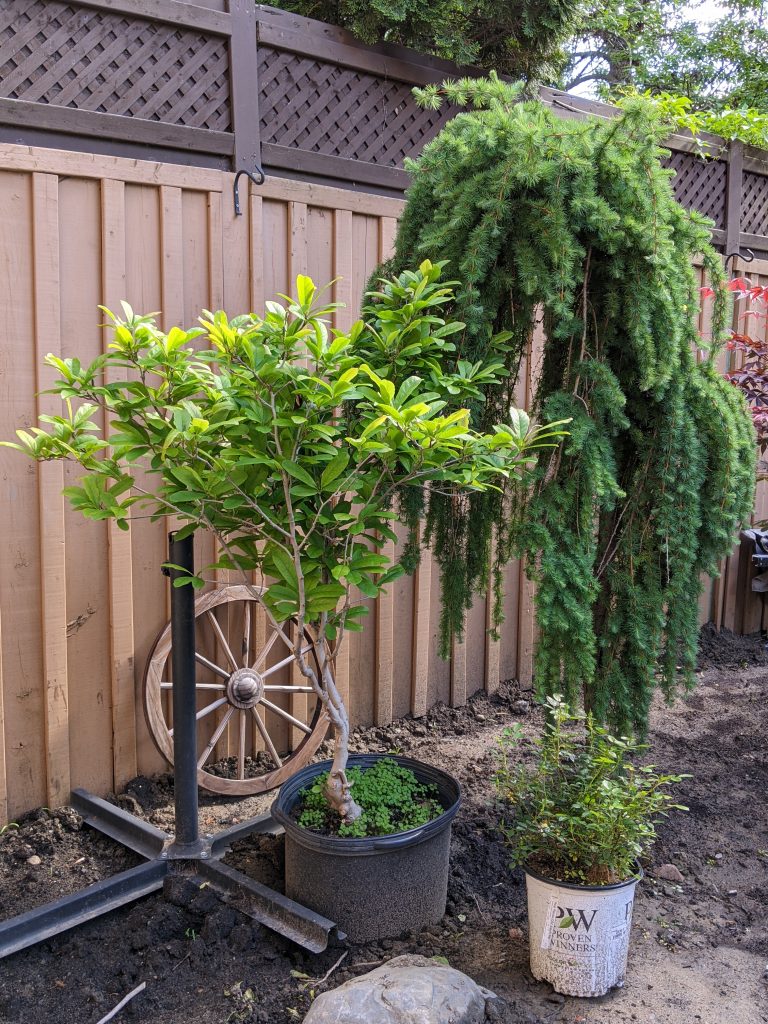 I had a whole garden plan sketched out and researched ornamental trees for months. It was time to start putting my plan into motion! I ended up getting five new trees to anchor the backyard space and we were able to get them in the ground by the end of the season, even though construction was ongoing!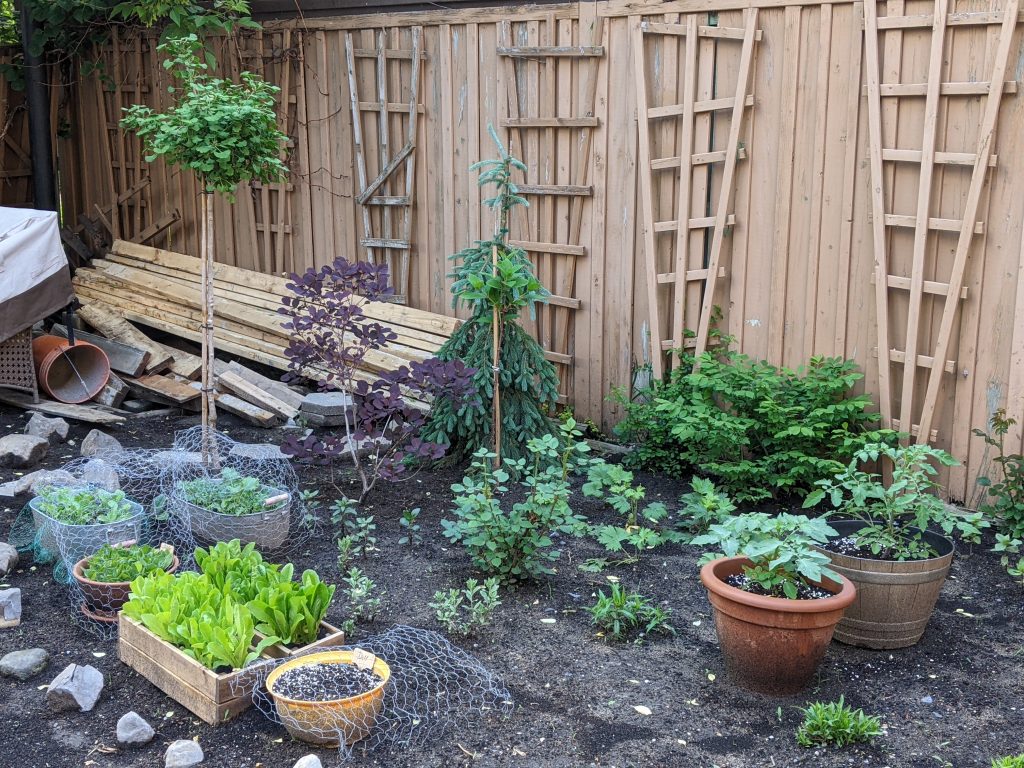 And you know I can't go a whole growing season without colour, so I added some annuals and pretty things here and there as well! Because we no longer had a deck, I integrated the veggie garden into the landscape, albeit in containers still. And that made up the bulk of the backyard garden for the season! Normally, I find this kind of chaos to be a bit much, but I knew at the end of it, we would have a beautiful space to work with and it was worth a little patience.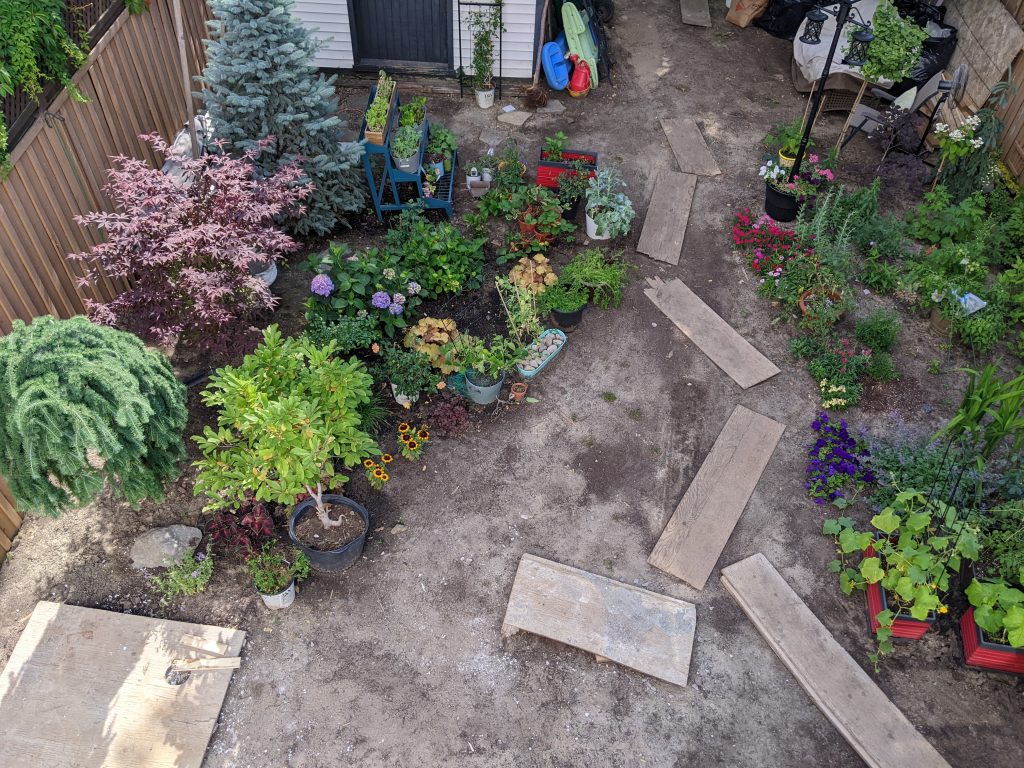 A Neverending Work In Progress
I'm sure my fellow gardening lovers can relate…but it really feels like a gardener's job is never done! And it never should be. So many perennials are turning out to be colours I didn't expect, and many are growing much bigger than I had anticipated. Or they're simply just not what I imagined. I'm still tweaking, trying things out, moving things around, like, up to five or six times a season, because I just can't find the right spot for it!
Or sometimes it just doesn't feel "right" and you can't quite put your finger on it.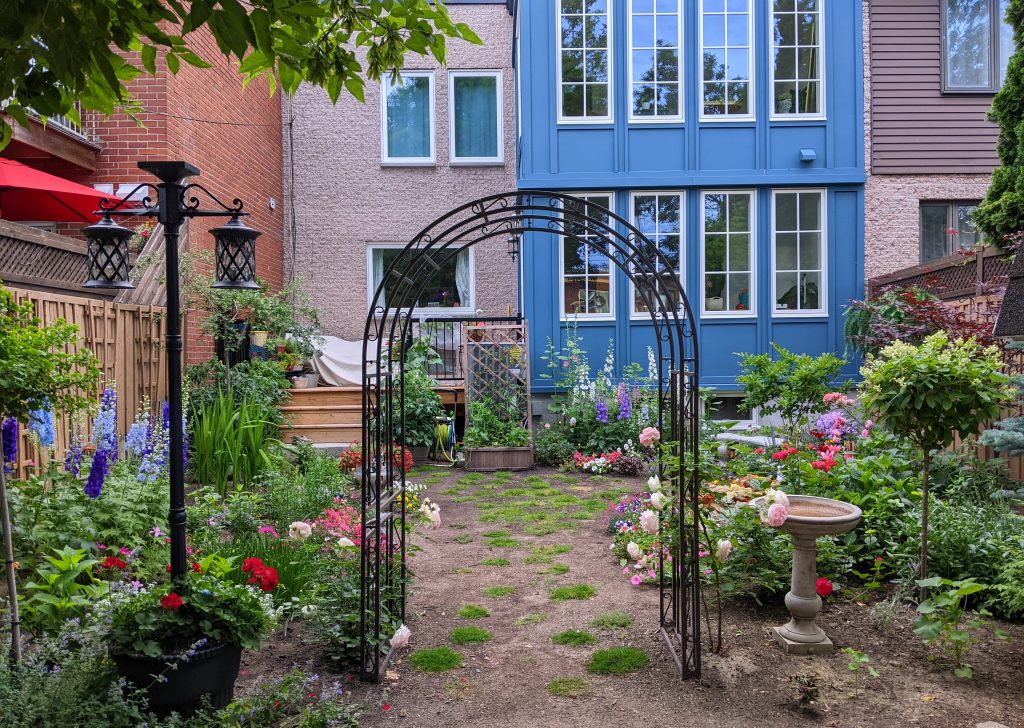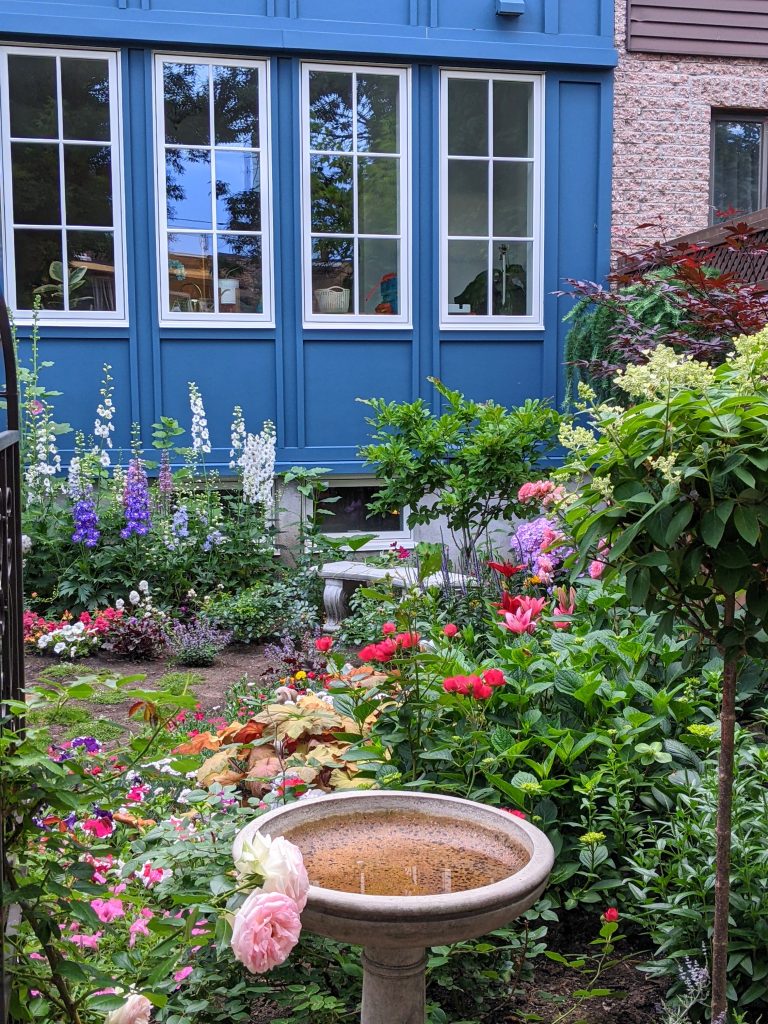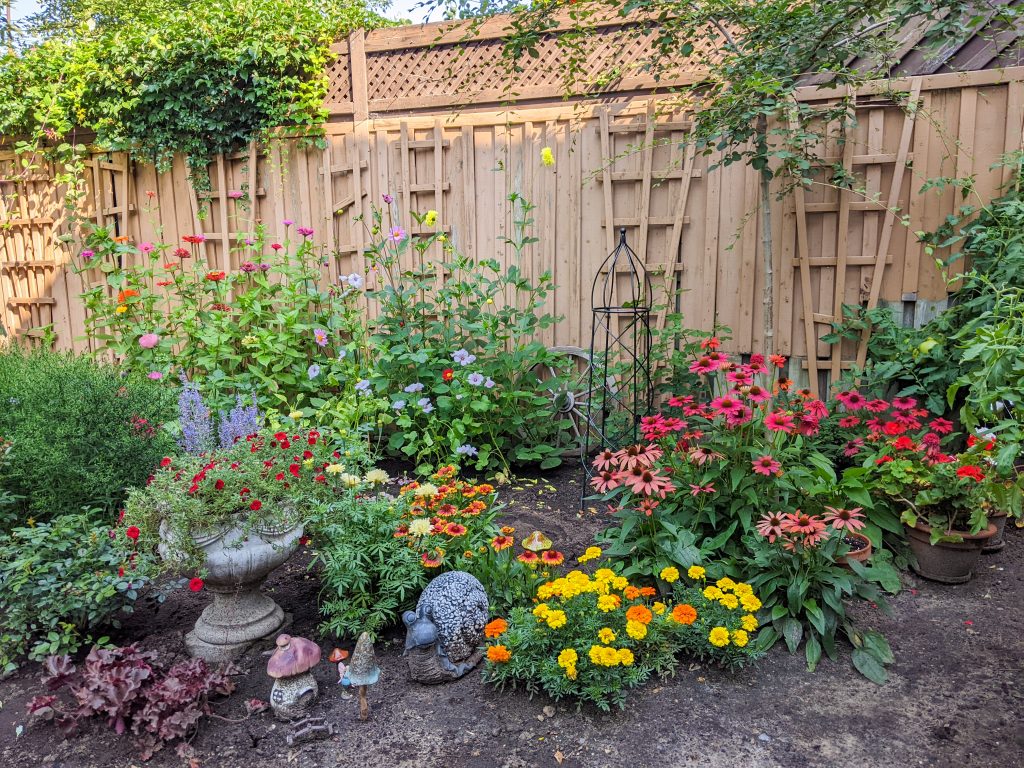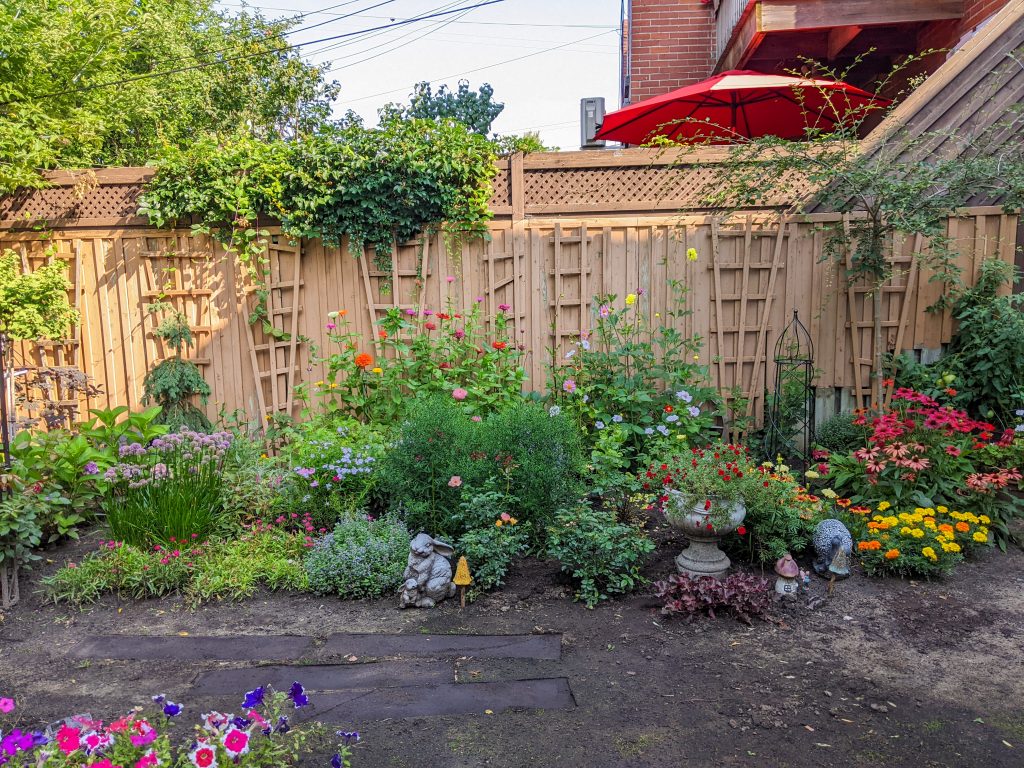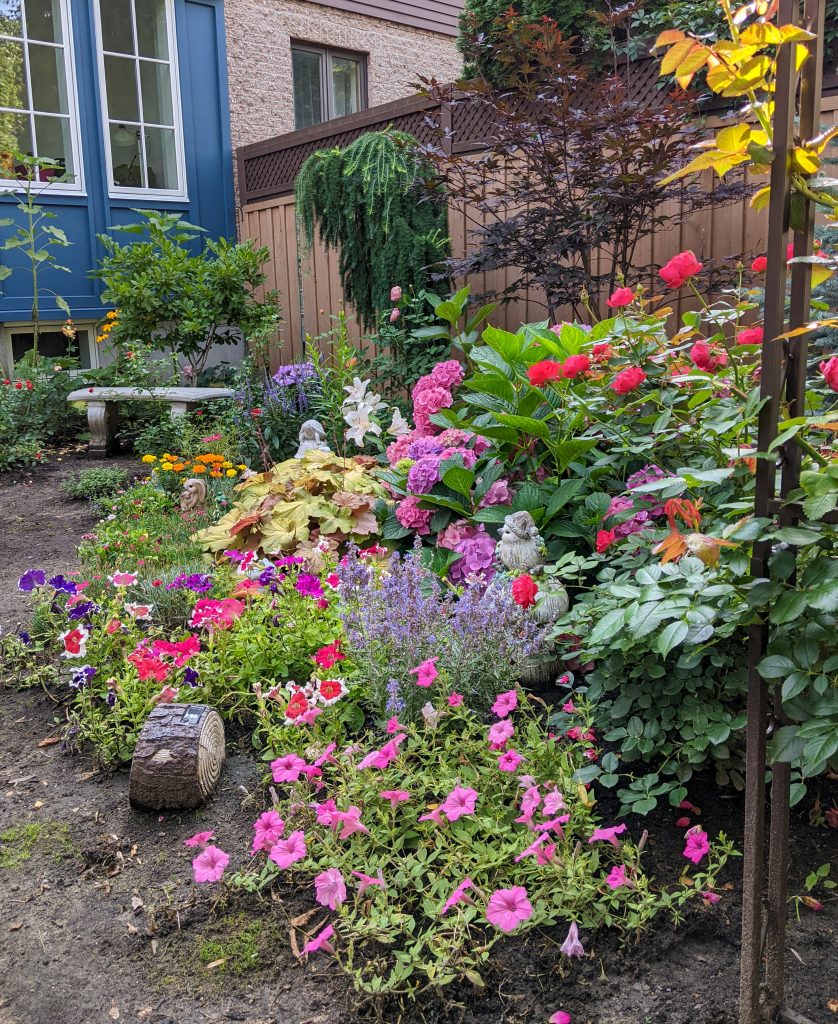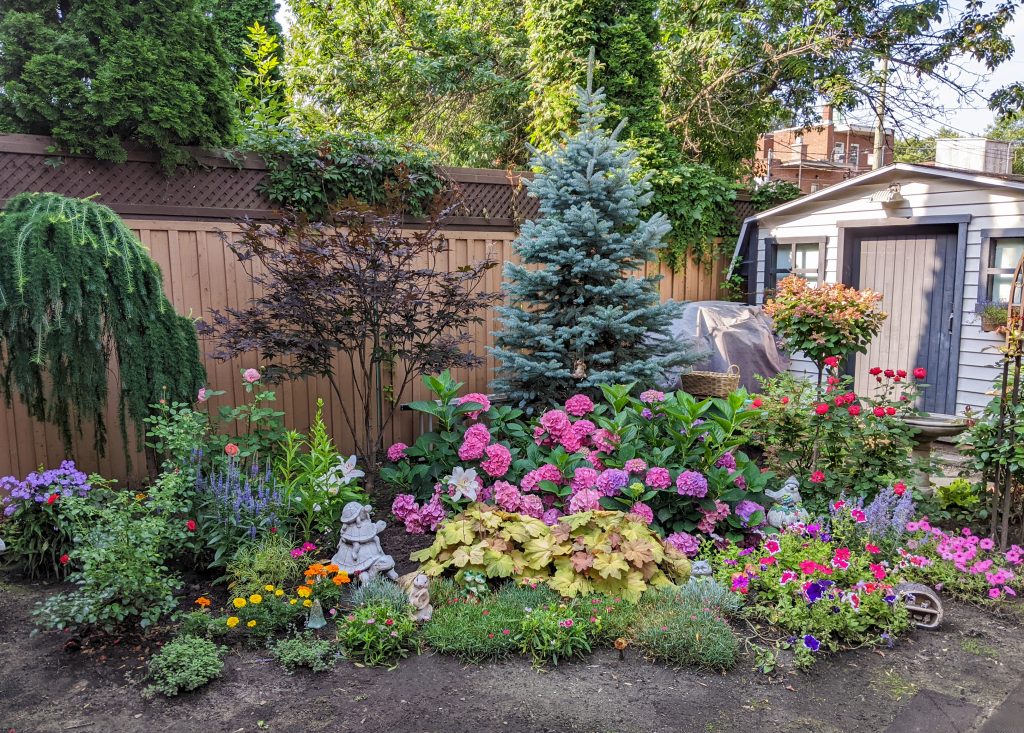 Nevertheless, I am super happy with how the garden has evolved and I'm really looking forward to watching how it changes and grows in the years to come!
xoxo