I showed you the new powder room a couple of months ago and now it's time for the big "sunroom office" reveal!
I took these photos a while ago, but it's taken a few months for me to actually edit them and make this post. Baby, toddler, travels, holidays…you know how it is!
I'm pretty happy with where I am with this room, design-wise, but I definitely don't feel like it's finished. There's nothing on the walls and I'm a bit on the fence about the new office chair I got, not to mention the rug. And I can even see the layout of the room changing potentially.
Nevertheless, I wanted to finally show you my new bright and cozy office!
Vintage and Vintage-Inspired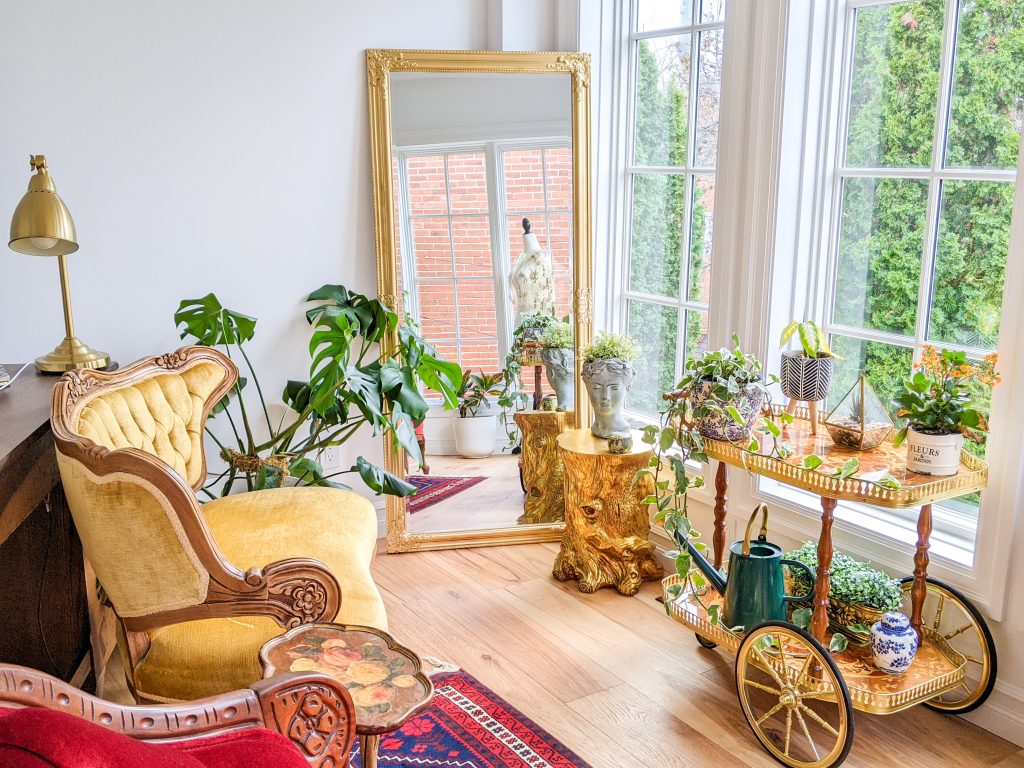 It's no secret by now that I love decorating with antiques and vintage finds. Well, I'll let you in on a little secret. Since those perfect, authentic, reasonably-priced antique pieces are extremely hard to come by, I sometimes sprinkle in new items that are vintage-inspired into my designs.
The desk lamp, the leaning mirror, and this apothecary chest are some examples of the things I knew I wanted to include in my office design, but those perfect vintage pieces just didn't cross my path when I needed them to.
Although this chest leaves something to be desired, I just knew I had to have an apothecary-style storage cabinet in my new office. Storage was a rather pressing issue to solve in this room since there's no closet, so I settled for this retro-looking piece. I find the factory distressed look very paint-by-numbers, and the quality is definitely nothing compared to furniture made in the olden days. But maybe someday, I'll stumble upon that perfect antique apothecary chest. In the meantime, this is a perfectly fine storage solution!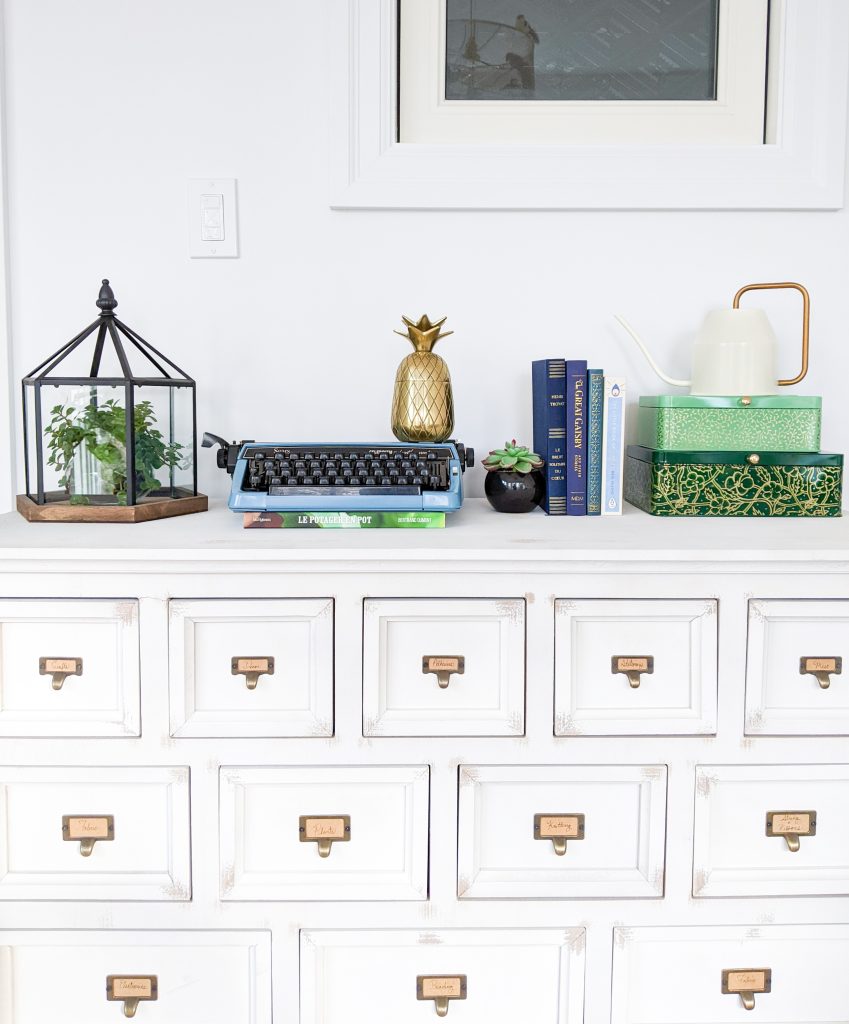 Luckily for me, for every few vintage finds in my collection, I come across the antique piece of a decade! One of my favourite items in the room is this antique bar cart that I picked up very recently from an antique dealer in our neighbourhood. I'm a huge fan of marquetry, so when I saw this baby in her shop window, I knew I had to have it. I just couldn't believe what good condition it was in, and reasonably priced too! This is definitely one of my favourite antique purchases to date.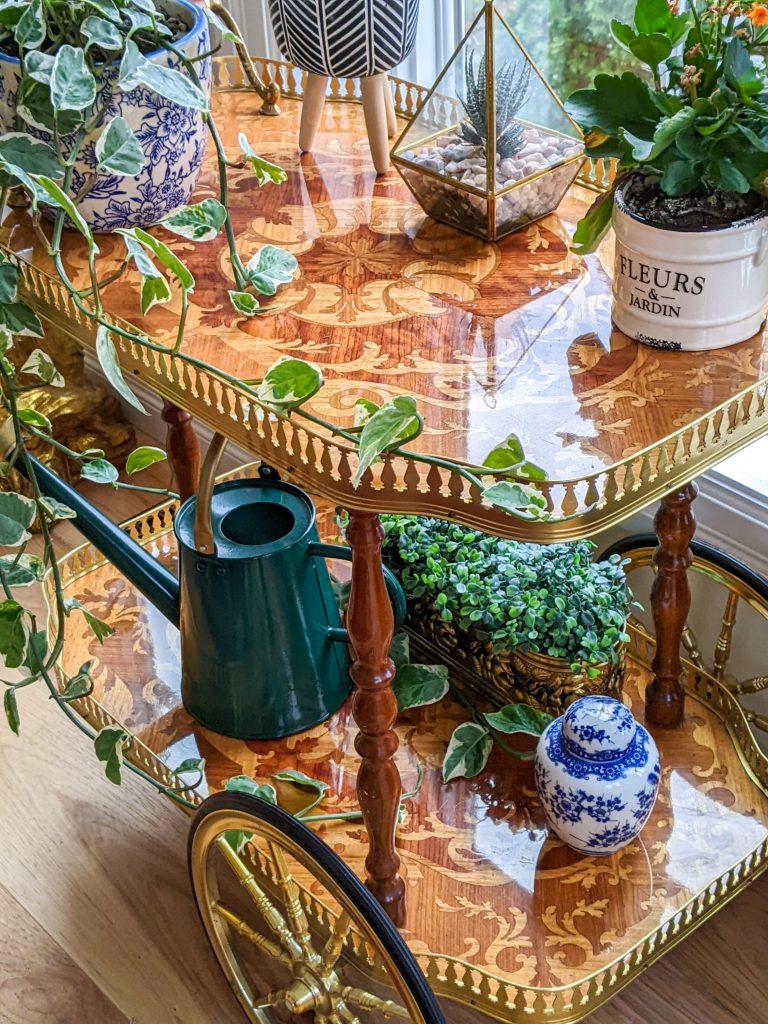 I'd love to have a real fireplace in this room, but this faux electric wood-burning stove will just have to do. Not only does it deliver the cozy hygge vibes in spades, but it's actually a functional space heater too!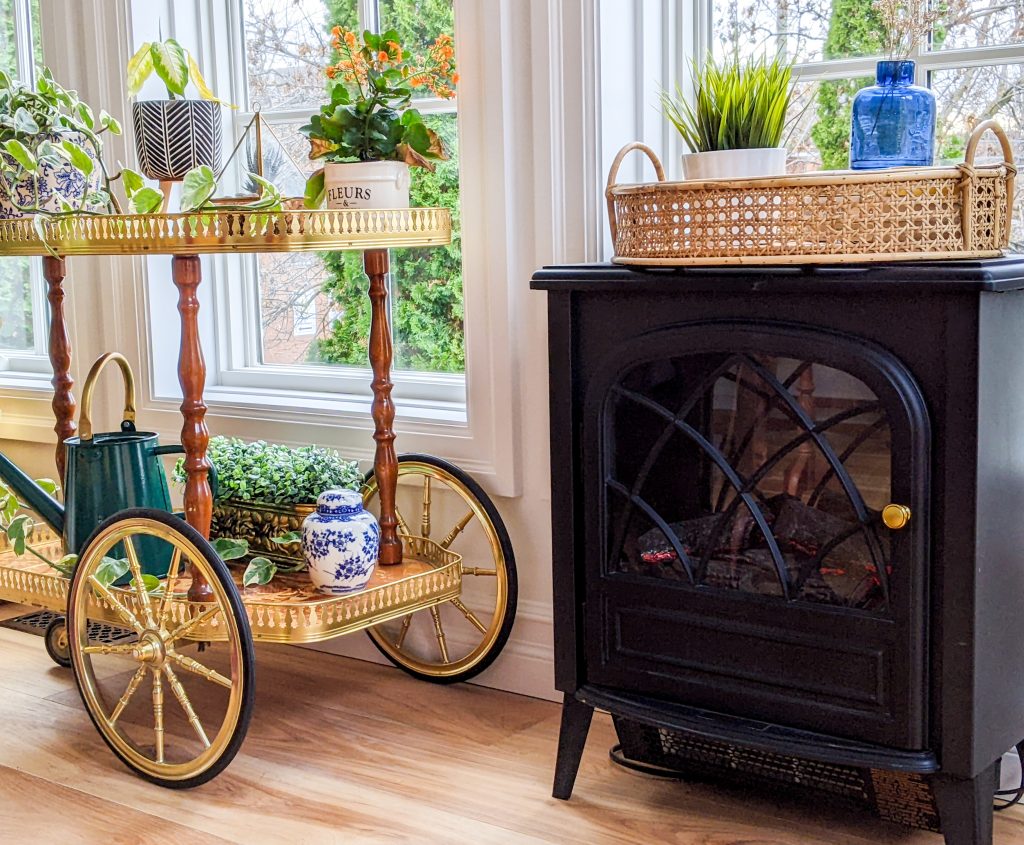 And of course, who can forget the yellow settee and red armchair! They've made appearances in the main bedroom, my old office, the living room…these pieces often get moved around because I try to keep them away from the kids, not to mention away from all the construction and renos.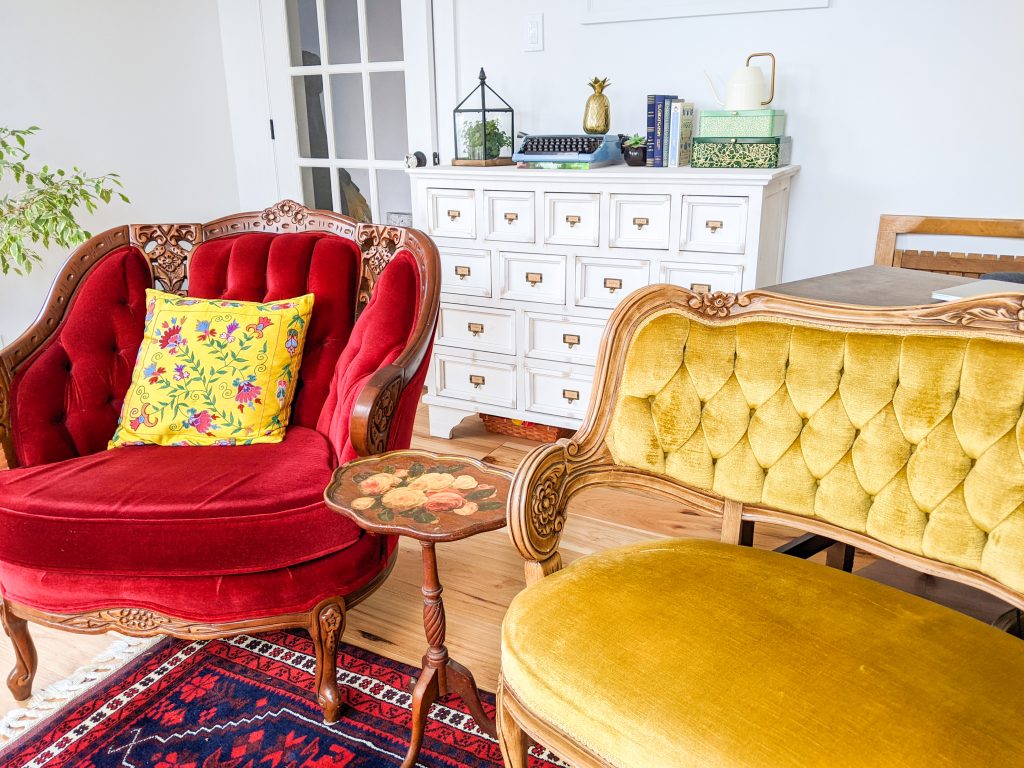 When it comes to office furniture, I really tried to stay true to the vintage aesthetic of the rest of the room, which is much easier said than done. I had my nice vintage wooden desk from the old office, but I wanted to get a new chair that was less ugly (re: ergonomic) and more in line with the other seating in the space.
I settled on this executive chair, which is actually a bit bigger than I'd like. I'm still on maternity leave, though, so I don't know what sitting in it for eight hours a day will be like. I might have to go back to a more ergonomic, but less aesthetically pleasing option.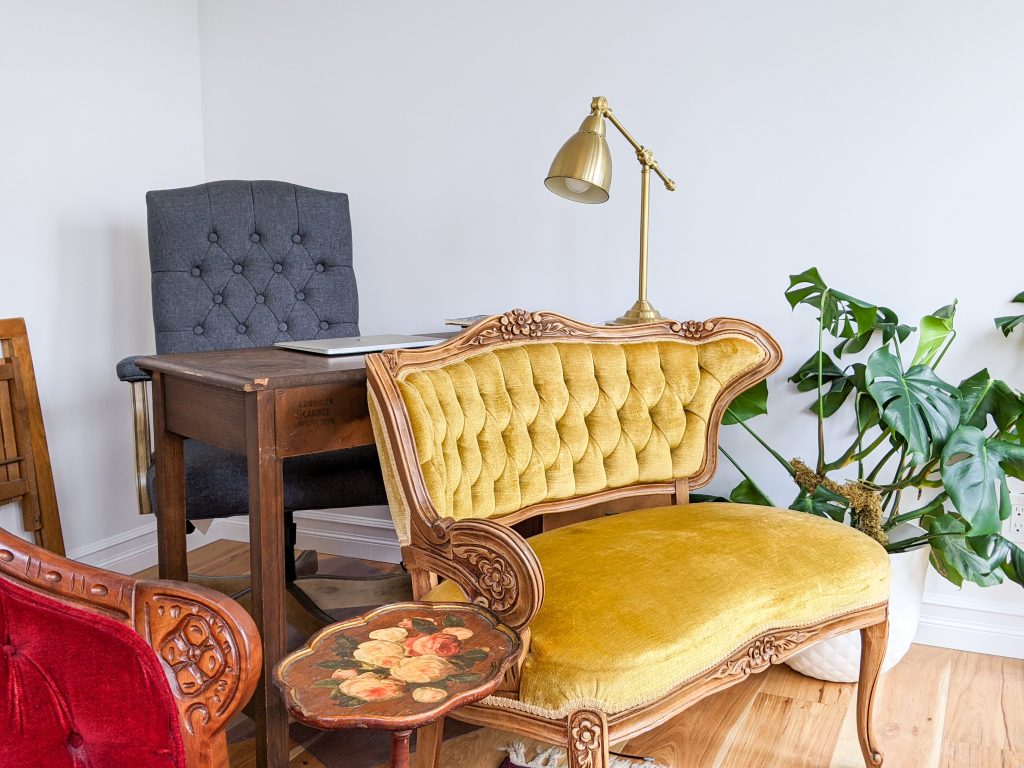 Plants
What sunroom would be complete without a buttload of plants??? I mean, part of the reason why I wanted a sunroom to begin with was the houseplant potential. I'm very happy with the collection thus far, but there may be some tweaking to come.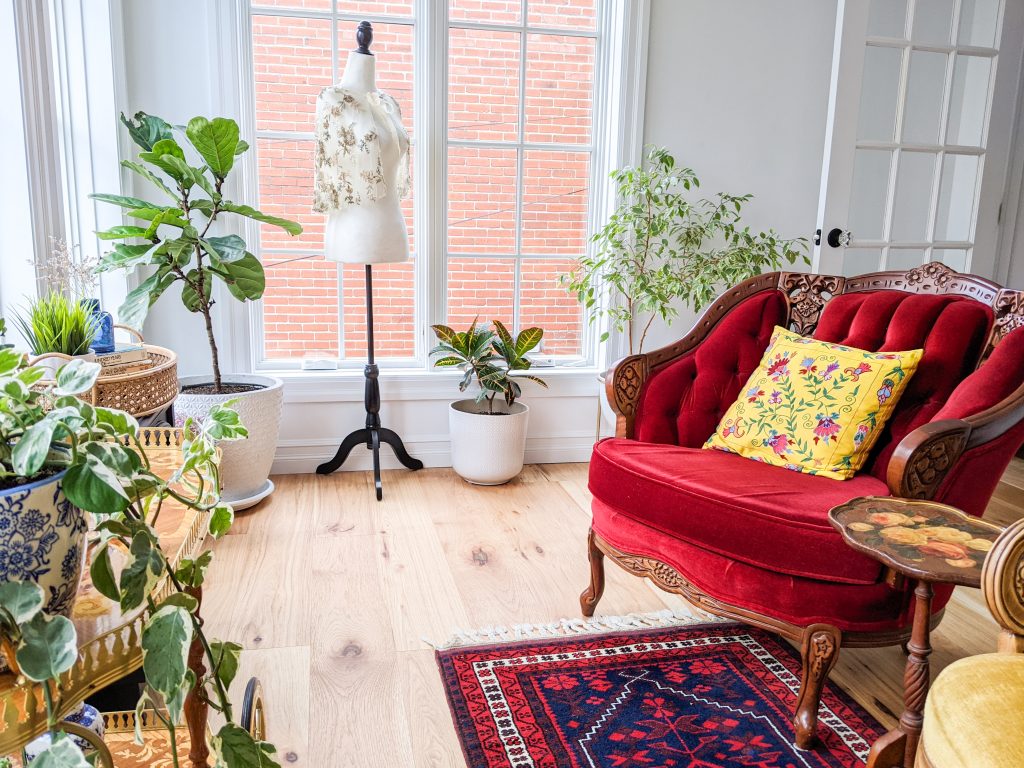 I obviously needed to include a fiddle leaf fig, possibly my favourite houseplant ever. I also included a few plants I've had since we basically moved into this house, plus a few new additions. Plants are such a good design tool. They can add so much to a space: life, texture, height, width… And green is pretty much a neutral, in my opinion! It goes with everything!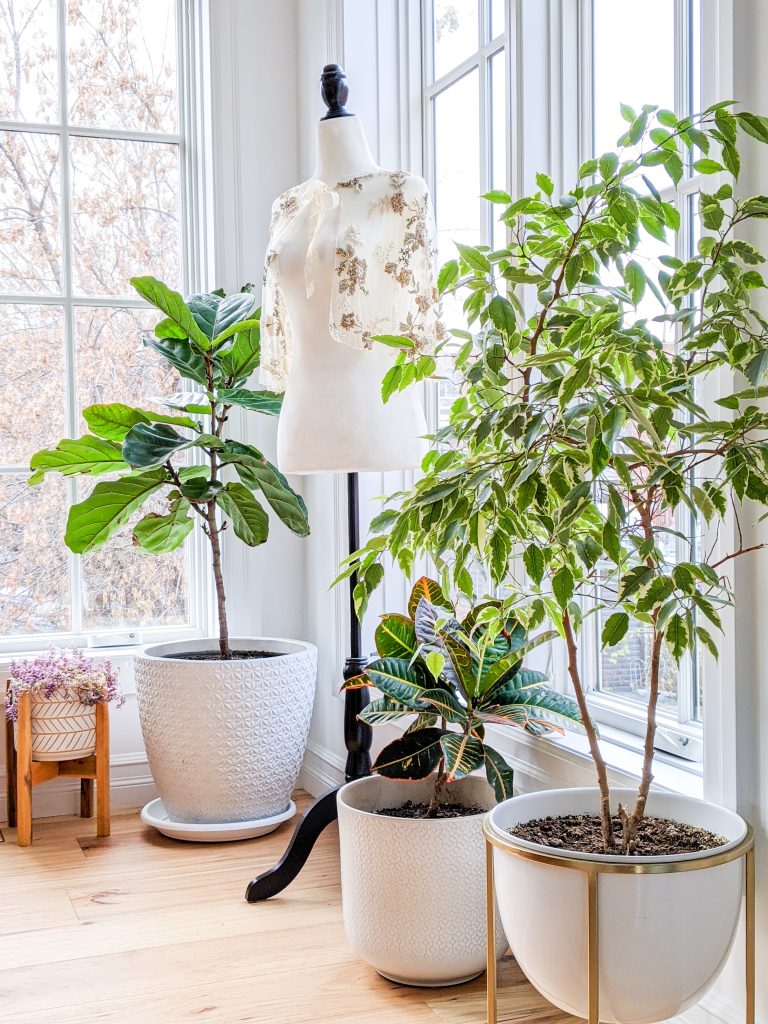 And Moments Of Whimsy
I could just put all of my design blog posts under these same three headings. They sum up my design aesthetic pretty well! Antiques, plants, and moments of whimsy. I guess if I ever write a book, I'll have a title all ready to go!
Who could forget this DIY bird cage pendant light I made last year? It was one of the few DIY projects I was able to complete between all the reno/pregnancy/new baby stuff. It looks so good hung up in the office! I just love how it adds an unexpected touch of fun. You can read about how I made this light fixture here.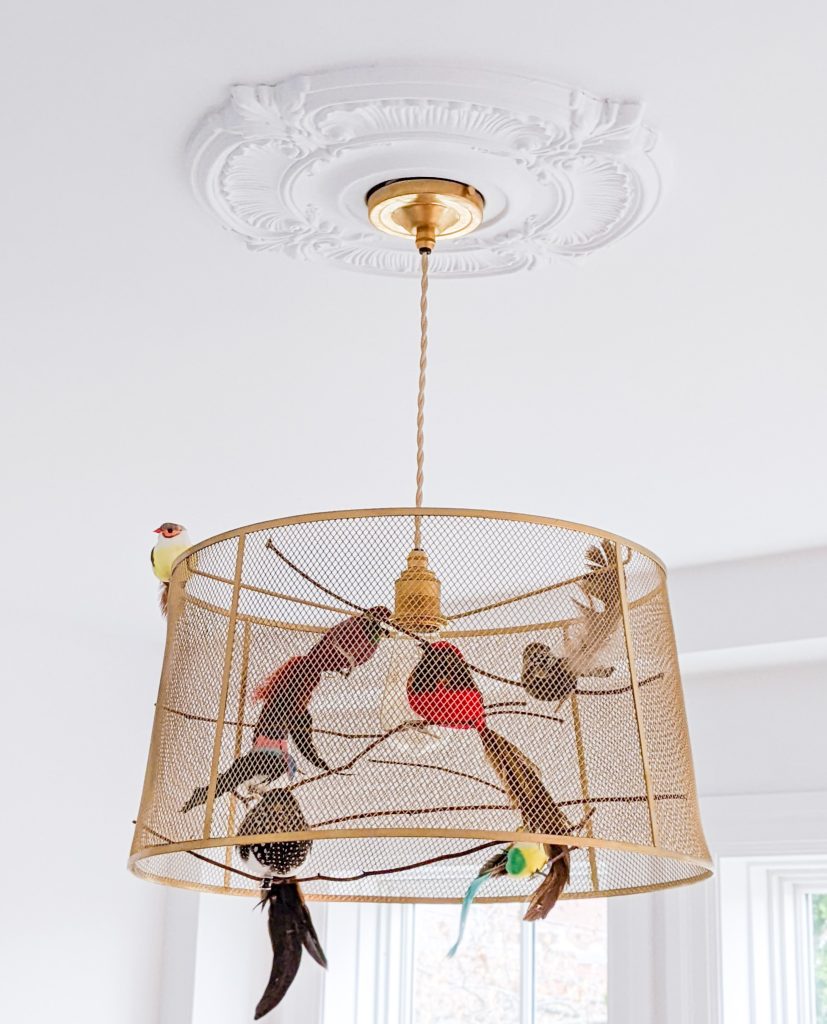 And although this gold tree trunk is fake, I'm so into the intense textures, knots and swirls. Nature is a big design inspiration for me and when I saw this unique side table years ago, I snapped it up without hesitation.
I'm always looking for nice planters as well and these concrete bust planters are my new obsession. Who doesn't love a functional item that doubles as an art piece?
Also, shout out to my pearls and jade pothos, who's just loving life in the sunroom office!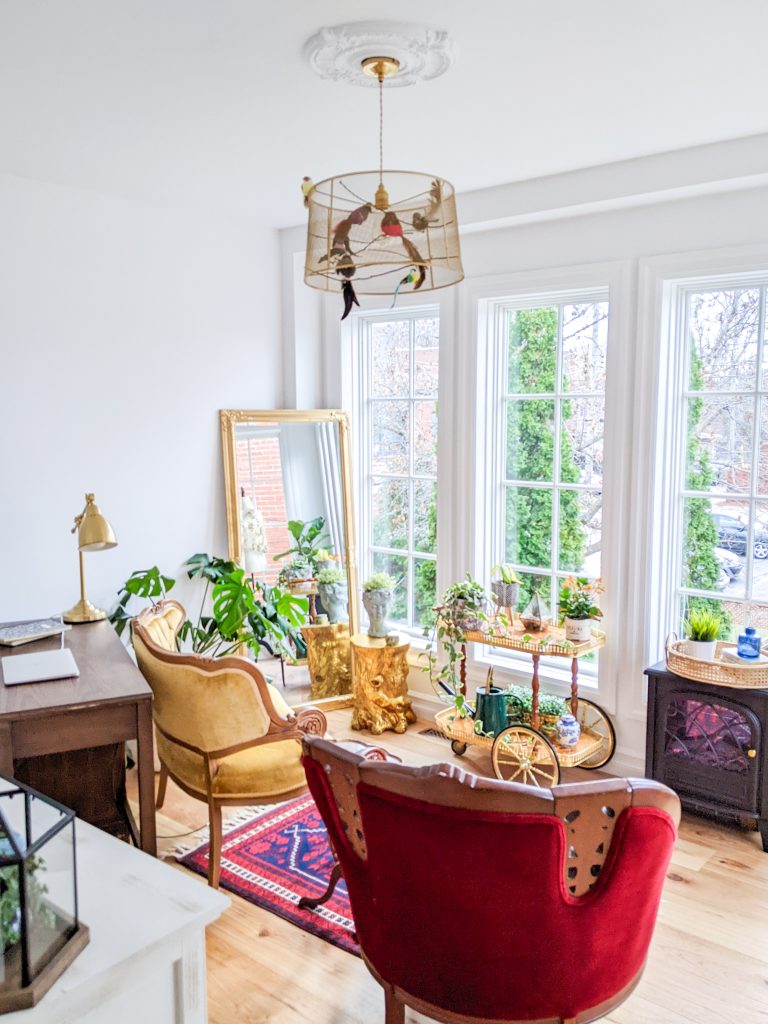 Believe it or not, I feel like this room was just kind of thrown together haphazardly. I had originally designed it with a different layout in mind, but once the room was actually built, I found that my plans would not work with the real-life version of the space. Not to mention, I had stuff that I kind of just had to stick somewhere and stuff I want that I haven't even gotten around to getting yet.
But furniture can be moved around and things can be replaced. That'll be a blog post for another day. Speaking of which, I'm so glad I finally got this post up! I think I took these photos in November???
Armchair, settee, tea cart, desk – vintage
Desk chair – Wayfair
Desk lamp – old (this is similar)
Apothecary chest – Wayfair
Rug – from Montenegro
Wall mirror – JYSK (spray painted gold)
Stump – Homesense
Bust planter – Amazon
Faux wood-burning stove – old (this is similar)
Dress form – Amazon
Hopefully, things start to settle down a bit for us and I can get back into the rhythm of blogging more often. Hope your 2023 is getting off to a good start!
xoxo