Our house has been a bit of a mess these past couple of months. Seriously, there's piles of outdoor furniture and unopened IKEA dresser boxes in my office, currently. We've obviously got a lot going on in the backyard, so we've been playing musical chairs with all our stuff. IE. the antique chairs got moved to the bedroom, so the outdoor furniture can live in my office. The dresser parts need to stay in the boxes until the outdoor furniture can move outside and there's actually room to have a dresser…
Basically, we have a lot of piles of stuff going on in the house.
And I gotta say, this kind of environment is not very conducive for fun DIYs and design projects.
Nevertheless, I've been designing like crazy, what with four whole new rooms needing to be outfitted by the end of this year and today, I wanna talk about the very specific vision I have for my new office lighting.
Now, if you've never seen our house or my interior design style before, I would describe it as vintage eclectic with rustic accents, natural motifs, and whimsical touches. Enter French designer Mathieu Challière's birdcage pendant light, originally launched in 2006.
When I saw this, it really spoke to my aesthetic. It's unusual, but not crazy out there. It's got that natural touch, dashes of colour, a real moment of whimsy. But alas, his light is extremely expensive and not exactly easy to ship to Canada, so I decided to try making it myself before buying it.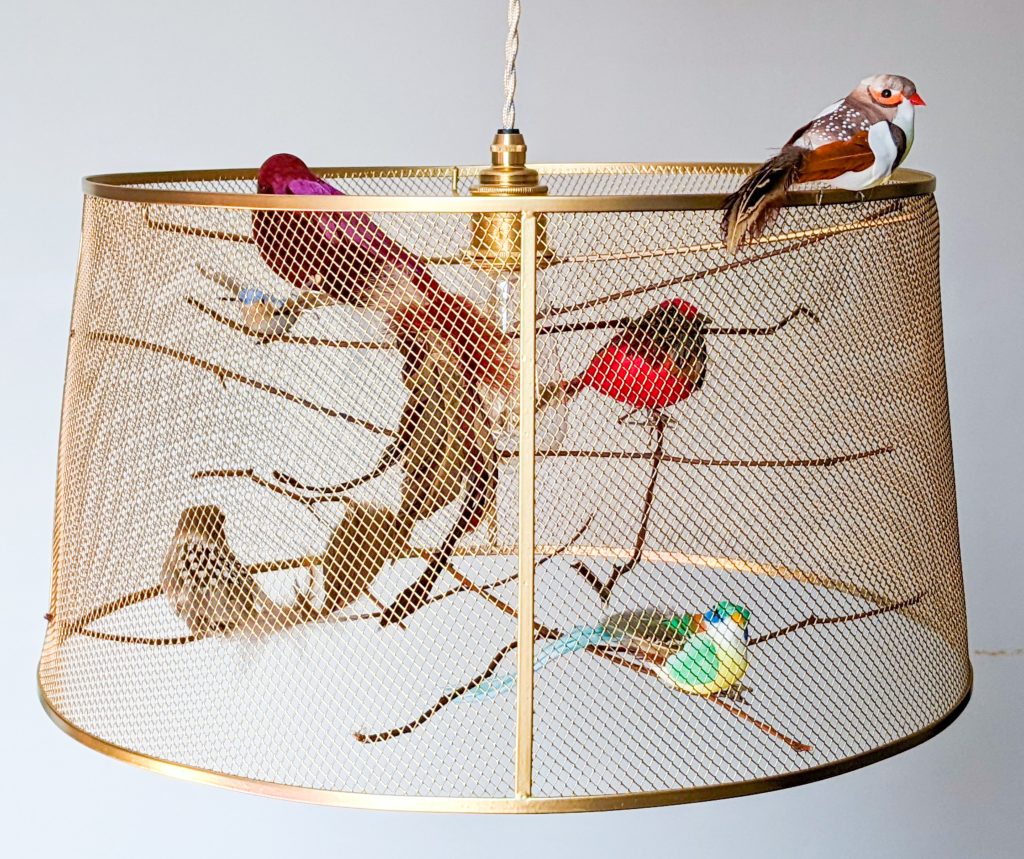 Here's how I did it!
Materials
sticks/branches
strong glue
faux birds
gold spray paint
Gather Your Materials
If you attempt to make this light, I highly recommend trying to find a wired drum pendant or lamp shade such as the Faxstad lamp shade from IKEA. It was quite lucky that I found this actually. I believe they are discontinuing this product and I randomly found the last one at my local store!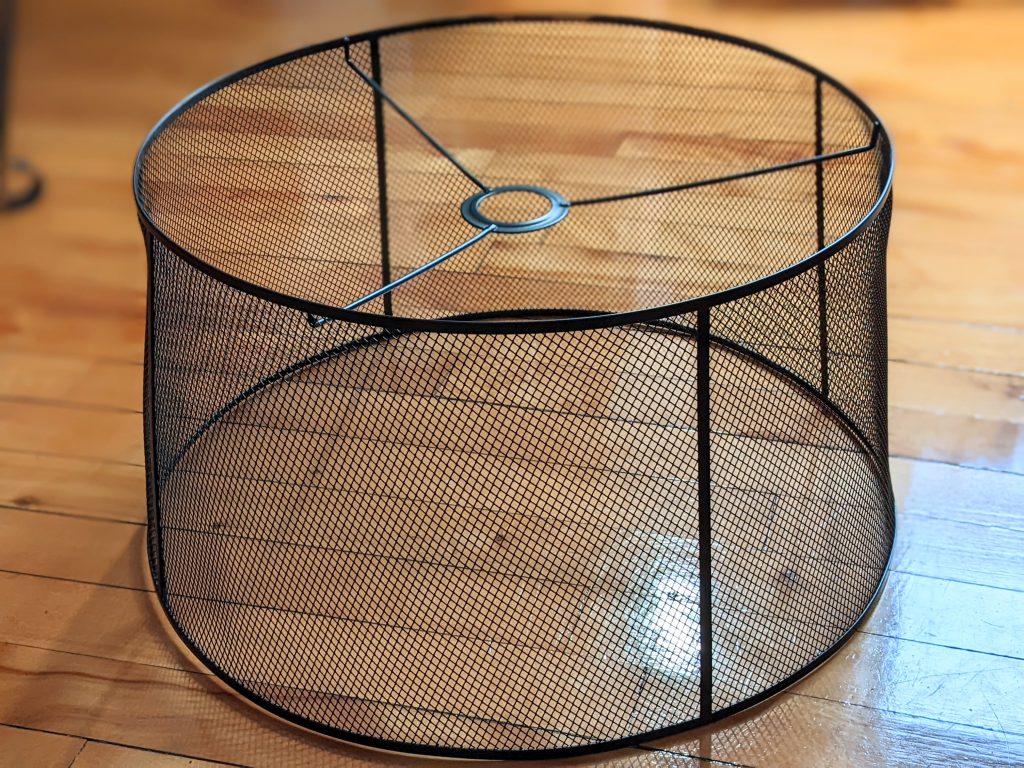 If you can't find a wire drum pendant, you'll have to find a drum pendant form and use hardware cloth or something similar to recreate the birdcage vibe. It will take much longer and be much more difficult to do it this way, but of course, it's doable.
Luckily, I have a form that I am more or less satisfied with, especially considering the extremely affordable $25 price tag.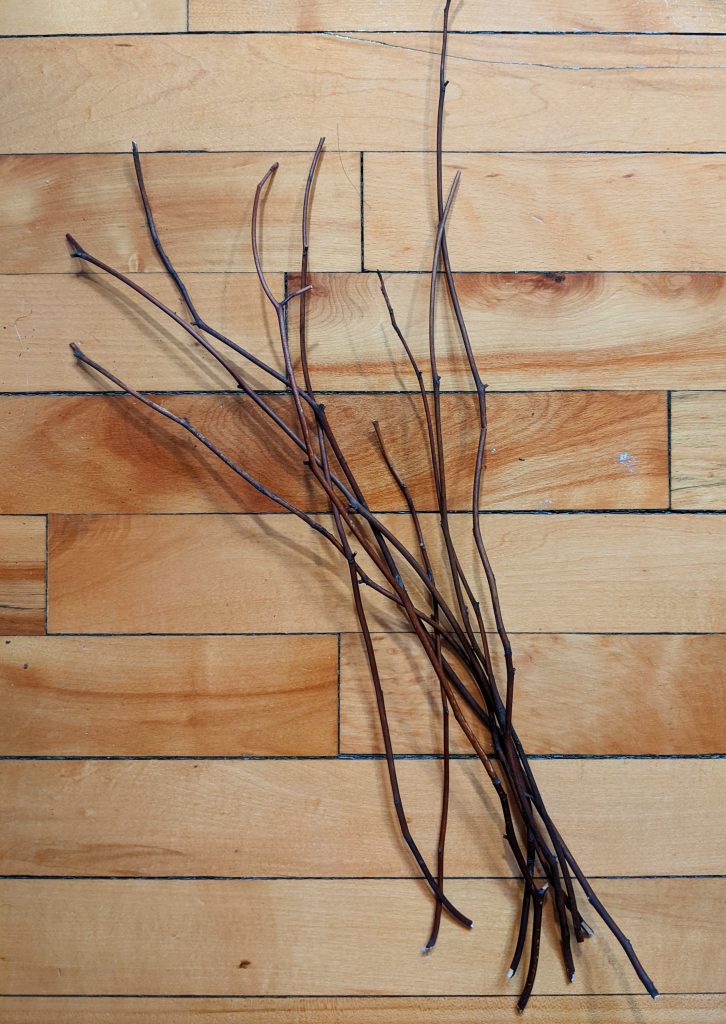 You'll also need some faux or real tree branches that you can easily find at craft/hobby/decor stores. Make sure they're skinny enough to fit through the holes in the lamp shade. While you're there, you should also pick up some assorted fake birds. I found most of mine at the dollar store and some of them are actually Christmas tree ornaments!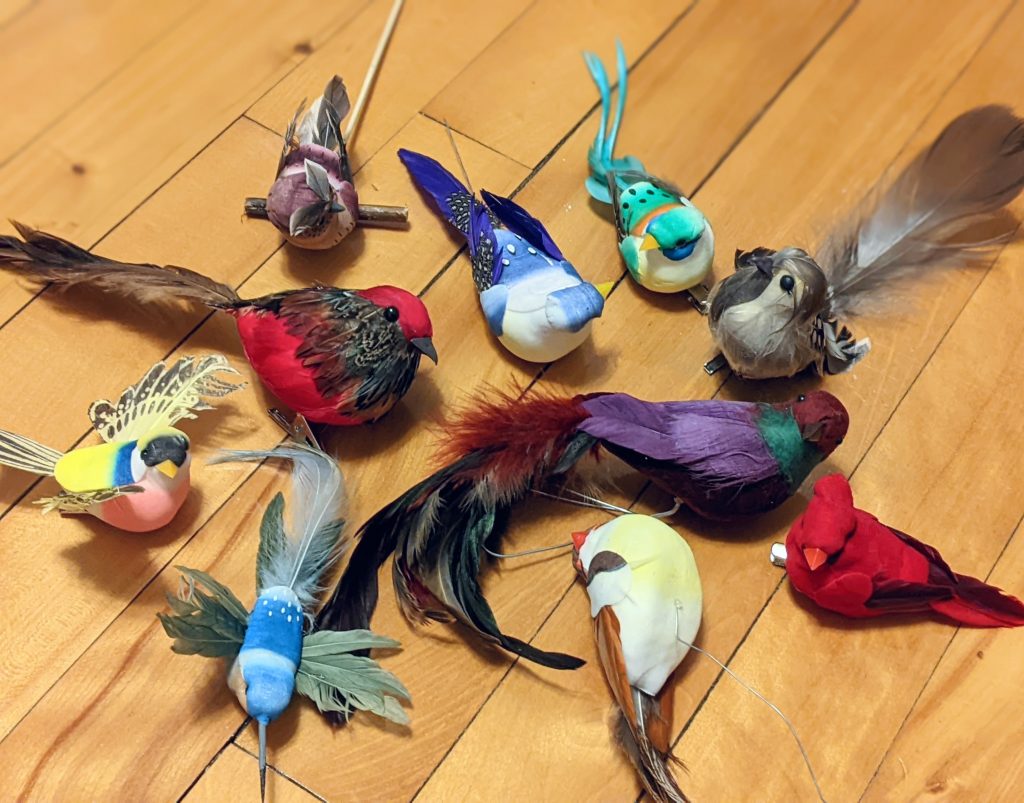 You'll also need a ceiling pendant kit. You can easily find this at your local hardware/home improvement store, or if you want a specific design or colour, you can get them online. I got this one on Etsy. In the end, even though I found it quite expensive, I have to say it's beautiful. And for the most practical part of this fixture to be beautiful is no small feat. I think you definitely get what you pay for. The gold tone of the metal parts even match my favourite spray paint PERFECTLY. What luck!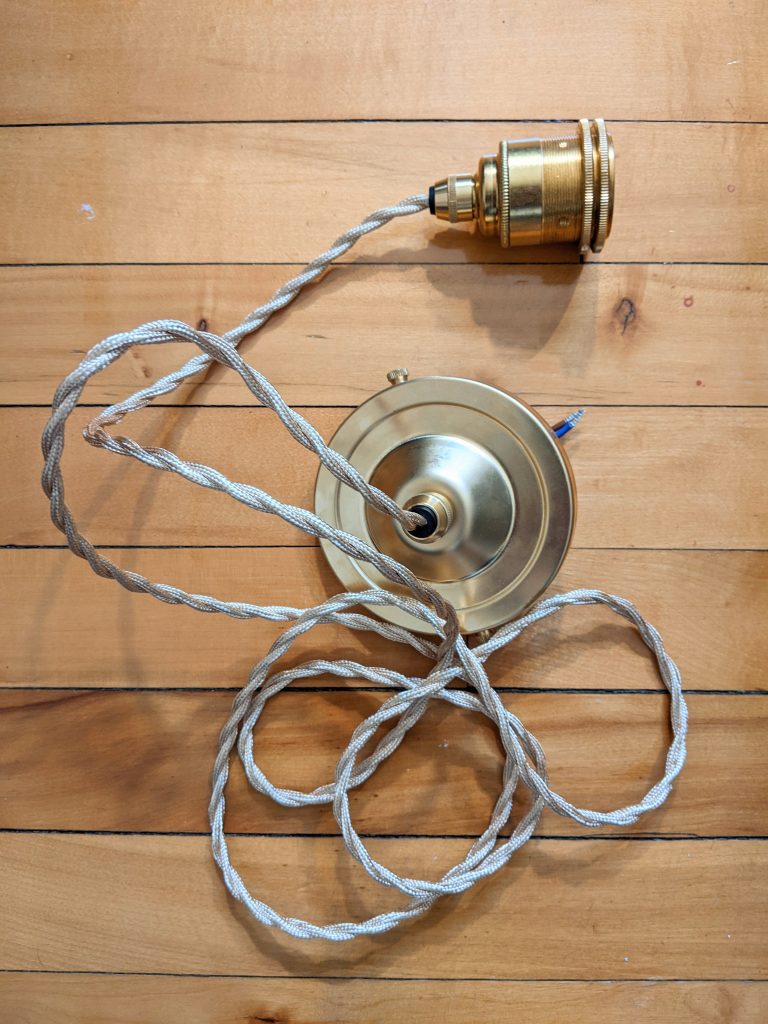 Speaking of spray paint, I used my favourite Rust-Oleum Specialty Metallic spray paint in gold, and for glue, I used my trusty go-to, E600.
Assemble The Light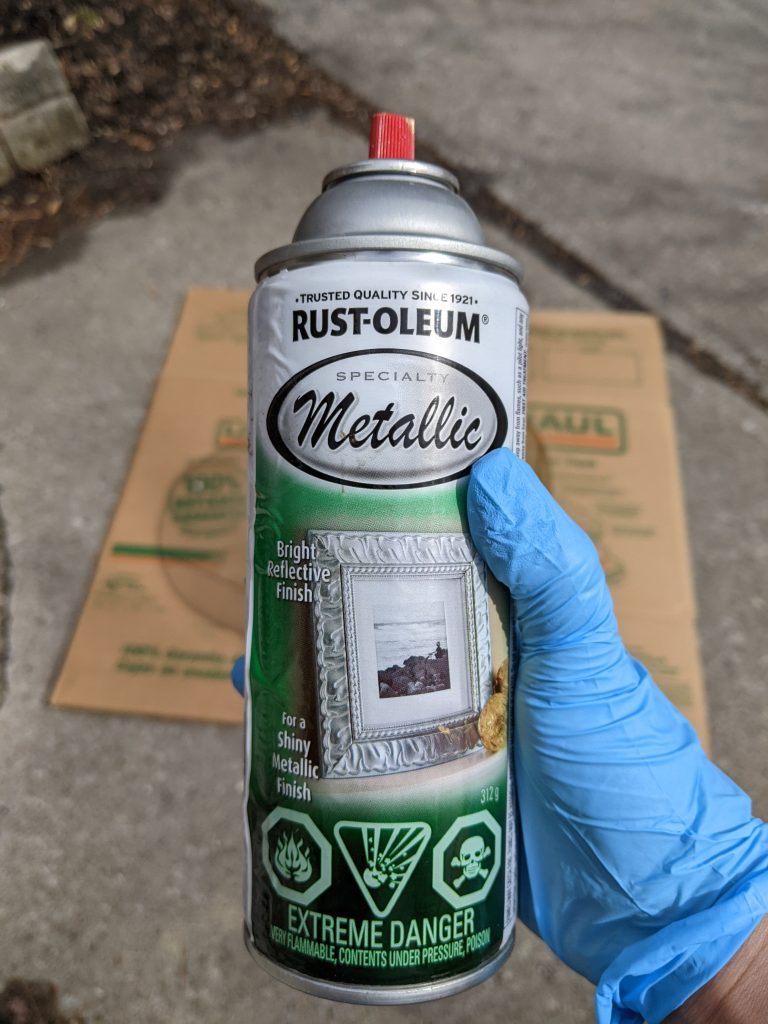 First, I spray painted the lamp shade in gold. Be sure to wear breathing protection and work in a well ventilated area. I just worked outside.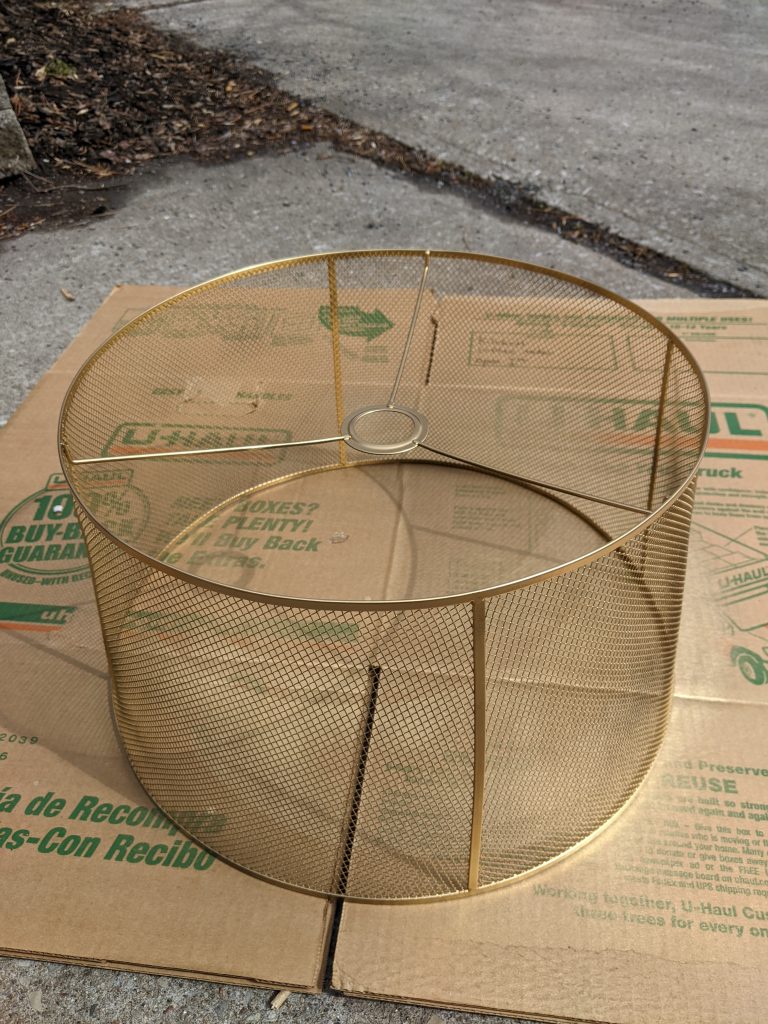 Then, I attached the pendant light part to the lamp shade along with a lightbulb. I think having these parts in place helps with the branch and bird placement. I didn't want anything touching the bulb.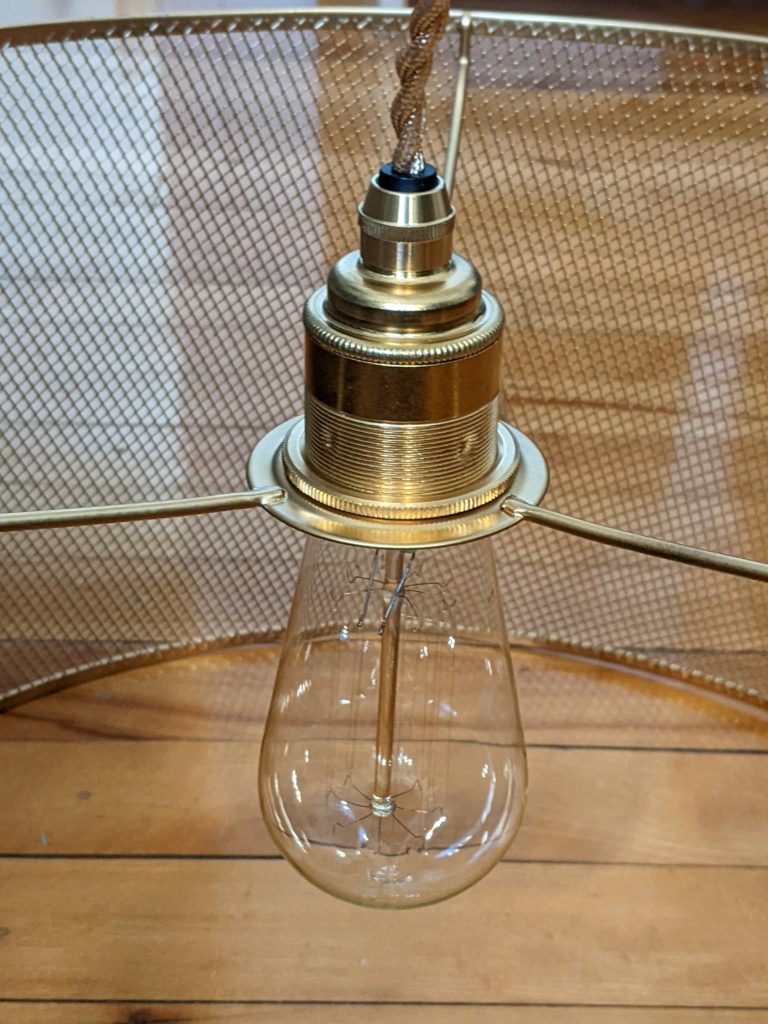 Adding the branches was actually the most time-consuming part. I wanted to make sure the branches were sitting in an aesthetically-pleasing way, and I didn't want it to look too cluttered or too sparse. It was especially difficult because the holes in the lamp shade were very small so I could only work with the very tops of my decorative branches, where they were the skinniest.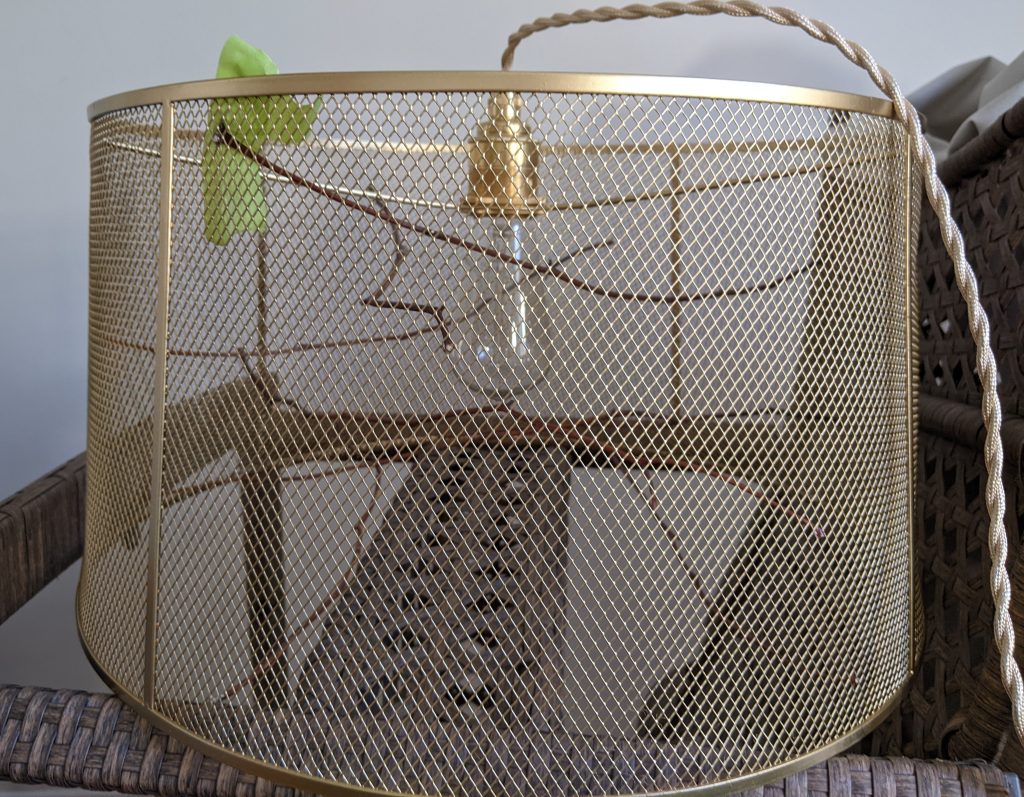 Once I got them in a pleasing position, I affixed the ends with a tiny bit of E600 glue. Gluing them to the lamp shade is imperative, in my opinion. They're too insecure otherwise. At the same time, you want to use the glue sparingly, so you can hardly see any residue afterwards.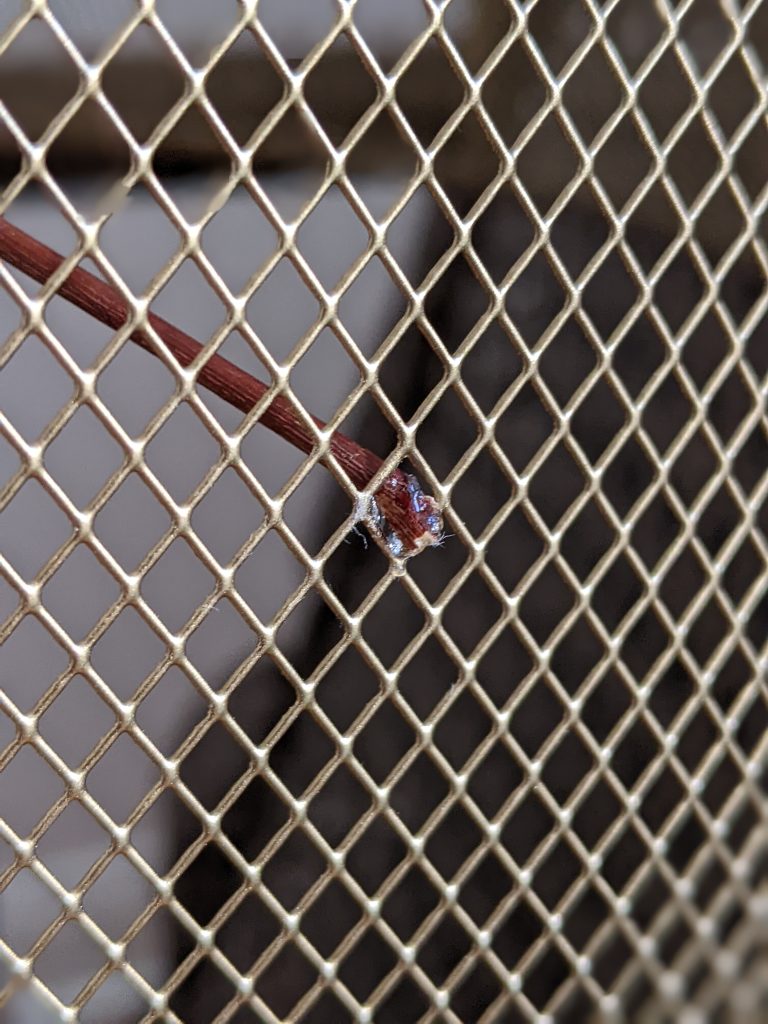 Lastly, I waited a few hours for the glue to dry and then attached some faux birds to branches. It's easy if you get the kinds of birds that have clips at the bottom because clipping them to the branches is a fairly secure way to attach them.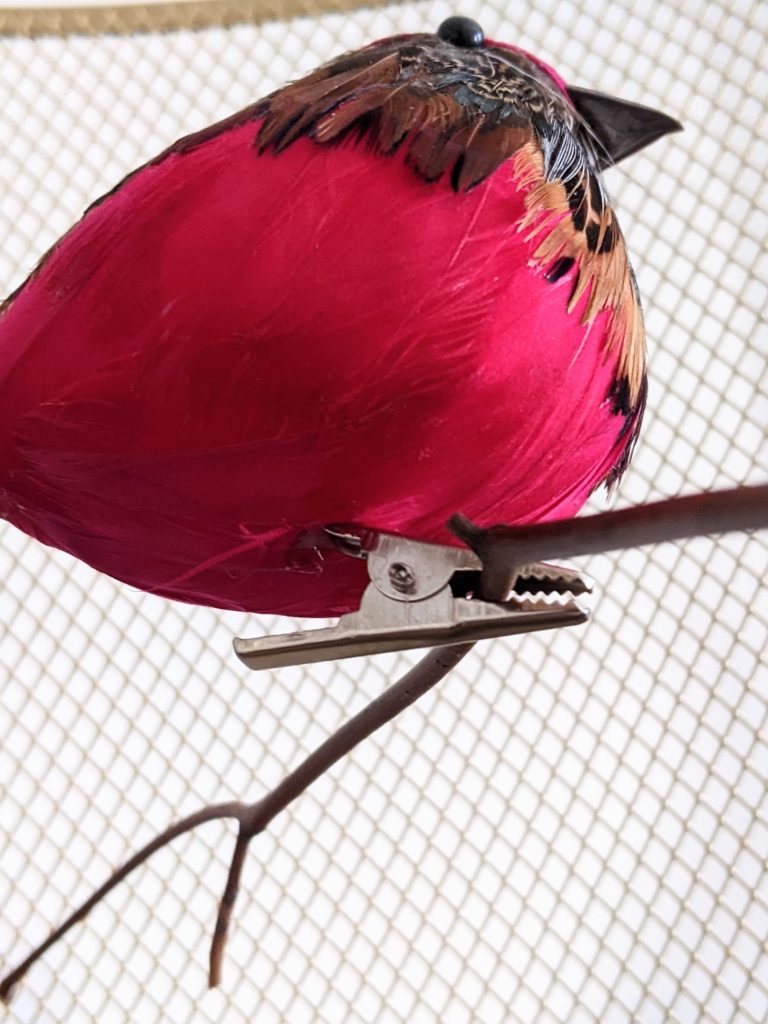 Some of my birds had metal picks, however, which required some cutting to make them shorter and maneuvering through the lamp shade/on the branches.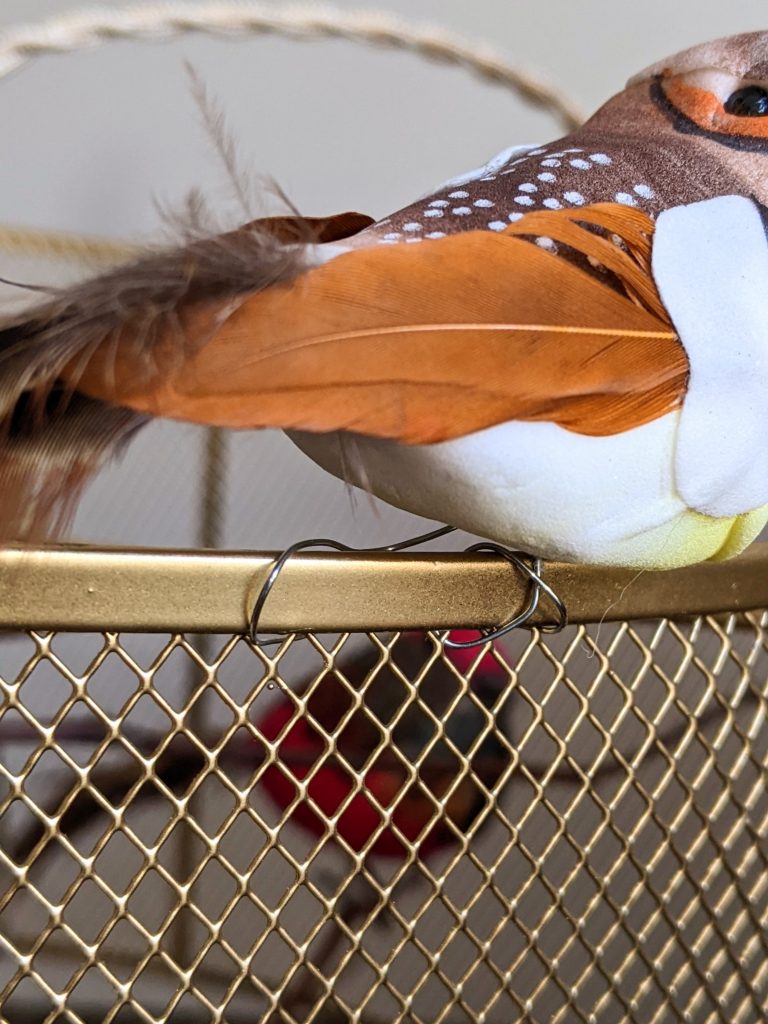 I am so pleased with how this turned out! It looks even better than I imagined!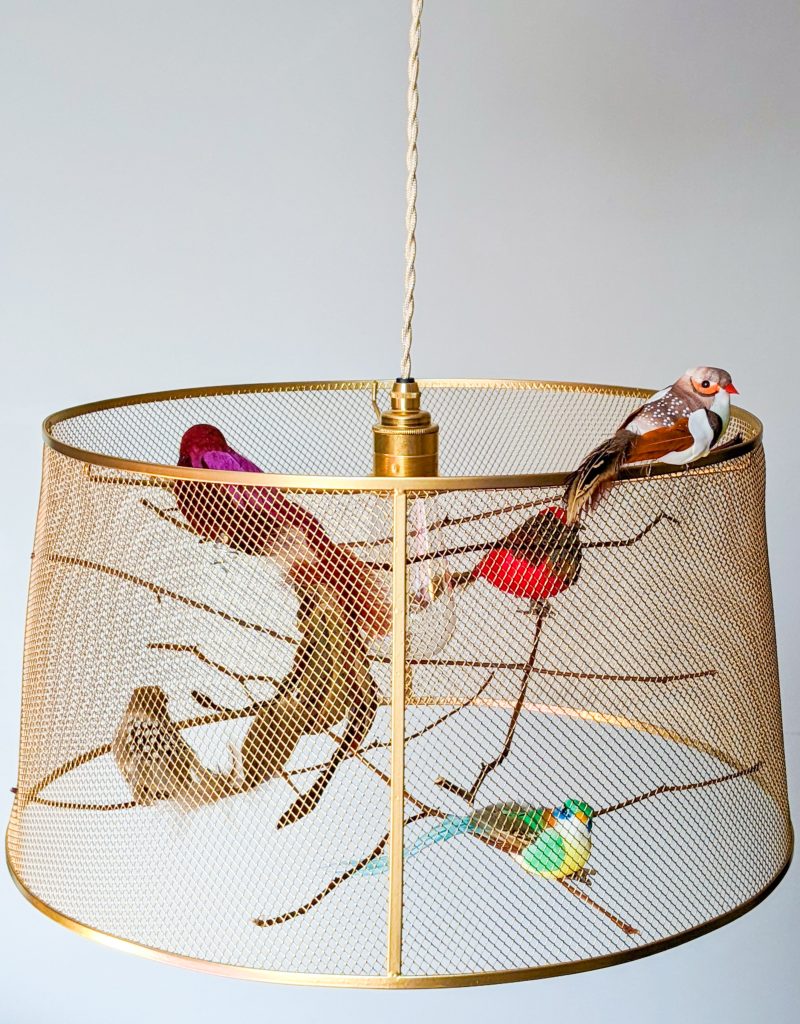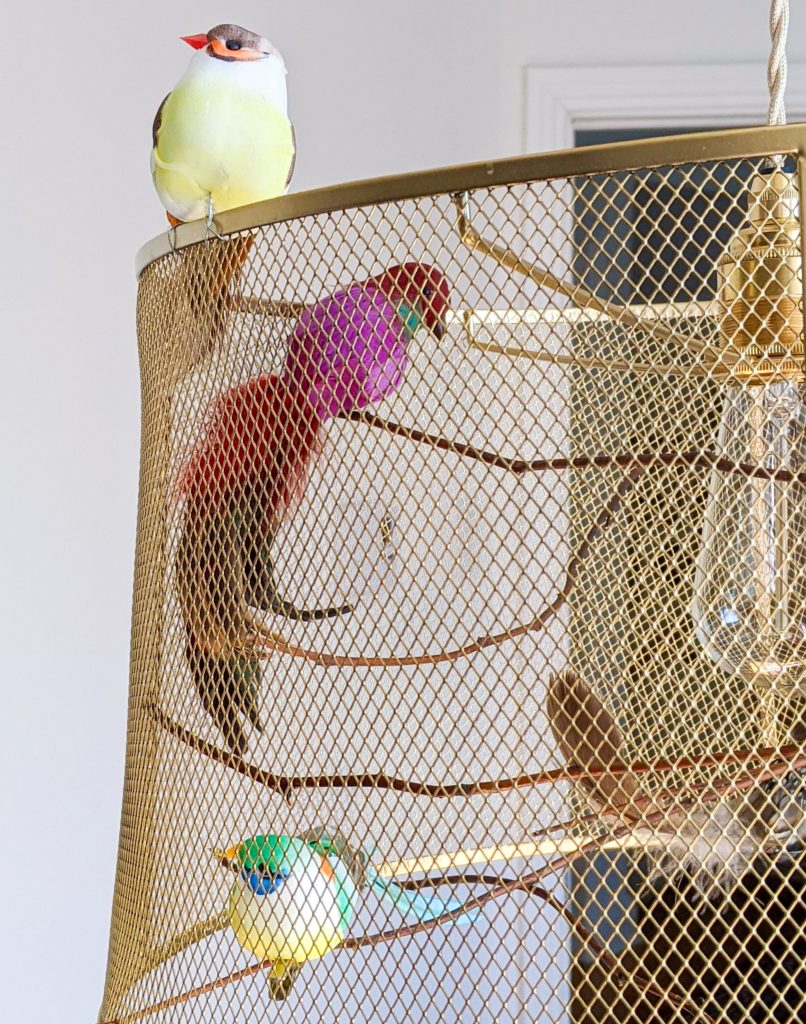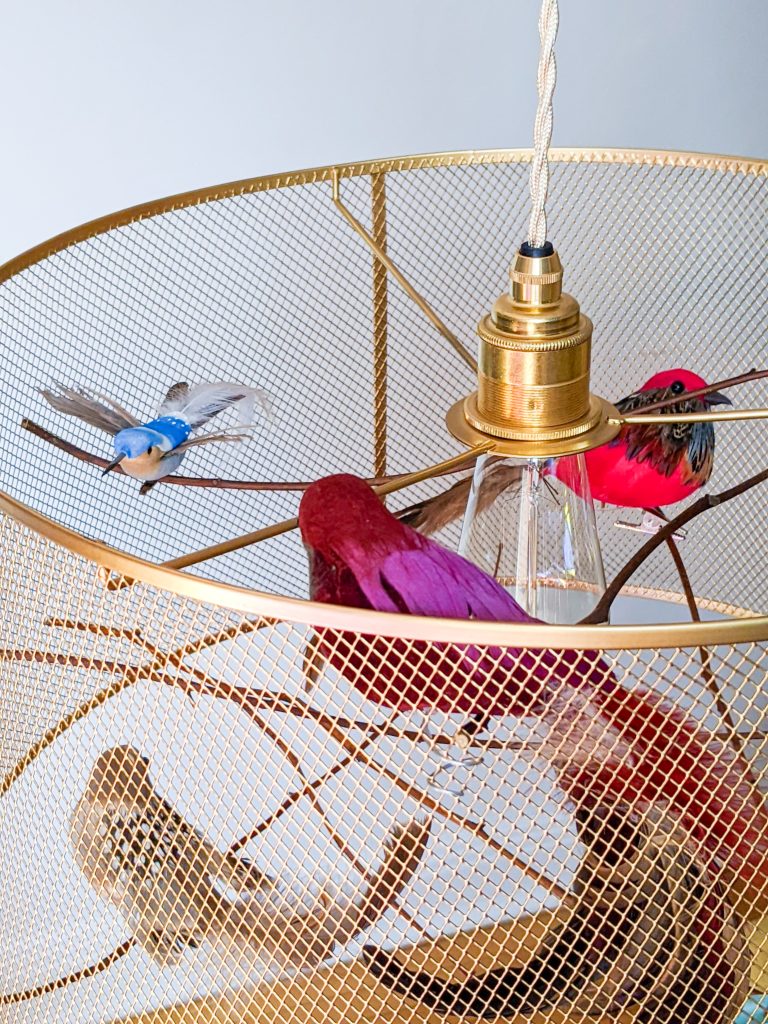 If I could change one thing, I would prefer it if the holes in the lamp shade were a bit bigger, because it would make the visual impact of the birds more impactful (not to mention, I would have had an easier time fitting the branches through). But for $25 and no extra labour on my part to actually create the birdcage look, I really can't complain.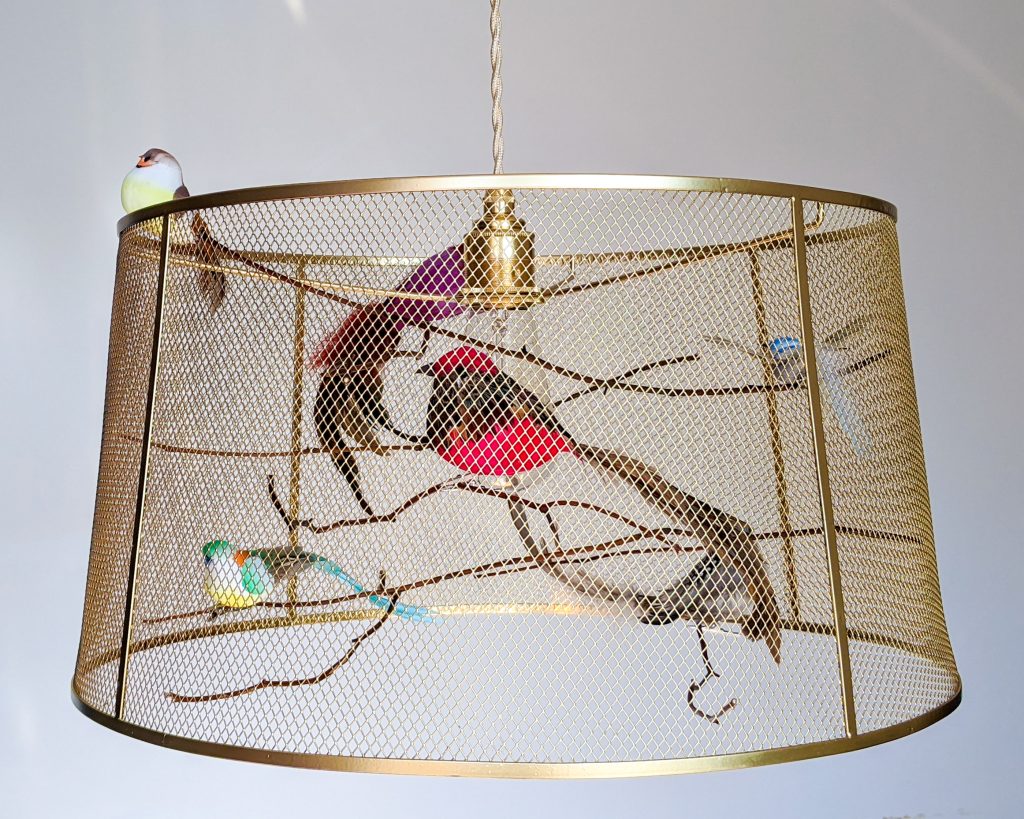 I can't wait to hang this up in my new office!
xoxo