When I started making updates to the kitchen, I wasn't sure what I wanted in terms of the style or overall look, but Kyler was adamant that we not repaint the cabinets. His philosophy is that original wood is classic, not that easy to come by and paint pretty much ruins it because it's really difficult to remove the paint and the wood is just never the same again. You'd probably have to pay a pretty penny to get real oak cabinets nowadays, so he didn't want to "ruin" what we already had.
This actually helped me a lot in terms of narrowing down the design of the kitchen. With so many cabinets and having such a powerful wood motif, I more or less decided to go with a somewhat rustic/farmhouse aesthetic that struck a good balance between modern and vintage, and worked really well with the French country vibes of the dining room.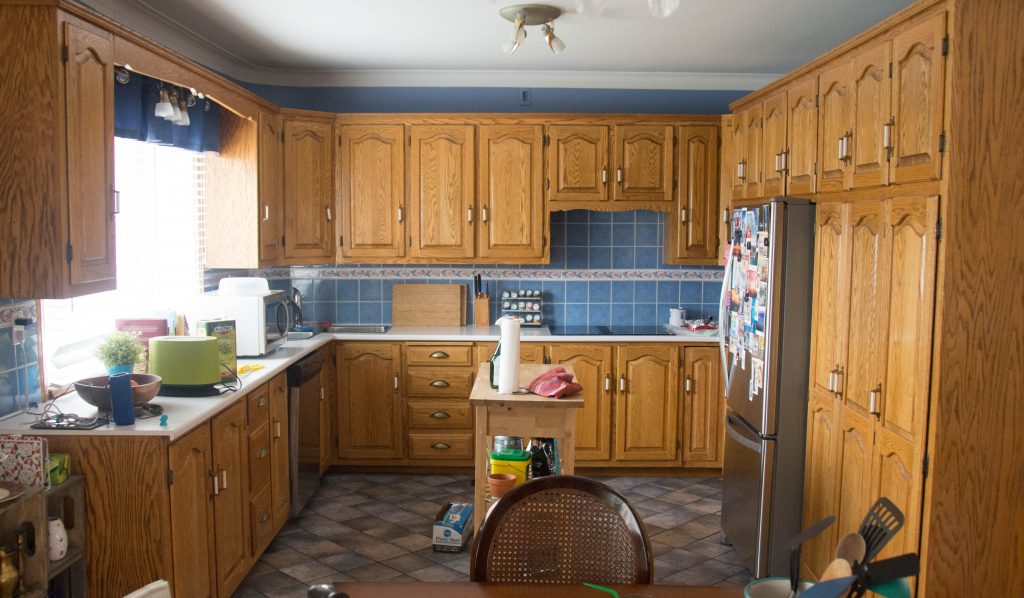 One thing was for certain though: I HATED the orange tone of the wood. It might have been trendy thirty years ago, but to be honest with you, I pretty much don't believe in orange wood. Like ever. So with painting not being an option, I decided to stain the cabinets to create a slightly deeper, more neutral brown. Here's how we did it!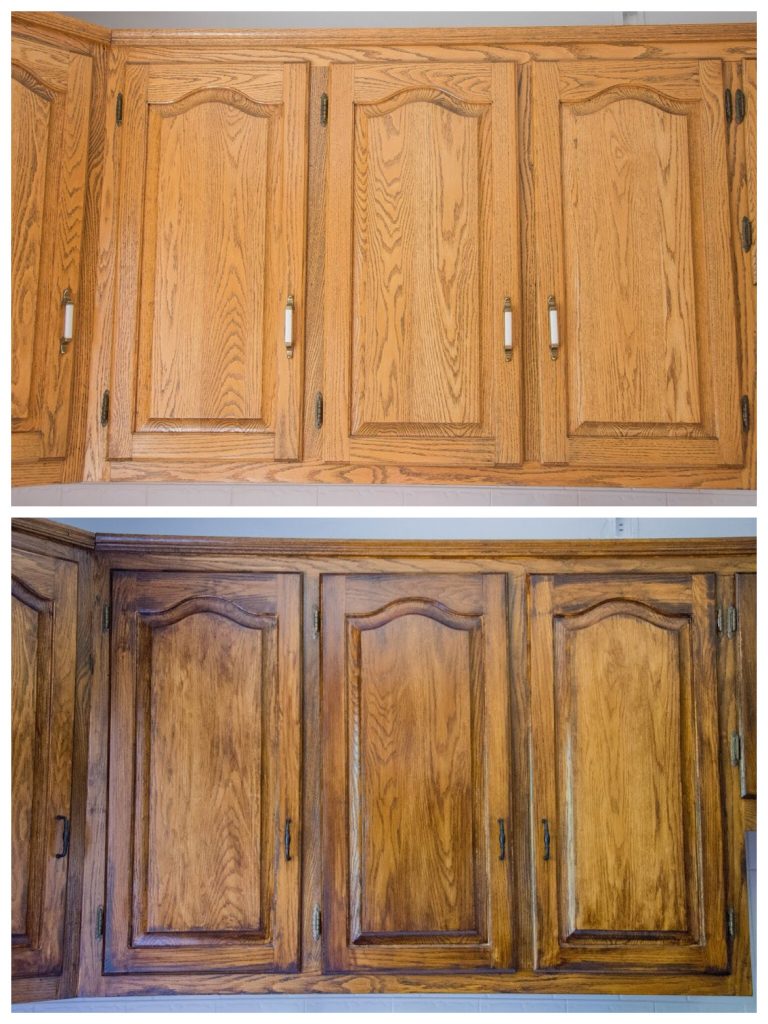 Materials
-sander/sandpaper
-latex or rubber gloves/work gloves
-lint-free cloths
-wood stain
-top coat/stain sealant
-screwdriver/drill
-eye protection
-face mask
-earplugs/ear protection
-drop cloth/plastic sheeting
-painter's tape
-synthetic paintbrush
-(optional) vacuum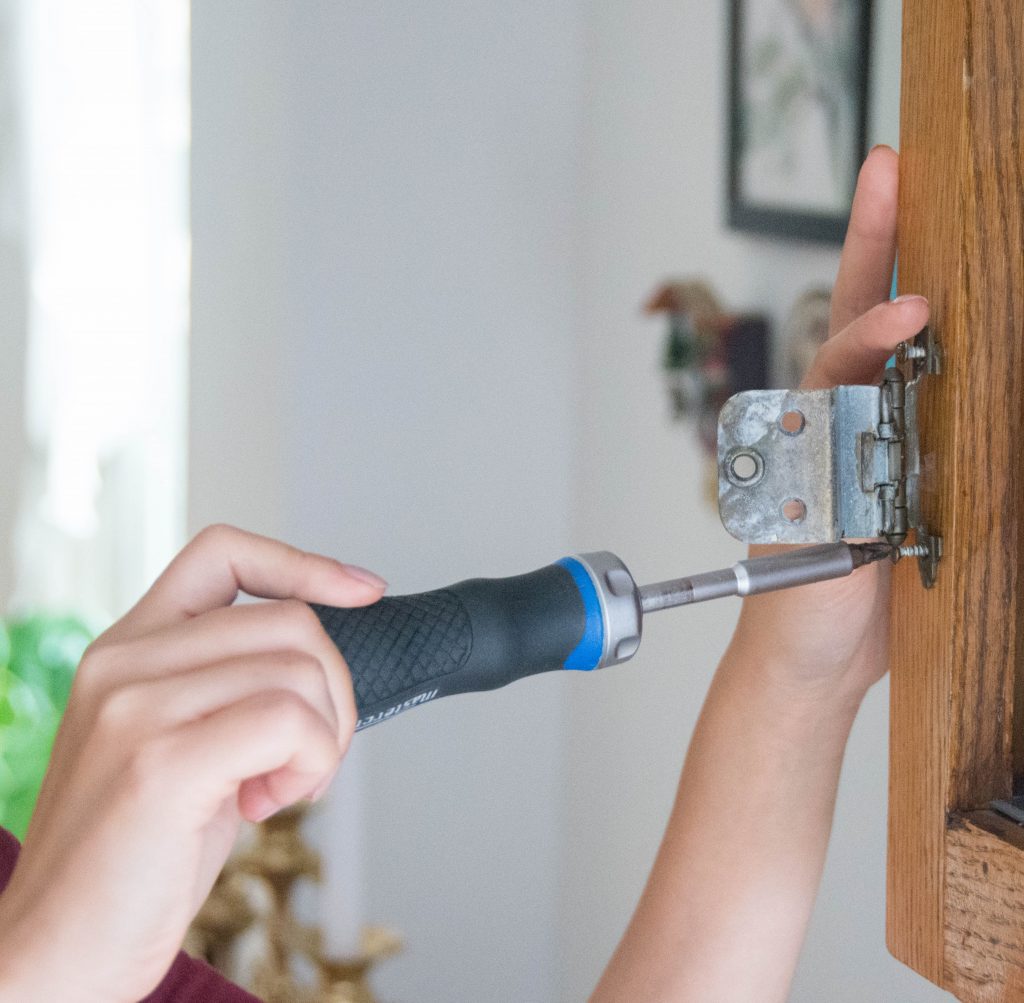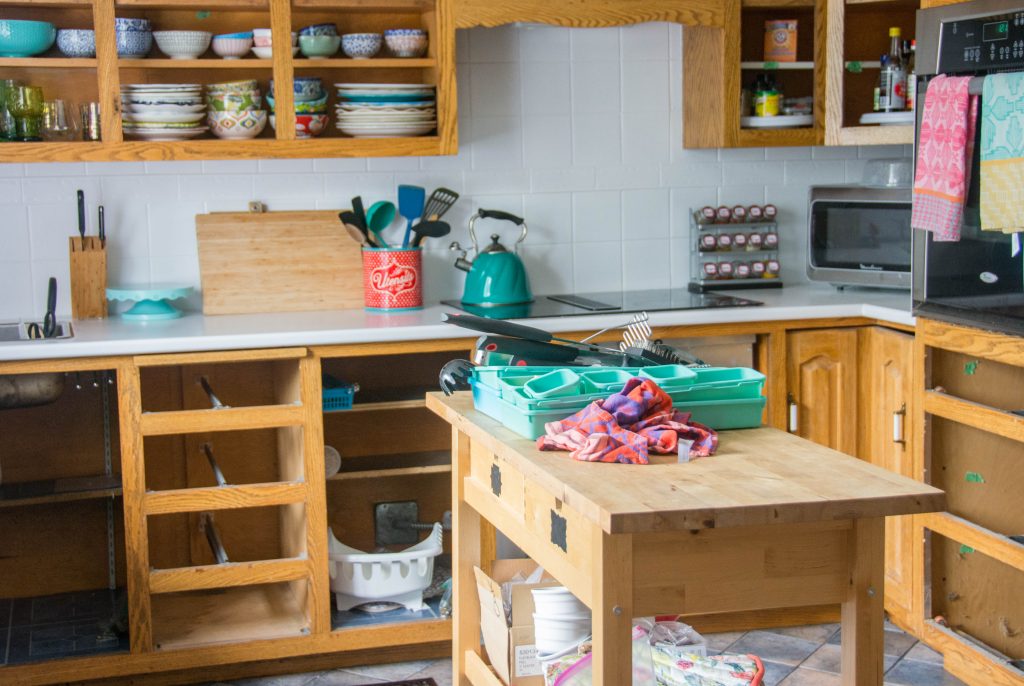 1. Remove all the cabinet doors, drawers and hardware from the boxes 
To make it easier to organize and keep track of our 41 cabinet doors and drawers (and all their hardware), I numbered the doors and put a piece of painter's tape with the corresponding number inside the boxes where the doors go. I also put all the hardware (including the handles) in baggies with the same number on them and kept them inside the corresponding boxes.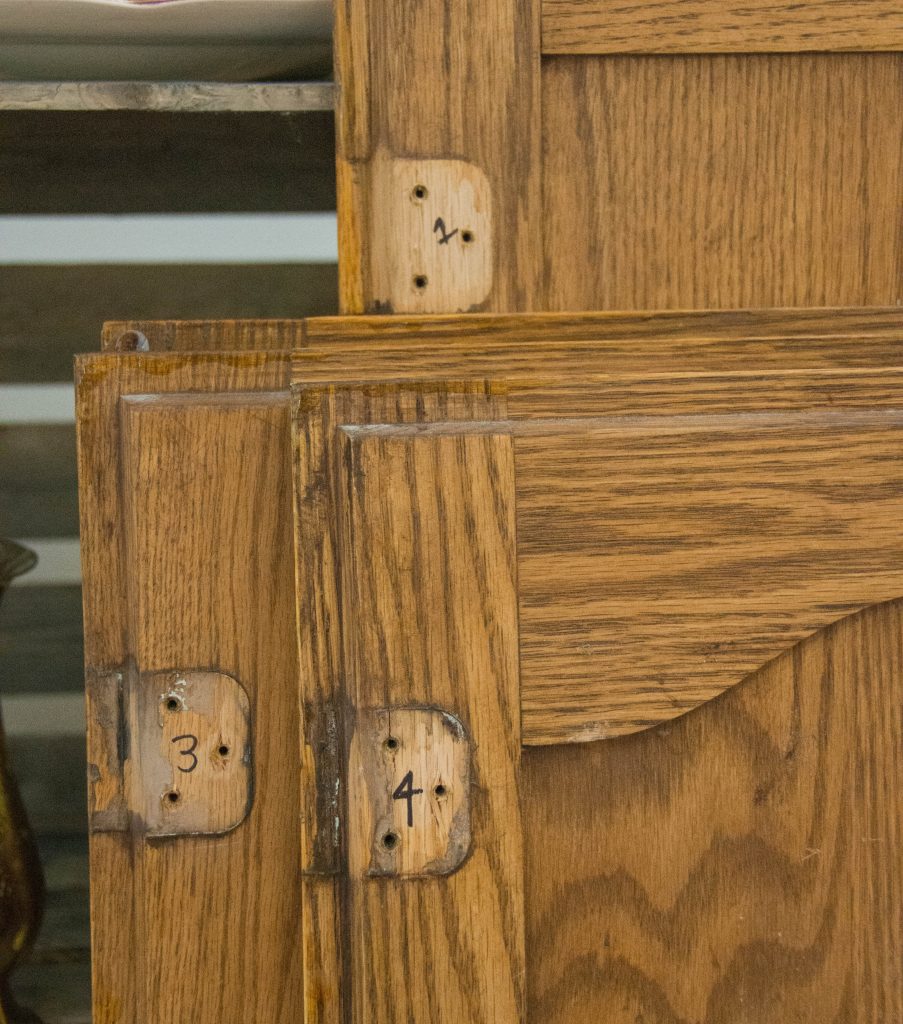 I initially didn't want to put marks on the wood, but I ended up putting the numbers in a spot where they would get covered up with the hardware when we reattach all the doors. I couldn't put tape on the doors because they would've gotten in the way of staining, (which ended up not being an issue because we only did the fronts). If you have very few cabinets, you can probably skip the numbering step, but I found it really helpful in terms of organization.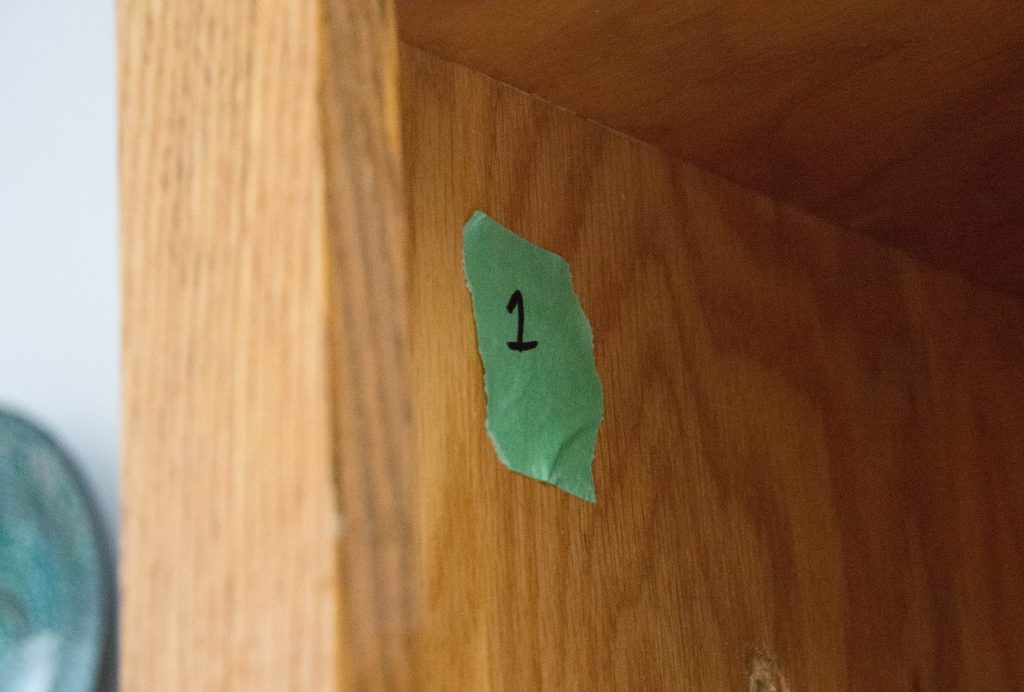 2. Sand the old finish off the doors
We used a sheet sander for the flat parts and I do highly recommend using one if you have a lot of cabinets. It helped the process go so much faster. But we still had to manually sand all the tiny/curvy parts. If you use an electric sander, be sure to sand with the grain of the wood and go slowly, or you might introduce unsightly scratches to the wood surface.
Make sure you clean off all the sawdust before staining. We used a handheld vacuum to get most of it and then wiped it down with a wet paper towel. Right before I started staining, I wiped them all down with a lint-free cloth, which I really think does the best job of getting rid of all the tiny bits of debris.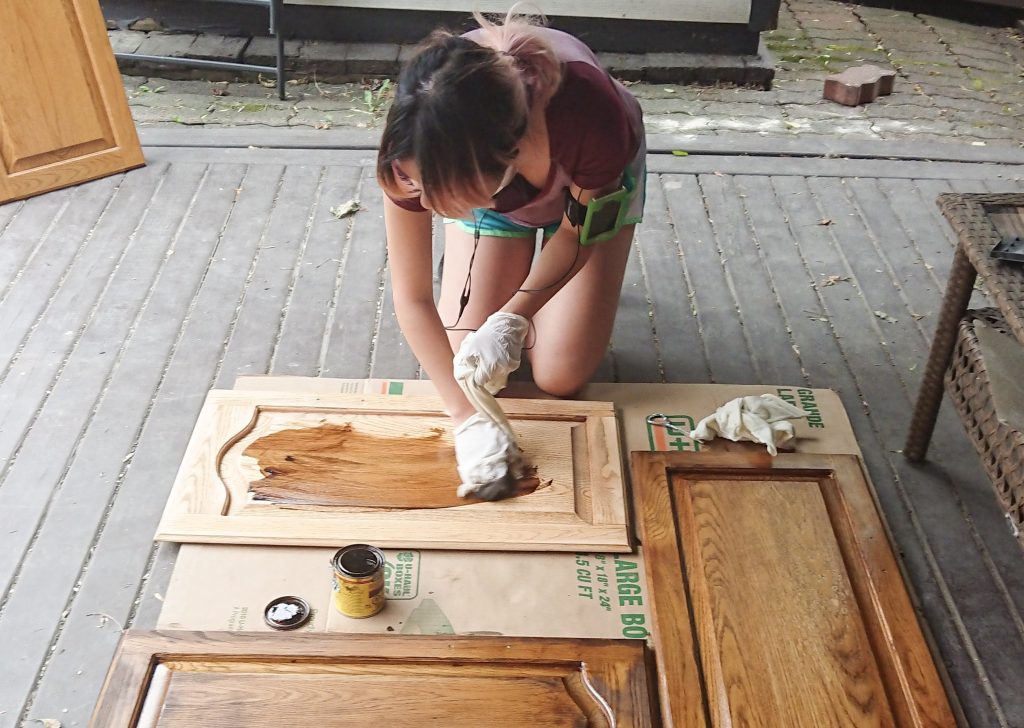 3. Stain and seal all the doors and drawers
We did a complete test door before proceeding with rest of them. We picked a pretty skinny door that's kind of tucked away. In case it went horribly wrong, it's not super visible. We ended up getting a few different coloured stains to test before picking the one we wanted. I highly, highly recommend testing your stain before going through with it all!
Depending on how your original cabinets have been treated, the colour of the stain might appear different on your cabinets from how it looks in the can or on the samples at the hardware store. Also, depending on how your original cabinets were finished, how you prep the wood might make a difference in how the colour looks and adheres.
We ended up going with a much darker and cooler shade of brown than I had anticipated. I wanted the finished look to be a mid-toned to slightly dark, warm, rich brown. Basically, just slightly darker and more brown. But after testing one colour that looked exactly like what I wanted in the sample, I found that it didn't really do much to change the colour of the wood. So we ended up going with the Miniwax Wood Finish in Deep Walnut.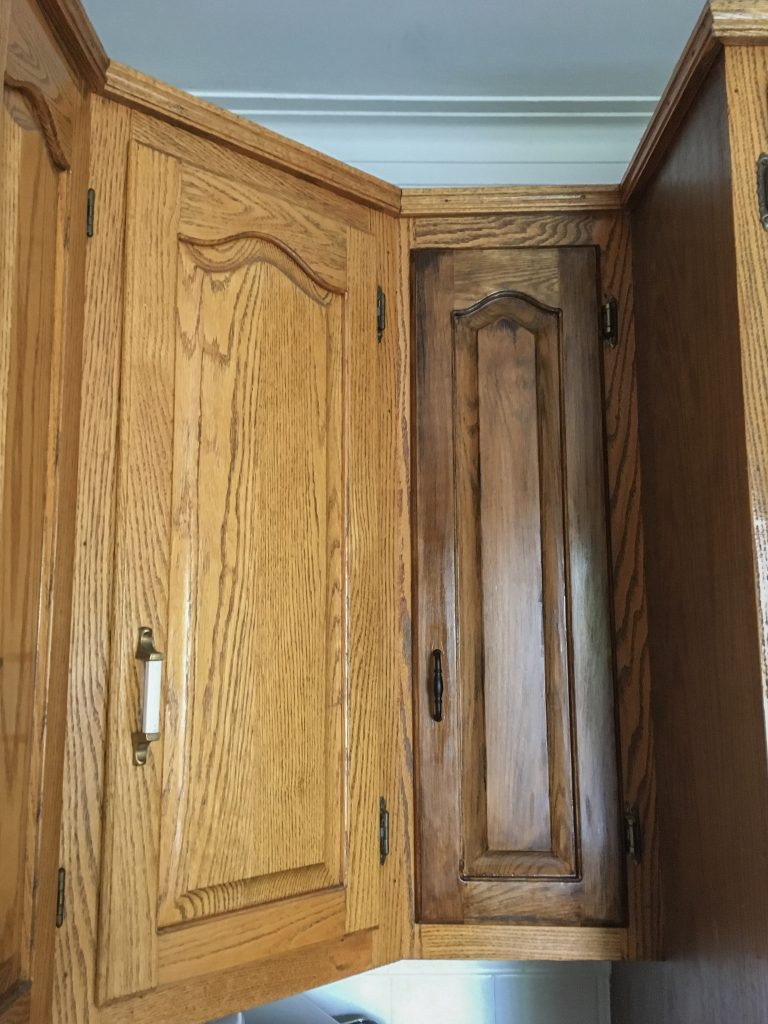 We were very careful with the test door. We sanded and cleaned it off well, and I did three very thin coats of stain, allowing it to dry as per the stain's label in between. Then, I finished with a polyacrylic top coat, put on the new handle and reattached it to the cabinet box to see how it looked. We were very happy with how it turned out so we proceeded with the rest of the doors and drawers.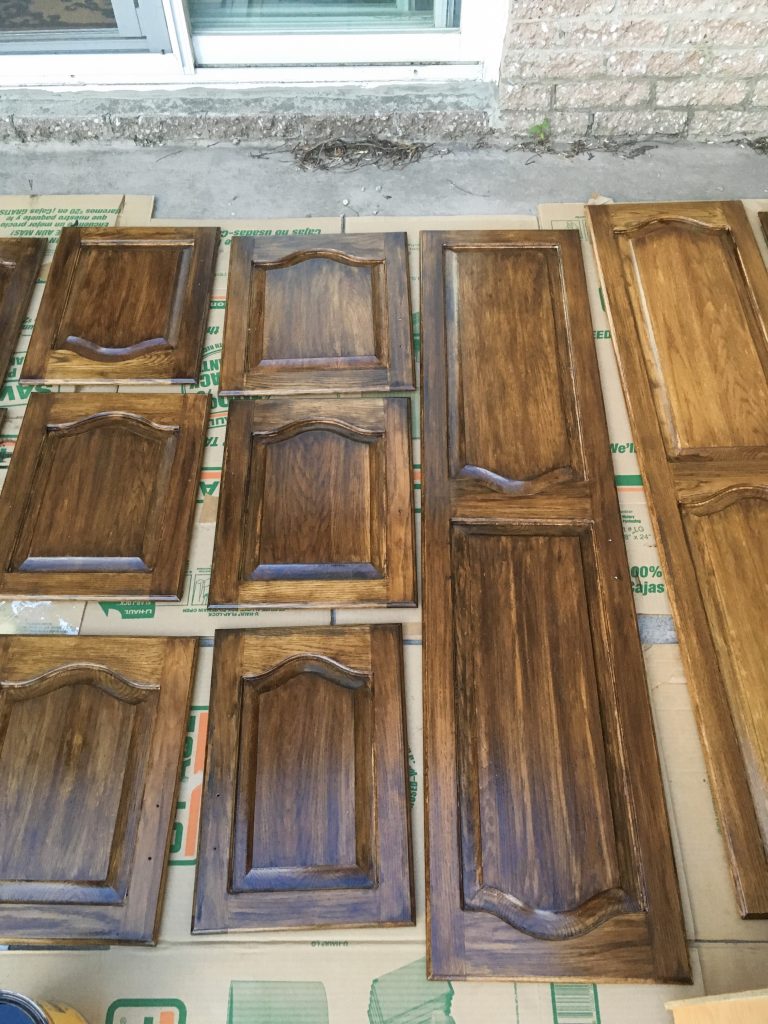 I used a lint-free staining cloth for all the staining. I highly recommend wearing strong rubber or latex gloves for this. I kept breaking my flimsy latex gloves (I probably went through 15 pairs). You should work in a very well-ventilated area and if you have some kind of respirator, you should probably wear it, too.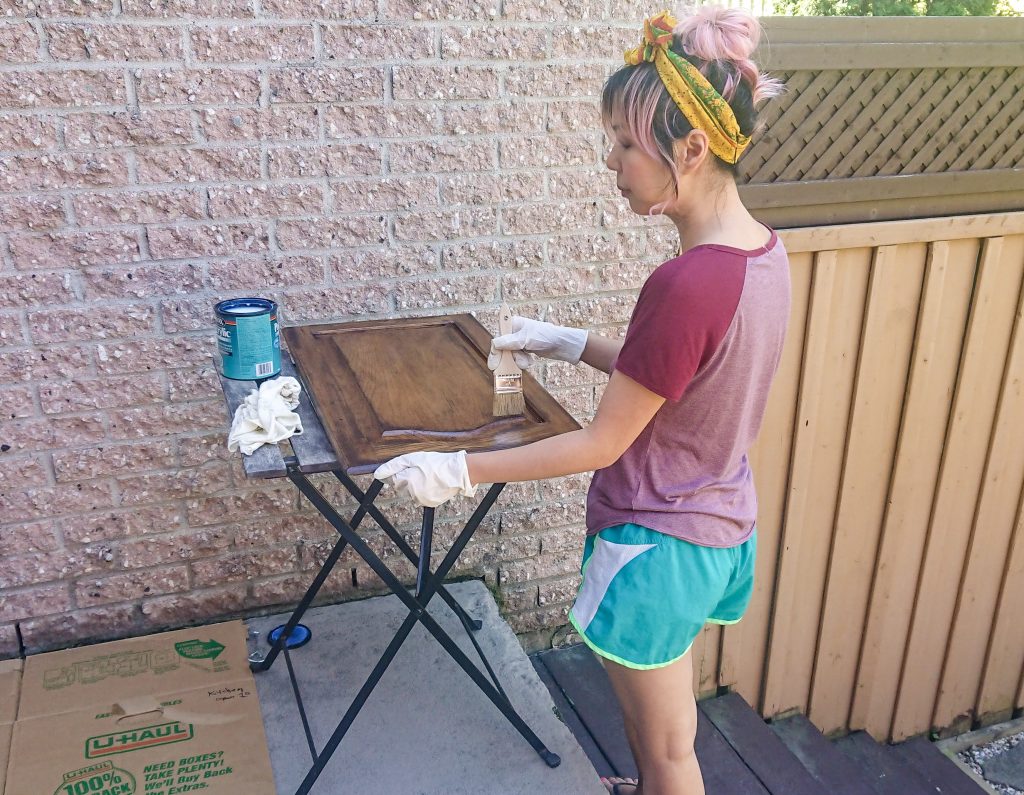 Although I did three thin layers of stain on my test door, I ended up doing two thicker coats for the rest. The results were pretty much the same, but you should be careful not to make the layers too thick because I noticed it gets kind of streaky. Once the stain had cured for the appropriate amount of time, I brushed on a thin layer of Minwax Polycrylic Protective Finish with a synthetic bristle brush and let it dry.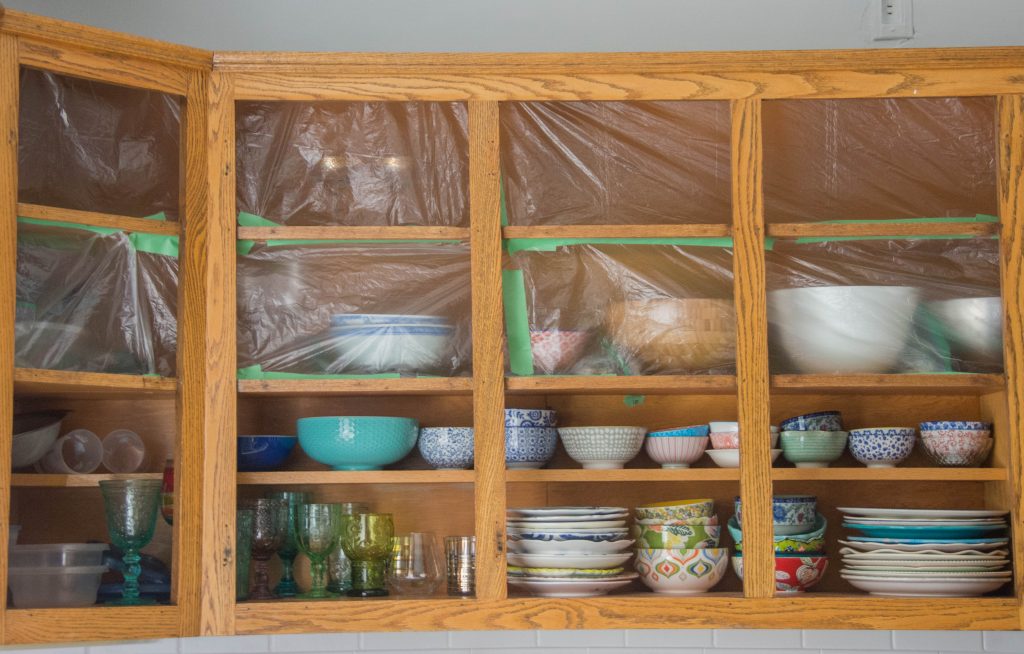 4. (Optional) Cover kitchen in plastic/drop cloths and tape off the cabinet boxes
I went a little crazy on this step, but I tend to be a messy DIYer, plus stain is even runnier than paint (which means it will get everywhere, even if you're careful), PLUS we had to sand down all the wood and we didn't want sawdust getting everywhere. Also, I didn't want to move everything out of the cabinets or have to clean the interiors too much when we finished, so I decided to tape off all the interiors of the cabinets with plastic, as well as the kitchen floor, countertops, appliances and island.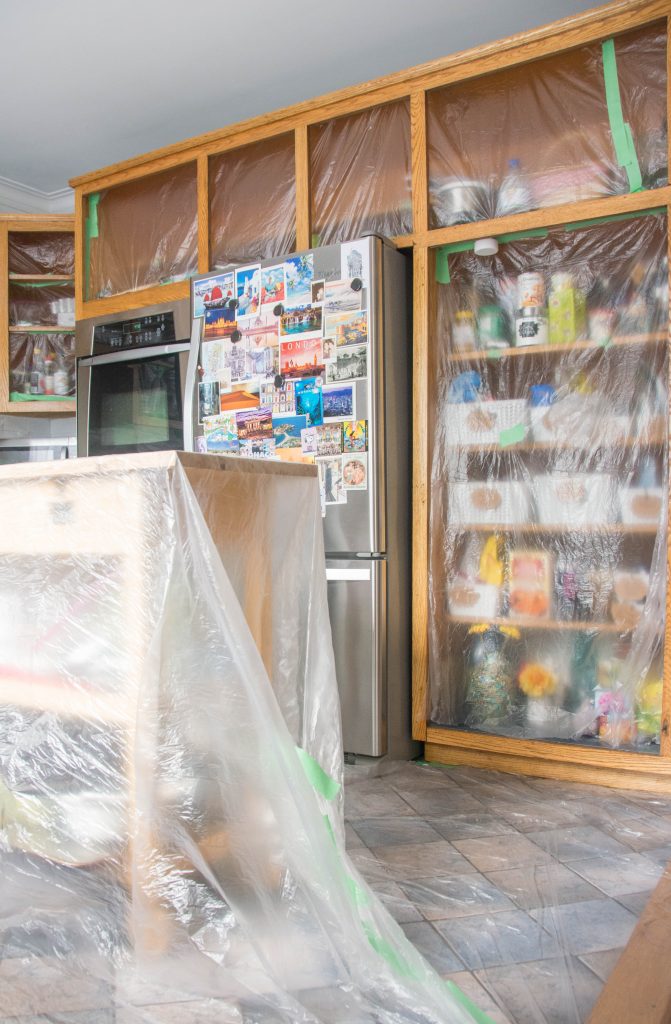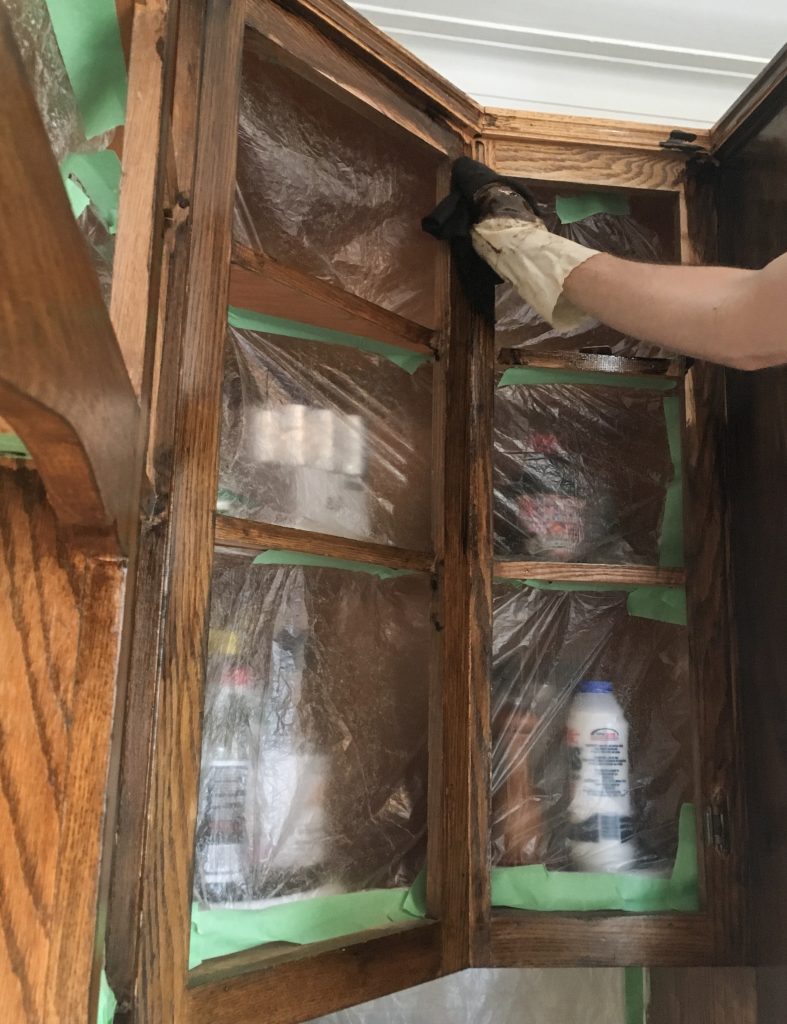 5. Sand, stain and seal cabinet boxes and trim
Basically, just repeat step 3, except with the boxes and trim. Once the top coat is dry, you can remove all the plastic and tape from the kitchen, start cleaning up all the dust and debris and reattach all the doors/drawers.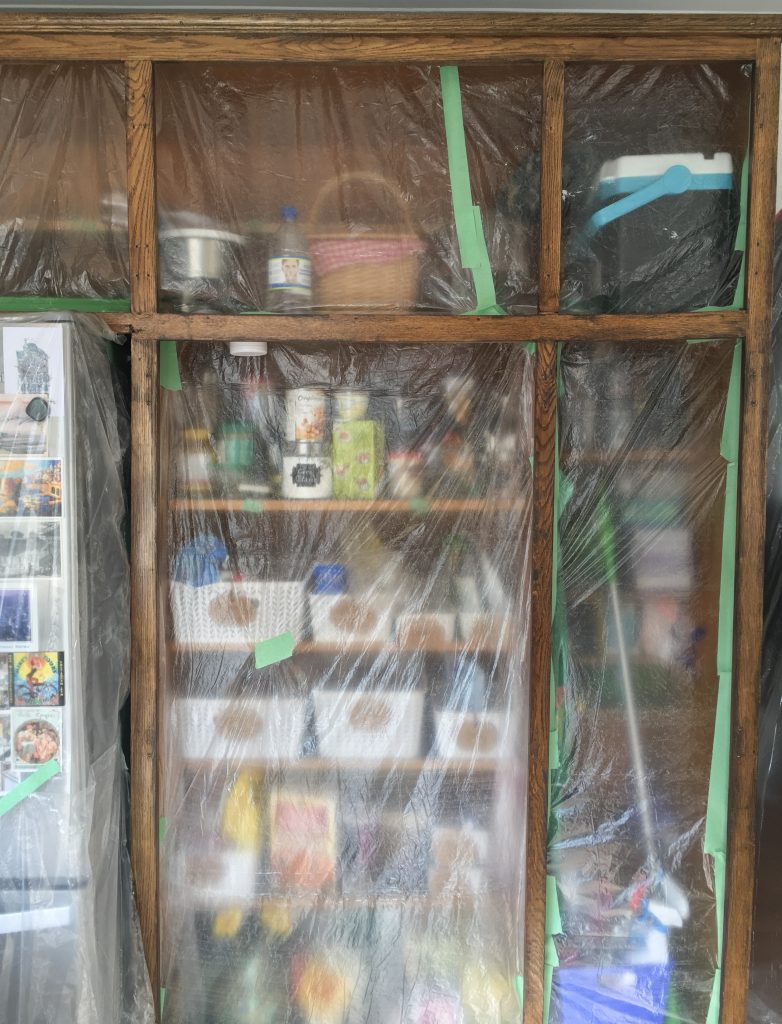 To be honest with you guys, this is one DIY that I'm not 100% happy with. Usually my DIYs turn out better than I expected, but this fell a bit short for me. The whole thing turned out a bit darker than I had intended. I don't know if working outside in the sun skewed my impression of what the colour looked like or if I just went way too heavy with the stain and assumed it would be okay. I definitely should have diligently checked every door against all the other doors to make sure they were the correct shade, but oak cabinets are so heavy and we had 41 to do! I was just too lazy.
There's also just a bit too much inconsistency in the finished colour and a bit too much streaking on some of the doors. Using a stain primer might help with the streakiness (again I was too lazy to even go there). That is one lesson I think I learned from this whole ordeal…DO NOT take the lazy way out when it comes to the actual staining part!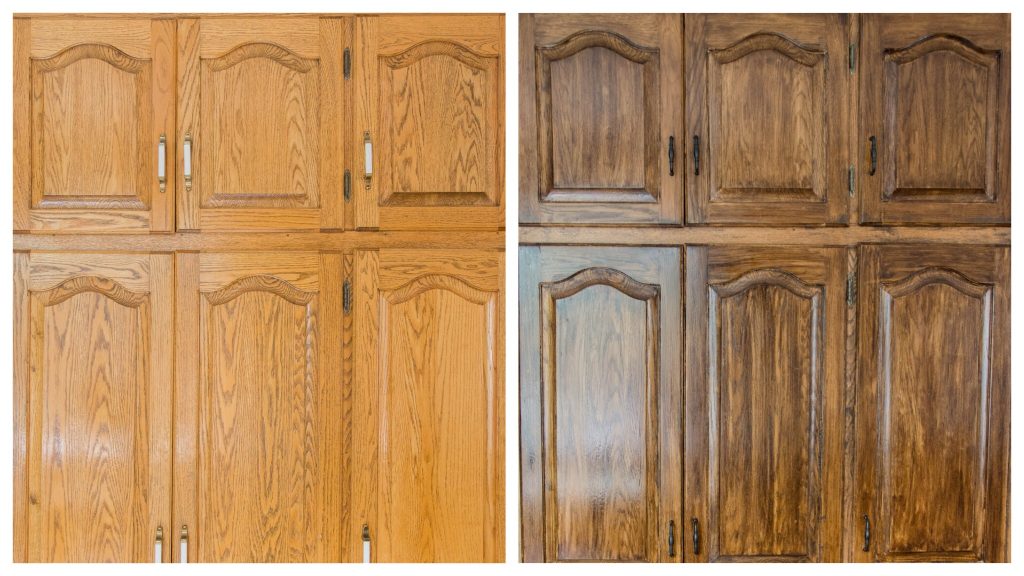 But of course, I am a perfectionist and can't be trusted to accurately judge my own work. Overall, I'm still pretty happy with the new cabinets. They are definitely way better than the old orange oak version. These little nitpicky details I'm complaining about are probably not very noticeable to most people. And I bet these little inconsistencies can probably be dismissed as a result of the uneven lighting from our giant window.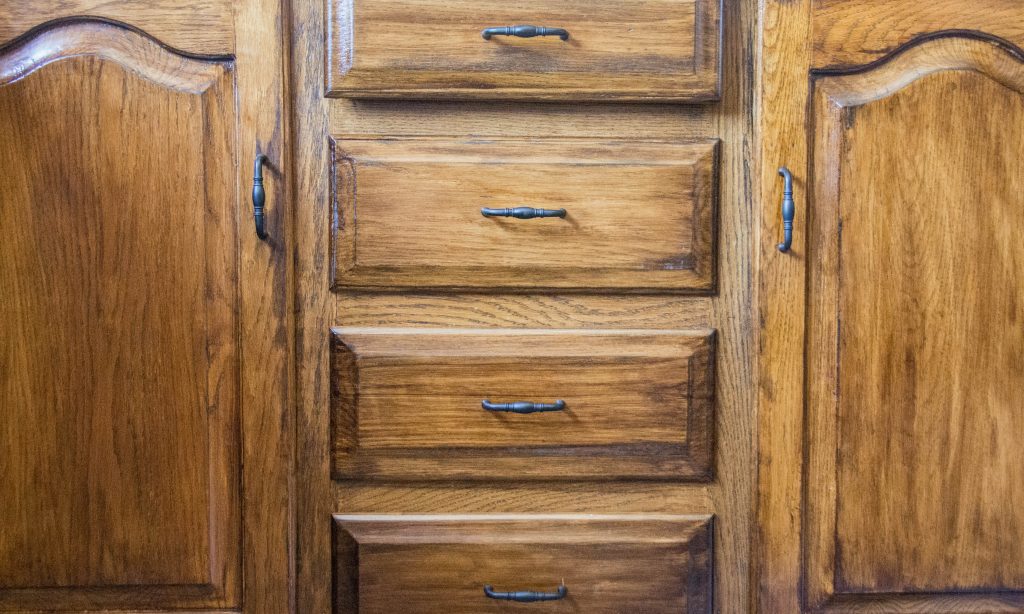 It's just crazy how adjusting the warmth and depth of the wood colour can transform cabinets from dated to vintage/rustic. And we have even more changes planned for the kitchen, which I think will pull it all together and make it look even better, so I just have to be patient and trust that it'll end up looking fine in the end.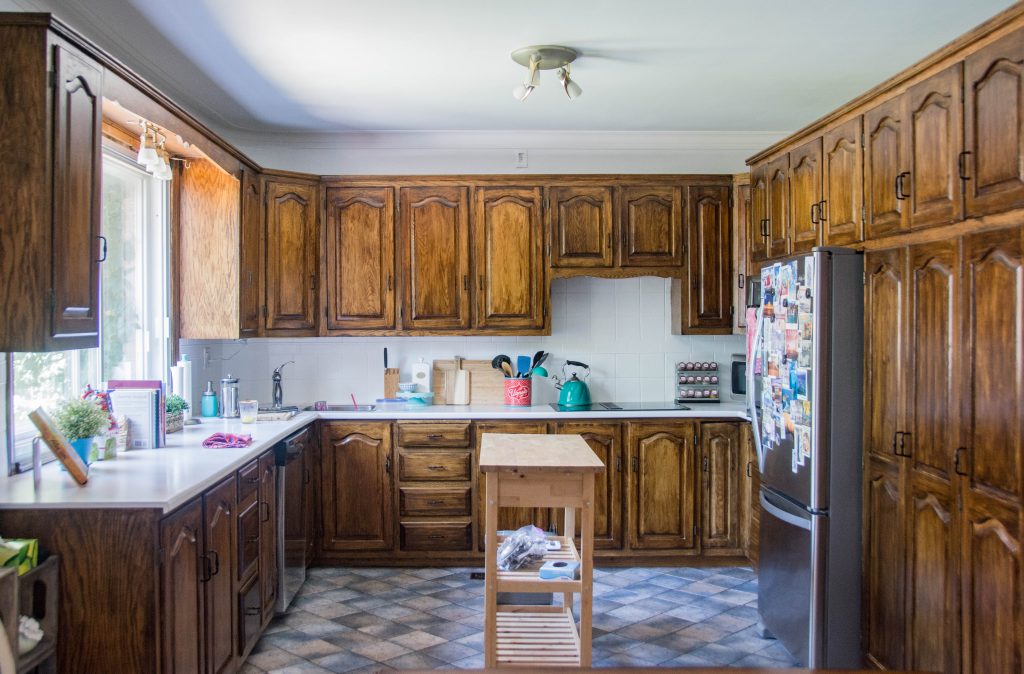 So what do you think of our "new" kitchen cabinets? I'd love to hear your thoughts!
xoxo