After not getting on an airplane for three years (the longest I've gone without travelling since I was probably 18), I was determined to get back into it in 2022. And get back into it we did! We've been on three trips in the past 6 months with our two kids, aged 7 months and 3.5 years, and I feel like I've learned a lot about what travelling with young kids is like and certain things you may want to consider if you're also thinking about travelling with young tots.
Of course, this comes with the eternal caveat of, this is what worked for us and for our kids! This might not be applicable to you at all! All children and families are so different, so you just have to find out what works for you.
I'm also going to mention a lot of stuff that might not be within everyone's price range. But remember, the secondhand market for kids stuff is huge and it's pretty easy to find the things I'm listing (or similar things) at discounted prices.
Must-Have Gear
Multi-Use Stroller
Now, what I mean by this is a stroller that can function with a rumble seat or a car seat AND bonus if it can also carry more than one kid!
I know, I know, we all dream about that perfect "works-in-every-situation-not-too-heavy-compact-easy-to-fold" stroller, which I am convinced does not exist. But I think we've found something pretty close that has stood the test of time, works pretty well on cobblestone, snow, ice, dirt, grass…pretty much everything except sand.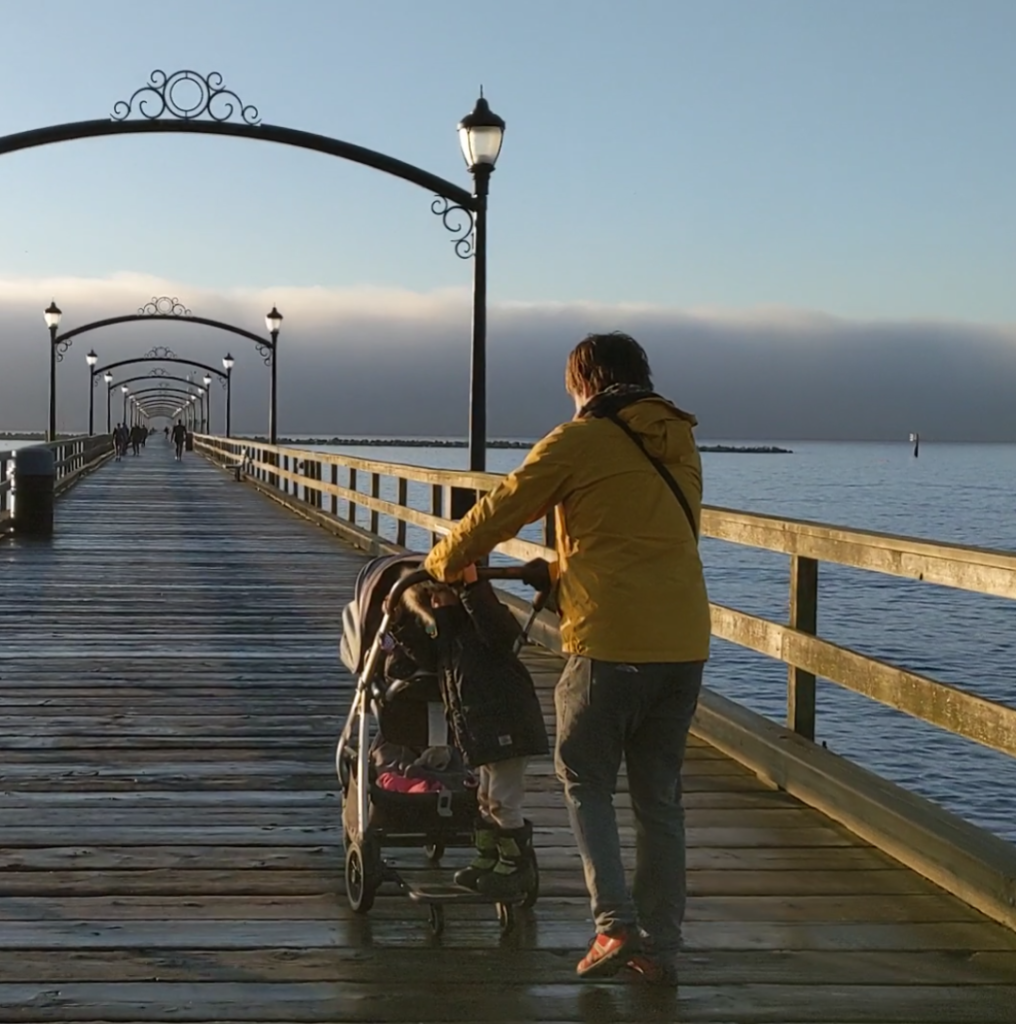 I'm talking about the Uppababy Cruz (the 2018 version)! Now, there's a lot of good things about the Uppababy Vista as well, but at the end of the day, I think the Cruz works the best for our family and here's why:
It only weighs 21 lbs. This matters a lot to weak upper-body strength me. And even if you're going to an accessible city where you expect to be able to use lots of elevators, you will likely come across a time when you have to take the stroller up and down some stairs. So having a carry-able stroller is pretty important!
It has a huge basket. It's great in regular life, but essential in travel life. It can hold up to 25 lbs of stuff and stores pretty much everyone's water, snacks, hats, extra clothes, umbrellas, beach stuff etc. We can even fit our three-year-old's car seat in there!! It's so useful to have a big stroller basket as a kind of command centre when you're travelling with kids!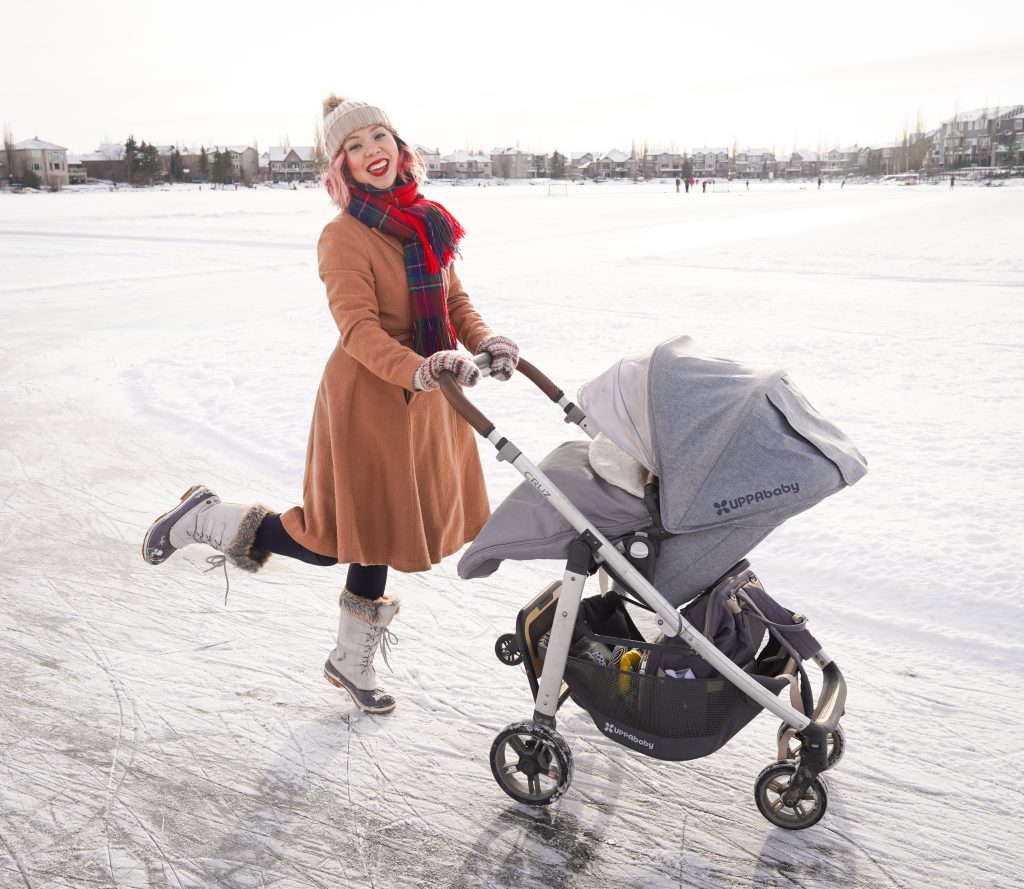 For how much stuff it can hold, the frame is pretty small. In fact, I would caution against any stroller that's bigger than the Cruz if you're going to Europe. It could fit inside elevators and through doorways, but only just, in some cases! Again, I'm not talking about the Cruz V2, but the older model. I'm pretty sure the V2 is bigger and wouldn't fit everywhere in Europe.
We can easily switch between using the rumble seat and the Mesa car seat. We only brought the rumble seat to Portugal, but we brought both the rumble seat and the Mesa car seat on our trip to Western Canada and Mexico. Having a stroller that can do both is so useful. Our baby could sleep safely in the rumble seat and we used the car seat in coaches, vans and rental cars with no problem.
You can get a ride-along board attachment for it. I'm sure double strollers are great. But when you're travelling (or even in everyday life), you may not want to bring a tank of a stroller with you. We LOVE the piggyback ride-along board that's made for the Cruz. It's so easy to attach and remove, and perfect for our three-year-old who suddenly loses the will to live if you make him walk further than 10 steps out the door (but somehow has the energy to run 50 laps around the kitchen every night???) I find all the Uppababy accessories overpriced, but the board was absolutely worth the money for us!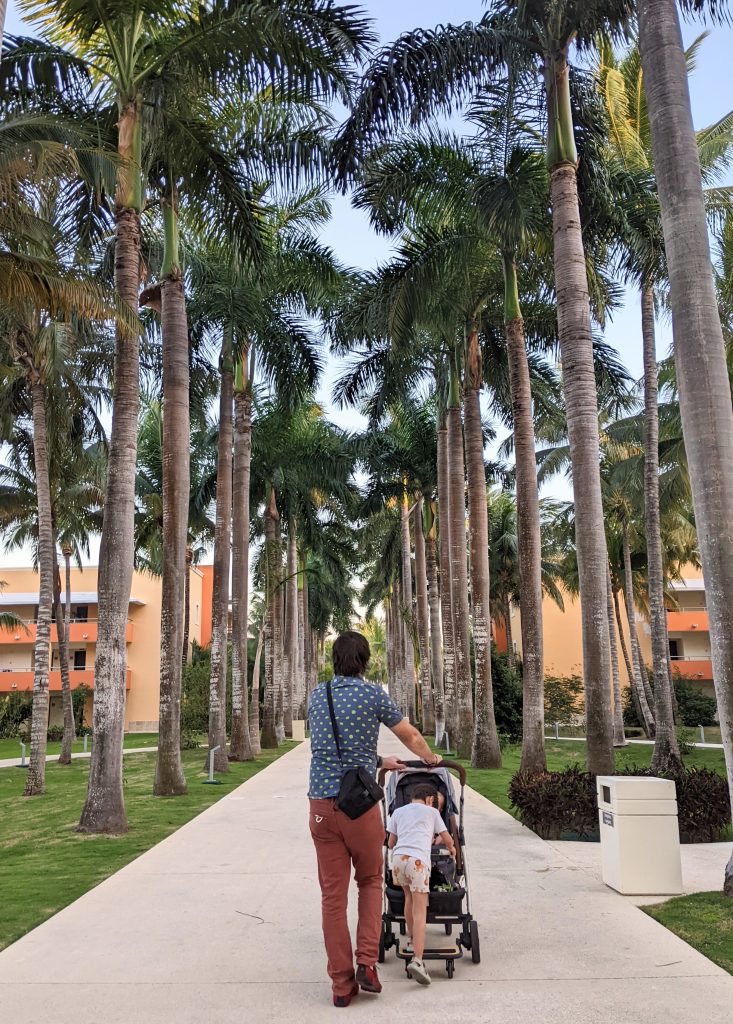 I cannot say enough good things about this stroller. It worked as well on the cobblestones of Portugal as it does in the snowy streets of Canada. I know some people might consider bringing a stroller to some places a bit overkill, but considering the fact that almost every airline will let you gate check a stroller for free, even just bringing it to get through the huge-ass airports is worth it, in my opinion! Especially re: the three-year-old that complains about having to walk even 10 steps!!! Not to mention the amazing basket that again, can just whisk all your carry-on bags through the airport like a personal butler.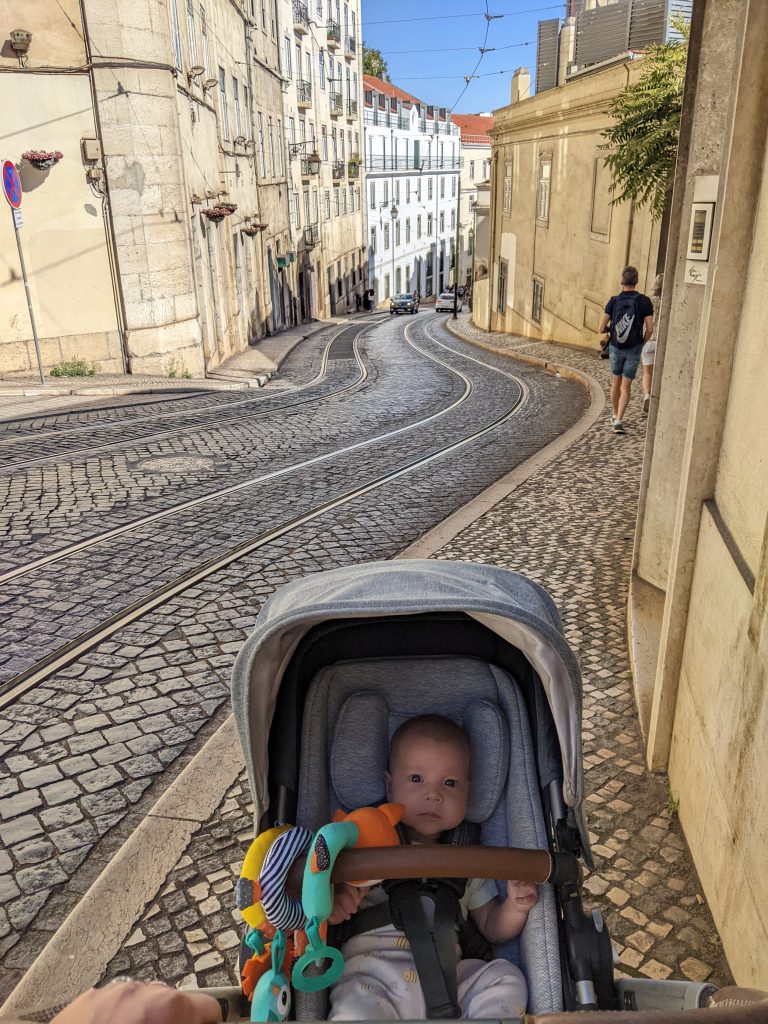 Maybe you can tell, I love our stroller and would bring it everywhere with us in a heartbeat!
Baby Carrier
Now, I consider a baby carrier a must-have for multiple situations: on the plane, for any kind of outdoor excursion, going to restaurants… I am honestly torn about which I find more essential, the stroller or the baby carrier. In the end I think I would choose the stroller, but only because it has a huge basket and the board option for extra child-carrying capabilities.
But the carrier is right up there in second place!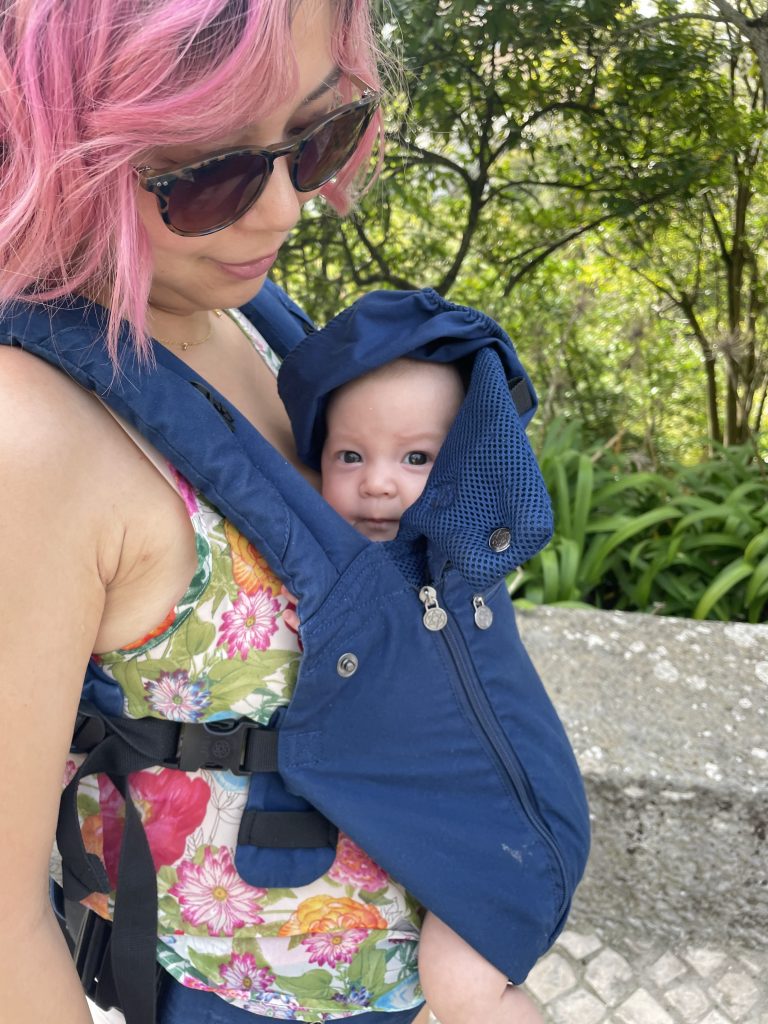 It's the most useful nap aid we own. First of all, unless you have a baby that will just pass out any time, any where, (lucky you!) a good baby carrier was essential for us when we were on the go. Our 7-month-old has a hard time falling asleep, and will not go down without a fight. Any time she got fussy, we would just put her in the carrier and walk her around. For naps on the go, we would just put the hood on to provide some sensory deprivation and she would conk out. When we were in Portugal, she was just about getting to the age where she started noticing things and getting distracted, so having a carrier with a hood was so helpful in getting her to ignore her sometimes bustling surroundings and getting some shut-eye. Don't get me wrong, it still took a bit of doing (we had to bounce her/walk her around), but it certainly worked better than just trying to get her to sleep in our arms!
It keeps your hands free. Even just walking from the gate onto the plane, we always put the baby in the carrier to leave our hands free for bags and the other kid. It just made the whole process of getting on the plane and settled in our seats so much easier. Not to mention, our baby would always get fussy in the evenings in Portugal, as babies tend to do, right in the middle of us attempting to have dinner in a restaurant. Although it didn't work like a charm every time to get her to sleep, putting her in the carrier and bouncing her around at least freed up our hands so we could try to eat in between bouncing/pacing!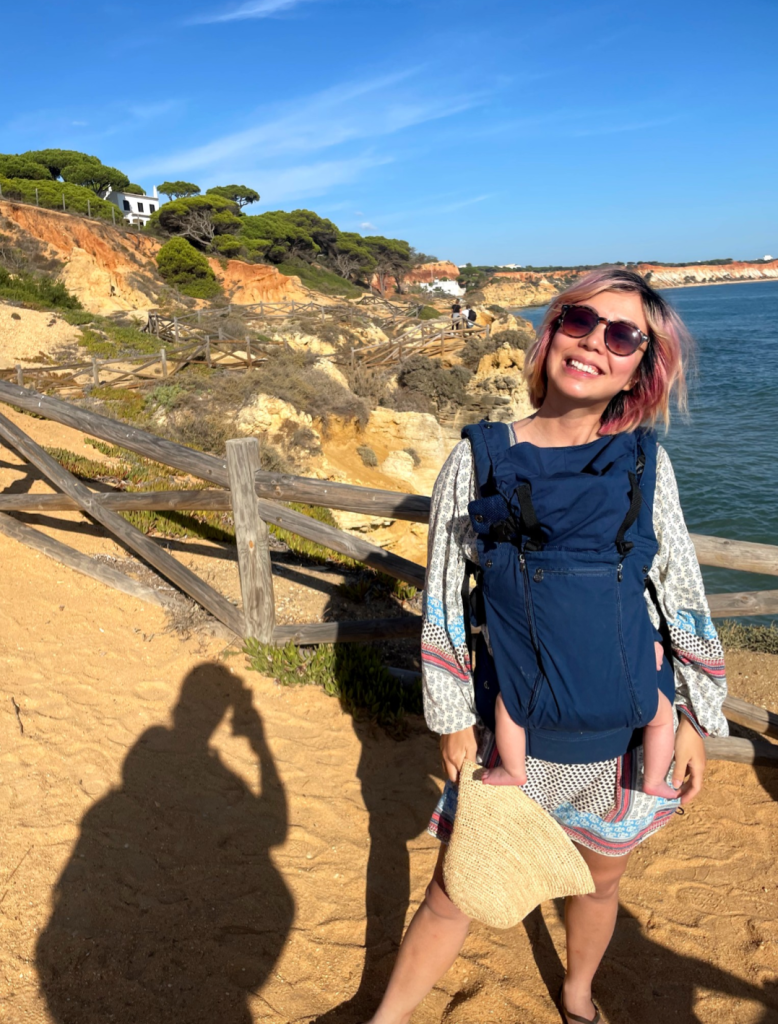 When we couldn't use a stroller, the carrier was the next best thing. A good baby carrier was also essential for those times when the stroller just was too cumbersome to bring along for our adventures. Depending on where you're going, the sites you visit may not be very stroller-friendly. For example, in Europe, the castles and cathedrals weren't exactly built with accessibility in mind, so babywearing was just easier! We also left the stroller behind when we went on hikes and to the beach.
We have the Lillebaby Complete All-Seasons Carrier, and although we love it, this is a category that I feel like a lot of products are more or less the same. I will just say that I find having something with back support is pretty important, because some days we would babywear for pretty much the whole day!
Nice-To-Have Gear
Portable High Chair
I put this in the nice-to-have category because you'll most likely have lots of high chair options in most places you'll be going. And if you're visiting family, you'll probably have lots of volunteers fighting to hold the baby while you eat. Even if you don't, I've eaten many a meal while holding the baby in my lap and it works in a pinch, although you do have to eat fast!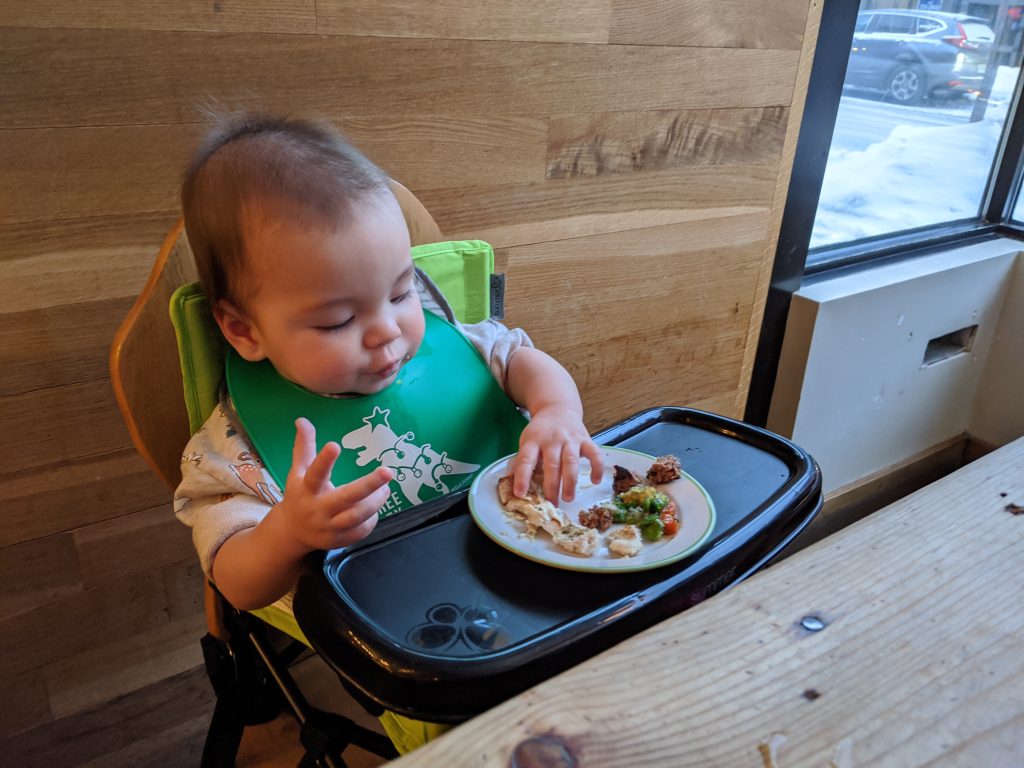 However, that being said, I do love the little travel high chair we have! It not only works for meal times in restaurants and at other people's houses who may not have high chairs, but you can basically create a safe place to set your baby down anywhere you go. We've used it at the beach, parks, our own backyard…it's just a nice piece of equipment to have.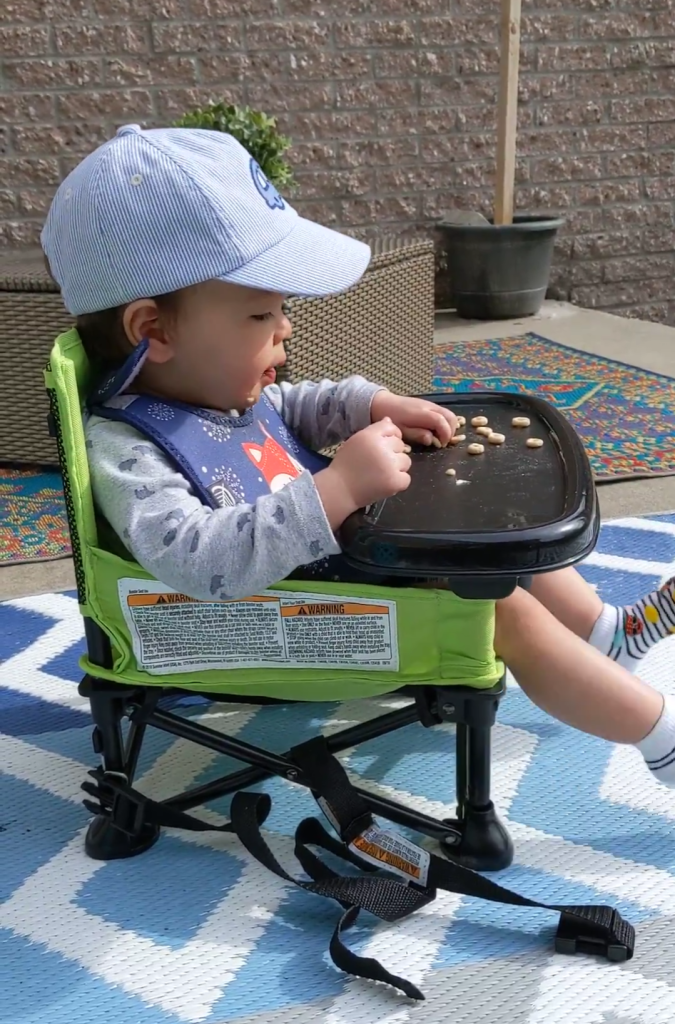 We got the Summer Infant Pop ' N Sit Portable Booster. It's fairly light, portable, attaches to regular chairs and doesn't break the bank!
Travel Crib
This is also not a must-have, but I do love having the option of a portable crib when you're away from home. Lots of people will have crib options if they're visiting family, and a lot of Air Bnbs and hotels will have cribs as well. But having a travel crib on hand just gives you so many more options for where you can go/stay, and you never know the age/quality of the cribs where you're going.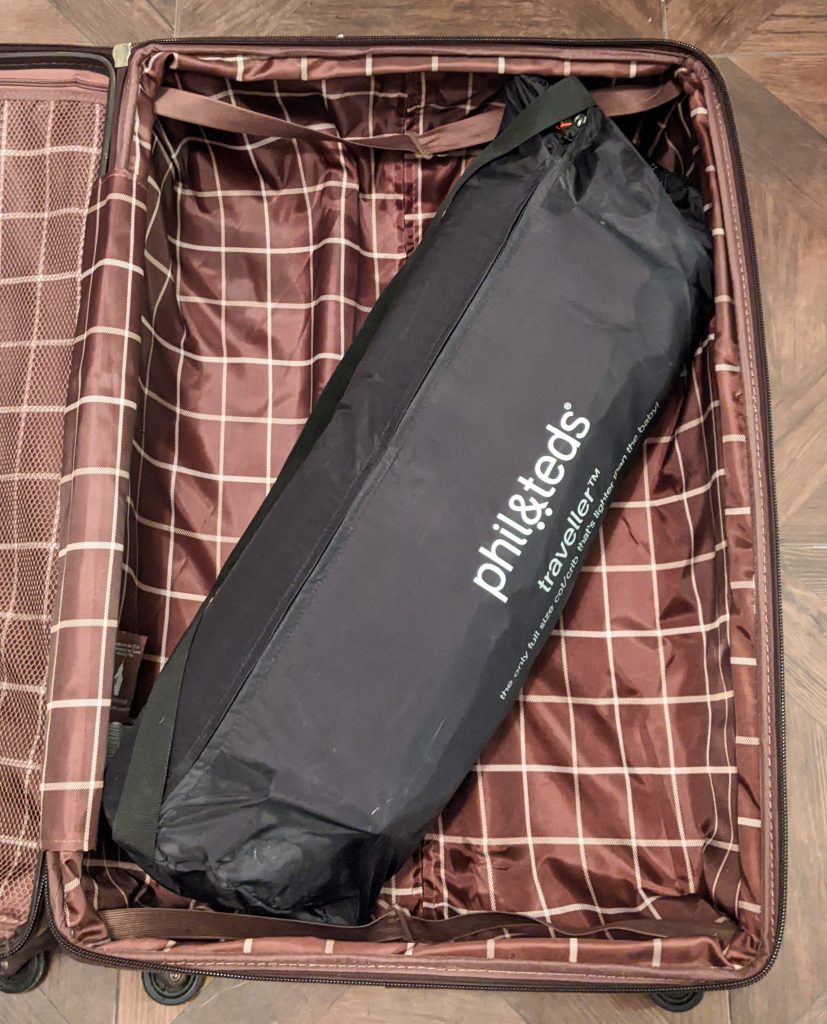 We got the Phil and Ted Portable Crib (the older version, NOT the 2021 version) and it can be packed easily in a standard 28″ suitcase! It also weighs around 6 lbs, so if you wanted to bring it as a carry-on, it certainly would be feasible on most airlines.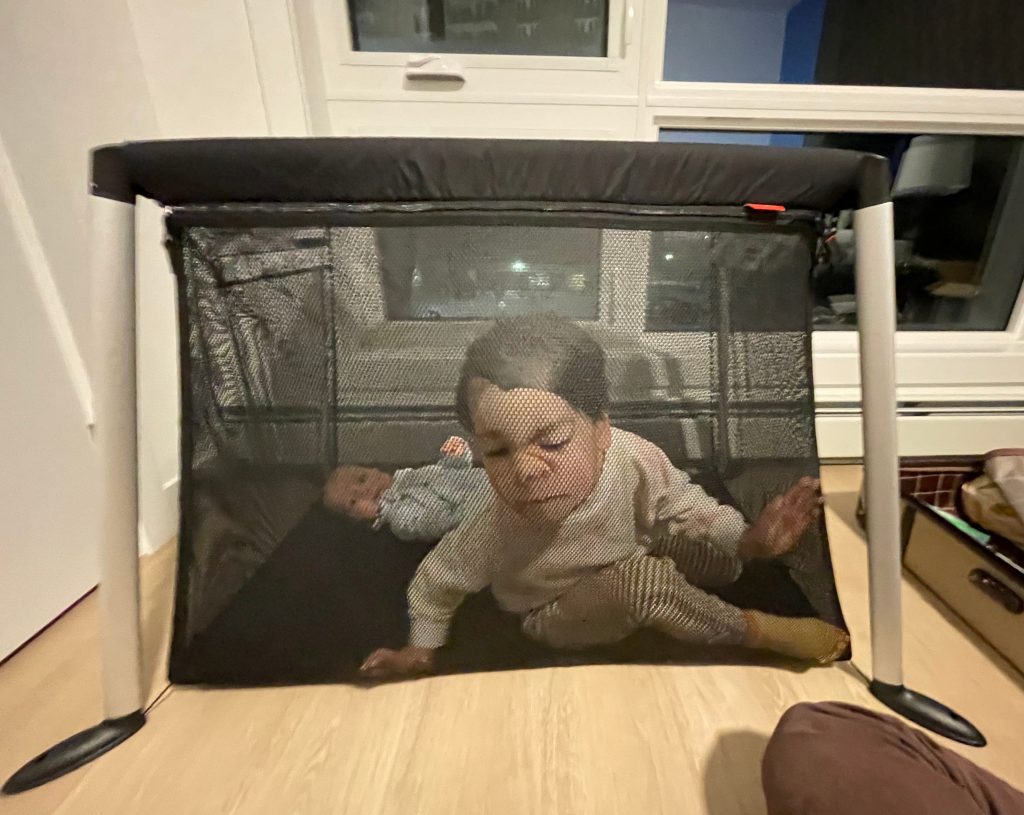 We got this one specifically because of how compact and light it is when it's folded up, but I think it's a bonus that one of the sides can be unzipped as well. Our toddler loved this option too, if you can't tell. It easily turns the crib into a play area! And it also made it easier for me to get the baby into the crib when putting her down, I just kind of slid her into the crib from a floor sitting position, rather than bending over to place her from above which is just murder on the back!
Now, certainly I could keep going with little suggestions of things you may find useful in your small child travels, but I really wanted to touch on the bigger-ticket items that you may not be sure is worth investing in.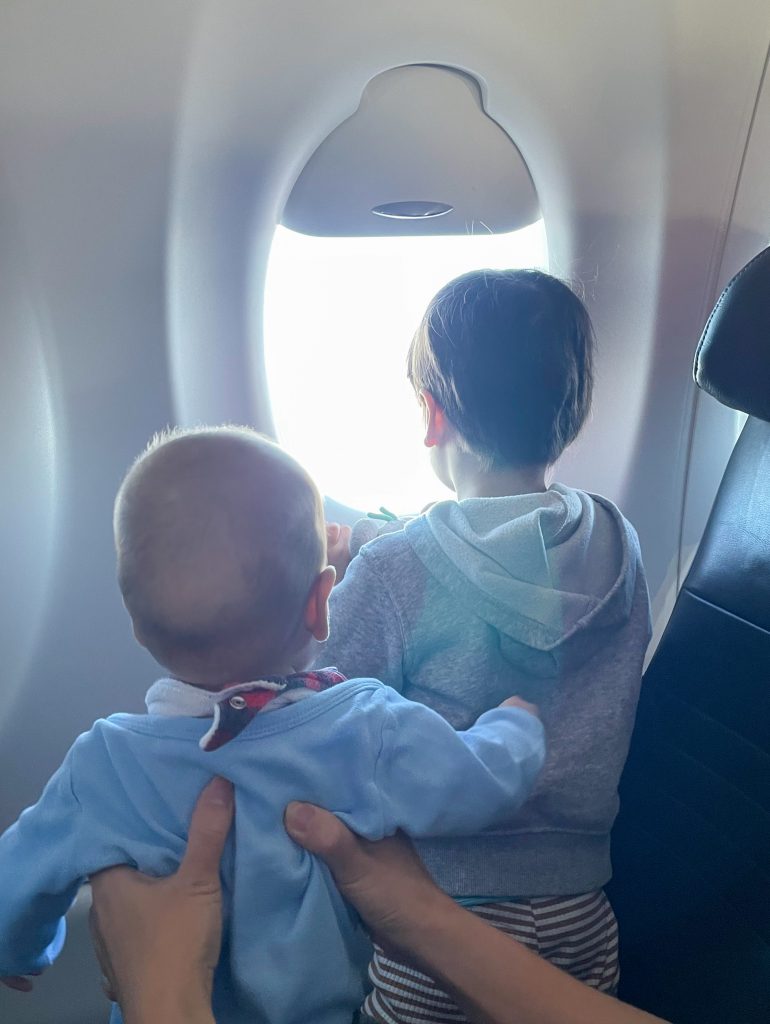 Again, baby things and kid things are so personal, it's always hard to say what is 100% necessary or not. Your needs may vary. But if you happen to have discovered a holy grail travel item for your small children, drop it in the comments below, I'd love to know about it!
Happy travels!
xoxo