If you're somewhat familiar with our house, you saw this post coming when I announced I was pregnant!
Not only did I paint a lemon tree mural in Theo's bedroom before he was born, but I also made a Chinoiserie wallpaper accent wall in our bedroom, and the whole house is basically covered in nature/tree motifs. When it came to brainstorming what to do in the new nursery, I toyed with some fun ideas (like a watercolour sunset accent wall) but I kept going back to the tree theme. It just makes sense in our house.
Here's the initial sketch I made of my idea: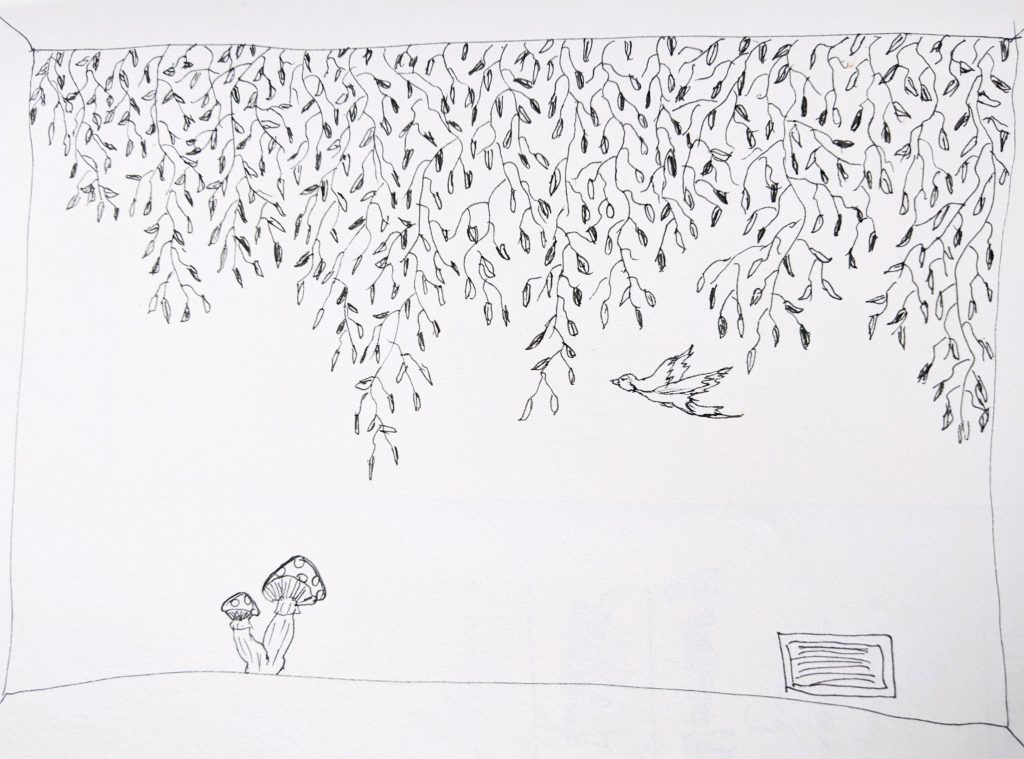 Truth be told, I think I left this till too late in the pregnancy. You know, when I'm pretty much over everything and hate everyone, so I kind of phoned this project in. I definitely don't think it looks bad, but I know I could have done better. I'm sorry, baby, there just a lot going on right now!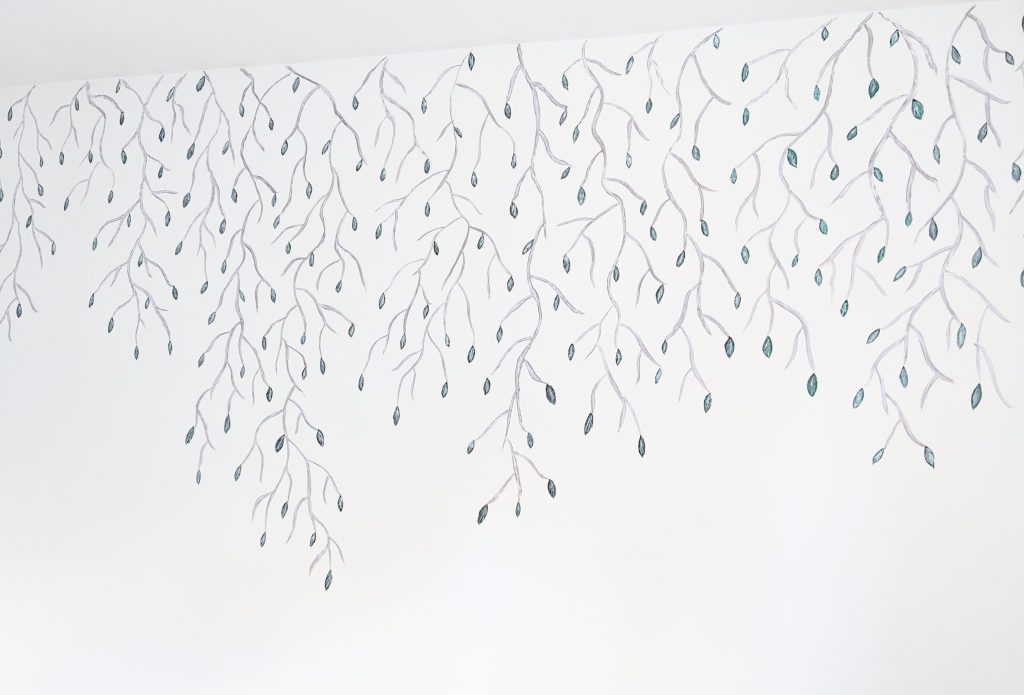 After I finally got around to working on it, it actually only took a few days to complete. Here's how I did it!
Materials
acrylic paints
paint brushes/palette knife
pencil
painter's tape
Sketch Out Branches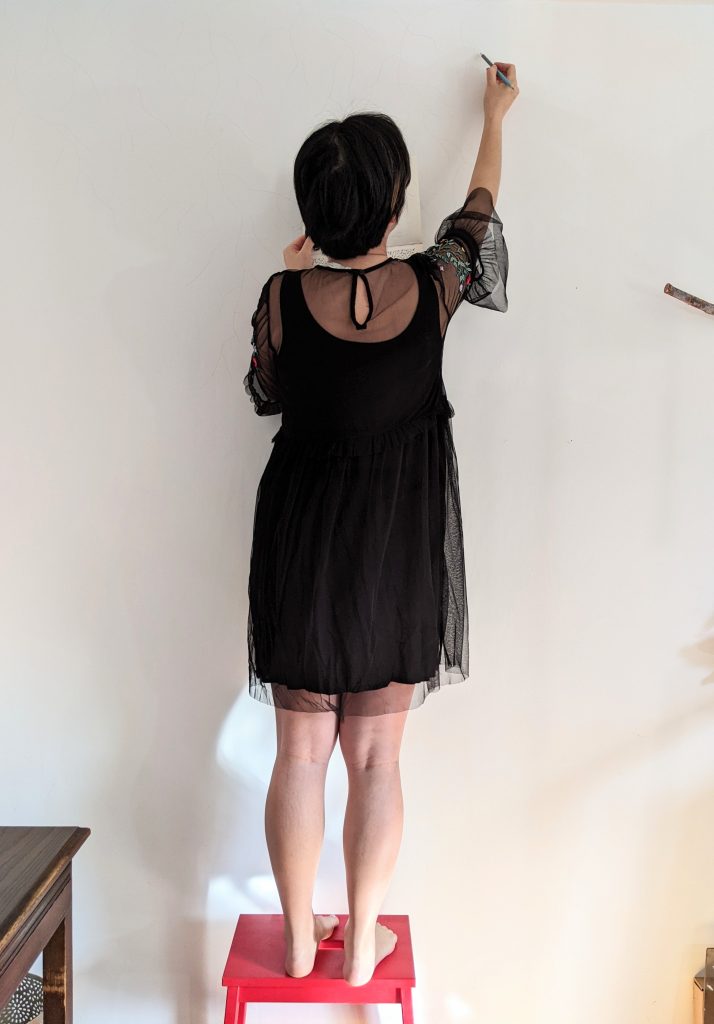 This part is certainly optional, but I find it super helpful to make a rough outline of the branches in pencil before I start painting. I don't transfer the whole thing onto the wall, I just find it helpful to kind of mark out the sections. You might be able to tell from my hair change later on that I did this part months ago and then just stopped working on it. Such is life with a toddler/renovations/work/growing a baby! The next step is simply to add painter's tape to the ceiling above the top of the wall you're painting. This is also optional, but I find it super helpful to not have to worry about stray paint marks and accidents.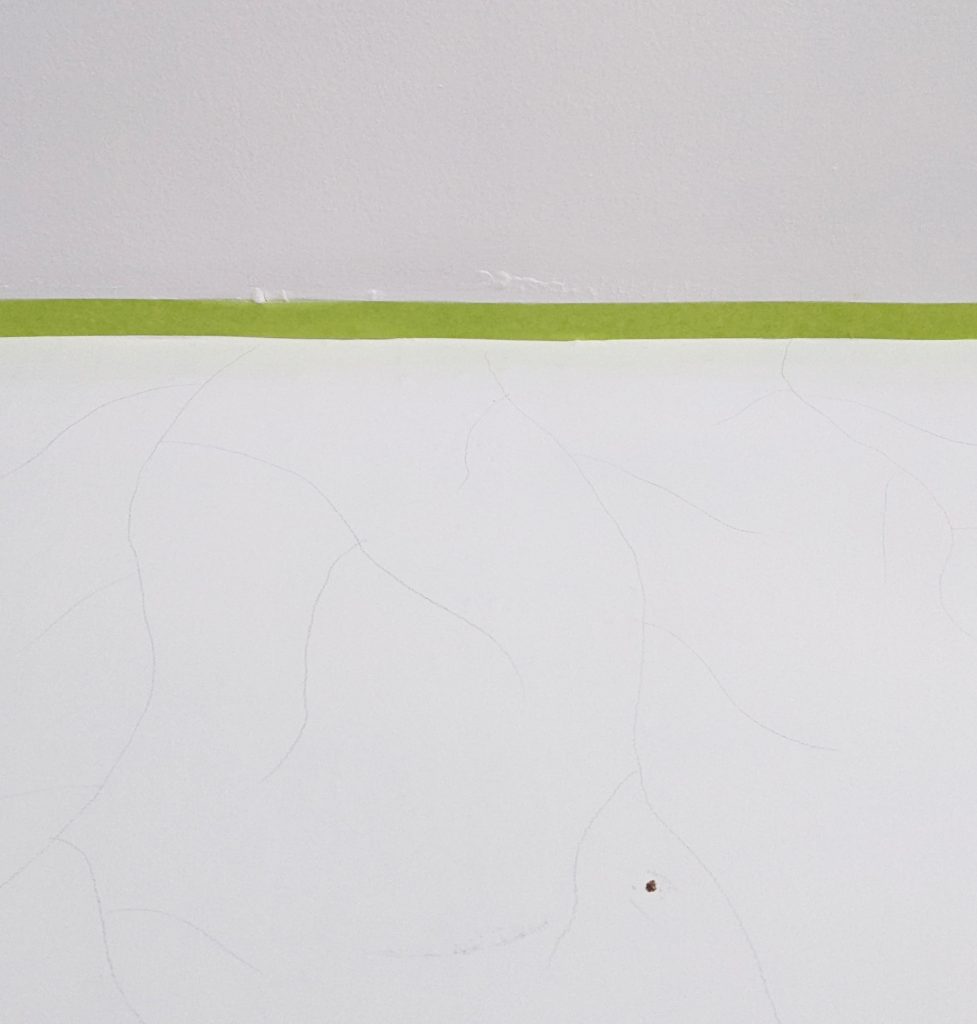 Start Painting
This part is pretty self-explanatory. Just start painting the branches!
I initially thought I'd try to do a perspective thing, and have a foreground and background situation, but after doing the first few branches, I realized it looked very off. I believe there were a couple of issues.
Firstly, I made the colours too contrasty. The difference between the foreground and background is very stark and drastic. It's too much! Secondly, I messed up on the foreground branches a bit, and fell back on my tried and true eye liner technique. Namely, making the branches fatter and fatter to try and fix my mistakes.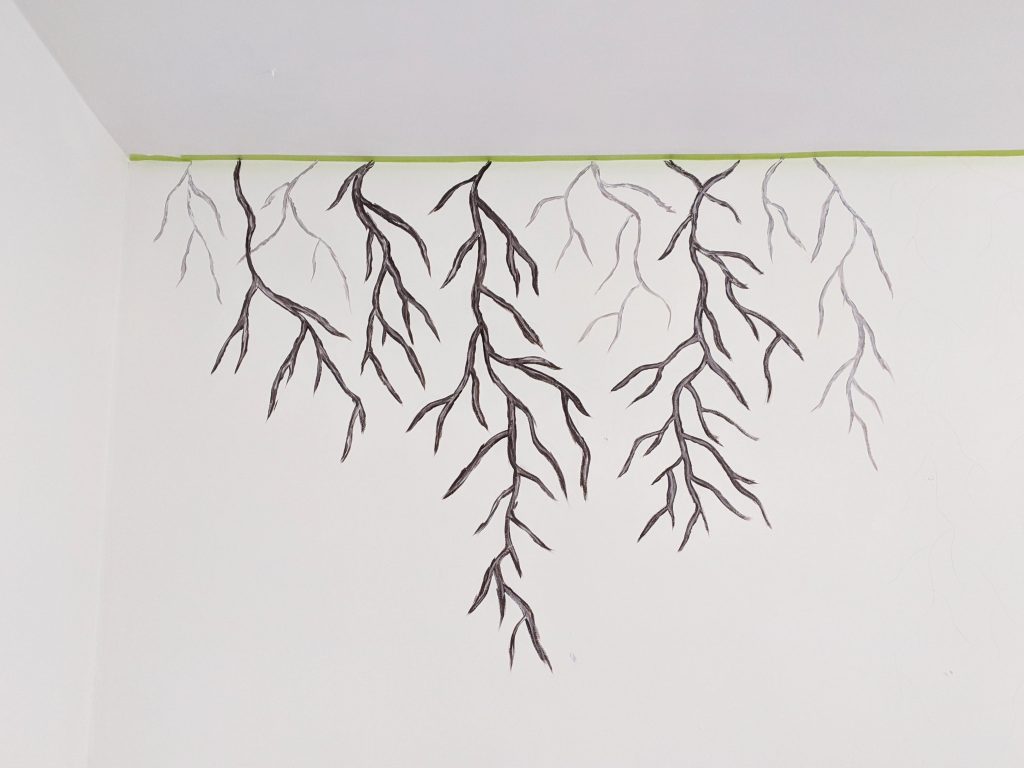 Consequently, they ended up looking more scary than wispy and whimsical! The background branches were much closer to what I was going for.
Initially, I wasn't sure what to do. I didn't like how it looked, but I wasn't sure how to fix it. My gut was kind of telling me just to continue making the rest of the branches "background" branches and once I completed the rest of the wall, it became clear what I had to do. I had to "erase" the foreground branches and redo them!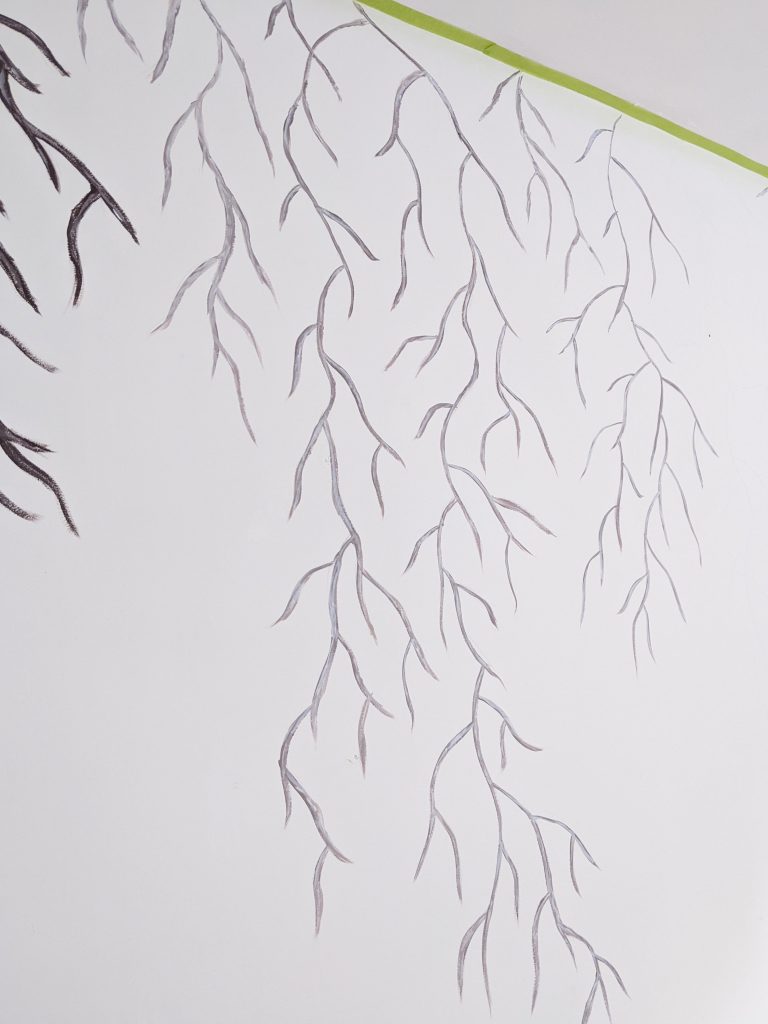 I ended up using three coats of Behr Marquee Interior Matte Paint & Primer in Ultra Pure White to cover up the foreground branches before repainting them.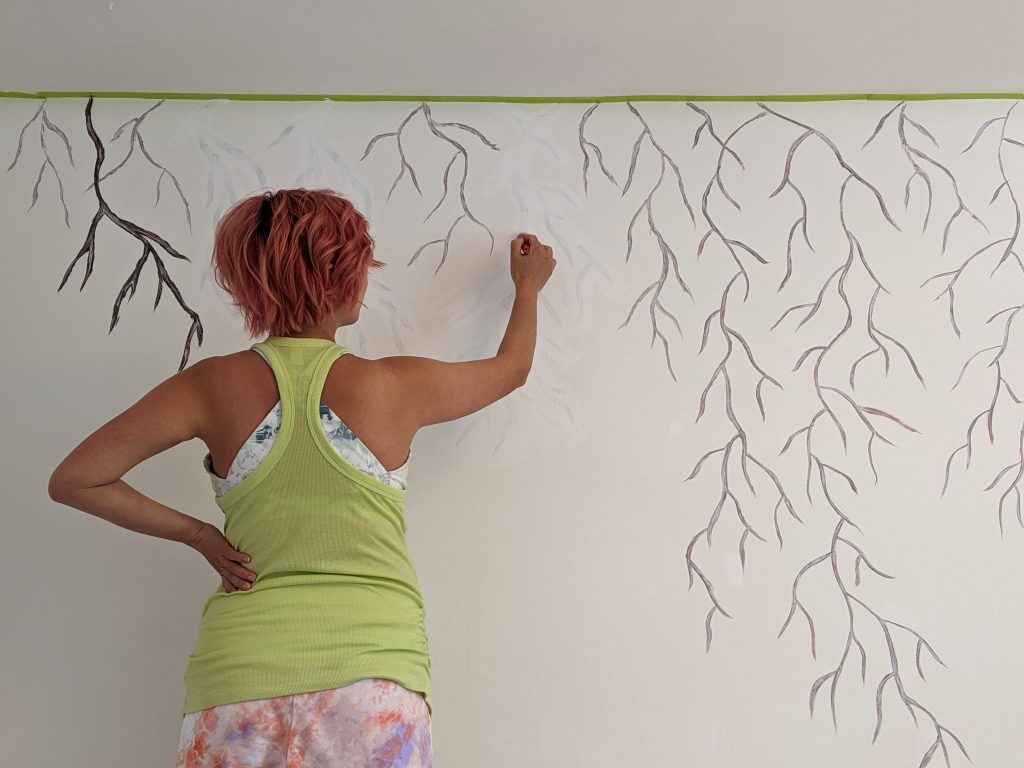 It can be really intimidating to put paint to wall (it feels so permanent!) but actually, it's not. You can change your mind or make mistakes, and still fix it later! It did add a couple of extra annoying steps. I had to go to Home Depot to get the paint and also paint the three extra layers, but I think I started painting on a Monday and still finished by Thursday.
So go ahead, try an idea, paint with abandon. If you feel like you made a mistake, there are ways of fixing it!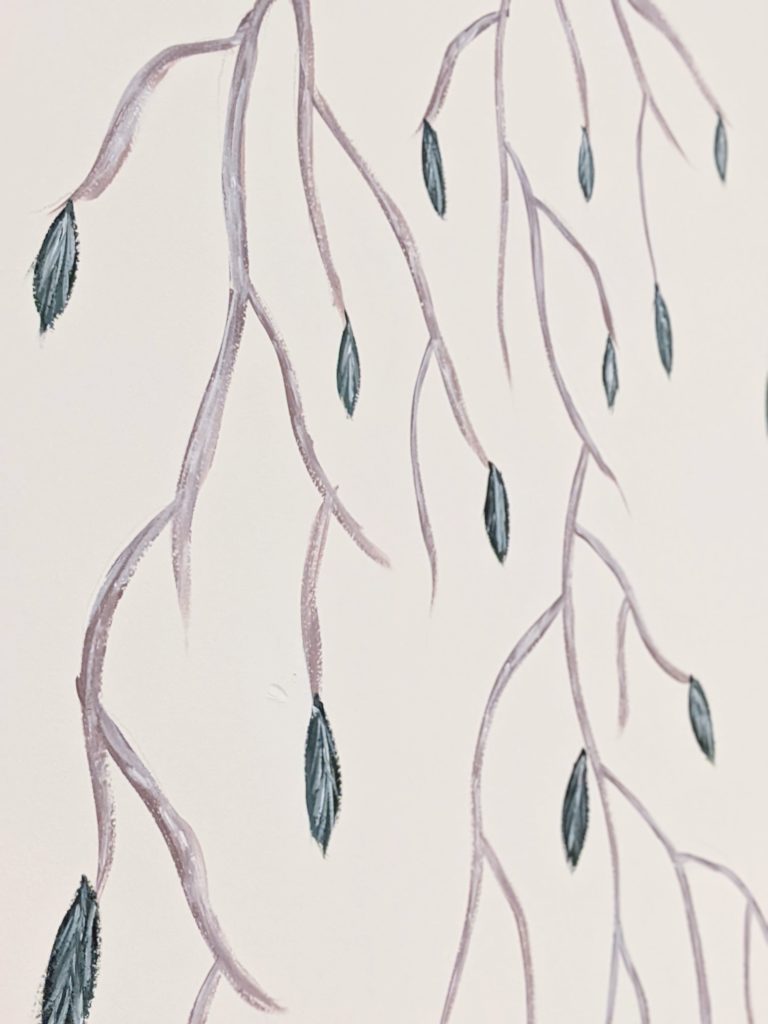 After I finished all the branches, I started on the leaves. I just kept them a super simple oval shape, with slight variations in the green hues.
By the way, in case anyone cares, I'm calling this a "willow tree mural" but I don't know if this is actually what a willow tree looks like. It's more like I'm creating a tree that's inspired by the delicate weeping habit of a weeping willow.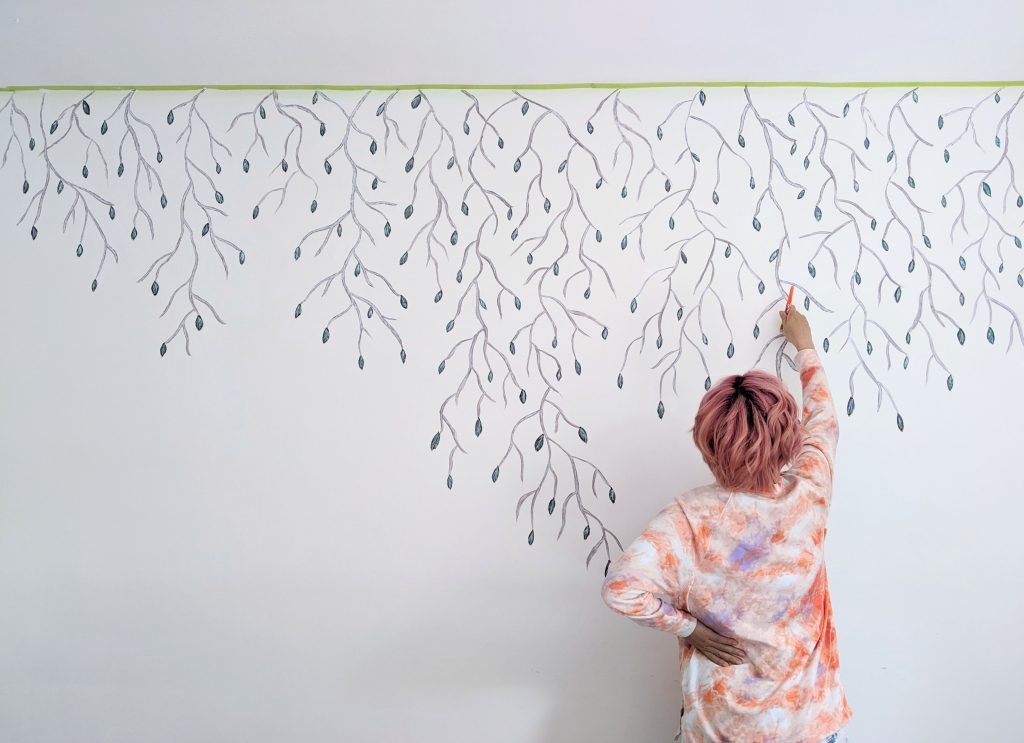 After the leaves were done, I went around with the Behr paint, correcting any remaining mistakes/tidying stray paint marks.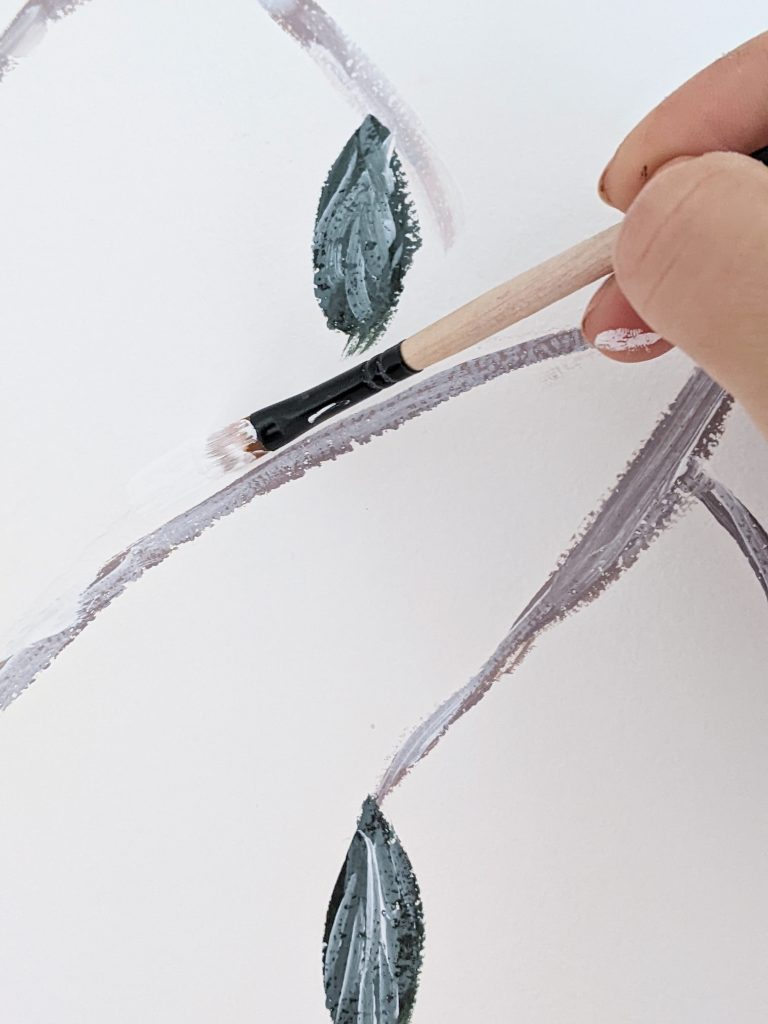 And that's about it! It really didn't take that long, despite my physical limitations and changing my mind about the background/foreground thing. I actually plan on still adding the little extra elements of birds or some type of animal, and mushrooms growing out of the floor, but I'm a bit limited at the moment with the construction going on in the house.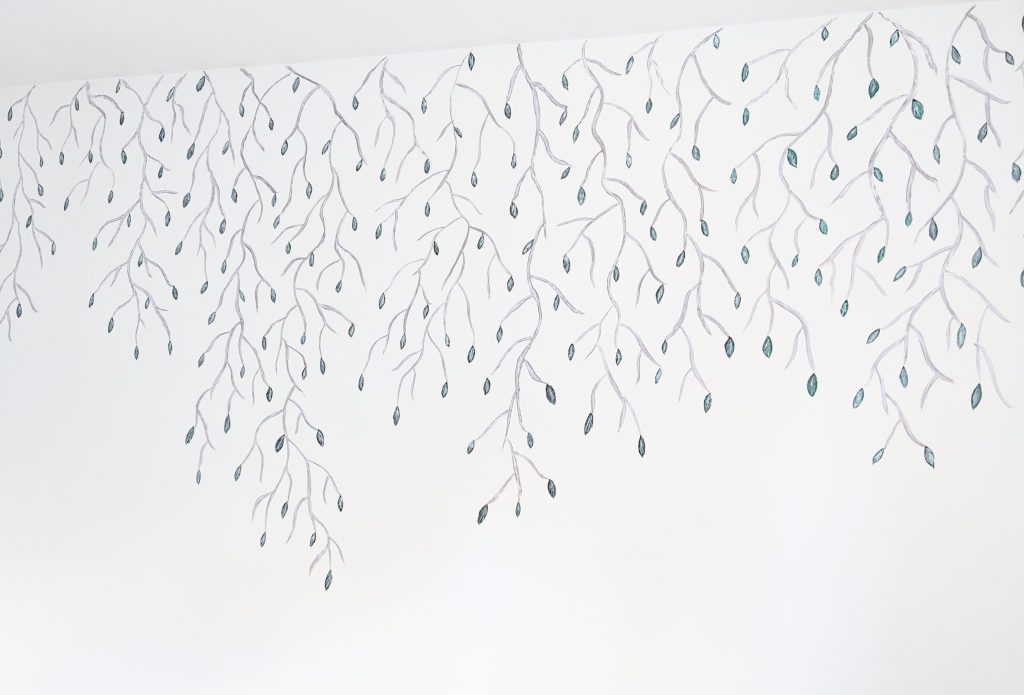 The baby's room has become a bit of a dumping ground for some furniture pieces we had to move because they're opening up the second floor wall this week! If you don't know what I'm talking about, go back and read the posts about our ongoing house extension project.
Hopefully, I'll be able to get the stuff out in the next couple of weeks and continue my painting plans. If not, this isn't a bad place to stop either. I'll just get around to adding the other elements when I get a chance.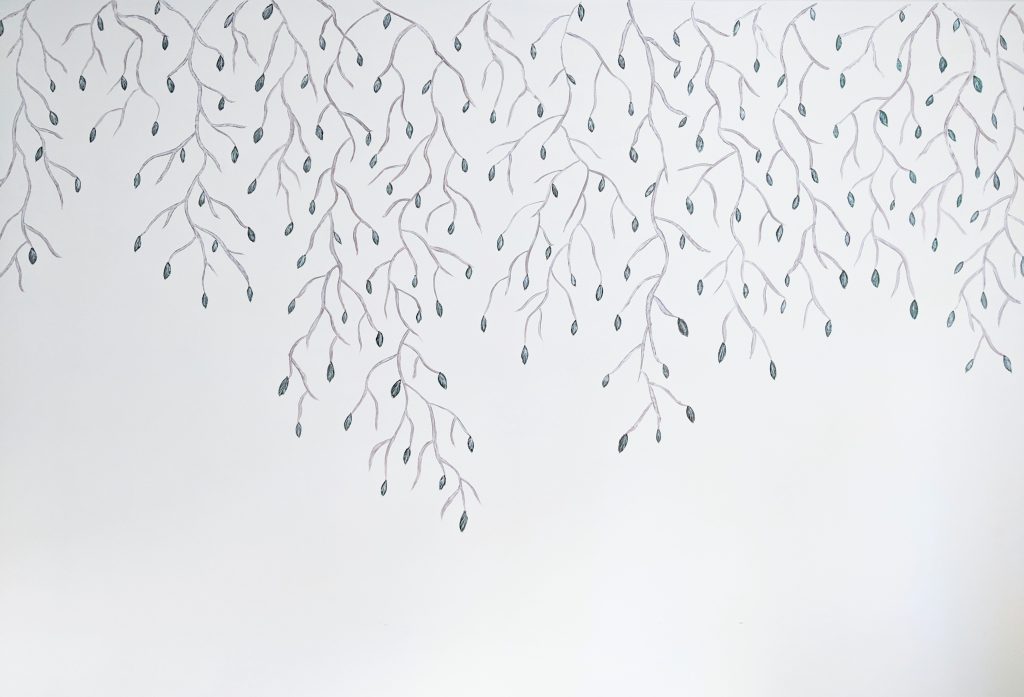 Until then, I'm actually pretty happy with how this turned out, despite my initial misgivings. The more I look at it, the more it reminds me of the watercolour illustrations in old picture books from the 20s or something, which I wasn't even trying to consciously achieve! But if you know me, you know that is such an accurate reflection of my soul, I actually think this turned out pretty perfectly.
I hope you like it too, baby!
xoxo