I got this idea the other day to share some of my makeup "holy grails," because who doesn't love hearing what other people love??? But then I thought, why not share my entire makeup collection first, and then as a grand finale to my 2021 Makeup Collection series, I'd reveal my ride or die products!
I thought this was a good time to do it because I've decluttered much of my collection in the past few years and now it all fits in the three tiny drawers of my vanity, plus the little three-drawer acrylic organizer. I keep a couple of lip glosses in a different container, just 'cause I want to keep them upright in case they try to spill out and get messy. But basically, I've pared down my collection to only the things I actually use, plus a few things I've just been trying out.
So without further ado, here are the foundations, concealers and powders in my makeup collection this year!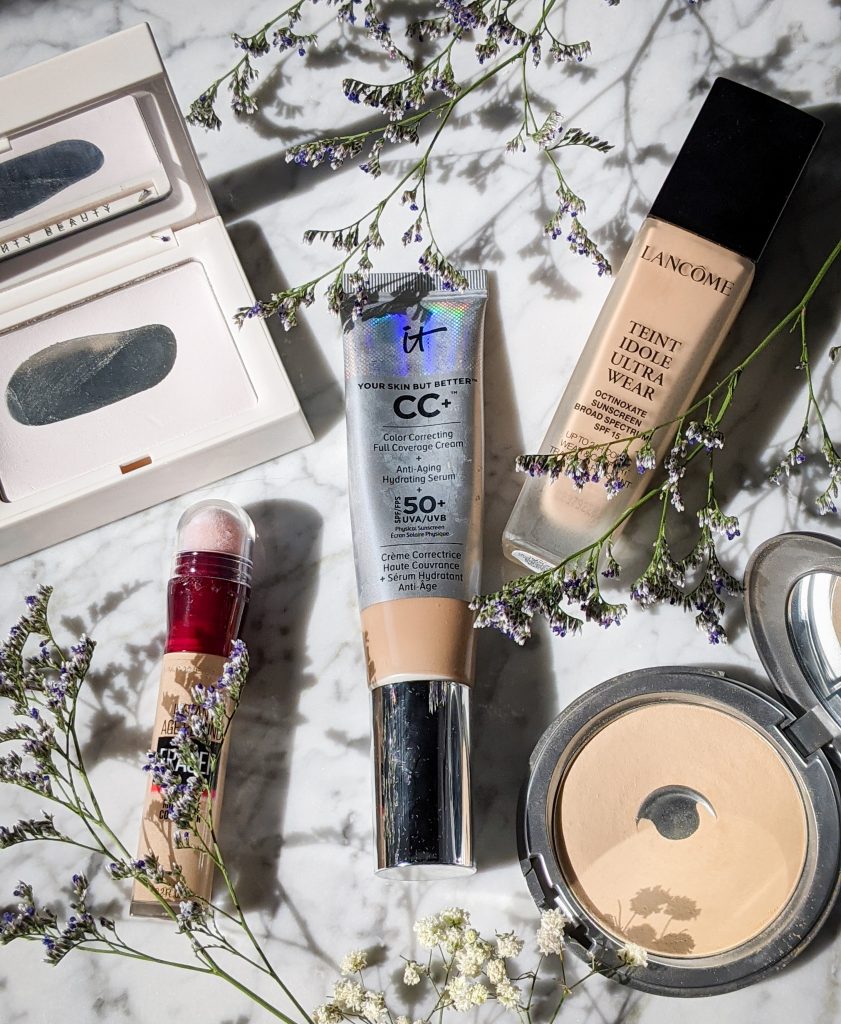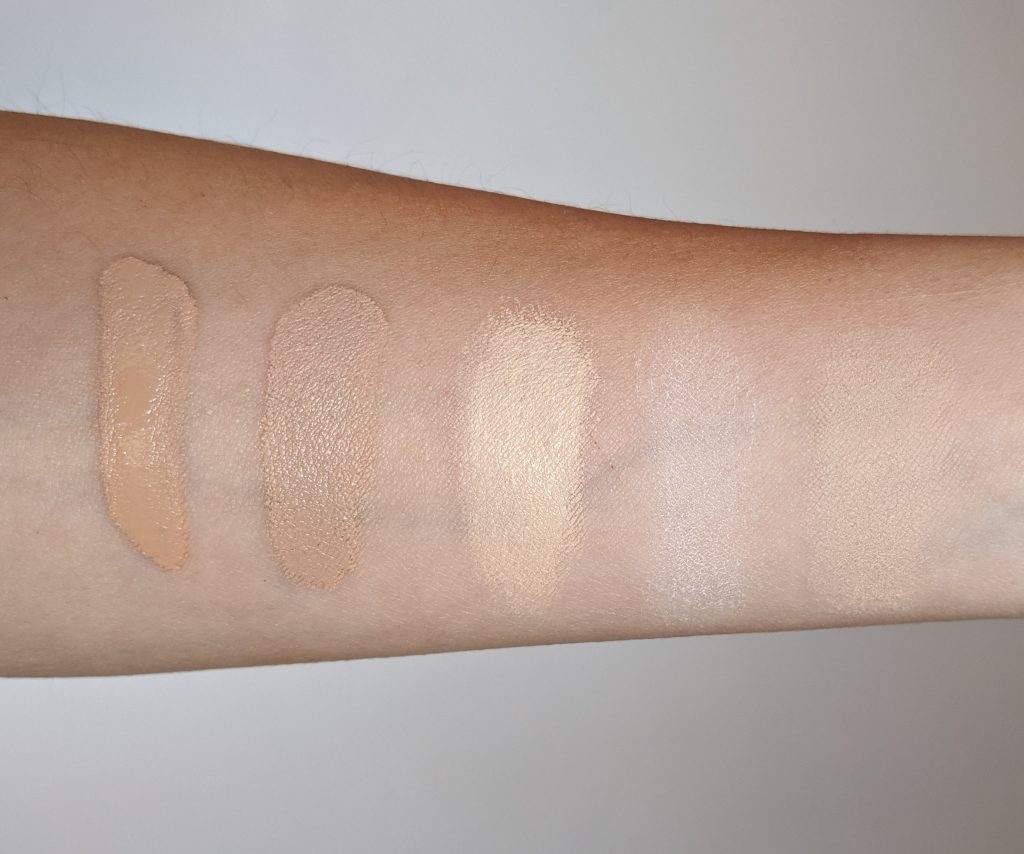 From left to right:
This is gonna be the smallest category in the entire makeup series, because I actually have not worn foundation in a very long time. I can't even remember the last time I wore foundation. So imagine my surprise when I saw how orange my Lancome Teint Idole Ultra foundation was. I have a feeling it may have oxidized a bit since I bought it probably three or more years ago…It might be time to get rid of this!
Anyway, if you're looking for a full-coverage, long-wearing foundation that still feels and looks like your own skin, I do highly recommend this formula. I just haven't had much of a need for it the past few years.
If I ever find myself reaching for foundation, I tend to reach for the IT Cosmetics CC+ Cream instead. It's very lightweight and more on the sheer to medium coverage side. I like to just swipe a bit on my blotchier areas and it evens out the tones just enough for me!
I only have one concealer I always use: Maybelline Age Rewind. It's super lightweight, but the coverage is pretty great. I don't really have dark under-eye circles, but I like the neutralizer colour because I find it very brightening. If I get the occasional blemish, I use the foundation-as-concealer method that I go more into detail about in this post.
And finally, I have two powders that I rotate between: Cover FX's Blotting Powder and FENTY Beauty's Invisimatte Blotting Powder. The Fenty Beauty powder is supposed to be a universal "transparent" colour, but I find it quite white, just FYI. Both are fine, but I like the Cover FX one a bit better in terms of keeping the oils at bay.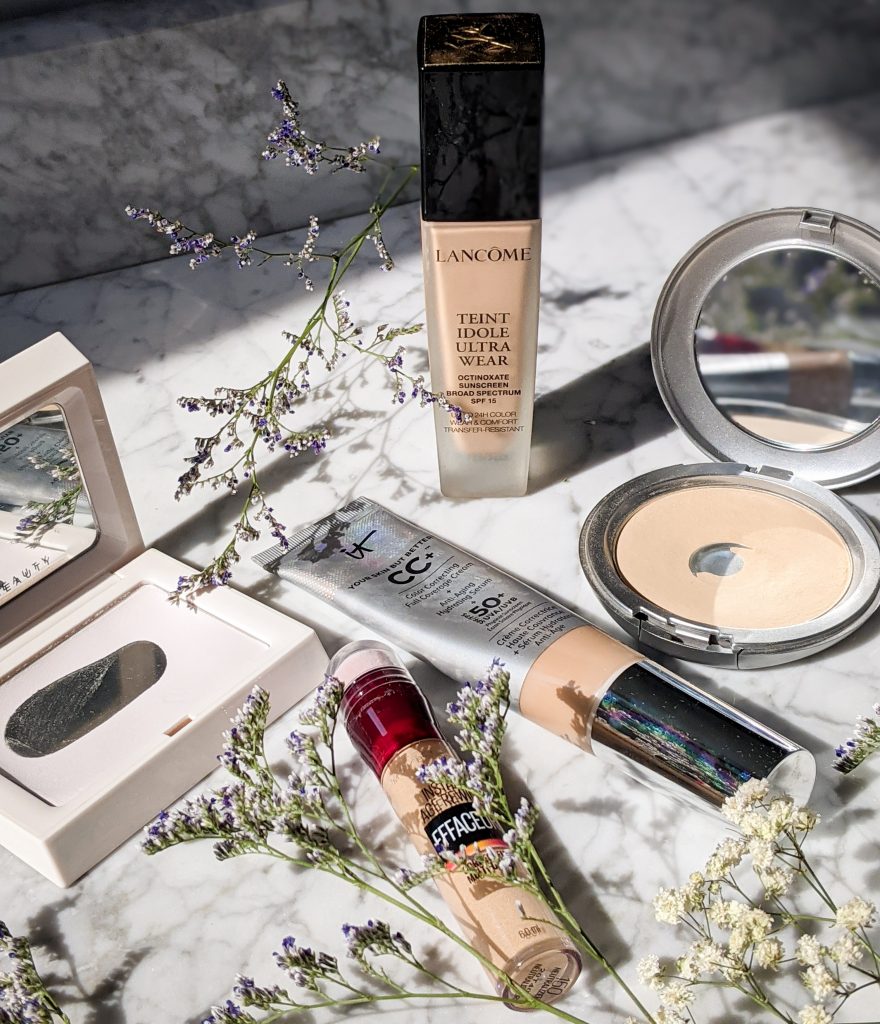 And that's it.
Those are all my complexion products! I've said it once and I'll say it again: I am a strong believer in working on your skincare before lathering on primers, foundations, colour correctors, concealers, and powders. Of course, there's nothing wrong with doing that if that's how you like to wear your makeup, but for me and my texture concerns, layering on product after product will only make things worse. I'd much rather work on my skincare game, accept the little imperfections, and do without tons of base makeup.
I have a feeling as the year progresses, I'll probably be getting rid of the Lancome foundation and I won't be repurchasing the FENTY Beauty powder once I've used it up, so my collection will be getting even smaller!
I know this wasn't a super exciting post, but fortunately (or unfortunately, depending on how you look at makeup hoarding) this will probably be the shortest post in the entire makeup series. Trust me, even though I ruthlessly declutter most things in my life, and I have managed to pare down my makeup stash by at least half in the past couple of years, I still have what most people would probably consider a pretty big makeup collection.
Lots of exciting swatches and mini reviews to come, so stay tuned!
xoxo