At the end of August, we had our first little family trip with Theo to visit some family out west for a wedding. I was quite hesitant about whether or not I'd be willing or even physically able to travel across the country only two months after giving birth, nevermind travelling with a baby! To be honest, the thing that worried me the most was how fragile his immune system would be and the unknown international germ/virus element that could be lurking in an airport/airplane.
But as time went on, I healed, we got more used to taking care of Theo, he got his first vaccine shot, and I started to relax about the idea of airplane travel with a baby. Before you knew it, it was only a few weeks before the wedding and I was fully on board with the idea of a flying five hours across the country with a baby. I wasn't even concerned about how he would handle the trip. He's generally very calm and relaxed, and fairly good at sleeping.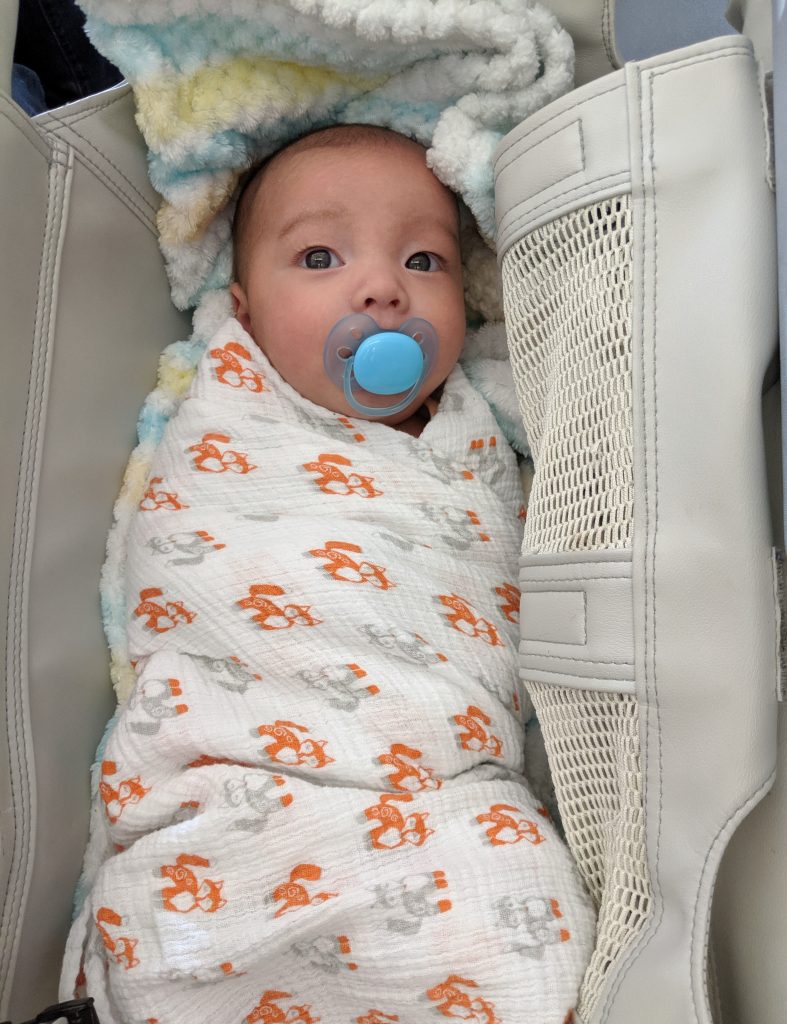 I purposely looked for a flight to book that offered a bassinet for infants and it ended up being extremely useful! But I did find a few things that were kind of strange about how it's set up. The bassinet was so high up, I couldn't see into it unless I sat right on the edge of my seat or stood up a bit. Also, it's positioned right in the middle of the bulkhead row, not right in front of my seat (it was one of those planes with four seats across the middle). So the person sitting next to me had Theo's head right in front of them (and she and her husband took the liberty to stick their faces right into the bassinet to stare at him from time to time, which I did not appreciate….)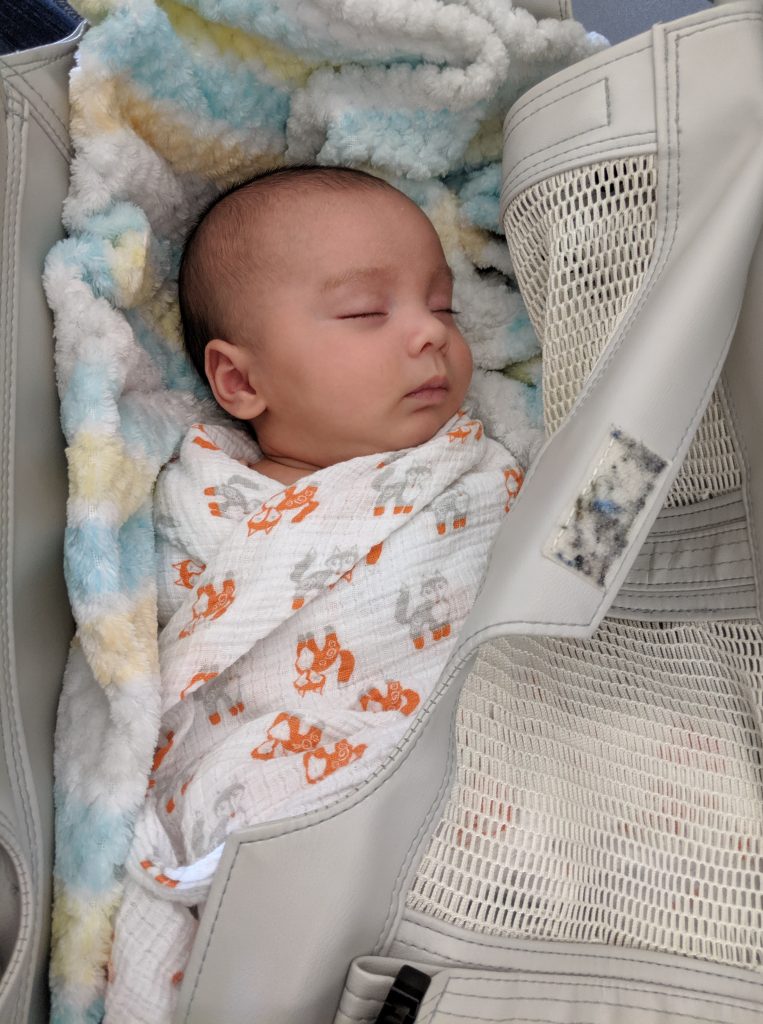 Also, there's this weird net part you're supposed to close over the top of the bassinet, which I only ever closed halfway. I understand it's for their safety in case something crazy happens and they somehow are able to fall out of the bassinet, but if you fasten the net all the way, it will literally be squished up against their face, 'cause it's actually kind of weighty.
Anyway, I don't mean for this to come off as complaining at all. I was very happy to have the bassinet and free up my arms for at least part of the trip. We were flying Air Canada, by the way! Not every airline/aircraft will have this, but if you're travelling with an infant, I highly recommend trying to book with a flight that will have a bassinet!
Now for the fashion portion of this post.
Re: Mom bod struggles….even after the dust has settled and you accept your new body, there is the issue of not fitting your old clothes anymore that you have to deal with. Maybe some people don't experience this to the extent that I do, but in general, my closet is full of items that are quite fitted around the waist/torso and won't fit me comfortably anymore, if they fit me at all!
With a wedding to go to, I kind of planned on getting a new dress as a sort of treat for myself and my new body, but I couldn't find anything that was quite right, that I felt good in. So instead, I decided to alter one of my favourite dresses. While I could certainly be persuaded to part with many pieces in my wardrobe, this is one number that I just can't let go of.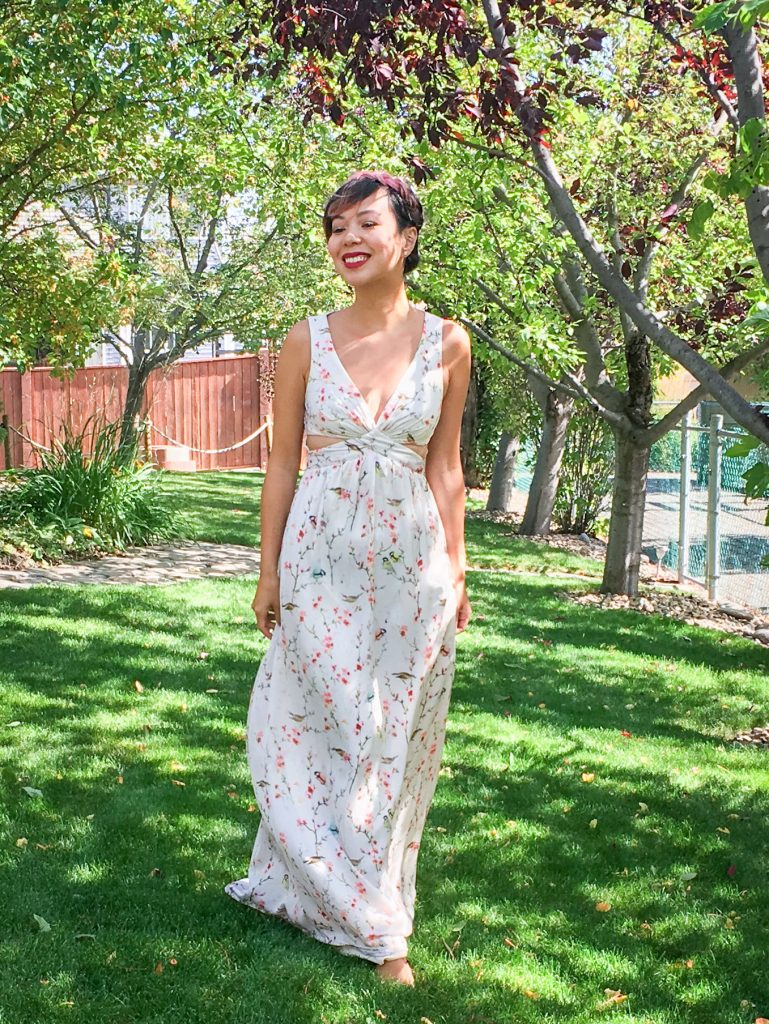 This is a shot of me wearing it about a year ago, before I got pregnant. It was already a bit of a tight squeeze, but now it couldn't possibly be coaxed into zipping up all the way. So I basically decided to turn it into an open back dress. I took out the old zipper, cut out the back and sewed it back together with a smaller zipper that only extended as far as the bottom of my waist.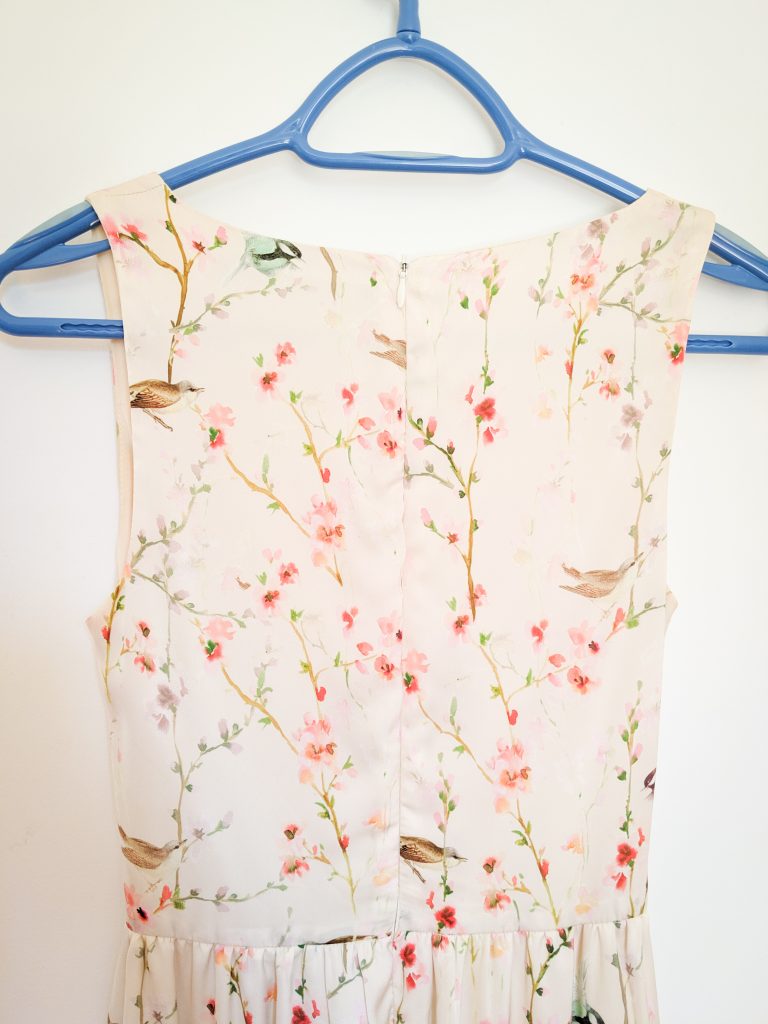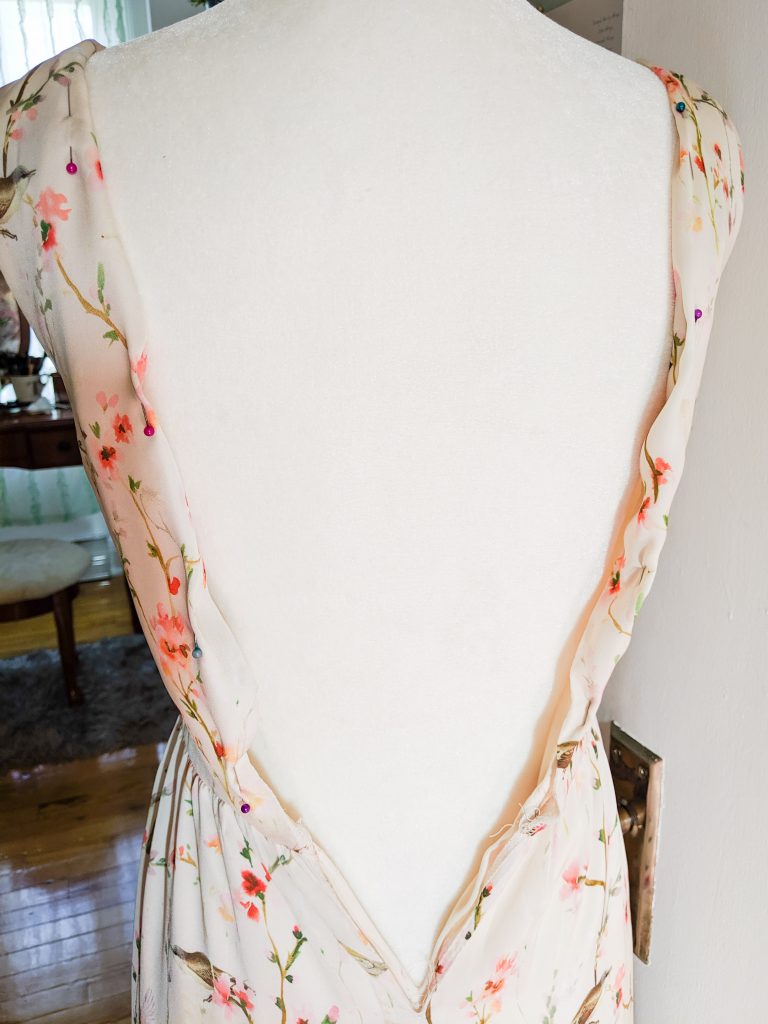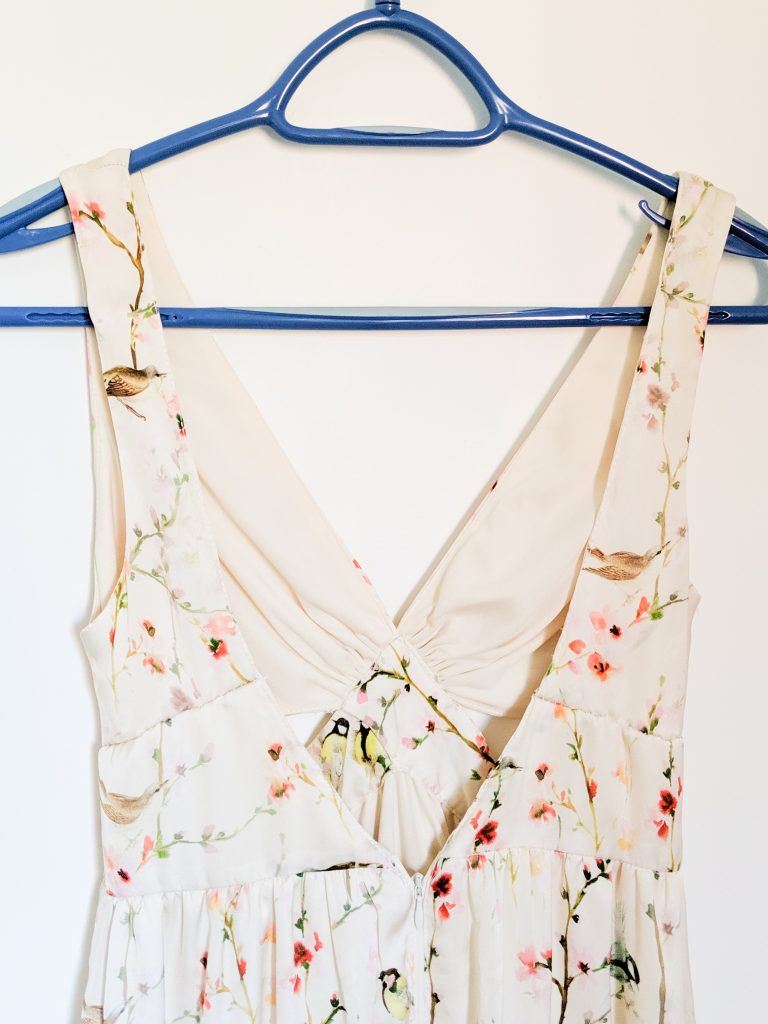 It certainly isn't a professional alteration job. If you look closely, I'm sure it appears uneven and a little messy, but it was a kind of life-saving surgery. Either I was never going to wear it again or I was going to risk ruining it to try making it fit my new body. Either way, its life was kind of on the line, so why not take the risk? Rather than let it sit in my closet, unworn for years, transforming it in this way kind of gave it a second life.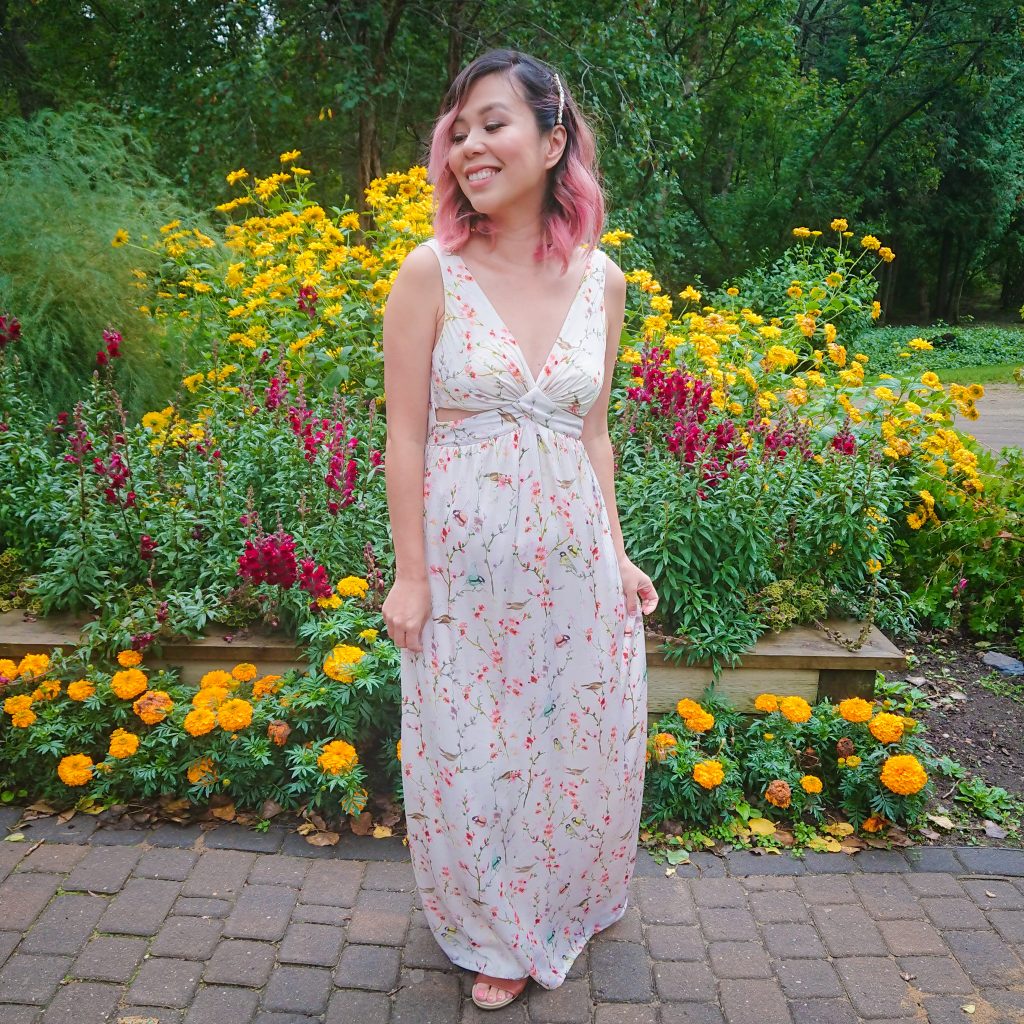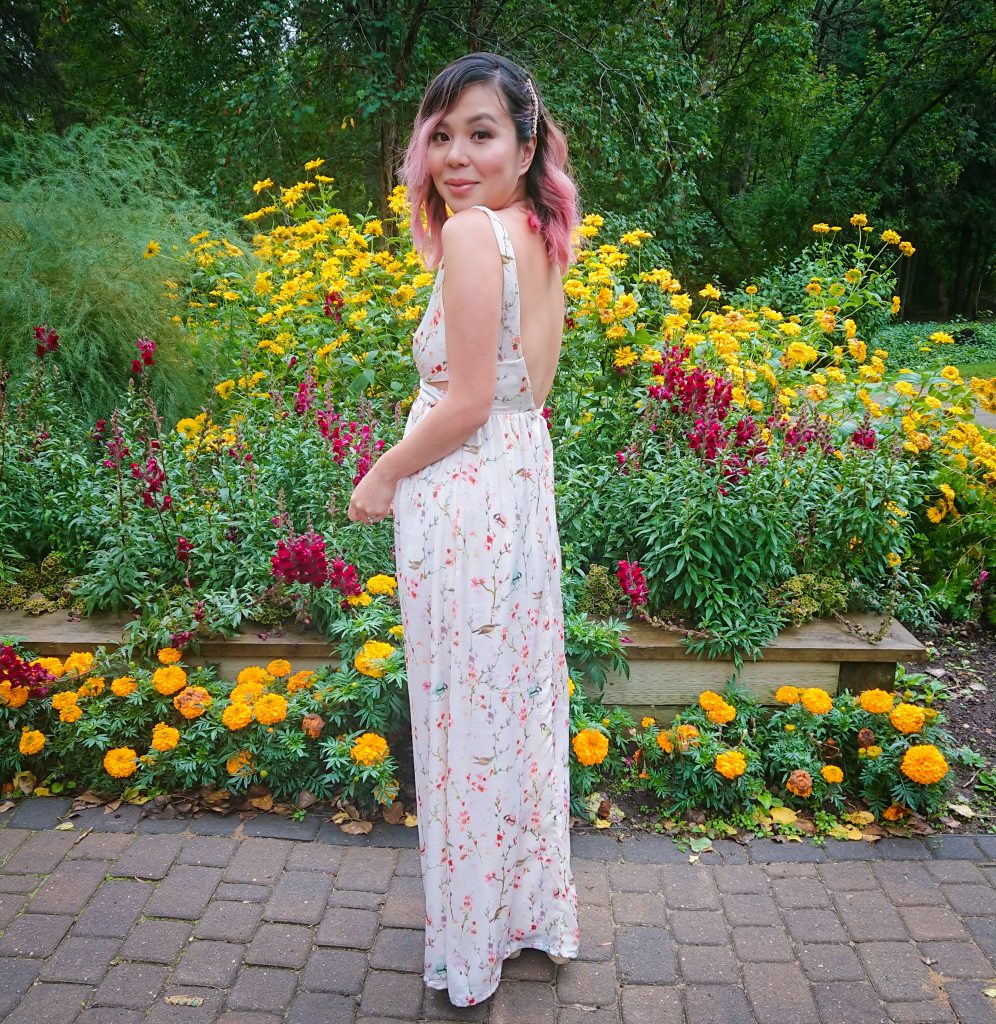 So it's not perfect, but at least it fits me now. And maybe someday I'll try to transform it even more, or get someone professional to take a stab at it. I have a feeling I'll be doing a lot of wardrobe purging or altering in the near future, in the case of those items I can't bear to part with.
I say that now, but I have a dress I've been meaning to alter for like…five years, that I still haven't gotten around to doing anything about. This one only got done 'cause I had a wedding to go to! I guess I should be getting used to putting a lot on the back burner from now on….
xoxo