Before you lay into me, I have been on a new makeup fast since the last sale season in November. I didn't buy any new products for four months! I started easing up on my diet around March with some drugstore purchases and went to Sephora a few times to swatch up a storm, but I never made any purchases.
I think having a "sale season" in cosmetics helps me a lot when I go on makeup diets. It gives me a clear goal/end-date which helps me maintain the diet. I know I'll get rewarded for my patience eventually. Ulta and Tarte had a sale recently and I've been waiting patiently for the Sephora VIB sale since last fall. That being said…let's get into part of the damage I did this sale season!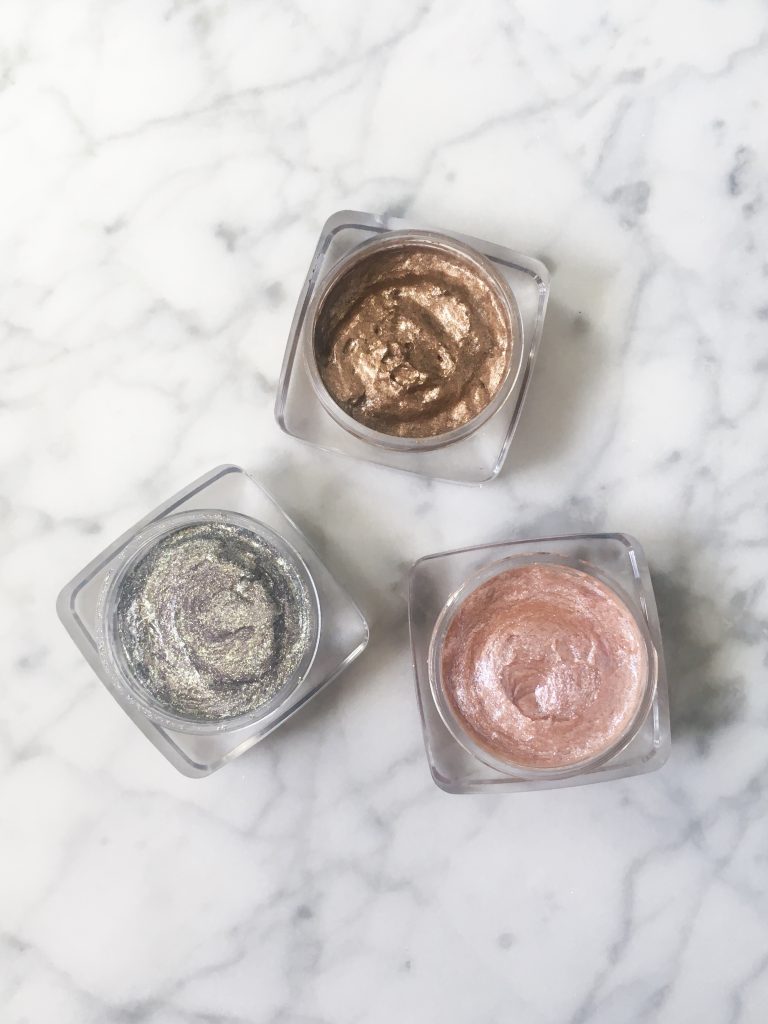 Butter London Glazen Eye Gloss
(L-R: Mermaid, Spark, Unicorn)
I have been searching for an eye product that gives your eyes that wet, glossy look for forever and this product seemed like it could potentially do that. I couldn't try them before buying, but I was very impressed by some of the swatches I had seen online. So during the recent 21 Days of Ulta sale, these babies went on sale for 50% off and I took the plunge and got three colours.
My first impression was that all three colours were way more glittery than I anticipated. The colour I was most excited about was Unicorn, which I thought would be the closest to a pure eye gloss (ie. close to skin toned and full of shine when sheered out). Turns out, there's a ton of purple glitter in it, so that when it's sheered out, the pink kind of disappears into my skin tone and all that's left is a wash of purple glitter. It photographs beautifully, but wasn't exactly what I was going for.
Spark is a kind of bronzey gold colour with gold glitter and has the most amount of pigment and least amount of glitter out of all the colours I got. It's the only one of the three that's true to colour to what you see in the container. And it's definitely the most everyday and wearable (for a glitter). The surprise of the bunch was Mermaid. It's kind of a grey colour in the pot, which doesn't sound exciting at first, but the green glitter throughout gives it the most beautiful iridescence. It looks like a multi-dimensional icy blue/green on the lids. It's my favourite of the three!
I would be careful not to pack on too much product with these. There's so much glitter, it just turns into a chunky layer of product that feels heavy and almost crusty on your lids. It can get very uncomfortable. Also, you should do your eye makeup first when using these because you will get glitter all over your face!
Tarte Precious Picks Color Collections
(Amazonian Clay 12-hour Blush in Ornate / Color Splash Hydrating Lipstick in Surf's Up / Lights, Camera, Lashes 4-in-1 mascara)
I love sample kits! Not only because you get to try more than one product, but I actually really enjoy mini sizes in cosmetics. I have never, in my whole life, used up a full-sized cosmetics product before it goes bad or I get tired of it (besides concealer and eyebrow pencils).
Any time I see a Tarte mini set that includes a blush, I pretty much pick it up during a sale (Tarte recently had a 25% off sale and I picked up two of their sets). I love their blushes so much! They are pretty much my favourite blush formula I've tried (I haven't tried that many…but don't fix what ain't broke!) I would describe Ornate as a bright coral pink. The lipstick, Surf's Up, is a sort of rosy brown/terra cotta shade. Normally, I don't go for that kind of lip colour, but it's nice to mix things up.
Alternatively, I am extremely picky about mascara, because I have the typical, straight, sparse Asian eyelashes. The only way it can hold a curl is with waterproof mascara, but when I want to pump up the volume in my lash game, I layer a non-waterproof mascara on top of my waterproof base.
Consequently, I always have a stash of non-waterproof mini mascaras and honestly, while I am very picky about my waterproof mascara choices, I have no preference for the non-waterproof counterpart. I find they all perform pretty much the same for me, so when I see a set with a mini mascara or they have a mascara point perk at Sephora, I pick one up.
Tarte Clay Cliq Amazonian Clay Set
(Amazonian Clay smart mascara / Amazonian Clay Bronzer in Park Ave Princess / Deluxe Amazonian Clay 12-hour blush in Harmony)
Again, I find these little mini sets from Tarte are an incredible value, especially with the additional 25% off. I've had a deluxe sample of their blush for about 10 months now and I'm nowhere near using it up yet. Harmony appears like a peachy nude in the pan but on my skin, it appears like a warm peachy pink colour.
The bronzer, Park Ave Princess, is a shimmery warm brown bronzer. It's hard for me to find good bronzers because I need a real yellow-based colour. I find many of them pull a bit too orange or red on me. This one matches me pretty well and I was excited to see that it's kind of shimmery because I have been interested in getting a more luminous bronzer for the spring/summer. And as with all these mini set pieces, it will be great for travel!
Tarte Amazonian Butter Lipstick in Watermelon
My glossy lip obsession is going strong and now that we're well into spring, I find myself gravitating towards louder lip colours and I don't have that many bright pinks in my collection. I tend to go for nudes or reds. While I was browsing the Tarte site in anticipation for their sale, I noticed their butter lipsticks were on sale for $15 and with the additional 25% off, I decided to snap up the shade Watermelon. It's a kind of hot mid-toned pink that I don't really wear that often. But I can see myself using this bad boy throughout the spring and summer!
Tarte Quench Lip Rescue in Rose
This is a repurchase for me. It's my favourite tinted lip balm because of three reasons: it actually tints my lips nicely, it's actually moisturizing and it gives me a bit of a shiny lip. I find a lot of balms aren't very moisturizing and either the tint doesn't show up on my lips or it's too tinted and starts to look like a lipstick, which is not what I'm going for when I reach for a tinted lip balm.
This balm actually gives me a lips a colour boast that makes it look like I'm not wearing any colour on my lips at all and it's just the natural colour of my lips, but better. Throw in the shine factor and I'm sold. Even though it's still pretty expensive for a lip balm, I'll bite the bullet with 25% off, 'cause I like it that much!
I've decided to break my "sale haul" into two different posts because at the time of this post's writing, I haven't received my Sephora VIB sale order yet. Also….I think I would be a little too ashamed of my haul if I did all the products together.
And I really shouldn't be asking for even MORE makeup recommendations, but do you guys know of any kind of "eye gloss" type product that's not too goopy or glittery? Please let me know if you do! I would say it's the only thing missing from my makeup stash that I'm really into at the moment.
I'll be coming at you next week for the part 2 haul. Until then, have a beautiful day!
xoxo