I didn't realize until I started this part of the makeup collection series, just how much eye stuff I have! This is just the first of three posts all about my eye products…But to be fair, there are many different makeup categories for the eye area and some might say, it really is the part of the face you focus on the most when you look at a person. Today's post is all about liner, mascara and brows. And I'm throwing in an eyeshadow primer, just because!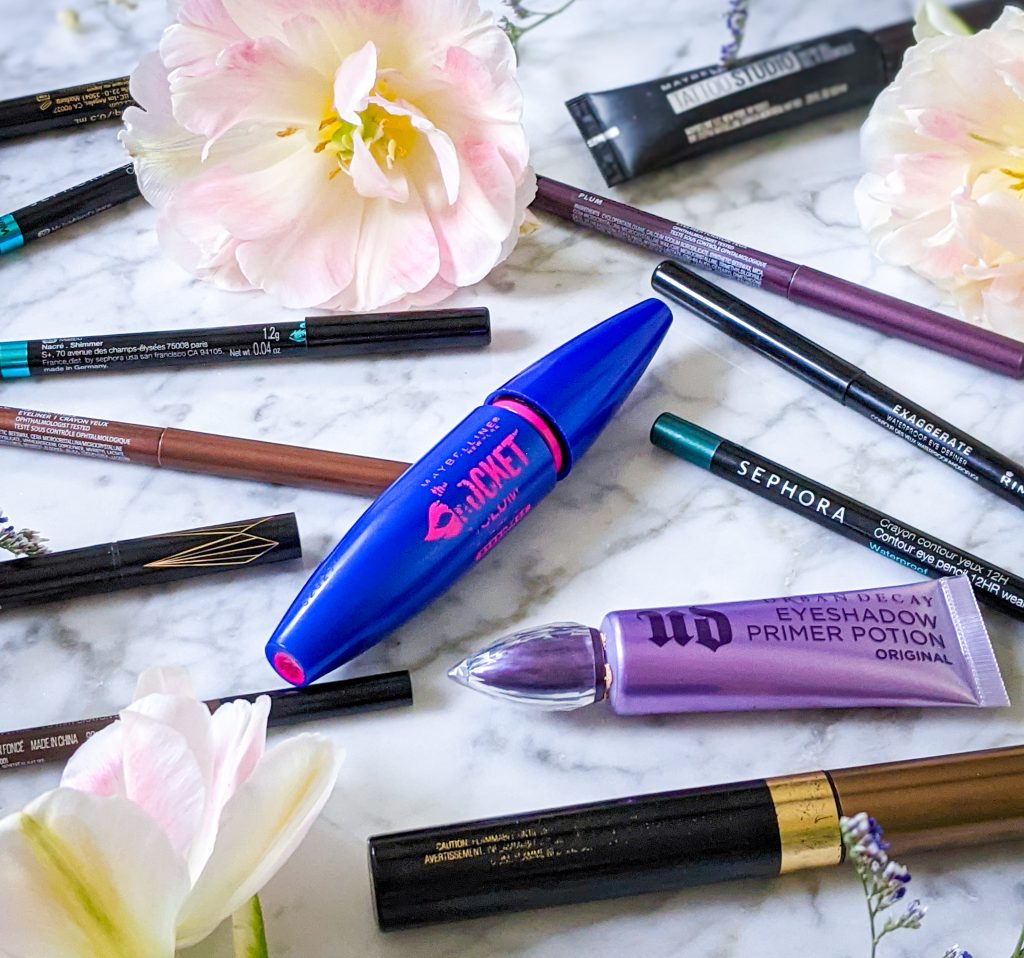 Mascara, Primer, Brows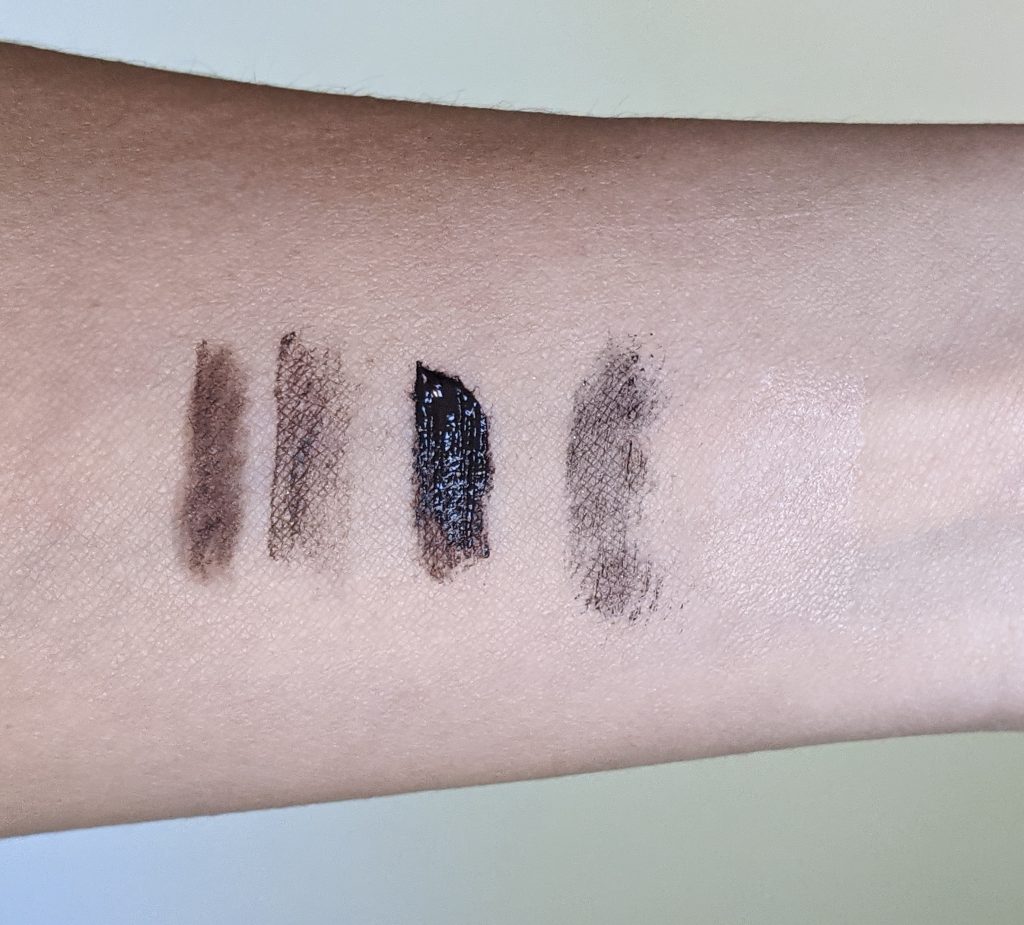 From left to right:
When it comes to brows, I am a strong believer in drugstore products. It's partially because I have not found a high-end eyebrow product that performs twice or three times better to justify the price-point. But also, I do my brows almost every day and go through brow products pretty fast, so I can't be spending tons of money to get my refills! And it's not even like foundation or eye shadow or lipstick, where you might have very specific shade needs that the drugstore can't fulfill. Generally, the three or four shades at the drugstore work for the vast majority of us.
Usually, I alternate between Maybelline and L'Oreal brow products, depending on what's on sale. I'm currently using Maybelline Brow Ultra Slim Defining Pencil in 260 Deep Brown, and L'Oreal Brow Stylist Eyebrow Plumper in 380 Medium to Dark. I also like the Maybelline Tattoo Studio Waterproof Eyebrow Gel in 260 Deep Brown for days when I need more heavy-duty brows that won't rub or wash off easily, like when I go to the beach.
When it comes to mascara and eye shadow primer, I have my go-to products that I've been using for years and I just haven't really felt the need to try anything new. My favourite mascara is the Maybelline Volum' Express The Rocket Waterproof Mascara in Very Black. I find it gives me the best of both worlds in terms of volume and length. I always get waterproof because my straight-ass lashes will straighten out with the non-waterproof version, no matter how much I curl them first. I do find the formula quite wet though, so I like to open a new one and not use it for a couple of weeks so it dries out a little.
And my go-to primer is Urban Decay Eyeshadow Primer Potion in Original. My eyelids get pretty oily, and I have heavily hooded eyes, which basically means transfer/smudge city when it comes to eye makeup! So I have to wear primer every single time I wear any eye shadow or eyeliner. I find this eye primer works super well, and the formula is really light, which is important for my delicate eye area. Some eye products will give me little bumps if they're too heavy/waxy/greasy etc.
Eyeliner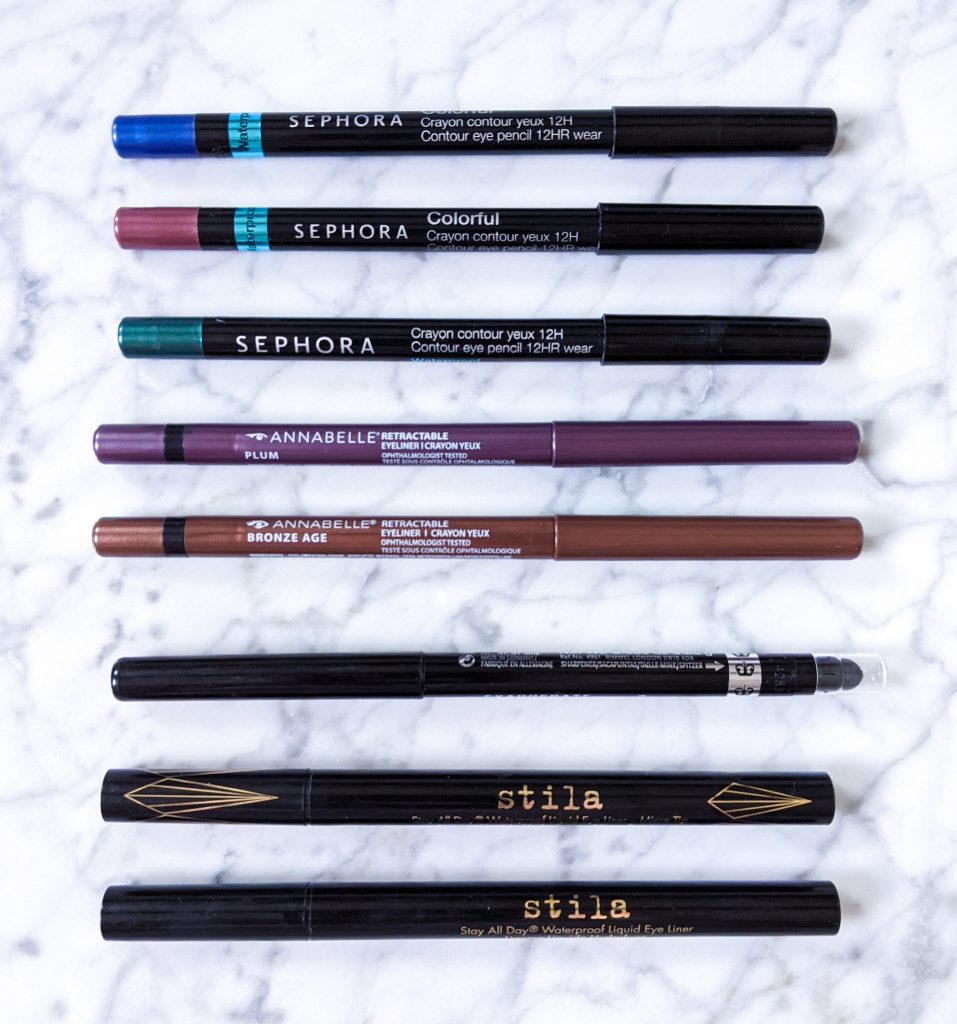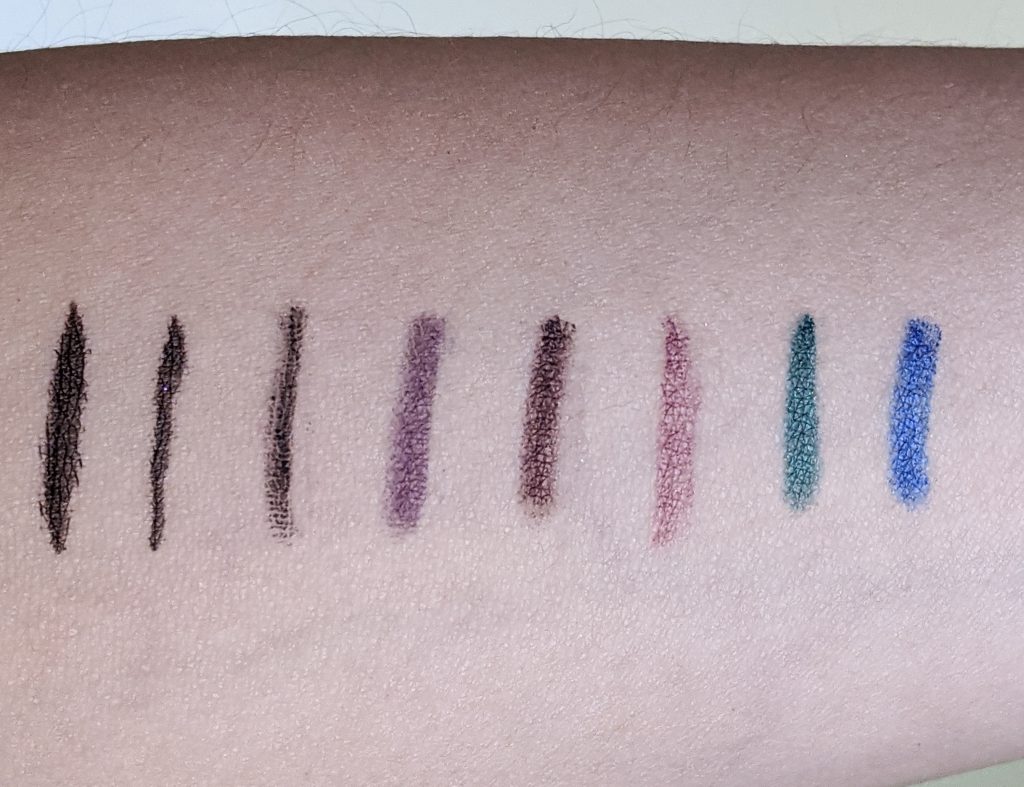 From left to right:
I am super picky when it comes to eyeliner. Re: I have oily lids and a heavy eye fold! So I need a truly budge-proof, smudge-proof formula that won't transfer or melt into unsightly places. My go-to liquid liner is Stila Stay All Day Waterproof Liquid Eye Liner in Intense Black. The reason I have two is that I accidentally bought the micro tip version during last year's Sephora VIB sale, had trouble using it, and then got the regular version in the recent VIB sale. Honestly, I think once I learned how to use the micro tip, I prefer it. But I have both now so I will be using both up! This is one of the only, truly budge-proof liquid liners that I've tried. It's funny, my other favourite one is a random brown liquid liner from Miniso, but because the stock is so random in their stores, I haven't been able to find it again!
Because of my eyeliner transfer troubles, I don't generally like to use crayon eyeliners, but I keep a standard black one on hand 'cause it's just a makeup staple. I currently have Rimmel Exaggerate Waterproof Eye Definer in 261 Noir, for those times when I do a full-on smokey eye and need some bottom liner or something. Because I don't use it often or use it all over my eyes, I don't really need it to "perform" well, so I don't really pay attention to which one I use. They are all fine for my purposes.
In terms of colourful eyeliners, there are a couple of crayon formulas that I find work pretty well with my eyes as long as I use them in conjunction with my primer: Annabelle Retractable Eyeliner (I have the colours Plum and Bronze Age) and Sephora Collection 12HR Contour Pencil Eyeliner (I have the shades My Boyfriend's Jeans, Malibu and Good Mood). Sometimes they will transfer a bit, but usually only if I've been sweating a lot and it's been 12 hours or something. Unfortunately, all the Sephora Collection colours I have are discontinued, but I really love Good Mood in particular. It's one of those shades that are dark enough add a lot of dimension and contour to your eyes, but it's also bright and colourful enough to give you that little something special that a black liner doesn't.
And I've been on the hunt for the perfect warm plum-y purple shade that I feel like would really highlight my brown eyes well. Annabelle's Plum liner is close, but it's a bit too dark to really come off as purple once it's on. I should also mention that the Annabelle liners have a built-in pencil sharpener, which is a nice concept, but I don't find that it works super well in terms of giving you that really sharp point. It might be because their pencil is one of those ones you twist up and not a true "crayon" kind of product.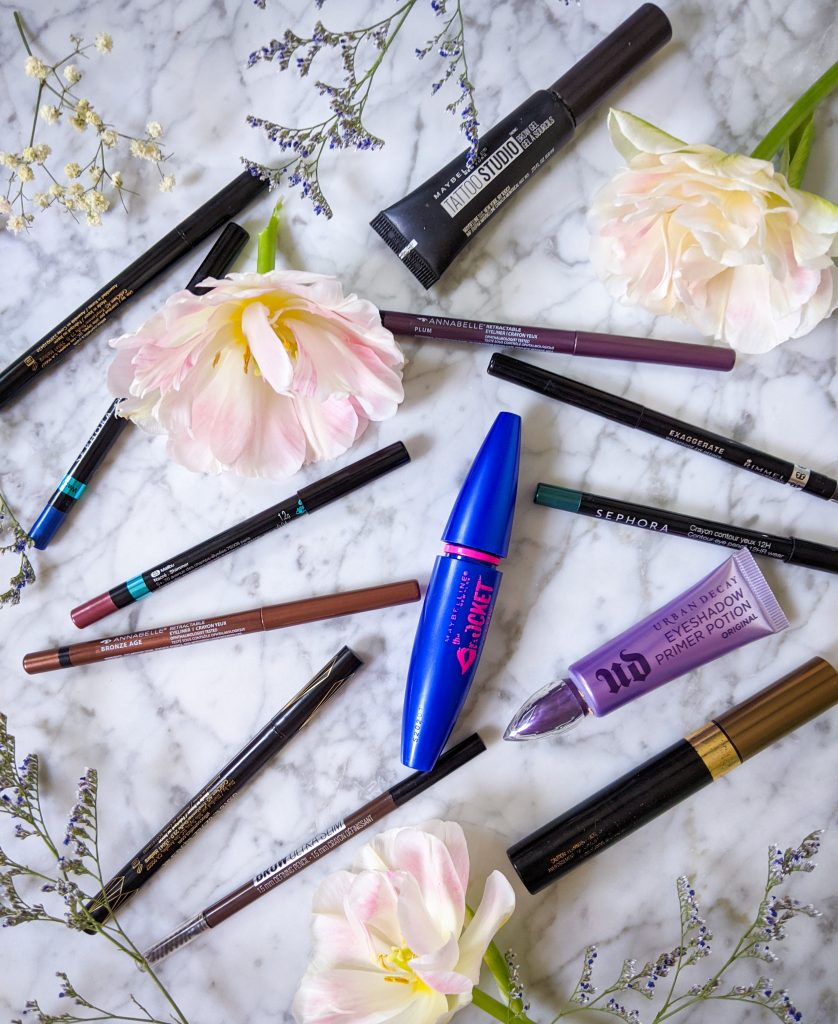 I don't have a ton of items in this category because these items are a little more on the practical side for me. I just need those few products that perform how I want and then I'm good. It's not like lipstick or eye shadow, which to me, has more of a fun/artistry component to it.
But if you ever find that perfect warm plum liner, please do let me know!
xoxo