This part of the makeup collection roundup is a fun one for me! I love blush, bronzer and highlighter (maybe you can tell by how many I have!) It's such an easy way to just brighten up your face, and add some simple pops of light and colour.
Just as a quick overview before we get into specifics, you should know that I have oily-combo skin that is pretty sensitive to congestion, closed comedones and clogged pores. As such, as much as I love liquid and cream products, I don't have a lot in my collection because I just haven't been able to find good formulas that work for my sensitive/combo skin. That is not to say that powders aren't without their problems (I'll get into that more in the highlighters section) So without further ado, here are all the blushes, highlighters and bronzers in my makeup collection!
Highlighters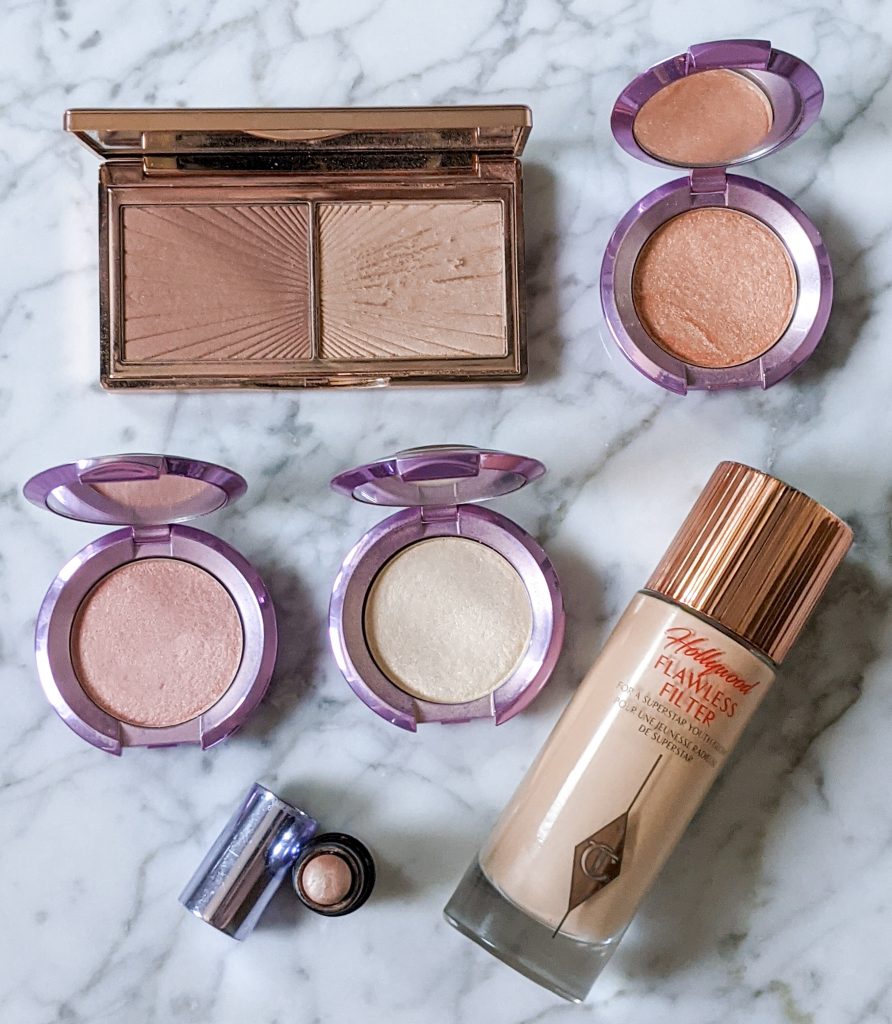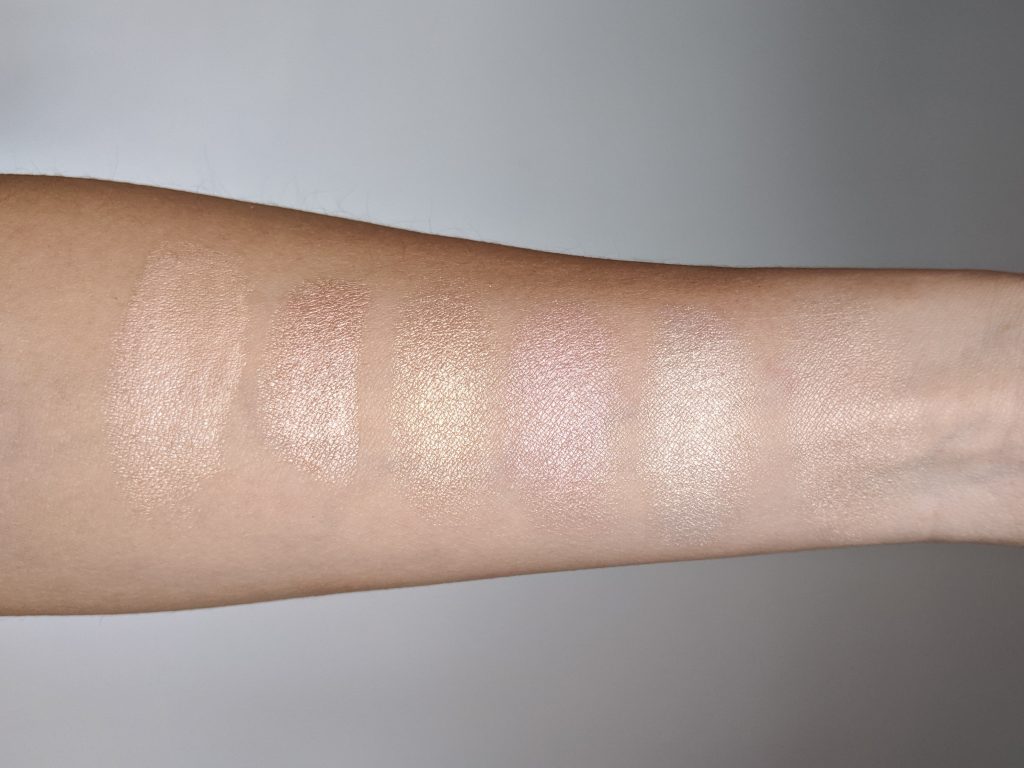 From left to right:
I only realized once I had finished shooting the combined flat lays for all these products that I forgot to include the Charlotte Tilbury Hollywood Flawless Filter because I actually keep it with my complexion products. Nevertheless, I do like it a lot. It gives you that perfect glossy highlight look without being too shimmery, but I just can't give it 5 stars, personally, because I have yet to find a cream/liquid product that my skin can withstand on a daily basis. Sadly, I have to give my skin breaks in between using this product or I'll get little bumps on my cheeks! Same goes for the Benefit Cosmetics Watt's Up Cream Highlighter. I do love the effortless, glowy look it gives, but I just can't wear it every day. If your skin isn't sensitive to congestion like mine, I would highly recommend either of these.
I think it was around Christmas that I got myself a set of three deluxe sized samples of the Becca Shimmering Skin Perfectors. My typical Becca highlighter is the Opal shade, but I just wanted to try something different. Long story short, Champagne Pop is amazing, but Vanilla Quartz and Rose Quartz just aren't really doing it for me. I think it's because they are so cool-toned, they show up more on my skin as actual colour, which I don't like in my highlighters. I still use them periodically, but they aren't my favourite.
And finally Charlotte Tilbury's Filmstar Bronze and Glow has sadly been a big disappointment to me. I had been curious about it for a while, and when I saw they had the mini size at my local Sephora during the VIB sale, I took the plunge and tried it. I find it very underwhelming. If you want a super subtle glow, I guess this could be for you. Maybe if your skin is lighter than mine, there would be more of an impact, but let me tell you, it's not like my skin is even a medium tone, it's a light-medium! The best way I've found to apply it is with my finger, but I still have to build it up and that is just not worth it to me. And although most powder products do not tend to congest my skin too much, this product also gives me those little bumps on my cheeks! All and all, I have to say this product is a huge miss for me.
Blush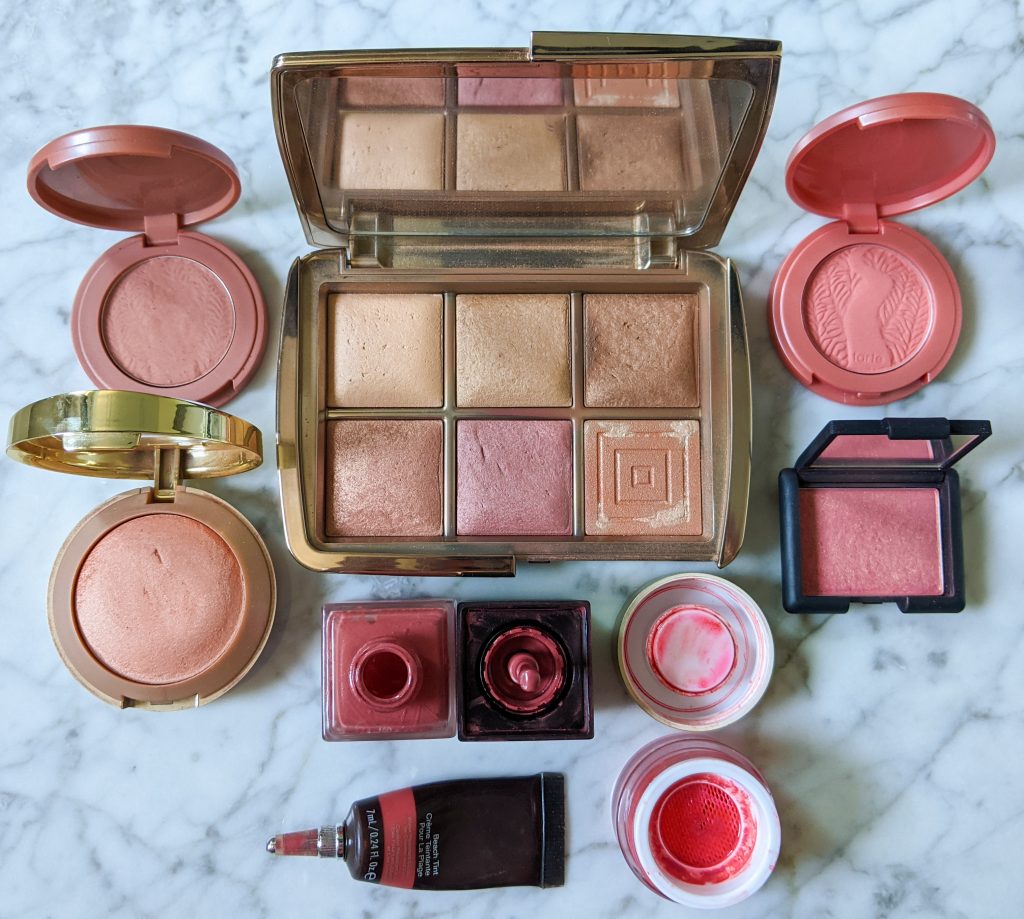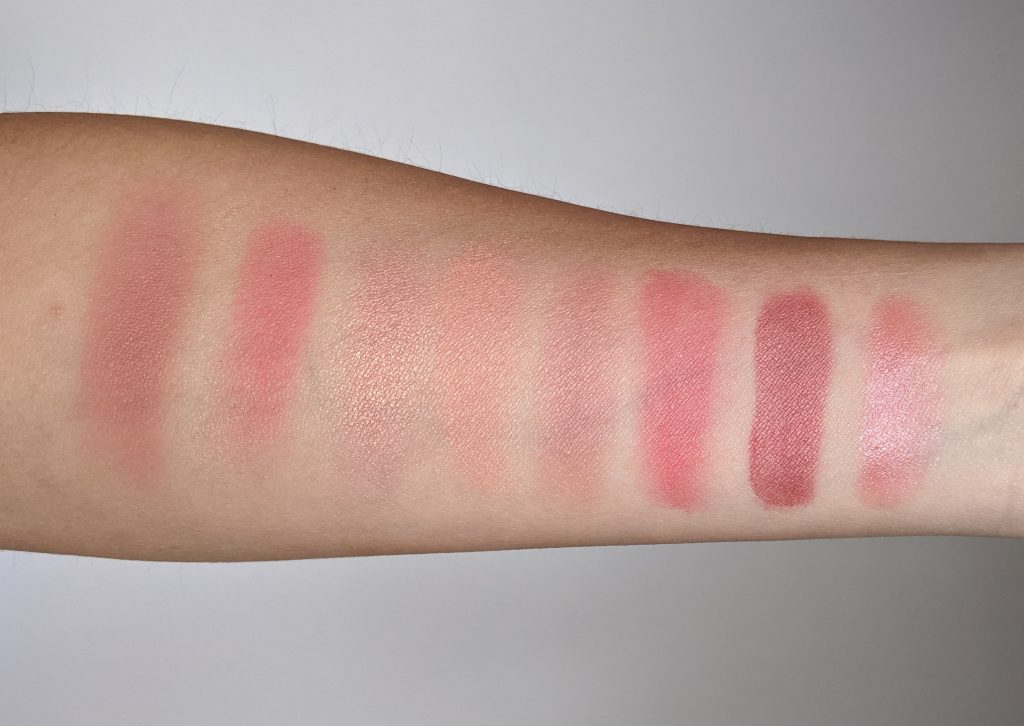 From left to right:
Tarte Amazonian Clay 12-Hour Blush – Insightful (limited edition)
Tarte Amazonian Clay 12-Hour Blush – Ornate (limited edition)
Becca Beach Tint – Dragonfruit (discontinued)
Stila Aqua Glow Water Color Blush – Water Poppy (discontinued)
Blush is an interesting category for me because I honestly can't live without it. It is one of my top three must-have beauty products, no matter what look I'm trying to achieve. But I also find that many blushes accomplish the same thing, especially in a powder formula. The reason why I have so many blushes has more to do with matching the blush tone with the makeup look I have going on.
So I'm just going to breeze through my reviews of the Tarte Amazonian Clay blushes, NARS' infamous Orgasm, Milani's Luminoso, and Hourglass's Mood Flush and let you know that you can't go wrong with any of these. They are all beautiful, pigmented, and long-lasting. And I will just mention that whatever "glow" the non-matte blushes have is not enough for me on their own and I always apply highlighter, too. So I don't find the finishes matter very much.
Side note: I completely forgot that my Hourglass palette comes with another blush and didn't swatch it with the rest! Here's the swatch of Nude Glow from the palette: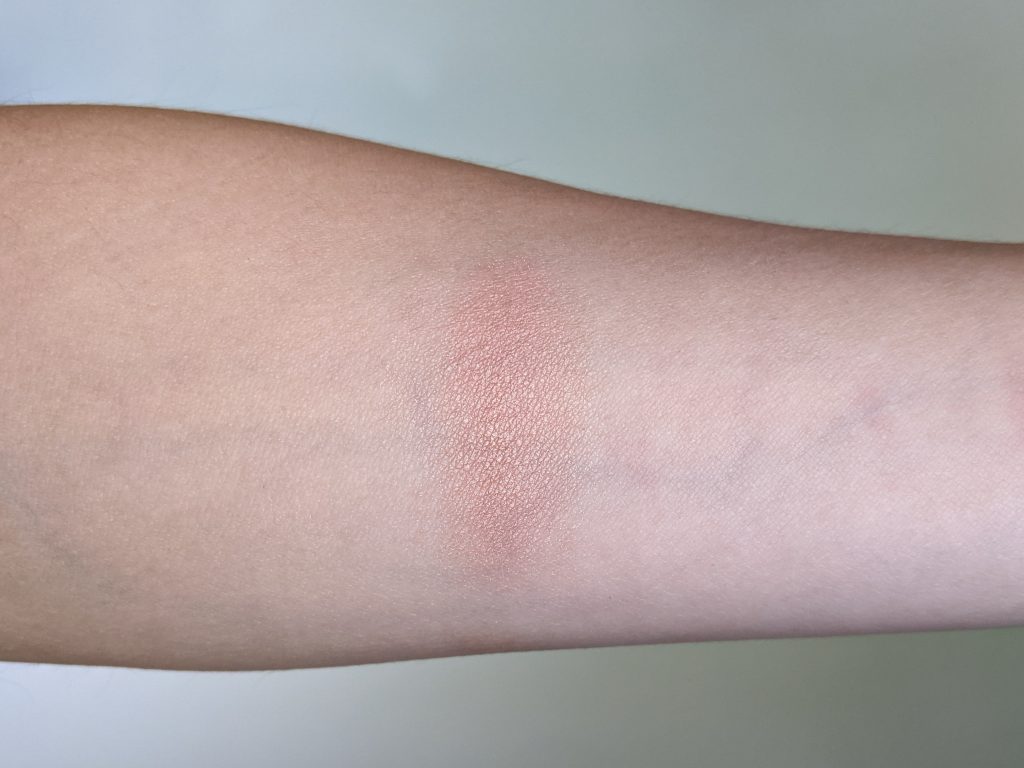 I forgot about it because I hardly ever use it! If I do, I mix it with Mood Flush. Don't get me wrong, it's a lovely colour, but if I find myself wanting a peachy flush (which is not often) I'd rather reach for Luminoso. This one is kinda on the shimmery side and doesn't translate as nicely on my cheeks as the swatch on my arm.
Now, where I have a lot to say are the liquid blushes I've accumulated. I got the Becca Beach Tint (now discontinued) because it's supposed to be waterproof, you know, for hanging out at the beach and going swimming and whatnot. And while it doesn't necessarily melt away if you dunk your face in water or anything, I DO NOT find it to be long-lasting. It rubs off very easily. So don't be sad that it's discontinued, you are not missing much.
And I cannot say enough bad things about the NARS liquid blush. First of all, the packaging is terrible. The top is not secure. The product gets everywhere and it's super messy. I hate the applicator (it's one of those plastic stick deals…like, why???) And the oils separate from the pigment quite easily, so you really have to shake it up to use it. And quite frankly, though Dolce Vita is a beautiful colour, I find it applies quite patchy and rubs away easily. Pass on this!
Now Becca and NARS could learn a thing or two from Stila's Aqua Glow Water Color Blush! It's lightweight, but pigmented, applies with a stippling brush like a dream, and lasts all day on me. I love it! So in typical fashion, Stila discontinued it. Alas, a liquid/cream blush just might not be in the cards for me. I should just stick to powder.
Bronzers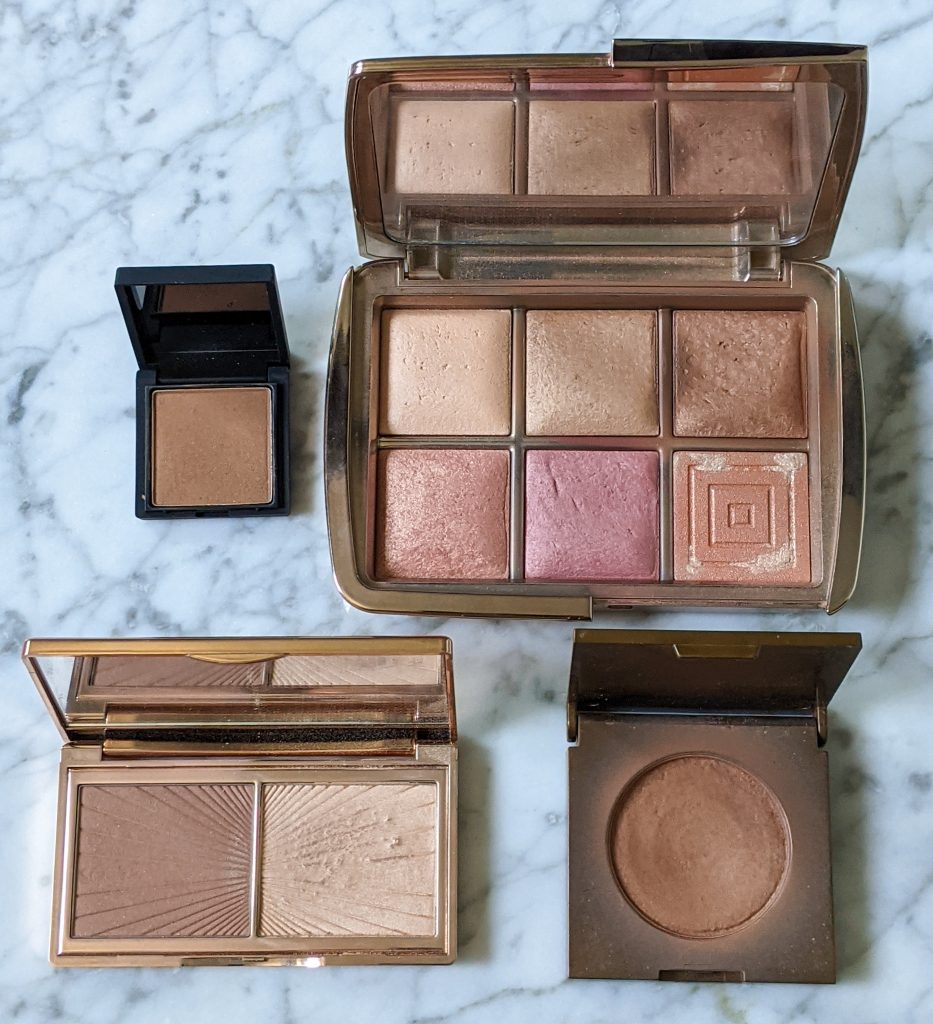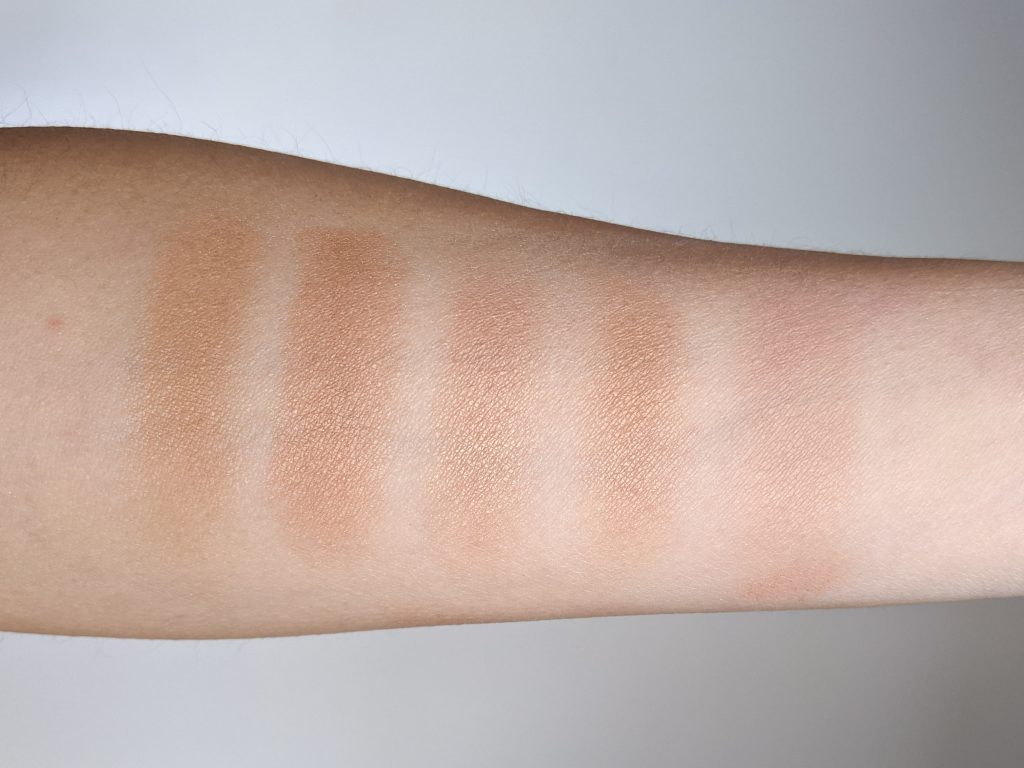 From left to right:
Bronzer's a tricky category because it's one of those things that have to match your skin tone fairly well. Most bronzers pull too orange or red on me. But I have found a few that at least match well enough that I will continue to use them until they are finished!
I find all my bronzers to perform similarly on me, with the exception of one. They are nearly identical in tone and glowiness. My daily go-to combo is mixing the Filtered Light (which is actually a finishing powder) and Golden Bronze Light shades from my Hourglass Ambient Light Edit Unlocked palette. And Tarte's Park Ave Princess and NARS Laguna are classics that I know I can always rely on.
But again, Charlotte Tilbury's Filmstar Bronze and Glow was a disappointment. Not only is the bronzer on the redder side, but I don't find it very pigmented at all. This product was definitely a failed experiment for me. I'm not sure what all the hype is about, unless the people who swear by it have very dry/light-toned skin or something. Maybe it works for them, I don't know.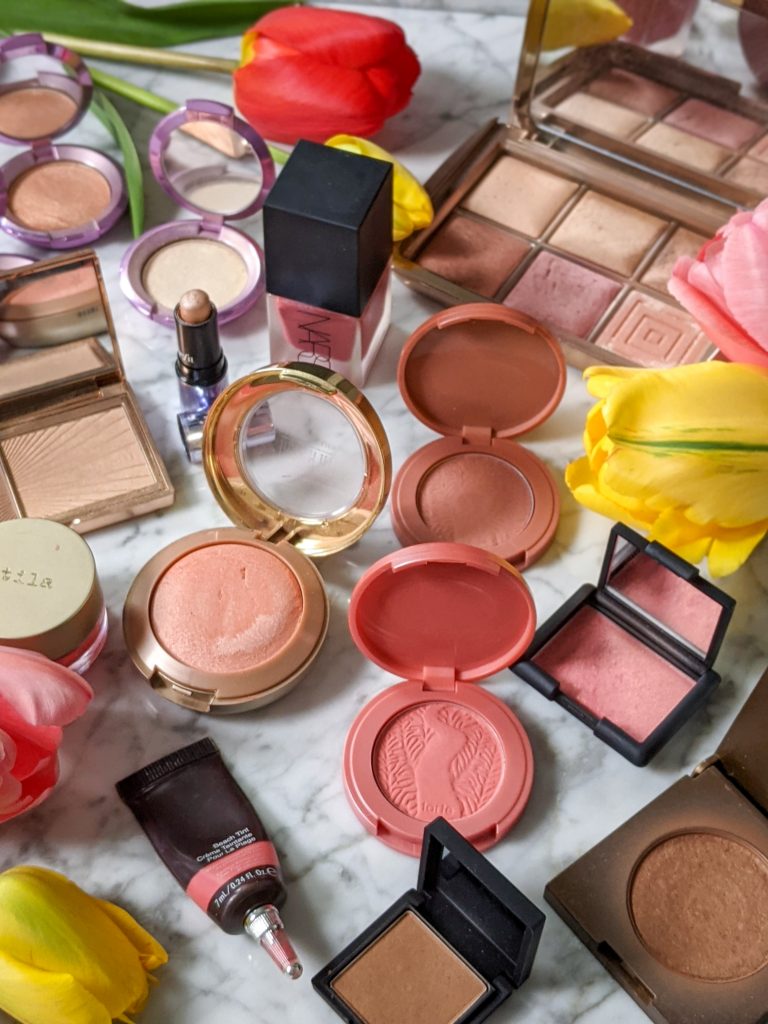 Can you believe this is how big my blush, bronzer and highlighter collection is after years of decluttering? I just can't fight the urge to try out new things every now and then, what can I say? And I've definitely been hanging onto some of these products for a bit too long…
That's the nice thing about doing this series, it's actually forcing me to take an inventory of all my products and truly think about how I feel about them. What I'm finding is, after I get through each of these categories, there are things I can definitely let go of! Either they're just too old, or they don't perform well, or I just don't like them that much.
What about you? Are you holding onto any products just 'cause? I get it! But at least for me, once I've resolved to do away with something, I don't often find myself missing it.
xoxo