It feels like the summer is just flying by. And my garden has been nothing if not full of surprises! It's been a while since my last garden post, so let me first show some progress pics and then get into the nitty gritty of what's in the garden, what grew, what didn't, and what I've learned for next year!
The first photo above is from the end of April when I first put all my seedlings into the ground, then the end of May, when everything was starting to grow, but only the violas had flowered. The last photo was from the end of June. What a difference two months make!
Johnny Jump-up Violas & Swiss Giant Pansies
I love a good pansy/viola. They bloom so early and the flowers last such a long time. They are a staple in my garden every year! The violas were the first seedlings to bloom in early May and they grew much more vigorously than I could have imagined. The pansies came later, but they are equally vigorous.
It actually became a bit of a problem! They ended up stretching really tall and crowding out the other plants around them. I think I planted them too close together and they were competing for sunlight. They were only supposed to grow 6-8″ tall, but most of the plants ended up at least a foot or even 18″. I ended up having the shear/prune them regularly, about once a week or more, to give other plants around them a chance to breathe and compete.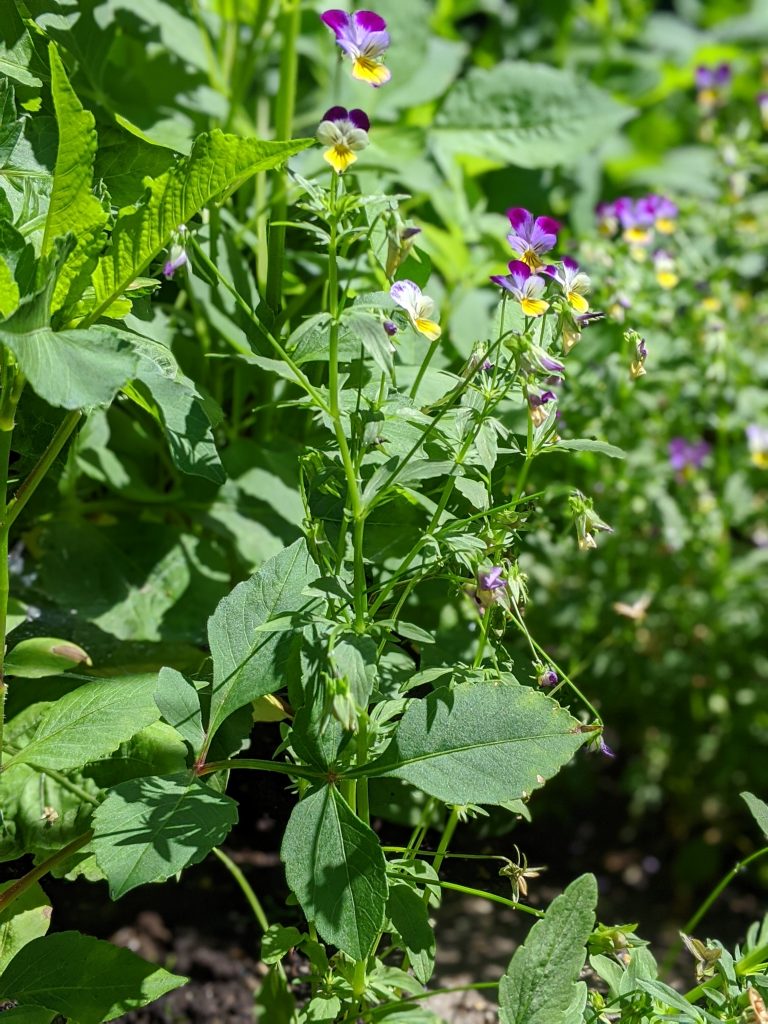 Another thing that surprised me was that I bought a pack of multi-coloured Swiss Giant pansies, but about 98% of the plants ended up being a deep purple. I do love the colour, but I was expecting more variety. A few of the plants did end up with a lovely deep maroon/white though.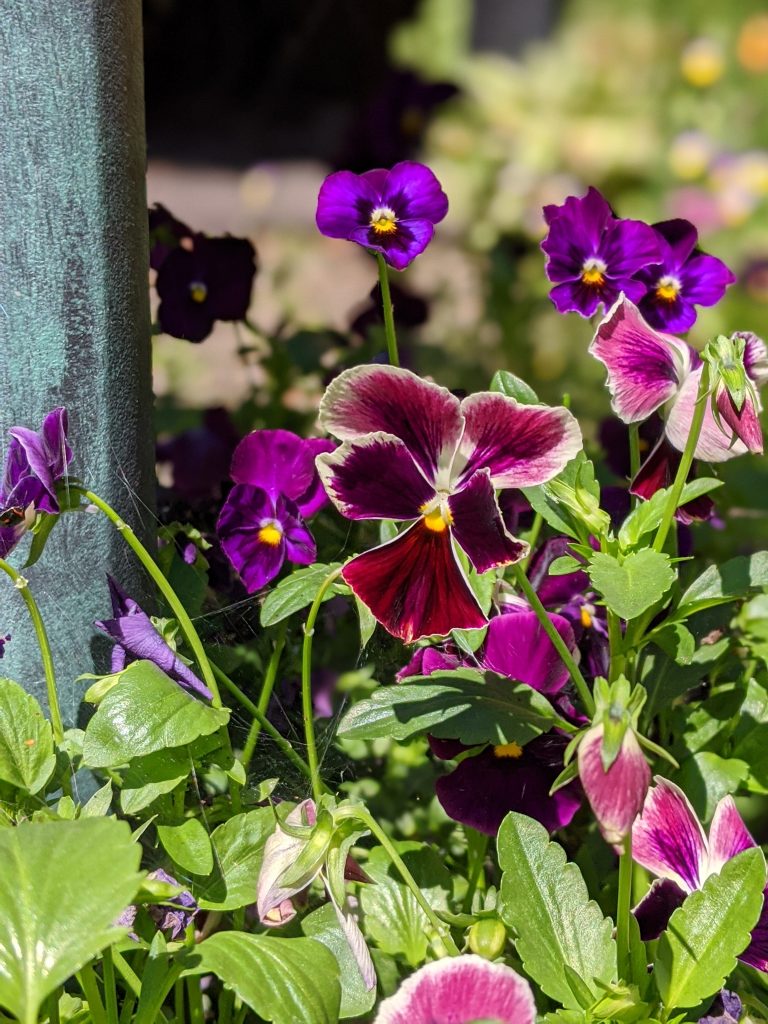 Floral Carpet Snapdragons
Ah, the snapdragons. The seedlings that gave me the most trouble. I honestly don't know if I'll grow these again. They seem very finicky and I could not figure them out. Once they were transplanted into the ground, some of them thrived and grew well, while others drooped and remained stunted. I still don't really know why.
Because they were droopy and had curled-under leaves, I thought they needed more water. But watering them more didn't help. So then I thought I had overwatered them. But watering them less didn't help either. Also, I had planted them in rows, so it's not like one area had poor soil or sun. One plant would be doing really well and the one right next to it would seem like it was dying. And it also didn't help that there was no discolouration, no spots, no fungus, nothing to suggest an unhealthy plant. So, I had no idea what the problem was and I ended up losing about another 50% of the snapdragons that were left.
Despite the losses, the survivors did do well! Except for the fact that I placed the snapdragons behind the violas and pansies, which were only supposed to be 6-8″ tall (the snapdragons were supposed to be a foot tall). So obviously when the violas and pansies grew to be a good 18″, they kind of blocked out the snapdragons.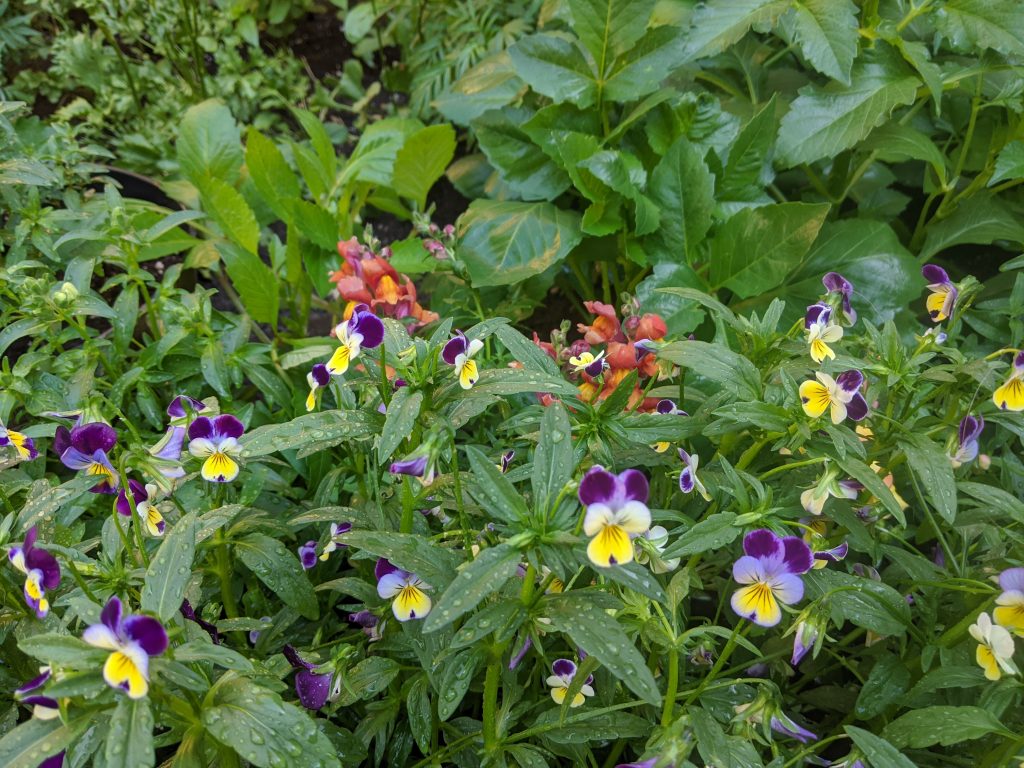 I ended up shearing the violas and pansies quite a bit to give the snapdragons more sunlight and air circulation. After doing that, they seemed to do a lot better. But between growing the seedlings indoors and transplanting them outside, I probably lost about 75% of them for reasons that I still don't understand. They just seem very difficult to please. But just look at the beautiful colours! I might have to grow them again…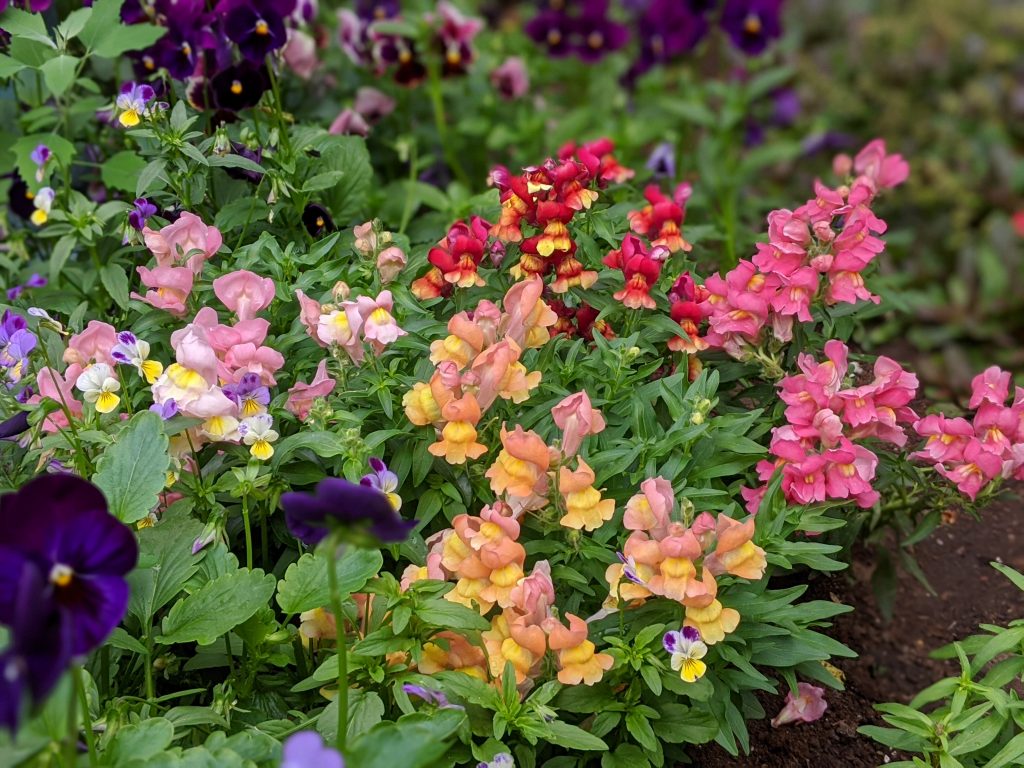 English Daisies
This is another plant that I'm not sure I'll grow again. It wasn't particularly difficult or anything. It's just that they turned out okay, but nothing special. Granted, part of the problem was probably the violas and pansies crowding them out so they got all stalky, but I was also expecting better colour.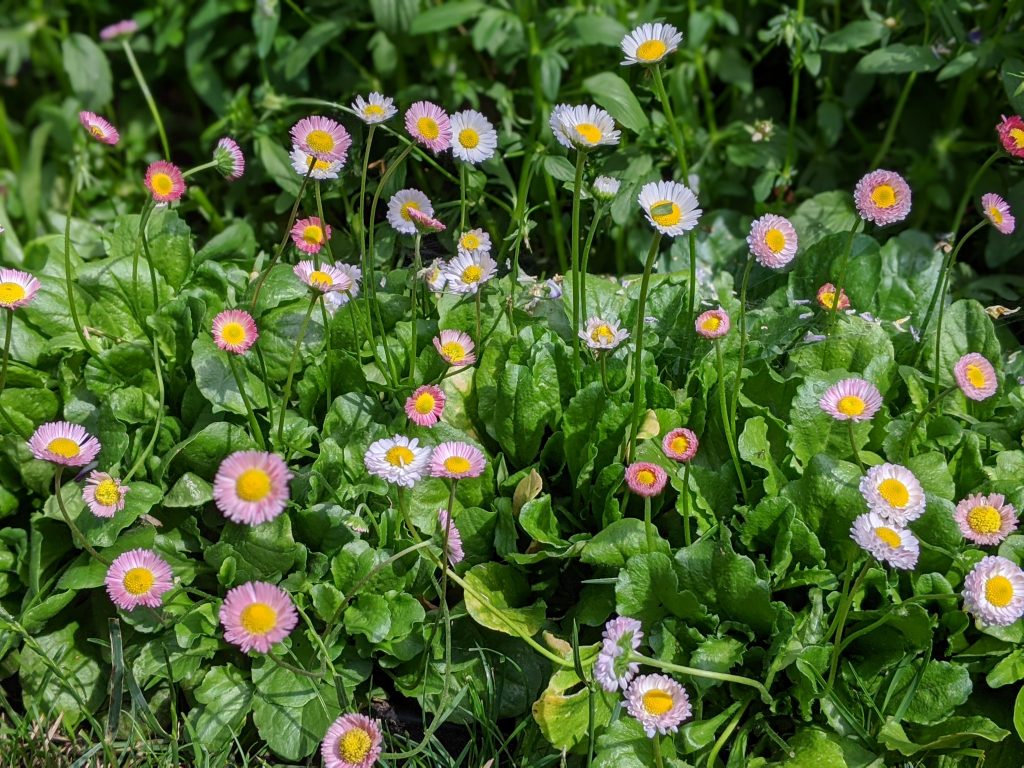 I was expecting some brighter pinks and even some deep pinks/reds. And bushier flower heads. I might have been imagining a different variety, so that's on me. But also, seeing them with the other plants I had just didn't really make that much sense. And it's not that the flower heads are really small, the violas are small also. I think it's how short and bushy the foliage is, compared to how tall the flower stalks are. They just seem kind of out of place, and "meh." They are cute, but maybe I won't bring them back next year.
Portulaca
These babies ended up even better than I had hoped. Again, they have the same "reaching up to the sky" problem a lot of the plants have. I planted everything too close, I know, I know. But still, just look at these beauties!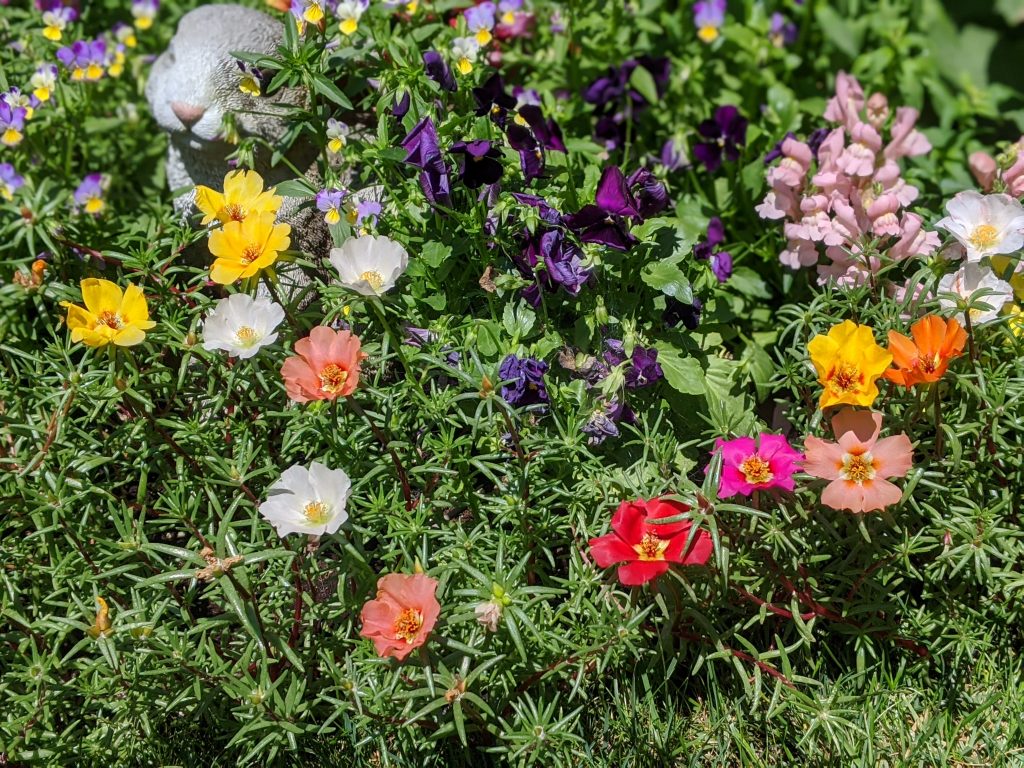 It's a shame the flowers only open in the sunlight. Just look at that fuschia and salmony peach…There are just so many beautiful colours!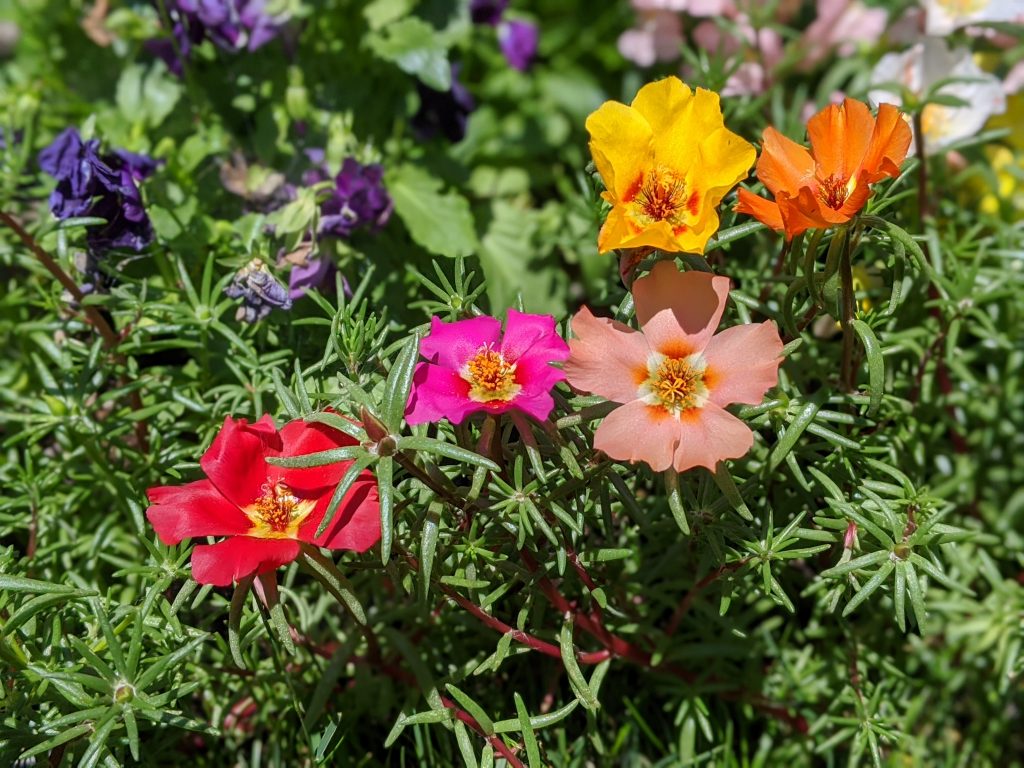 The only thing I'll say is that they don't really go with the rest of the garden. The foliage is very succulent-y. They look like a real desert plant or a rock garden plant. I might plant these again next year, but I think they would look better isolated by themselves, maybe in containers.
Climbing Roses
This is not part of what I grew from seed this year, but I just had to mention it anyway! Every year since moving in, I've tried to grow climbing roses on our fence, to no avail. I've tried the Blaze variety, which I think I pruned wrong the first year and now it's been stunted, but it does come back every year. I also tried the Golden Shower variety (they should've really rethought the name…) but it never bloomed, and then died the following year. And I tried another pink variety that I can't even remember the name of.
Well last year, I tried to plant two America climbing roses, which promised vigorous growth and salmon pink blooms. However, I've encountered a couple of problems. For one, this is what came out of the ground this spring from one of the roses: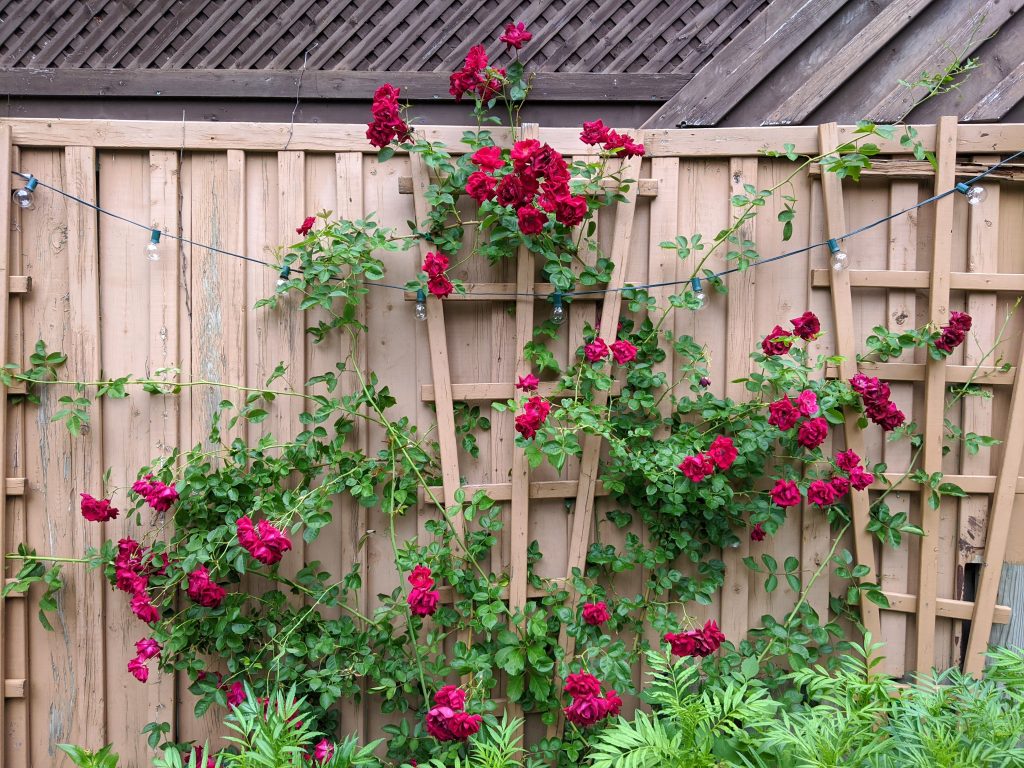 You seasoned gardeners will undoubtedly know what's up, but after scratching my head for a while and going, "UMMMMMM, I didn't plant this! What the heck???" I figured out what had happened.
The America climbing roses I bought last year were grafted onto the good old Dr. Huey variety for extra hardiness. But unfortunately, the scion of the America variety must have died due to the harsh winters we have tend to have in Montreal, paving way for the original Dr. Huey rose to take over.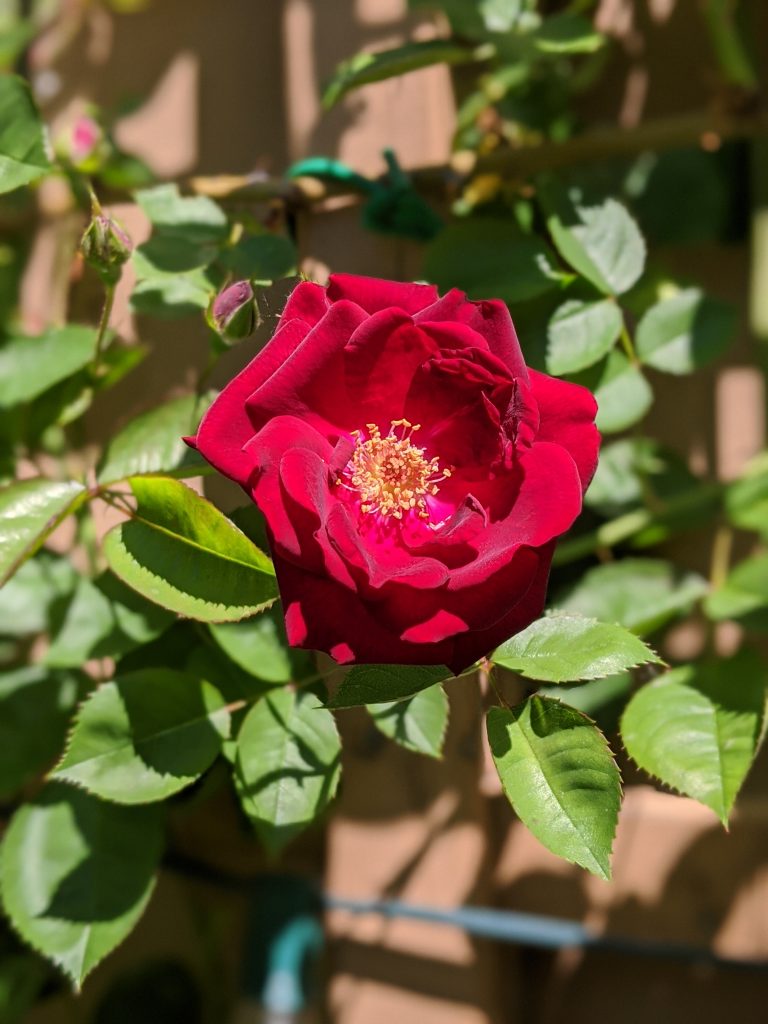 Now, this is a perfectly nice rose, a lovely deep red colour, and unlike every other climbing rose I've ever tried to grow, it ACTUALLY grows. But when you plant a flower, you kind of have an idea of how it's gonna look, the colour that you want etc. and this is kind of nothing like what I had originally planned on. For reference, this is what an America climbing rose looks like: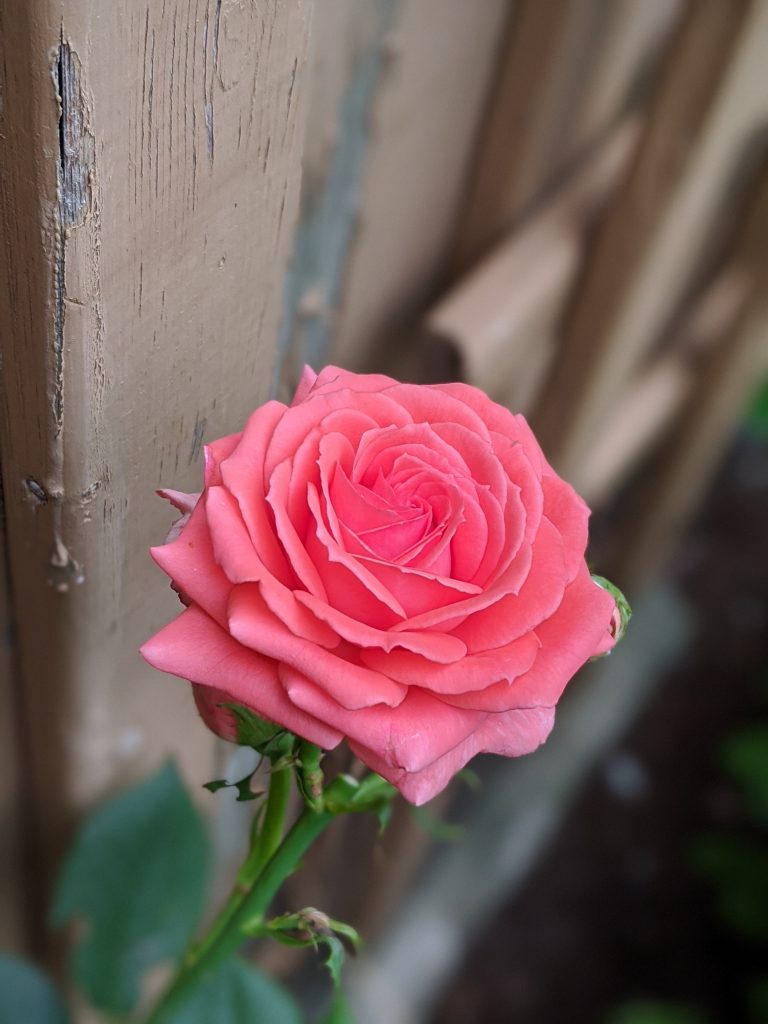 Pretty different right? Also, the Dr. Huey only blooms once per season. Obviously, I prefer a plant that flowers for longer, if possible. But unfortunately, one of my America roses is definitely "dead" and not coming back, and the one that did come back is not growing well. I really don't get why. Maybe the winters are really just too harsh and this one barely made it.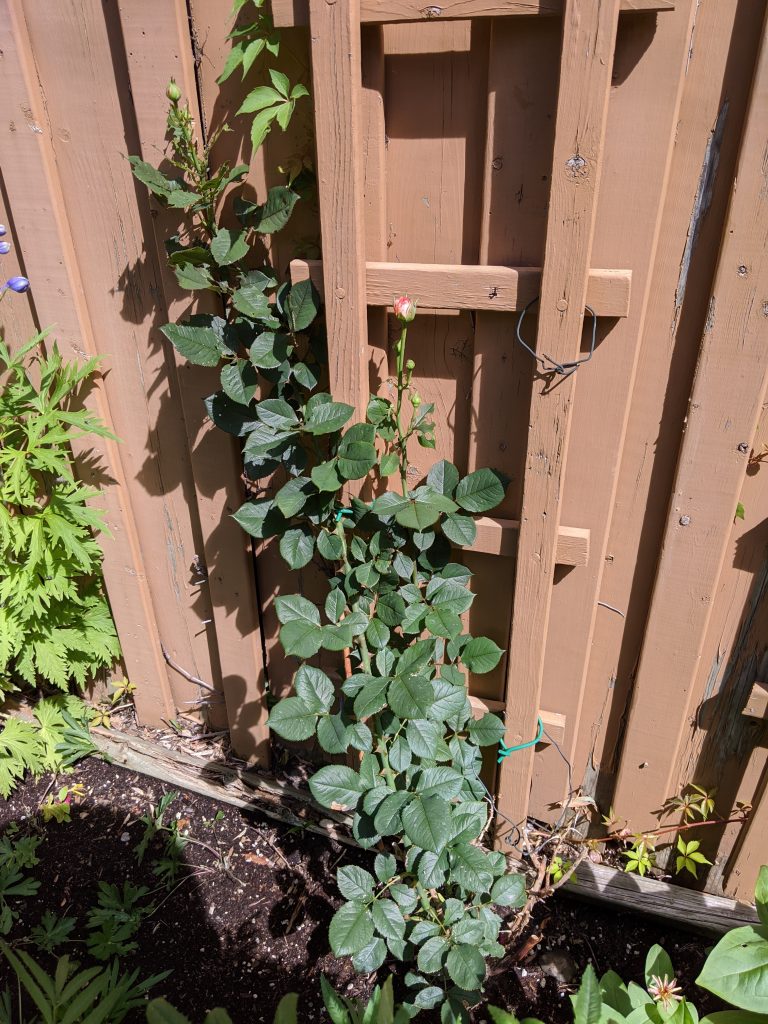 I'm gonna try adding more winter protection this year and maybe I should try a different fertilizer? I don't know, I'm open to suggestions!
Blue Butterfly Delphiniums
Another plant that was a bit of a disappointment were the delphiniums. They're supposed to grow up to 6 feet tall, so you can imagine my disappointment when July rolls around and this is what I have: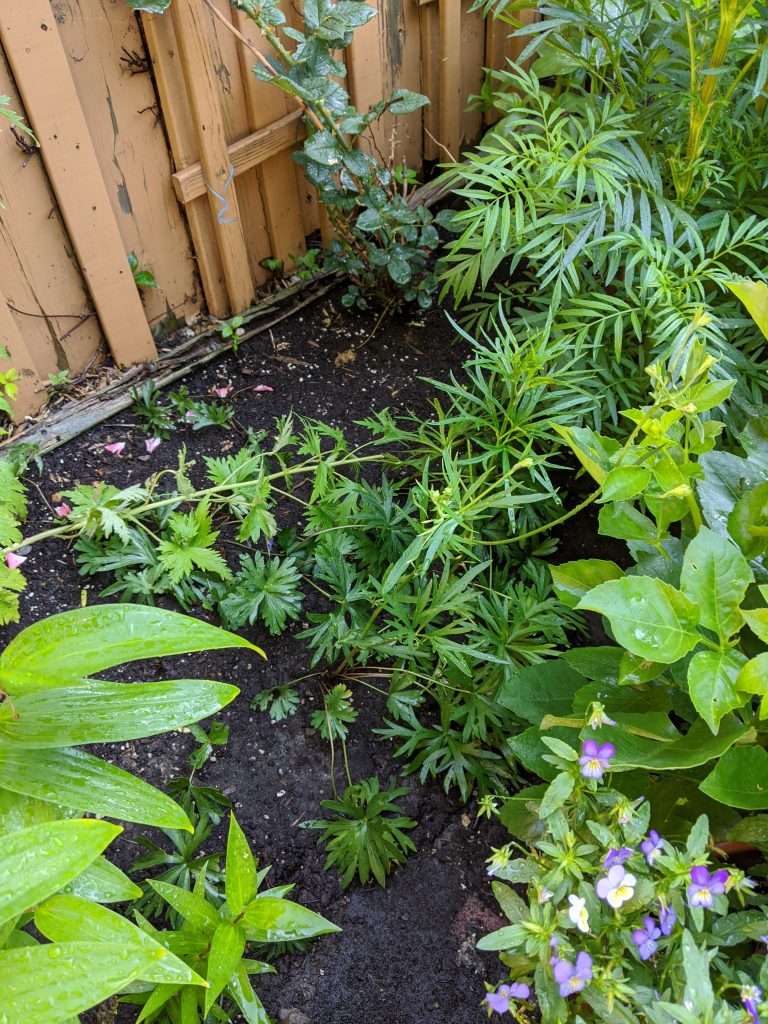 It's the mess of leaves in the middle there, in case you're confused. Yeah, either these are not supposed to flower in the first year, or they just aren't growing right. It's possible they are not getting enough sun because they are in the back, but re: 6 feet tall! I thought they would need to be in the back! By the way, I put them right next to the existing delphiniums in my garden and they don't even compare.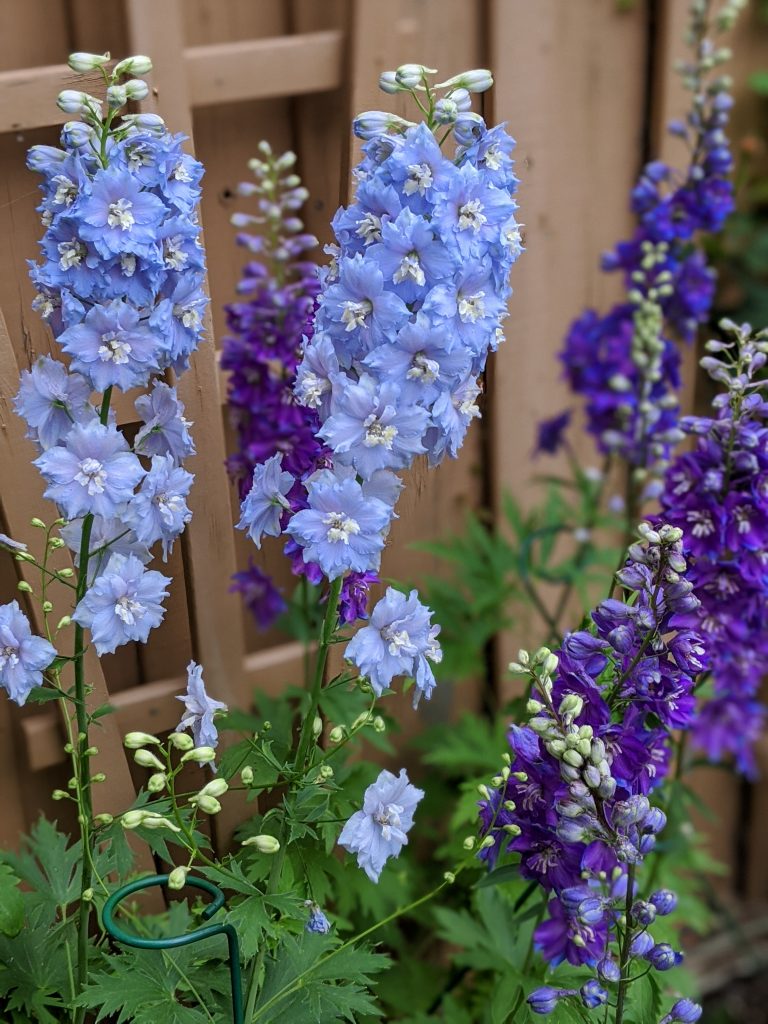 Delphiniums are one of my favourite garden flowers. Just look how beautiful they are! Blue is so rare in nature and the colours are just magnificent. It's a shame they flower for such a short time. I think they can flower twice, but the second blooms are never as tall or big. I'll give the new delphiniums a chance (a few of them actually have some flower buds growing), but in my opinion, you're better off buying the ready-to-flower, fully grown plants at the nursery. They even come back pretty reliably every year.
Crackerjack Marigold
These were another disappointment. They really got out of control, and yet they still haven't really flowered. They were supposed to grow to about 3 feet tall, although some of them have made it to nearly 5 feet. The marigolds are the plants with really tall stalks and thin leaves. I may have over-fertilized these, which is why the plants are so big and there are so many leaves, but hardly any blooms.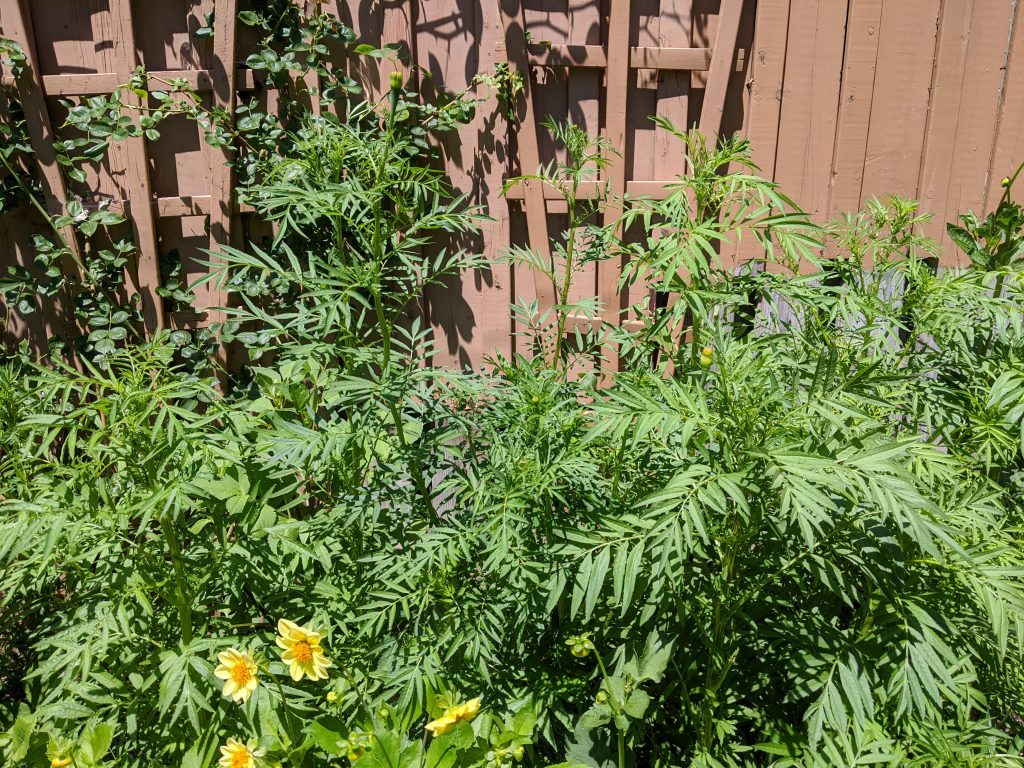 A few blooms did appear on one plant, but they kind of look like yellow daisies. I'm kind of confused, because I thought crackerjack marigolds were supposed to be bright yellow/orange frilly pompoms.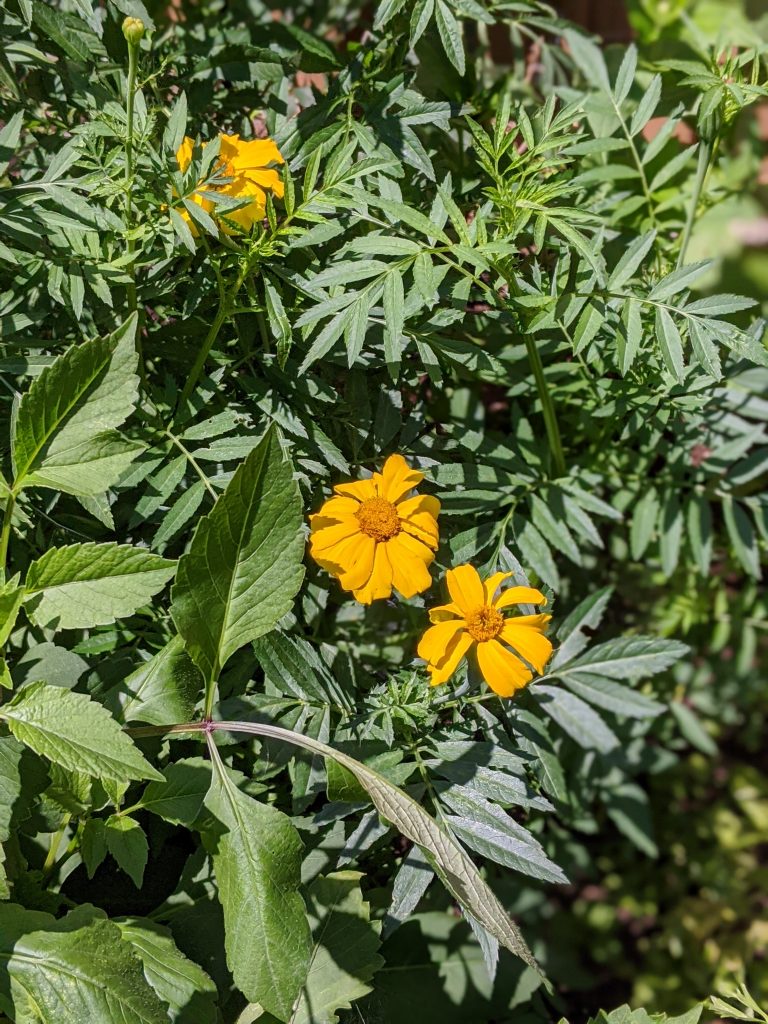 When the flowers don't look right, I always wonder, were there a few stray seeds in the packet from another variety? Was it something I did that made the flowers grow badly? Is it just luck how it turns out? Maybe a little of all of the above. Regardless, I don't think I'll grow these again. They're just taking up so much room in the garden, with hardly any blooms to show for it.
Unwin's Bedding Dahlia
My flower garden has always attracted bees and other pollinators, but this year, it looks like I set up an all-you-can-eat buffet or something. I have never seen so many bees! There are probably hundreds that visit every day. And some of them, I never even knew existed. Did you know there are green bees???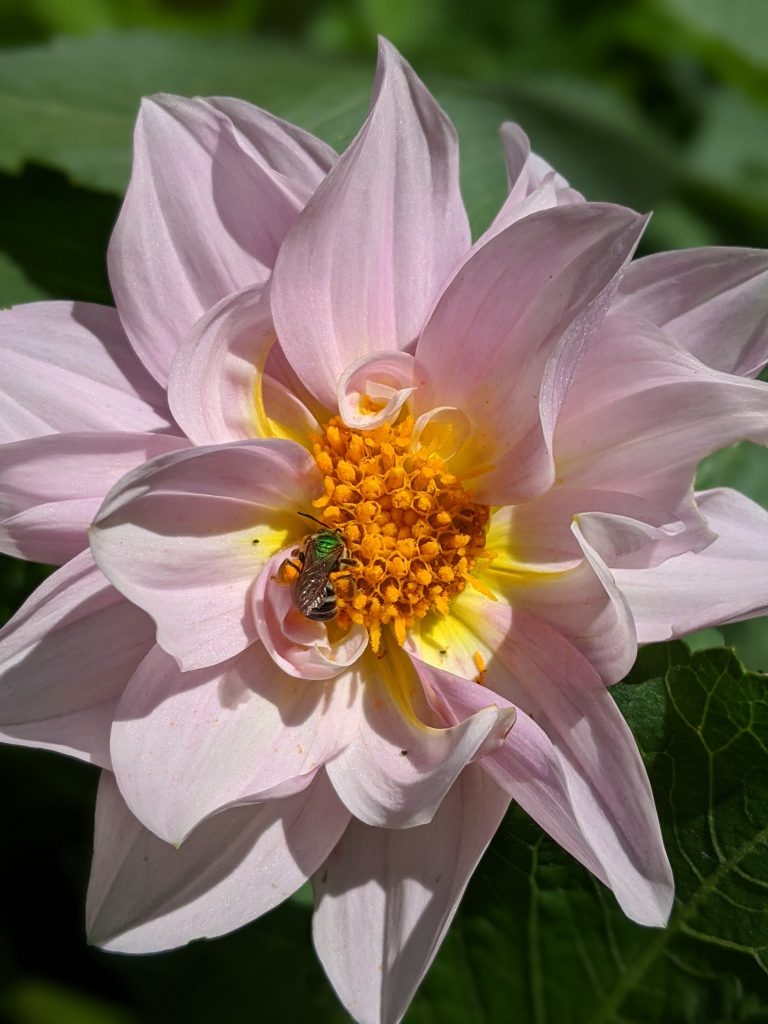 These dahlias turned out quite well. They ended up growing so vigourously, I also have to trim off some of their leaves because they just shade over the smaller plants around them. The individual flowers don't last very long, but each plant has many blooms, so I just deadhead them and more open.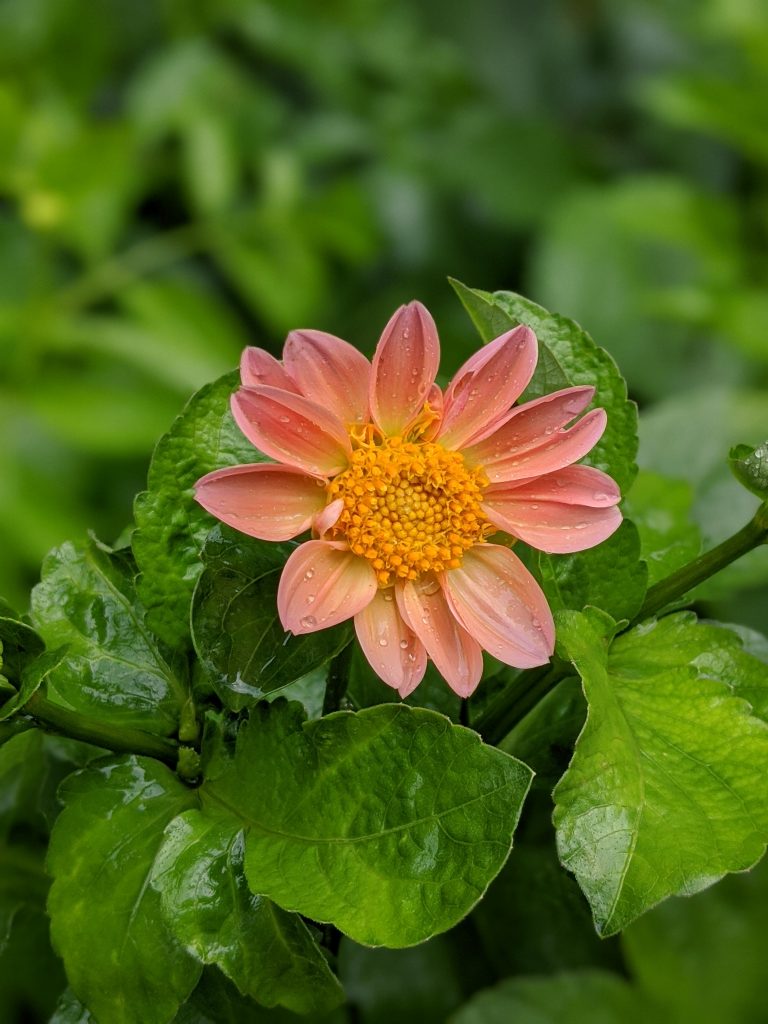 I love the variety of colours. I don't have a lot of bright reds in the garden, but the red dahlias are spectacular. I would grow dahlias again, but maybe not as many, since they tend to take up quite a lot of room with their foliage. Maybe I'd try a different variety, one with fuller-looking blooms.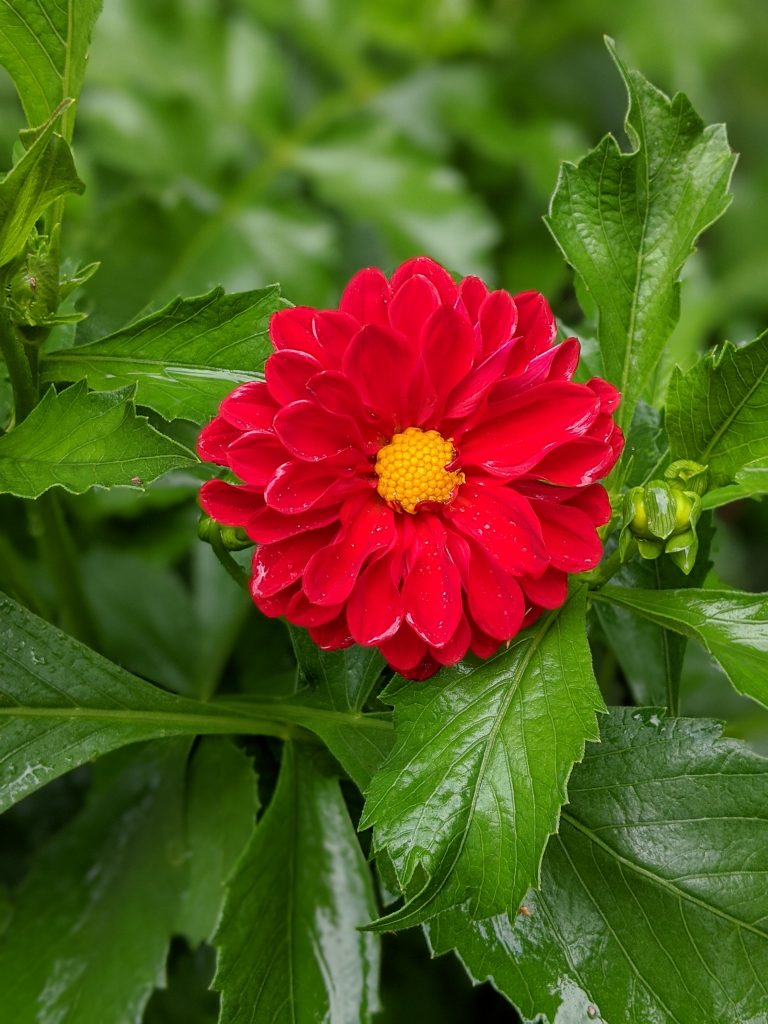 Ranunculus
Ranunculus are one of my favourite flowers. These I grew from corms, but only about half of them germinated. It's such a shame they don't bloom for very long. They make amazing cut flowers!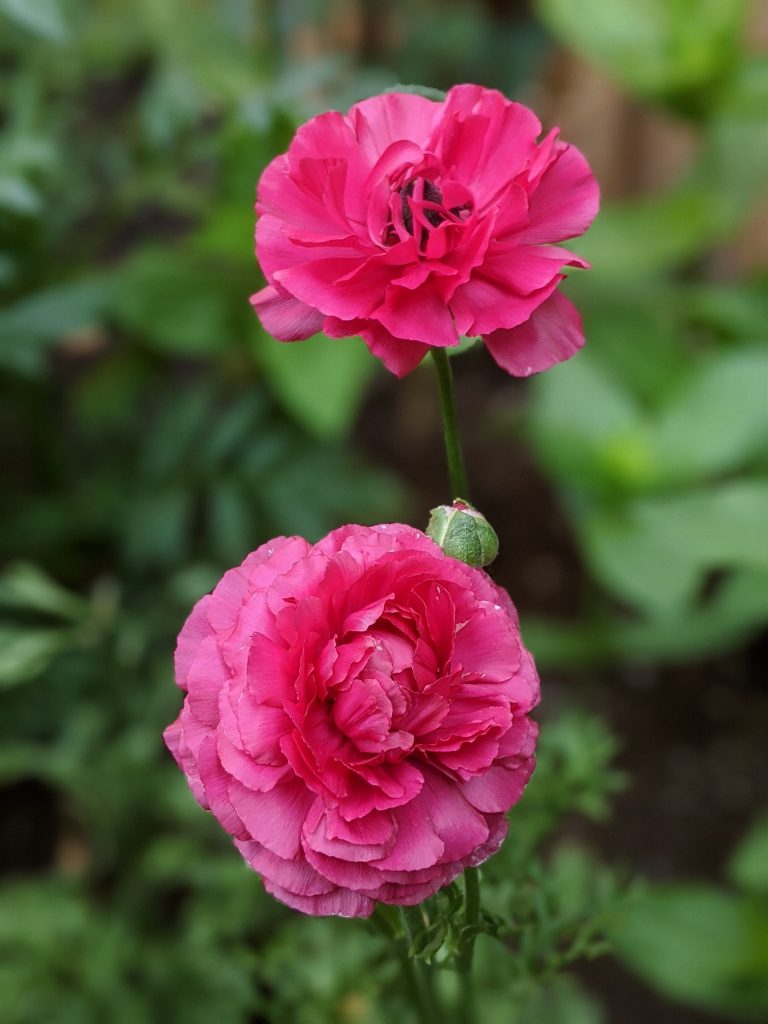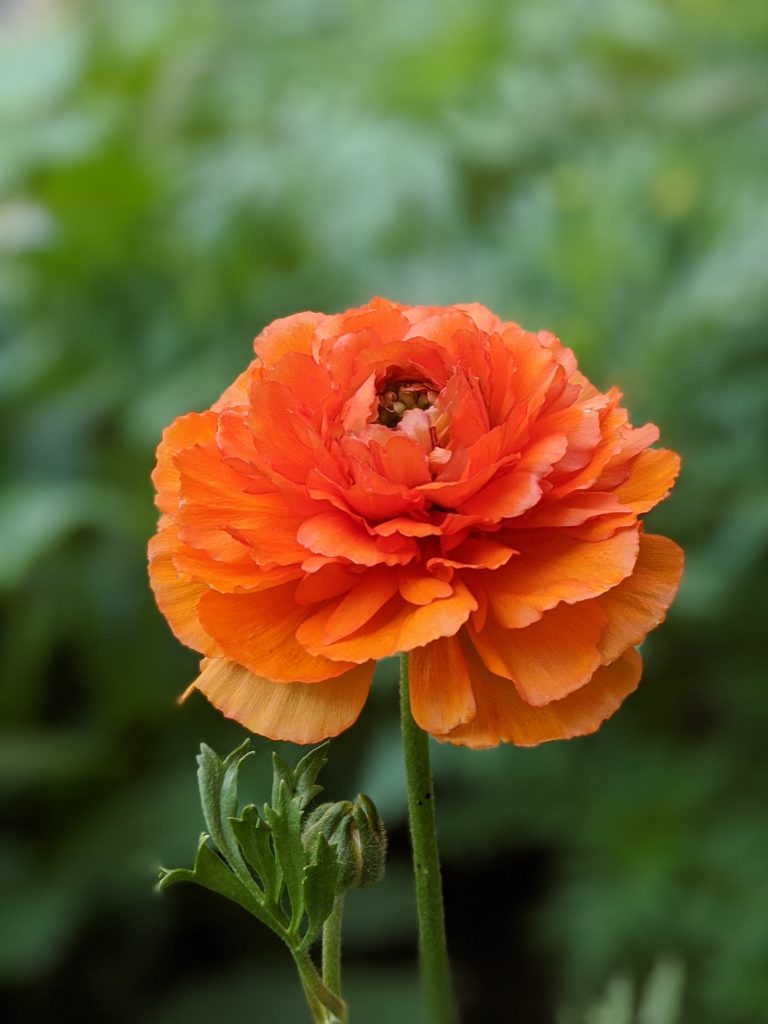 State Fair Zinnias
I think zinnias will be a garden staple for me. They are very easy to grow, flower continuously, and make very long-lasting and pretty cut flowers. Next year, I'm going to try a pompom variety in addition to the state fair variety.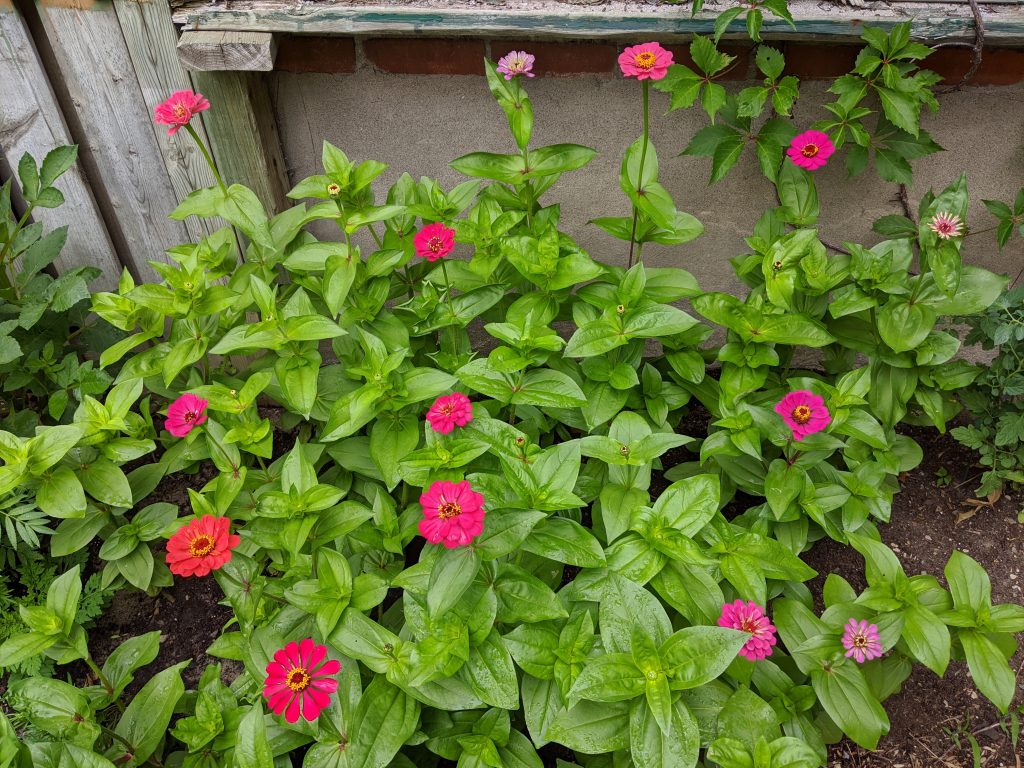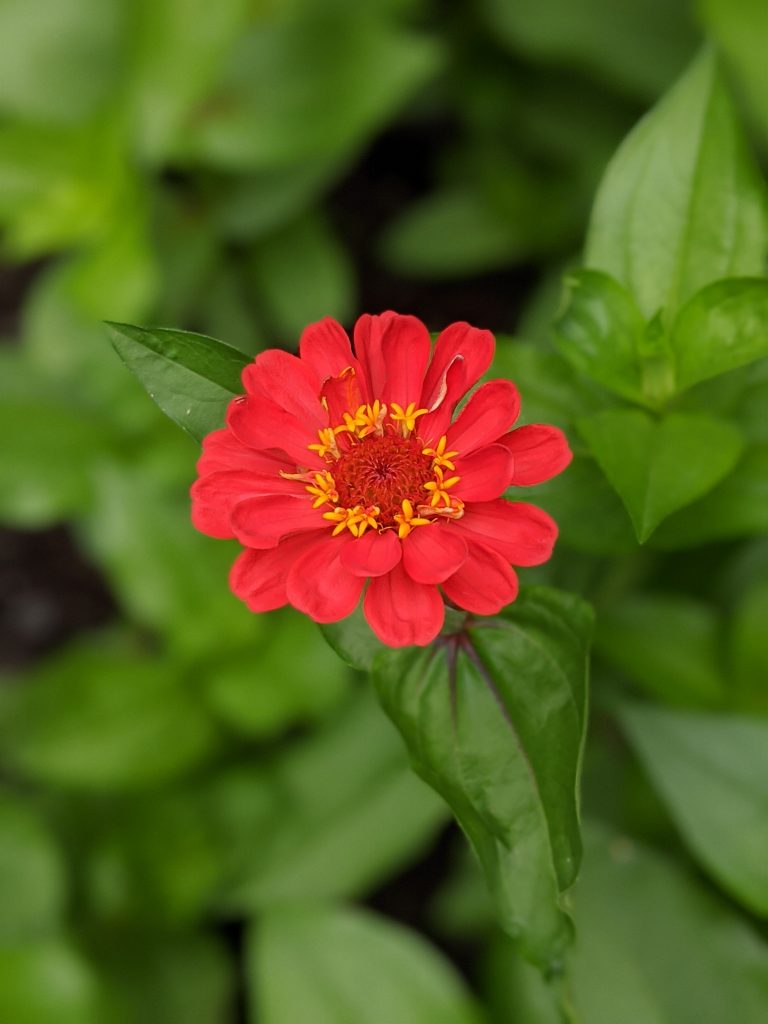 Statice
I always like buying statice at the florist, but this is the first time I've entertained the idea of trying to grow them myself. And to tell you the truth, it is super easy. They seem to thrive in all conditions. I even planted some in the front yard where the soil is super poor and they hardly get any sun, and they're doing okay. They don't have that many blooms, but they survived fairly well on what was basically neglect.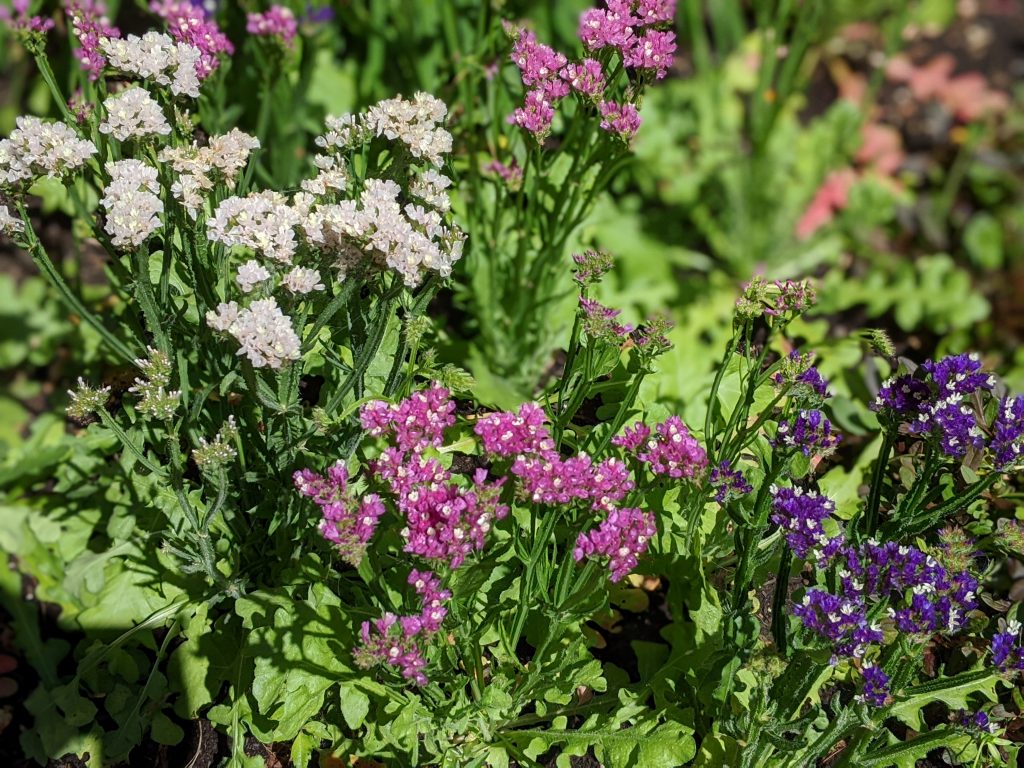 They look great in the garden and obviously make excellent cut flowers. I would definitely grow these again.
Nasturtiums
This is my first time encountering nasturtiums and we got off to a rocky start. I'm not sure why, several of the seedlings I planted died when I transplanted them. I'm not sure if I didn't water them enough or they didn't like being in the bird bath planter I put them in, but I lost quite a few of them.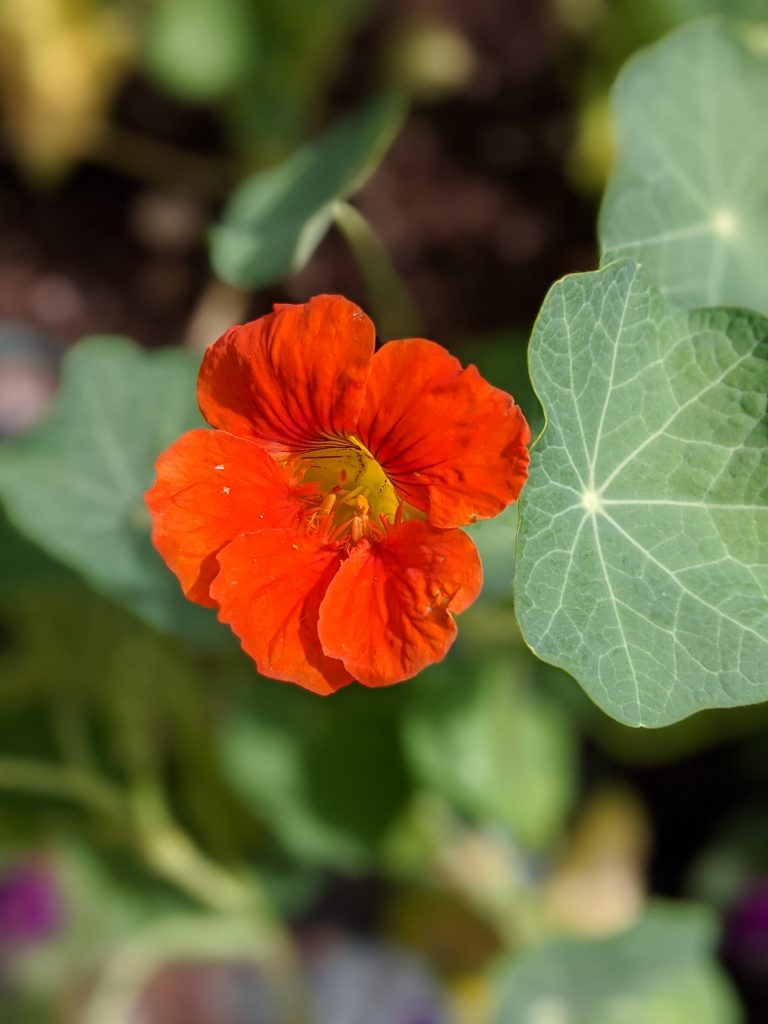 But the ones that were left rebounded and seem to be doing well now. I actually think I like the foliage better than the flowers. They're such an interesting shape and grow in a very vine-like fashion.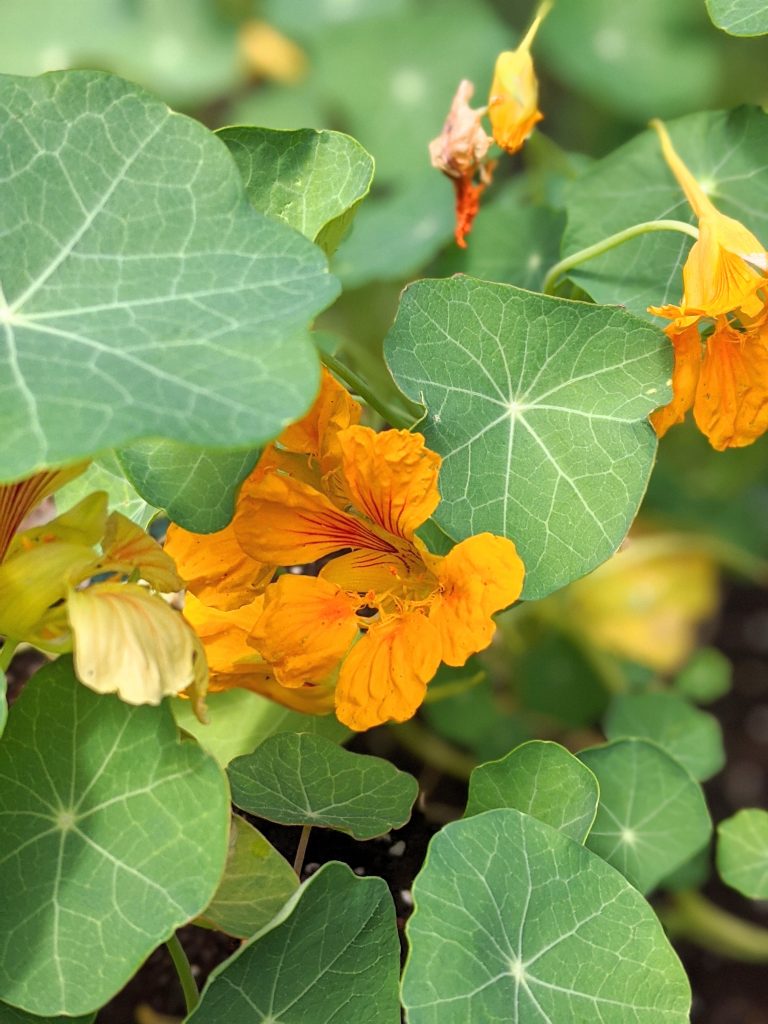 This year's garden was a real experiment, and I feel like I not only have a much better understanding of how to care for and grow plants, but I understand myself better as a flower lover, too.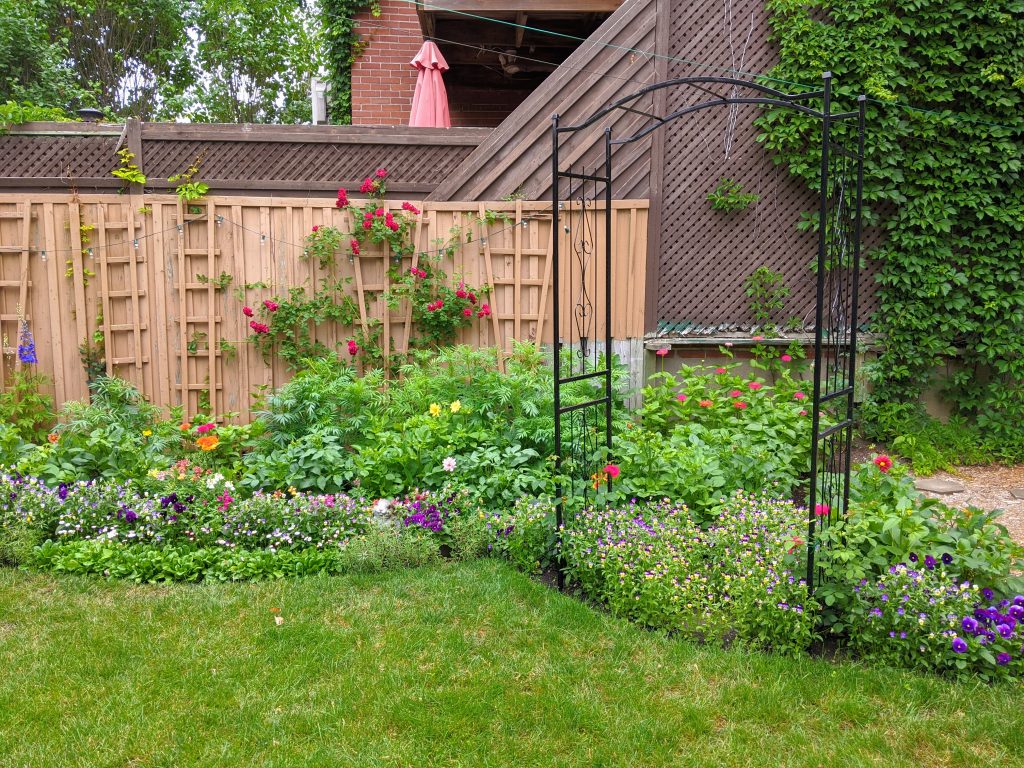 Despite the surprises, mistakes and disappointments, I'm really happy with how the garden ended up. It looks very full and lush, and at least I'm armed with a little more knowledge and experience for the years to come.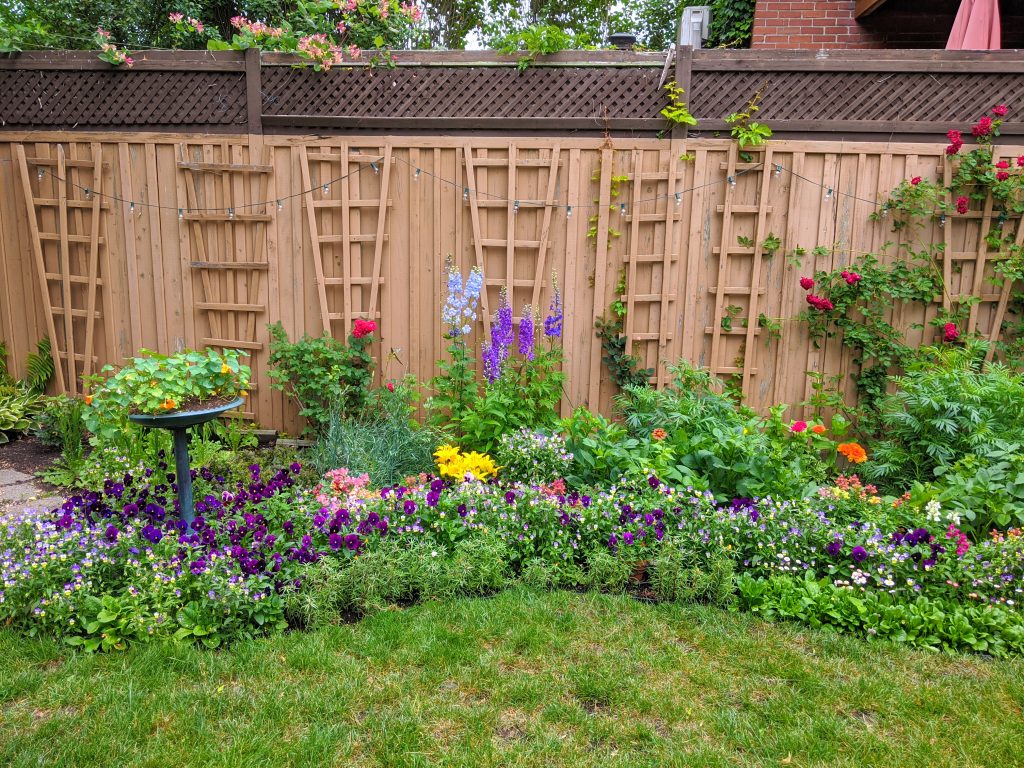 I can't wait to see what the rest of July and August brings! And I'm already planning for next year…
xoxo