This is gonna be a really specific post aimed at my fellow makeup lovers/beauty product hoarders. Do you ever accumulate eye shadow palettes that end up just sitting around, not being used? Do you ever end up reaching for multiple palettes to do one eye look because no one palette has it all?
Well, I'm gonna show you how to depot your eye shadow palettes so you can keep all the colours you actually use in one mega palette for easy use and reference. Here's how you do it!
Materials
-magnetic eye shadow palette
-eye shadow palette you want to depot
-semi-sharp prying tool (screwdriver, butter knife etc.)
-strips of thin magnets
-hair straightener

1. Gather your materials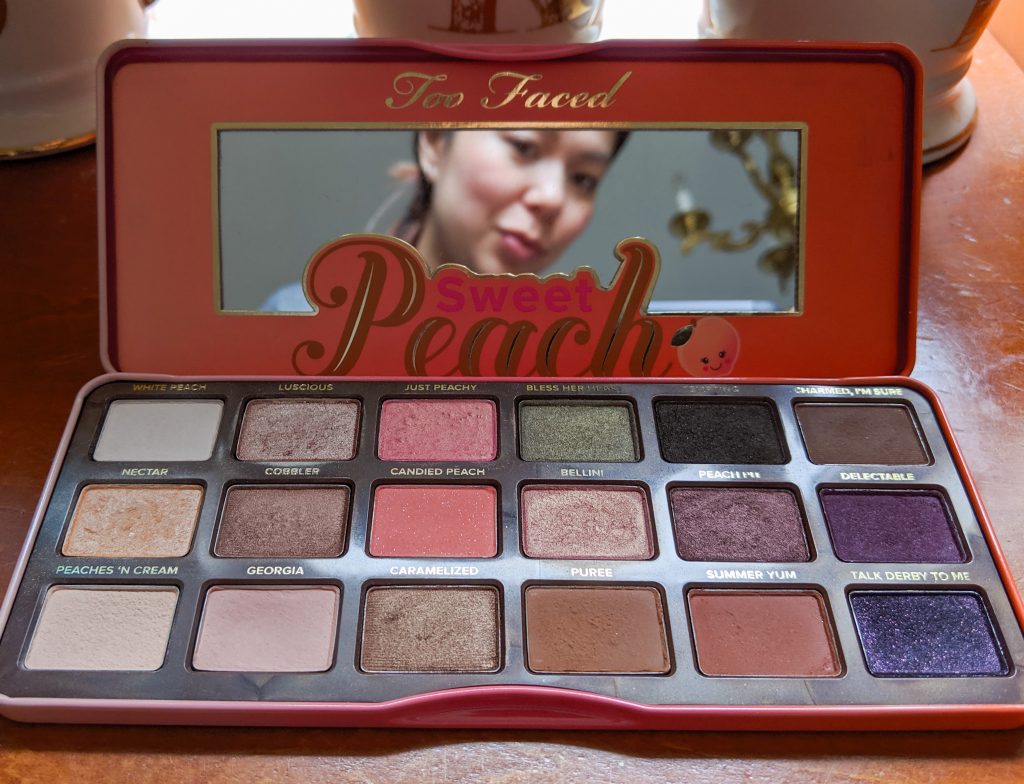 Obviously, you're gonna need to get your eye shadow palette that you want to depot. I wanted to do my Too Faced Sweet Peach palette because although this has been one of my favourite palette releases in recent years, there were just a few colours I never used and it was just sitting on my makeup shelf, being used and taking up valuable makeup real estate.
I actually think the tin shadow palettes are quite a bit more difficult to depot than one with cardboard packaging since cardboard is obviously more pliable and easier to manipulate. Nevertheless, I think most of these steps are applicable to either type of palette.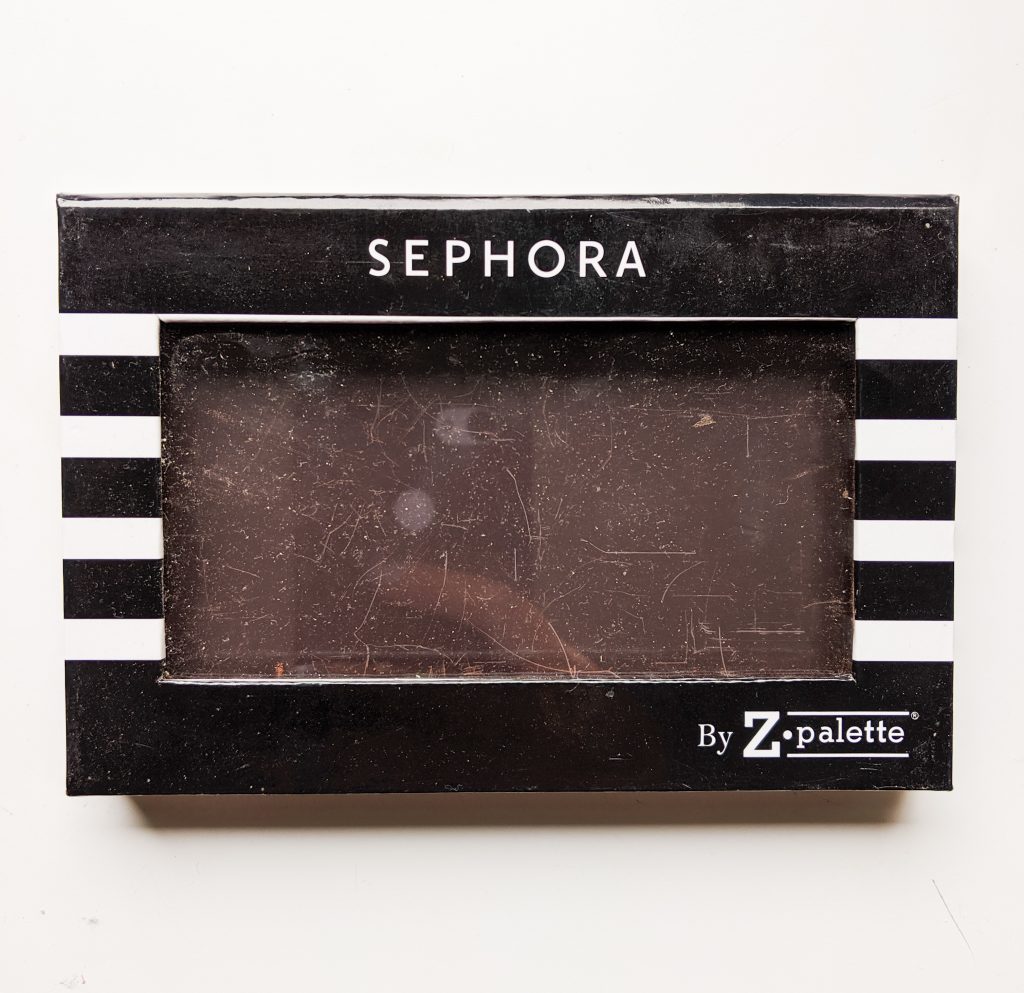 You're also gonna need a magnetic eye shadow palette that's meant to hold individual pans. I got the Sephora branded Z Palette that was available several years ago (I don't think they sell these anymore.) But Tarte does one, Make Up For Ever does one, and many other online retailers.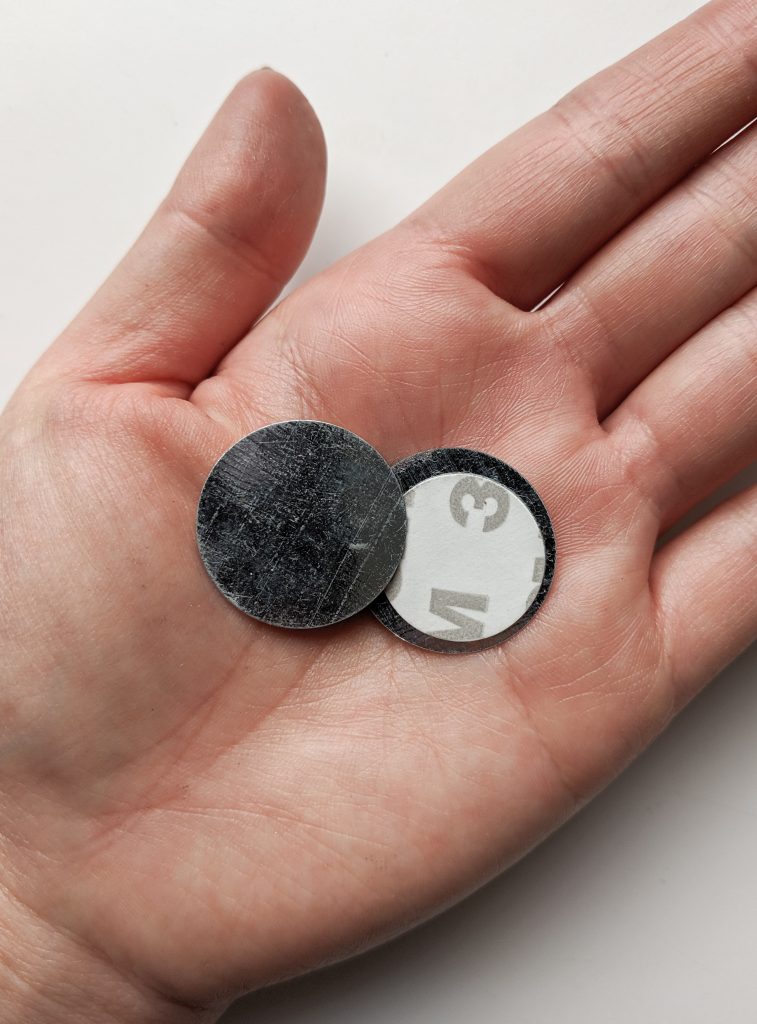 You may also need some thin magnets, depending on if your shadow pans are already magnetic or not. I think you won't be able to tell until you depot one. These rounded ones came with my Sephora palette, but you can get these at any craft store. You can buy sheets and just cut them up. If they do not already come with an adhesive back, you're gonna need to use a strong glue.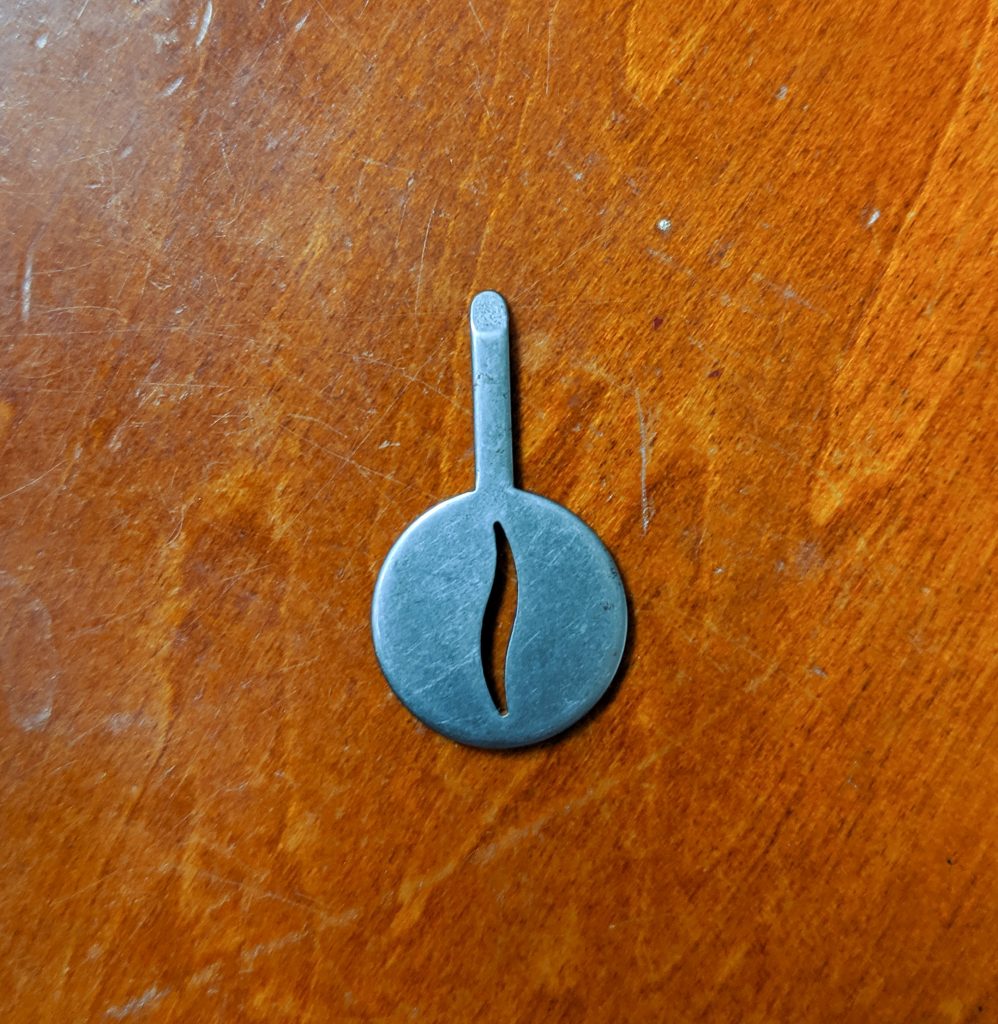 And finally, you need some kind of depotting tool. This one I used came with the Sephora palette, but any kind of thin tool that you can pry into your palette can work (butter knives, pliers etc.)
2. Remove the eye shadow tray from the palette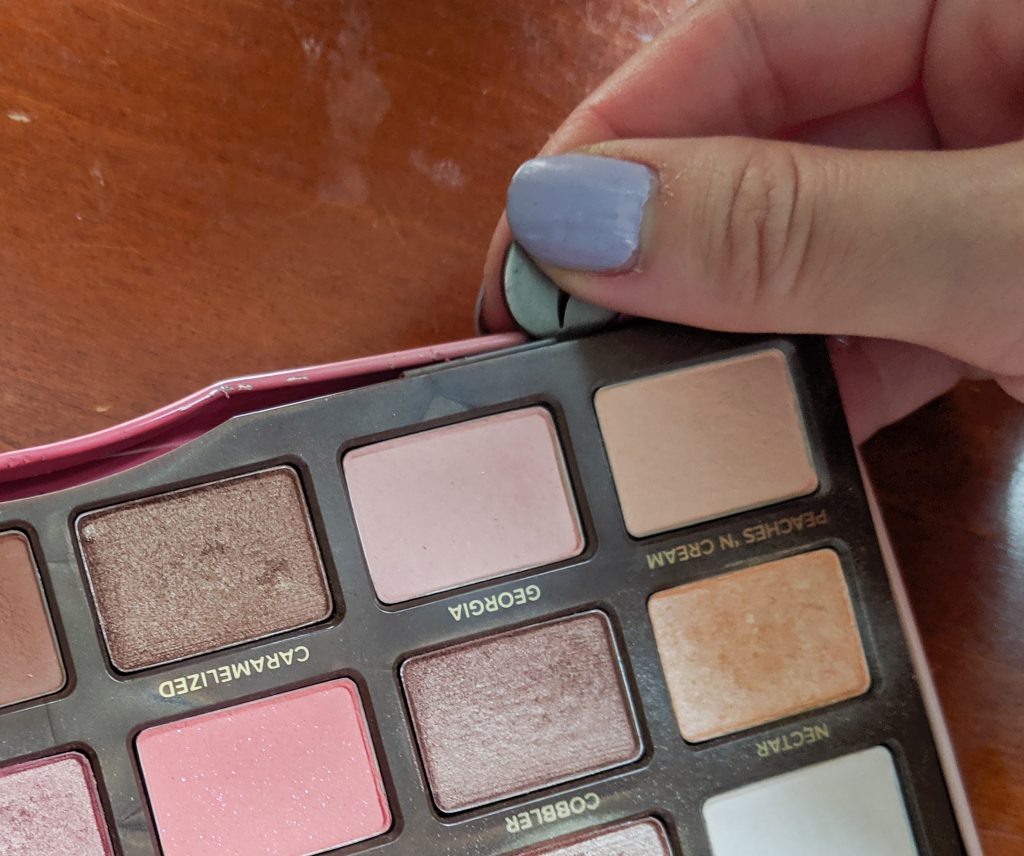 The first step is removing the eye shadow tray from the palette. There will likely be some kind of glue or adhesive attaching the two so you kind of just have to gingerly pry the tray up until it comes loose. Do not force it to come out! You could break the eye shadows if you use too much force. This is the slowest part of the process. You just kind of have to be patient.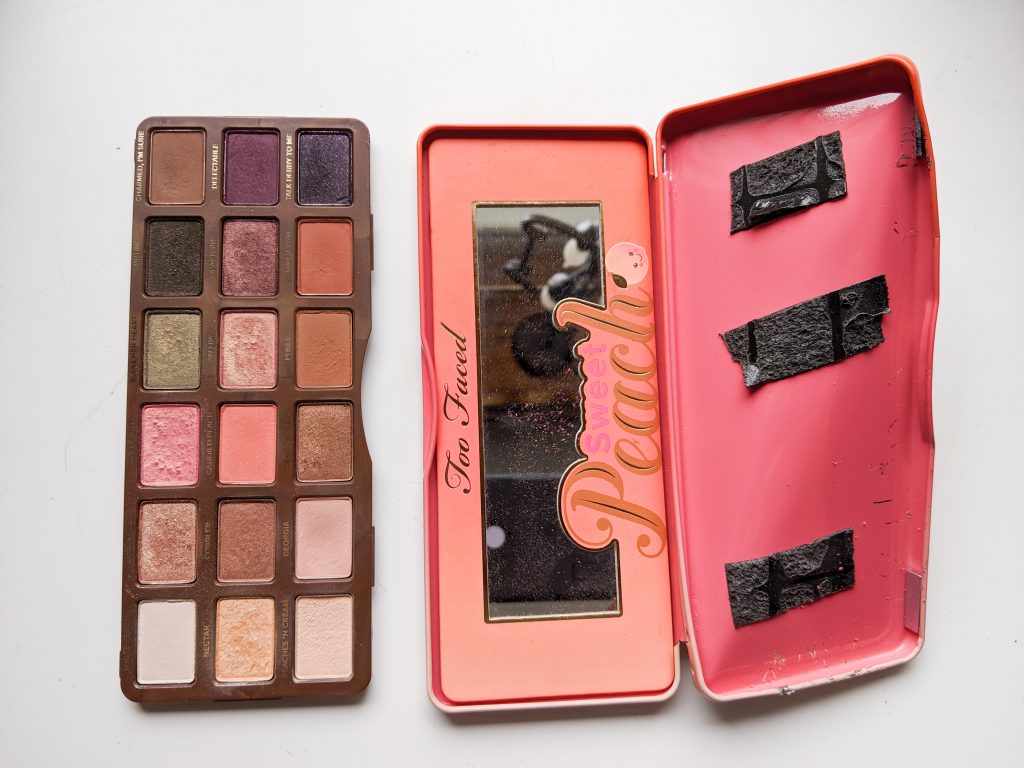 As you can see, there was tape attaching the tray to the Sweet Peach palette tin, so my melting glue technique below may not have worked if I had tried it. But there's no harm in trying if you suspect your palette has been glued together and not taped.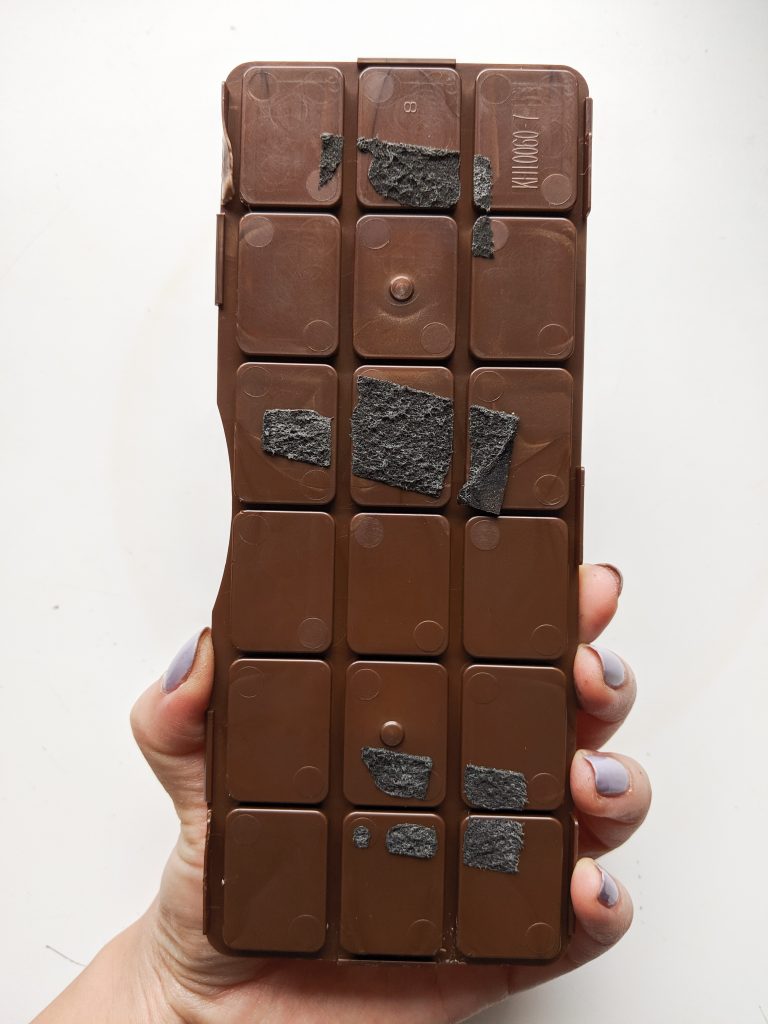 3. Remove the eye shadow pans from the tray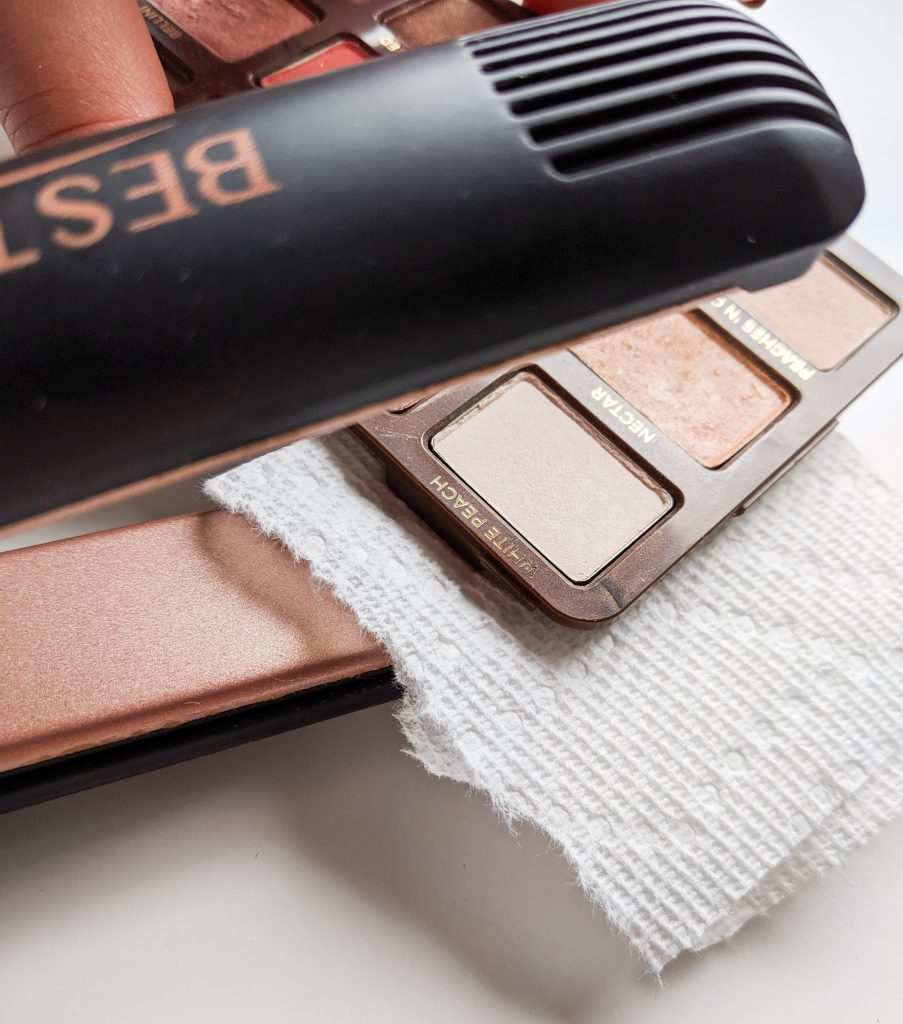 Now for the depotting part! The pans in your or any palette can be adhered in different ways. They could be glued, taped, or even just loose and held in place by a magnet or nothing at all.
Before you go to town depotting all your precious shadows, it's best to do a test on one of the ones you don't care about. I was quite confident that my pans were held in the tray by glue so I immediately tried to melt the glue on a test pan with my hair straightener. I advise you to place a paper towel in between the straightener and the tray so the tape residue and plastic will not damage the straightener.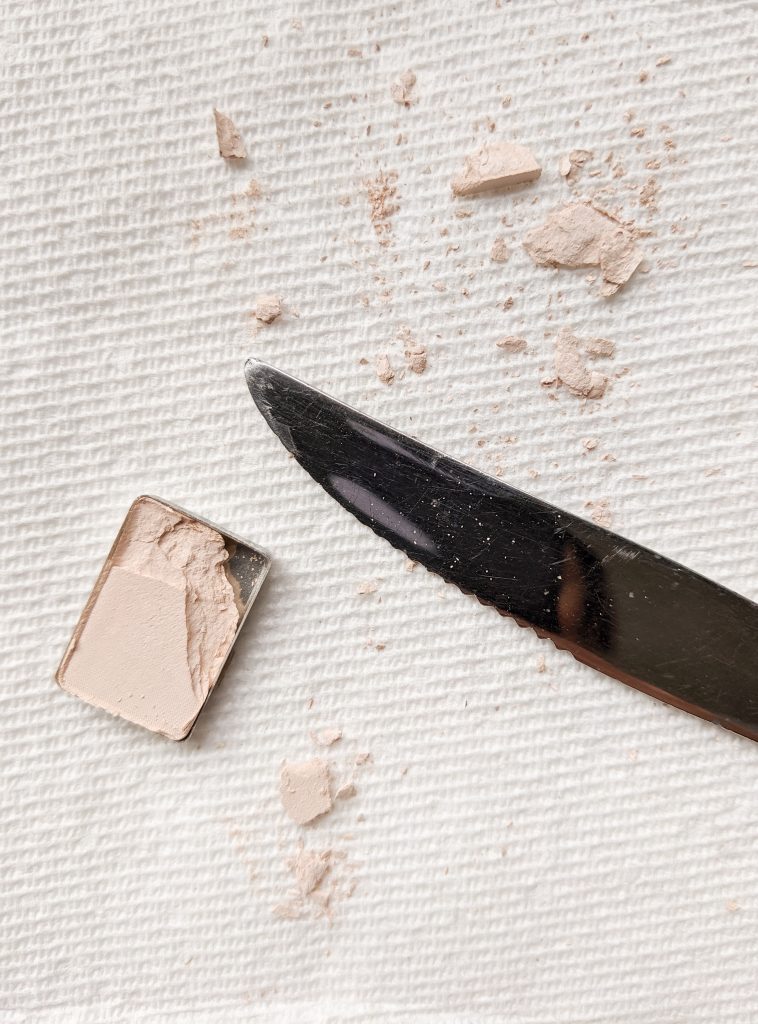 I left it on the default setting (355) and waited only a few minutes before trying to gently pry out the cream coloured shadow above with a butter knife. I discover that it was a lot harder to do than anticipated and ended up breaking the shadow. This is why we do tests, boys and girls!
For the next one, I tried leaving the tray on the straightener longer, about ten minutes. And instead of a butter knife, I used the Sephora tool I got. The longer heating time did the trick and the pan practically popped out with very minimal prying.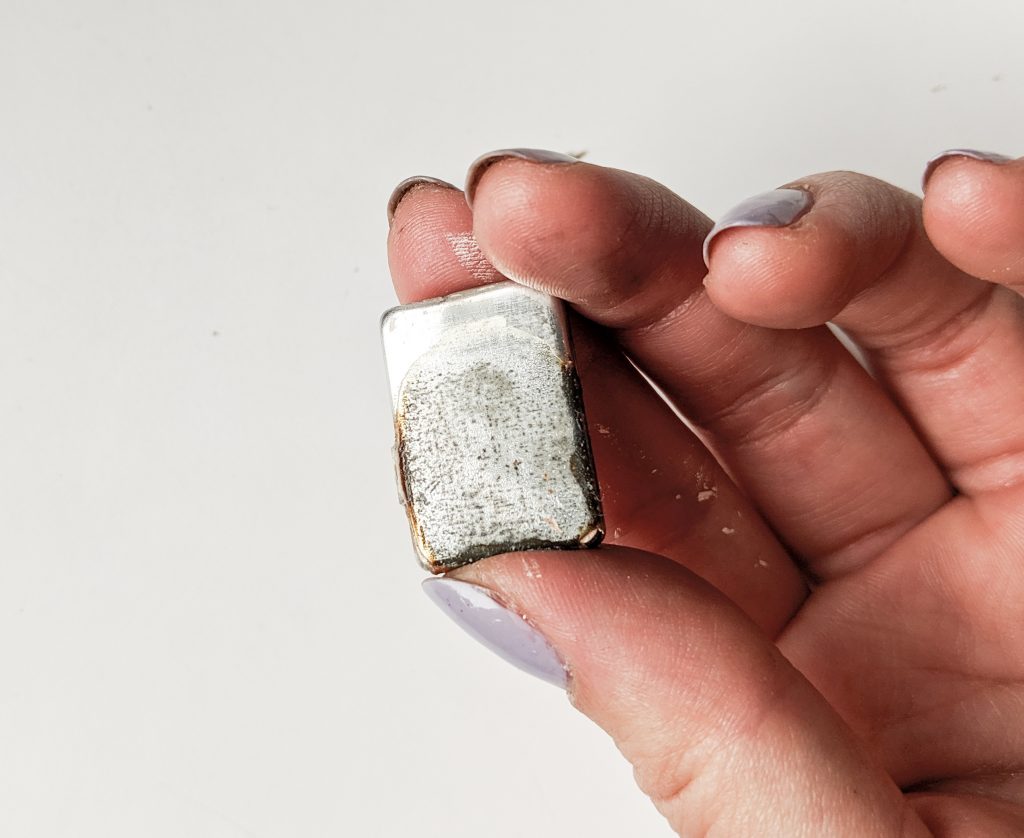 BE VERY CAREFUL HANDLING THE PANS. They are going to be really hot. Once they've cooled, you may notice there's some adhesive residue to clean off the back, but once it's kind of been melted, it's pretty easy to just rub off.
Also, I would caution you to not leave the tray on the straighter too long. Since it was made of plastic, it may start warping and melting in the heat and could potentially make the pan harder to come out.
4. Add magnetic backing to the pans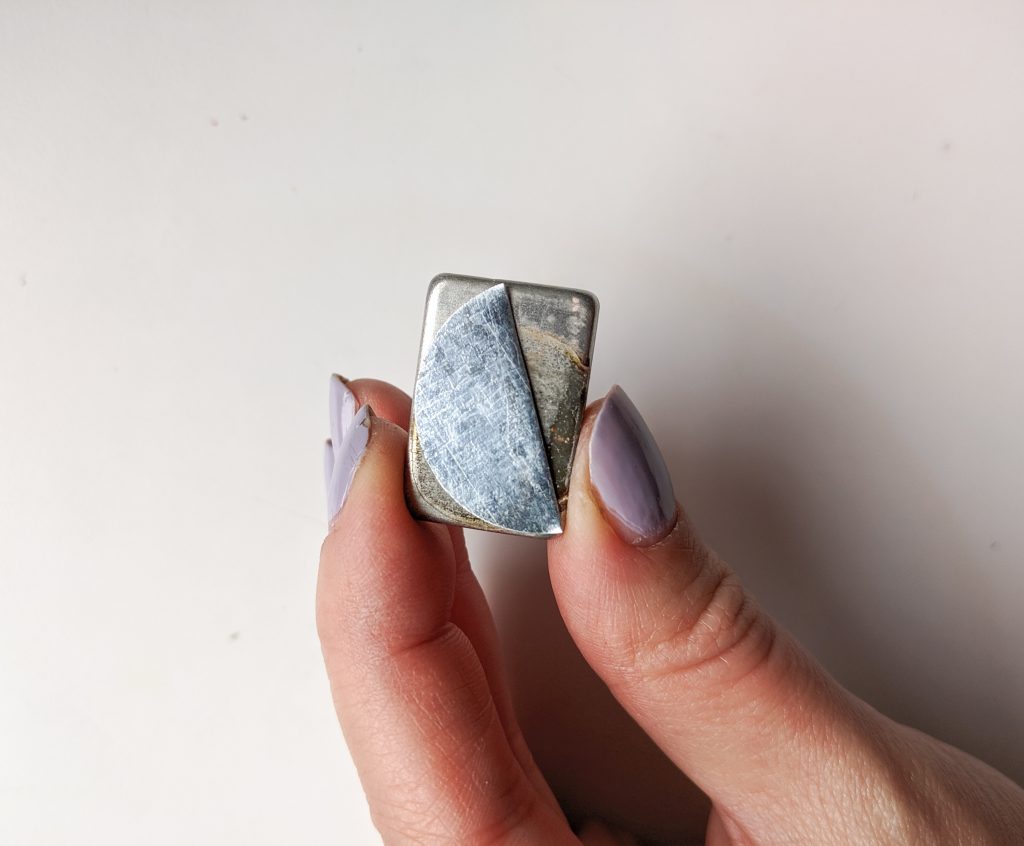 Once your pans are free, you can place them into the magnetic palette to test if the pans themselves are magnetic or not. If they are, you can simply place them in their new palette and call it a day.
If they are not magnetic, you're gonna need to add some magnetic backing to the pans. Since the ones that came with my Sephora palette were too big, I just cut them in half with regular scissors to fit on the pans.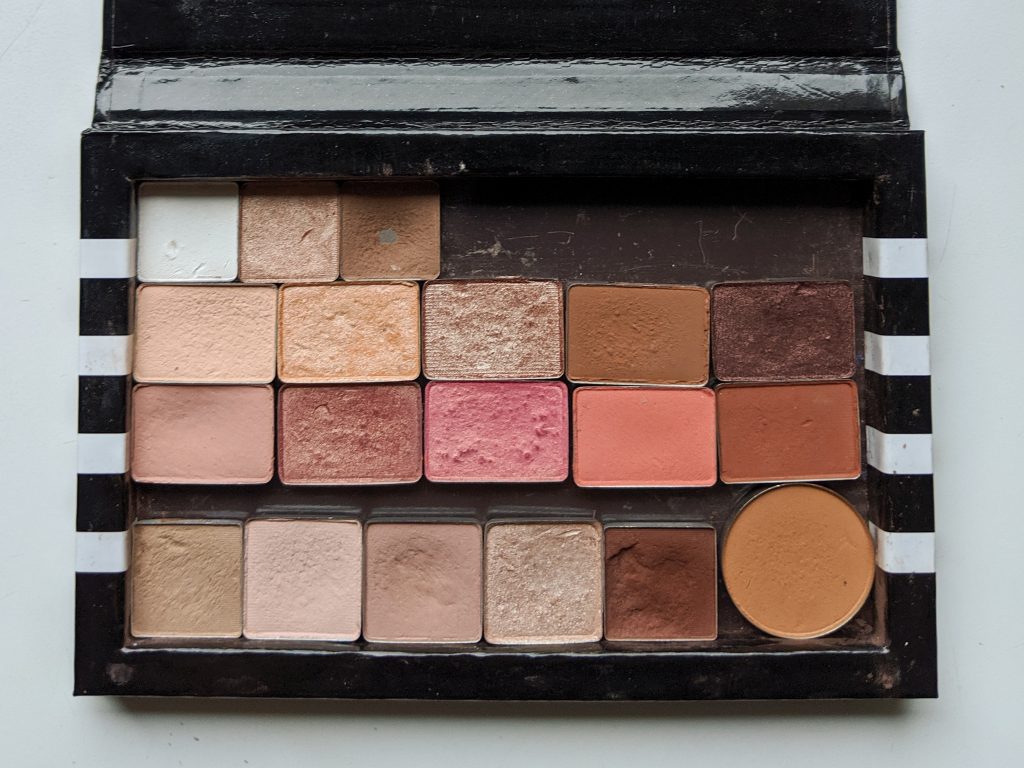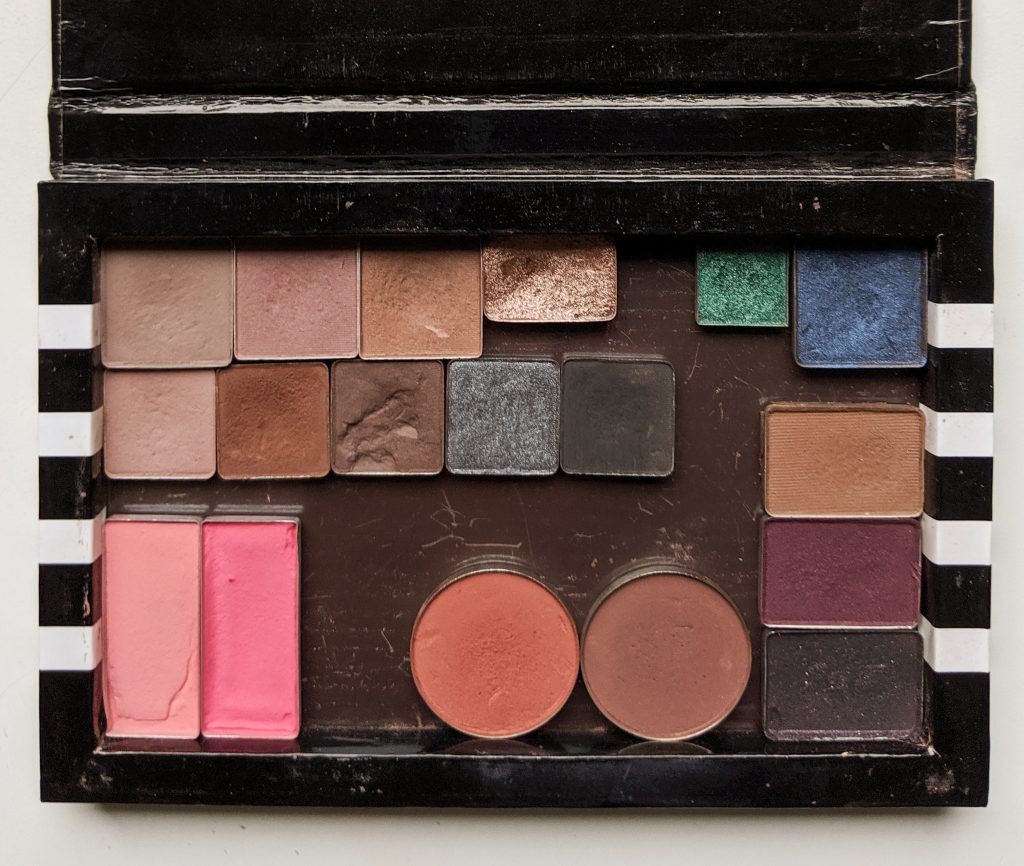 I have two palettes that I've been collecting depotted shadows (and two random blushes) in for a few years now. I find it so much more convenient and I end up using the shadows a lot more this way. I organize them in a sort of "warm tone" and "cool/neutral tone" palette, although most of my shadows are on the warmer side.
It's kind of cliched, but if the new year has inspired you to declutter and re-organize your life, I find that depotting your lesser used eye shadow palettes is a great place to start!
xoxo