After what really seemed like an eternity, it's finally patio season! Some of you might be familiar with our lovely concrete slab that is both an eyesore of a "patio" and the roof of our basement bathroom. Yeah, I don't get it either.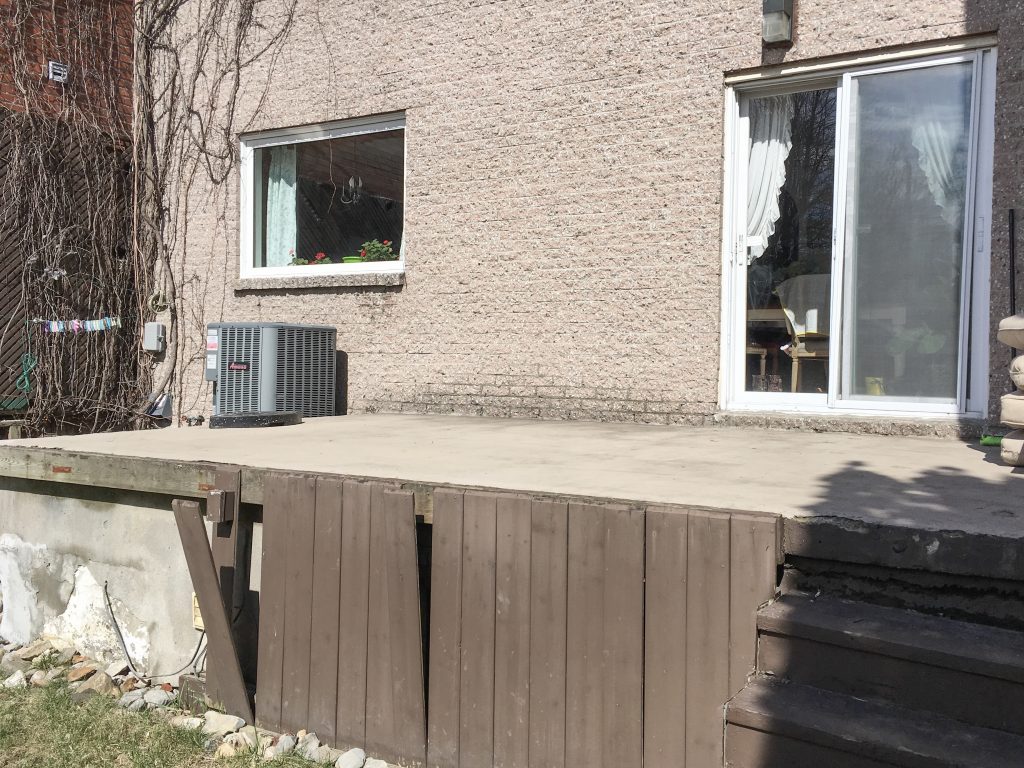 Well, we thought we would finally build a simple little deck over the concrete this year, but then we started toying with the idea of making a sunroom instead. A sunroom is something I've always wanted (one of my top house-hunting wish-list items) and thought there was potential in this house to build one someday. But I had pretty much pushed that out of my mind when it seemed like Kyler really wasn't interested.
Well, this year, he started reconsidering the sunroom idea and long story short, we don't really know what we're going to end up doing in the space, but it probably won't get done this year anyway. So, as soon as the rain started dying down this spring, I went to work setting up the "deck," so we could enjoy it to its fullest potential, no matter how ugly it may seem.
Generally, I don't like my furniture to match, but when it comes to patio set ups, I think it actually works way better when you get a set. But that is because I always inject my personality and design sense into the little accents and finishing touches. And this is definitely a personal preference, but I think the plastic rattan style is the best for outdoor furniture. I feel like it withstands weather way better without sacrificing too much style.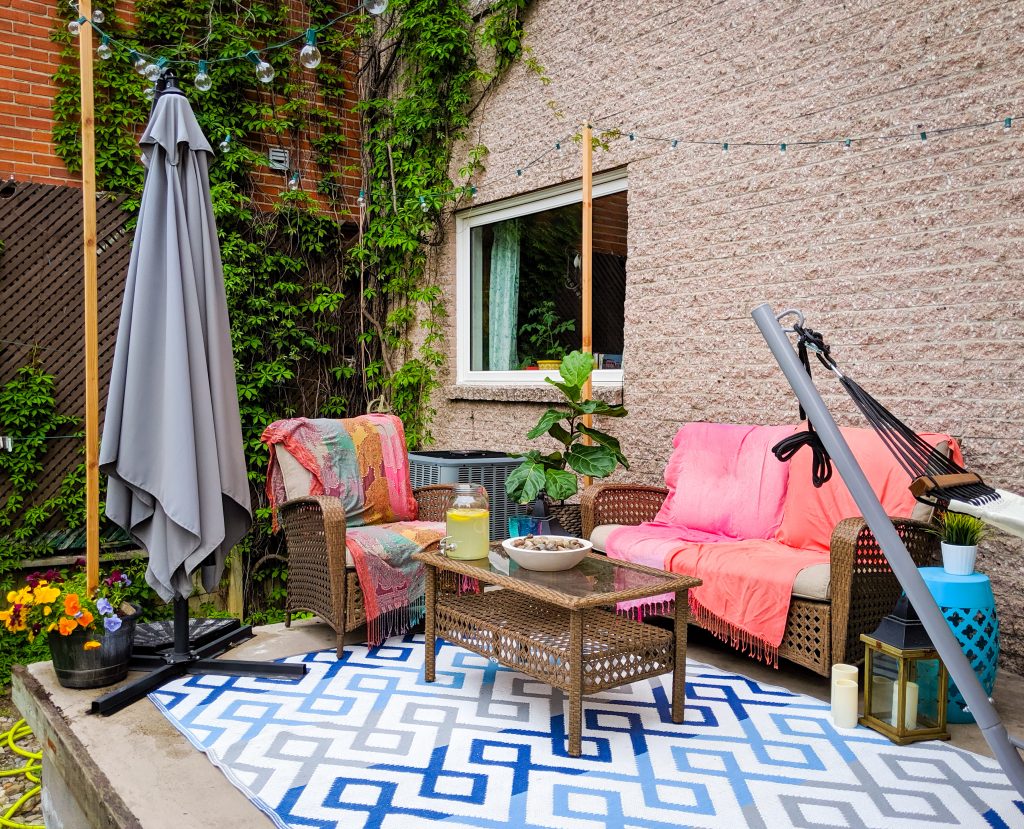 I like to cover the seating cushions with vibrant scarves for a couple of reasons. One, I think it just looks better and more interesting than the bland beige cushions the chairs come with. Two, the material of the cushions, while I'm sure makes it more durable, is very itchy and uncomfortable on bare skin. And three, it protects the cushions from bird poop. You can easily just toss the scarves in the wash!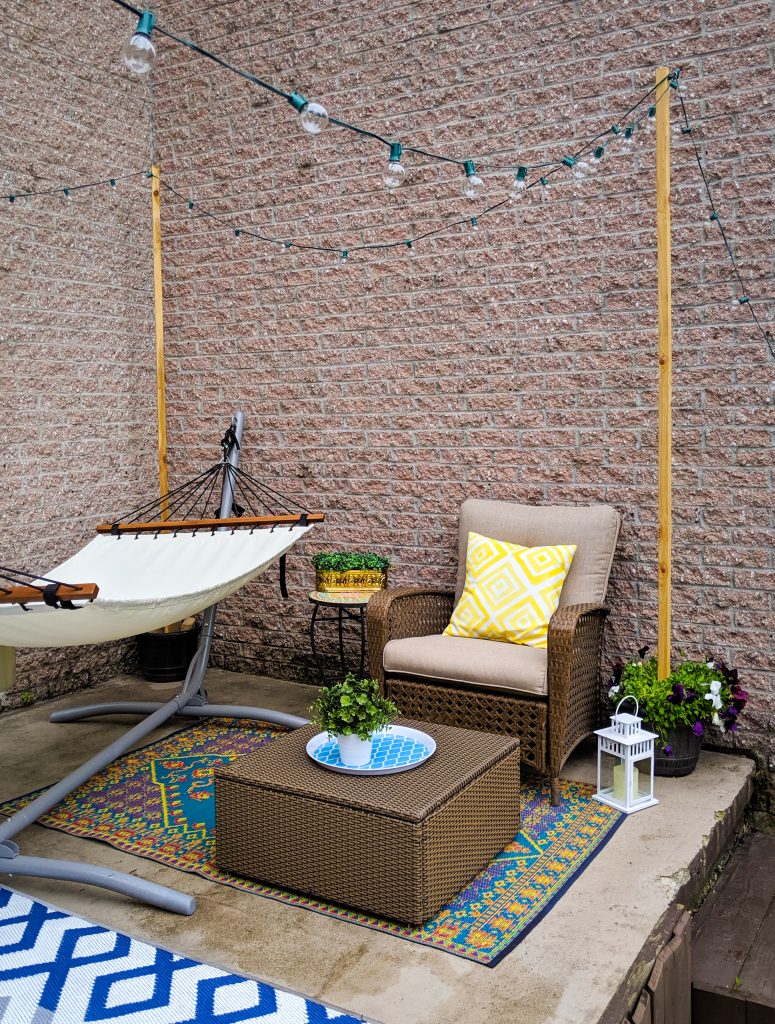 I've always wanted a hammock in the backyard. Talk about relaxing! And although we can barely fit all the stuff we have onto our 16×9 slab, I was determined to make it work.
Normally, I would complete the conversation area with the second armchair next to the settee on the other side, but I didn't want to close off that area of the deck and isolate the hammock. I think adding the armchair with the ottoman to create a whole second seating area makes the whole corner even cozier.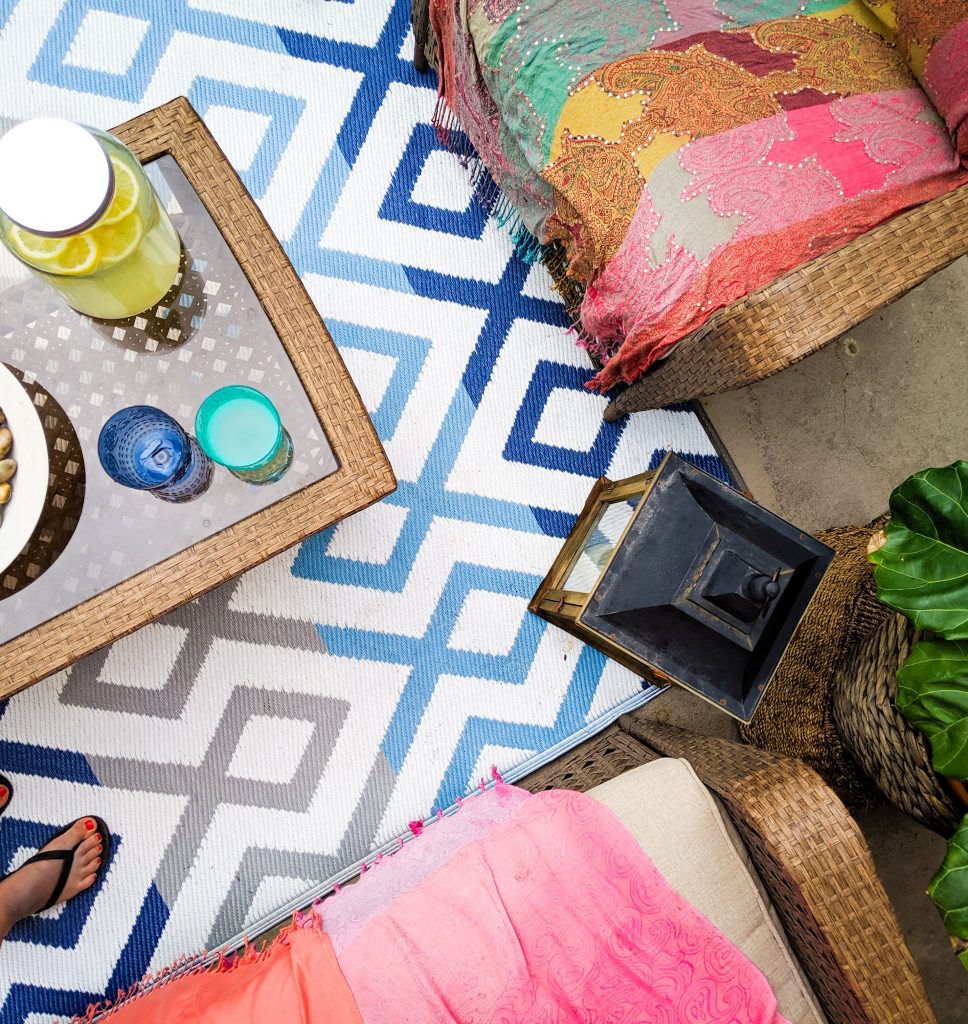 By laying down two different rugs, you can easily designate the two distinct, separate spaces, while facing the furniture towards each other keeps the whole setup open and inviting.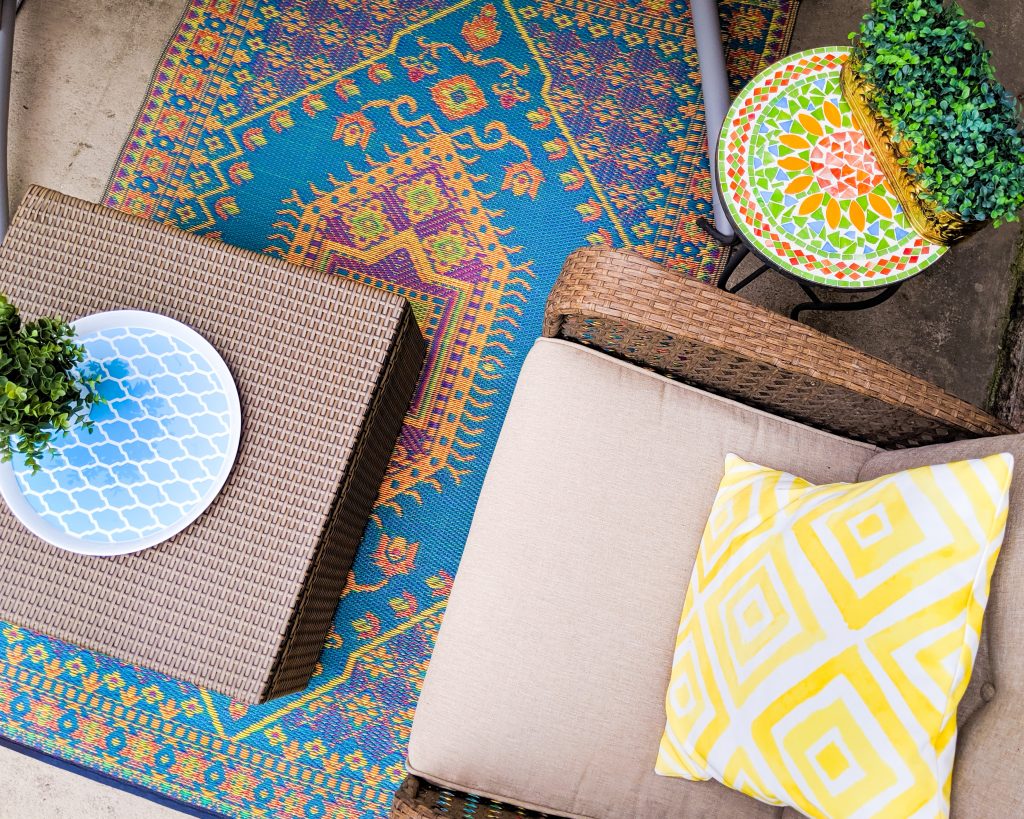 I love the mix of patterns and colours in the overall design. You would think there would be too much going on, but this is why it's better just to get the matching furniture (in a neutral colour) so the results don't appear too busy or visually overwhelming.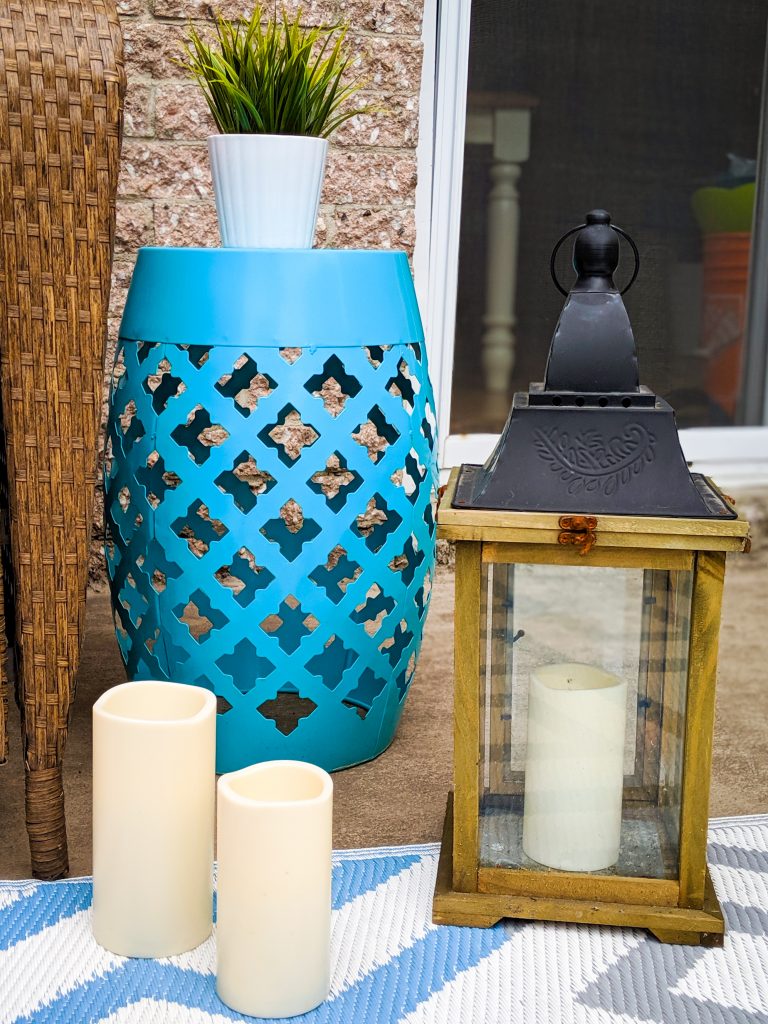 The little accents and accessories are what really elevate an outdoor design I think. As always, I mixed a couple of different styles together (mainly vintage and bohemian) but I think all the pieces work well together. And you can't forget the faux (or real) candles. The lighting is what really makes an outdoor setup magical.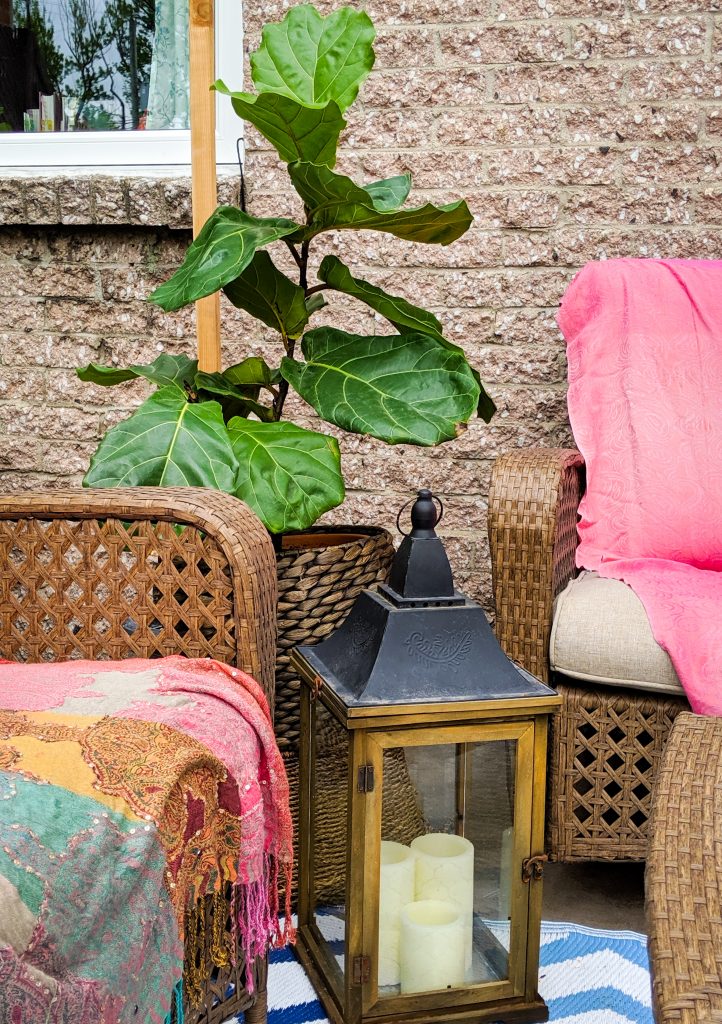 Adding some greenery really helps an outdoor space look beautiful, I think. Who would've thought! If your patio is already surrounded by flowers or trees or shrubs, you probably don't need to add too much extra green, but remember, I'm trying to combat a literal concrete slab with planks of wood falling off the side of it…More is better in our case.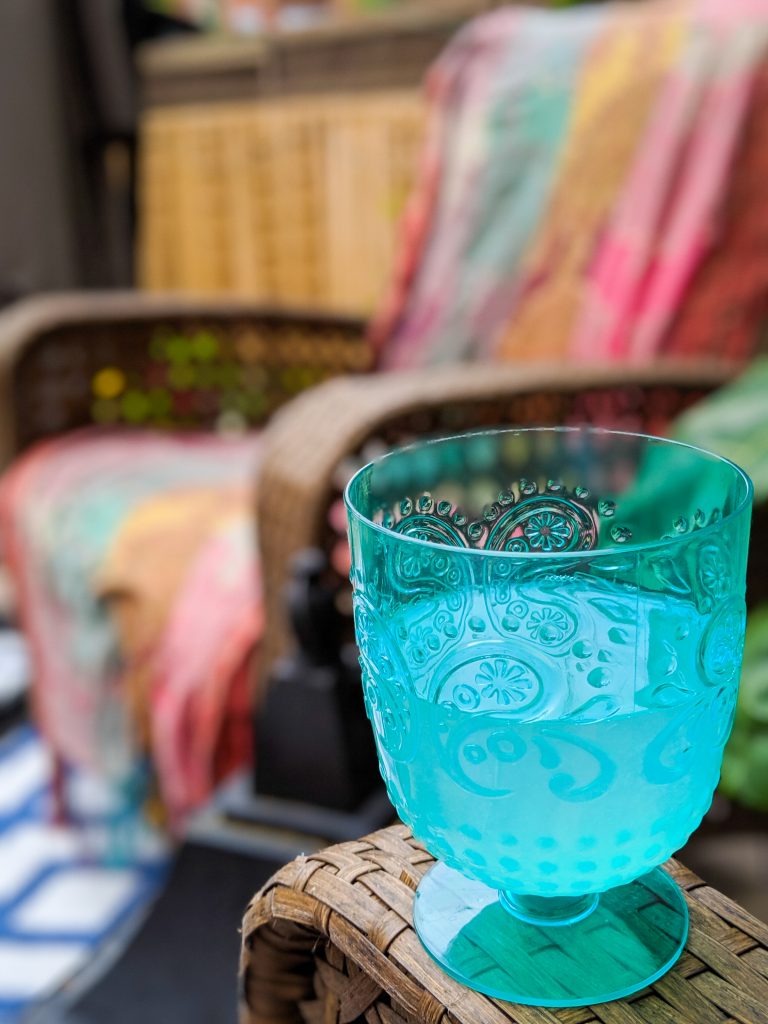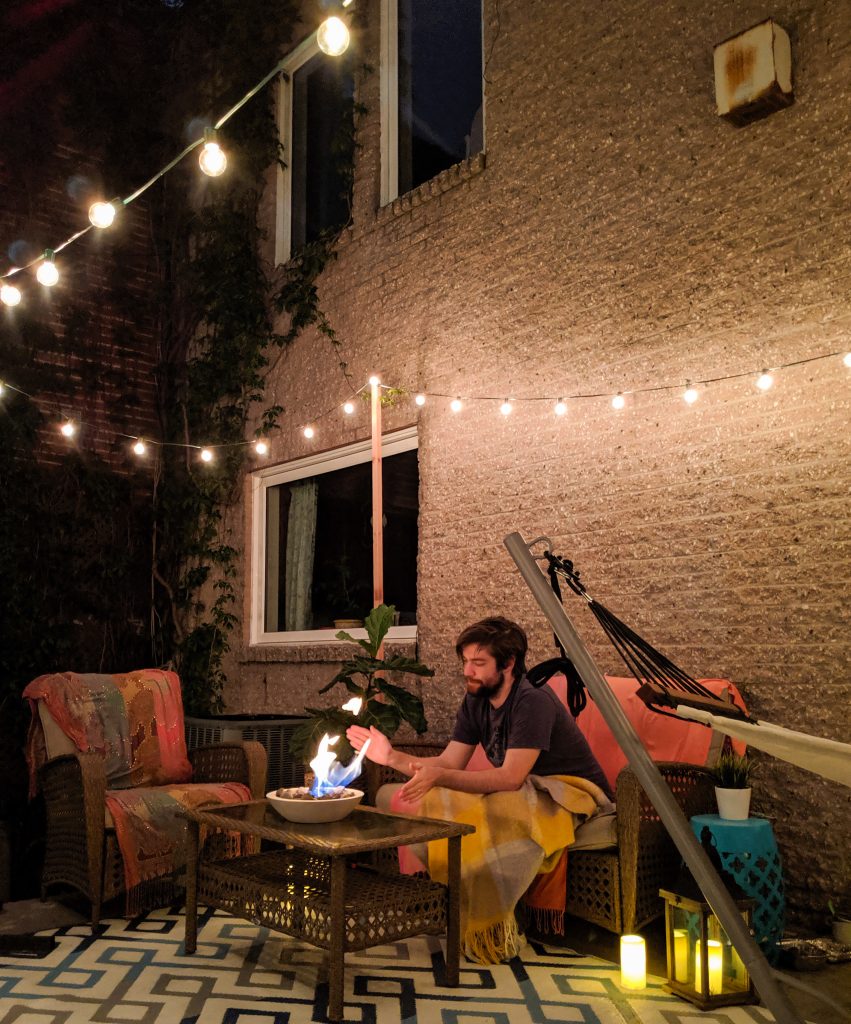 Although our little "deck" is less than ideal, we're trying to make the most of it with tons of ambiance, and a fun, colourful set up. Someday, we'll transform it into something really beautiful, but for now, it's a nice and cozy way to spend some summer evenings!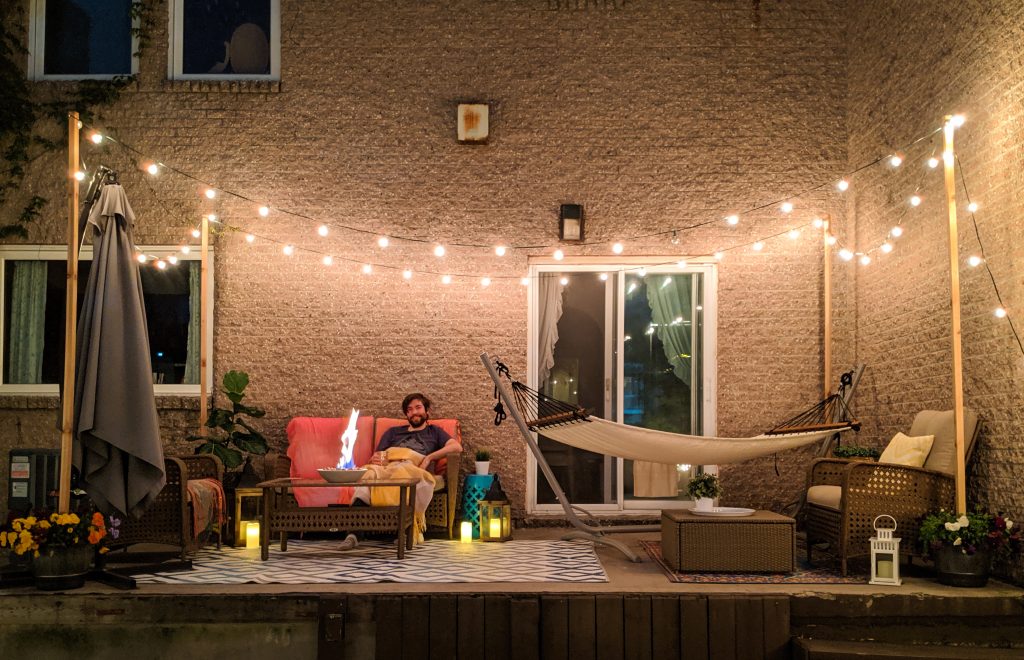 Conversation set – Home Depot
Globe lights – Amazon
Teal rug – Amazon
Yellow cushion & blue stool/side table – Michaels
Blue & white rug – Provigo (old)
Wooden lanterns – JYSK
Umbrella – Walmart
Hammock – Ikea
Ottoman – Ikea
Fire bowl – DIY
Planter posts – DIY
White lantern – Ikea
Chair covers – thrifted & gifted
Candles – Michaels & Ikea
Tray & drink dispenser & goblets – Dollarama
Mosaic side table – Pharmaprix (old)
Brass planter – vintage
White planters – Ikea
Faux plants – Ikea
xoxo